This New Brand Wants To Make Ghee, Clarified Butter Common In South Asian Cooking, A Beauty Staple
As an adult, Ghlee co-founder Varun Sharma has learned a lesson many people learn at some point: Mothers tend to be right most of the time.
Growing up, his mom would recommend he soothe his chapped lips with ghee, a clarified butter common in South Asian cooking. Varun refused. He humbly explains, "As a young kid, you're like, 'That's really weird. That's in our pantry, it's something we put in our food every night when we eat, why would I put that on my lips?'"
Arati Sharma, Varun's sister and his co-founder at Ghlee, describes ghee as "the fat of South Asia." She compares it to olive oil in the Mediterranean and shea butter in Africa. "It's used for absolutely everything," she says, noting it's integral to wellness practices tied to Ayurveda, the ancient Indian medical system, too. Arati says, "You ingest it as a cooling mechanism to lower your body's temperature and as a digestive aid."
In the last few years, Varun began reconsidering his childhood squeamishness and, when his lips became irritated, he remembered his mom's recommendation and reached for ghee to calm them. It turned out to work better than products he'd bought from the store and became the foundation for Ghlee, which is launching with three lip products: a $12 balm, $23 mask and $15 scrub.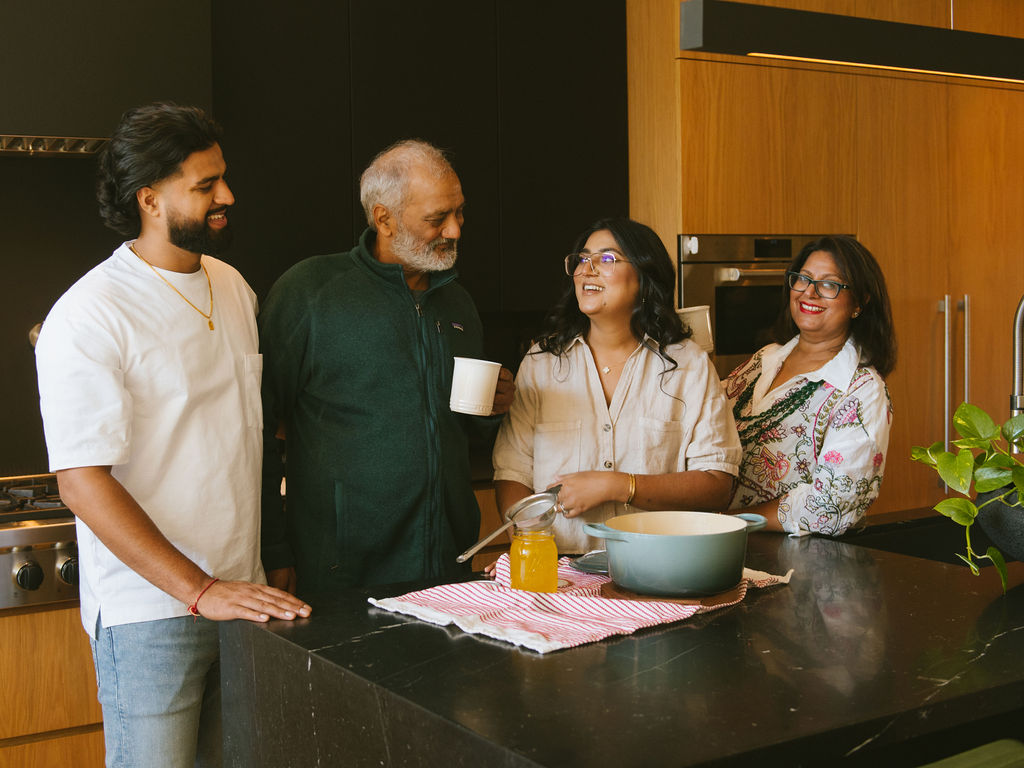 Although other South Asian ingredients have made big splashes in beauty (turmeric, coconut oil and ashwagandha, for example), ghee has remained in the food territory—until now. Ghlee is among the first beauty brands to incorporate ghee.
"We've been using this secret super ingredient for so long, and it's kept us beautiful and hydrated, and we want to bring that to everyone," says Arati. "Especially when it comes to lip, we want a lot of different types of people to use it because everyone needs a great lip balm."
Ghee's beauty debut is preceded by its increasing penetration in the food arena for, per Verified Market Research, "better digestion, stronger bones and less inflammation." The market research firm estimates the global ghee market was valued at $5.91 billion in 2021 and could accelerate at an annual compound growth rate of 4.4% from 2023 to 2030. By 2028, Verified Market Research projects it will be valued at nearly $8.4 billion.
"We've been using this secret super ingredient for so long, and it's kept us beautiful and hydrated, and we want to bring that to everyone."
Still, ghee is generally not on beauty consumers' radar, so education will be crucial to informing them why it should be a staple of their beauty routines. Ghlee will make an education push on social media. "We hope to focus on the added benefits of omega-3 fatty acids and the different vitamins that are already infused in ghee," says Arati. "When you find out ghee already has vitamin A, D, E and K, I think that's a big game changer for folks."
It took Varun 30 tries to get the formula for Ghlee's hero lip balm right. He enlisted the help of his dad, who has an engineering background and was in skincare manufacturing, to fine-tune it. He created a multi-level filtration process to dampen the smell of the ghee and tone down its greasiness. Varun says, "Our company is a true labor of love from a family perspective."
The lip balm is available in four flavors that are nods to Varun and Arati's South Asian heritage: mint, rose, chai and mango/papaya. An unscented version is available as well. The pair have trialled the products in the South Asian community by doling out samples to moms, makeup artists and skincare influencers, but emphasize Ghlee's products are for everyone.
Body care is up next in Toronto-based Ghlee's product development pipeline. For distribution, the brand plans to start out with spas. Arati figures its ointment-style products will resonate with them. She says, "We have had a lot of interest from spas, which often require an ointment, especially after you get a treatment."
Arati spent eight years in marketing at Shopify and believes she's encountered every sort of direct-to-consumer brand imaginable. She left Shopify in 2021, but didn't leave her colleagues at the company totally behind. She teamed up with several of them to form Backbone Angels, a collective of angel investors backing women and nonbinary founders. It's invested in the beauty brands Common Heir, Ami Colé, Three Ships and Soft Services.
Arati long considered becoming a brand co-founder and is surprised her brother's entrance into the beauty industry wound up being her path to that role. "I get so many decks from every single brand out there ready to launch with a skincare line, and I often find most of those products are white-labeled, and I just hadn't seen something that was innovative, but rooted in my culture that didn't exist in the market," she says. "He spoke to my heart."
Ghlee arrives on the beauty scene as Ayurveda has become an important inspiration for haircare, body care and skincare products. Arati and Varun aspire for Ghlee to stand out for its blend of tradition and playfulness. "South Asian stuff doesn't need to be so serious all the time," says Arati. "It's a part of our daily life, it's not something that you have to go and do a lot of research around. It's something that you can use, and it can become a part of your daily skincare routine and practices. That's what we're hoping to bring to the table, a modern take on South Asian practices."