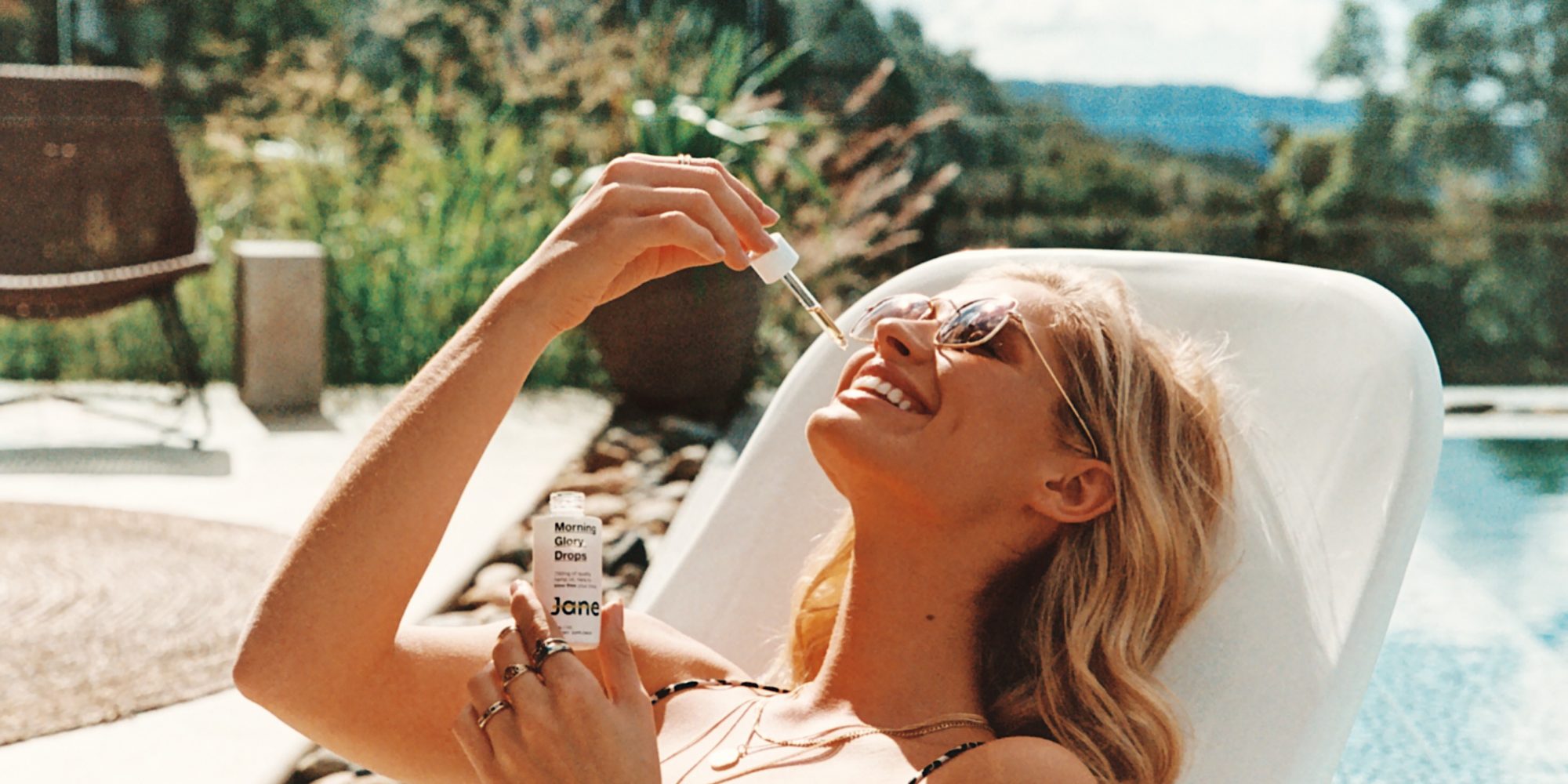 New DTC Brand Jane Makes CBD Products Fun
CBD doesn't have to be super serious.
New direct-to-consumer brand Jane is injecting levity into the cannabis wellness and beauty segment with a namesake fictional character that sunbathes, dances, parties, chills out and reels off catchy one-liners while regularly downing its CBD drops. The character is intended to forge a positive connection between Jane and millennial shoppers hunting for CBD products to lighten their moods as well as combat insomnia, and aches and pains.
"For us, Jane doesn't represent just one person, but a fun, playful persona and elevated lifestyle brand experience that we hope our customers achieve when using our products," says Michaela McGuire, who founded Jane with her husband Corey. "We bring that to life with fresh, fun, witty, bold, feel-good content to make sure people smile when they interact with Jane and to separate ourselves from the typical way of describing products."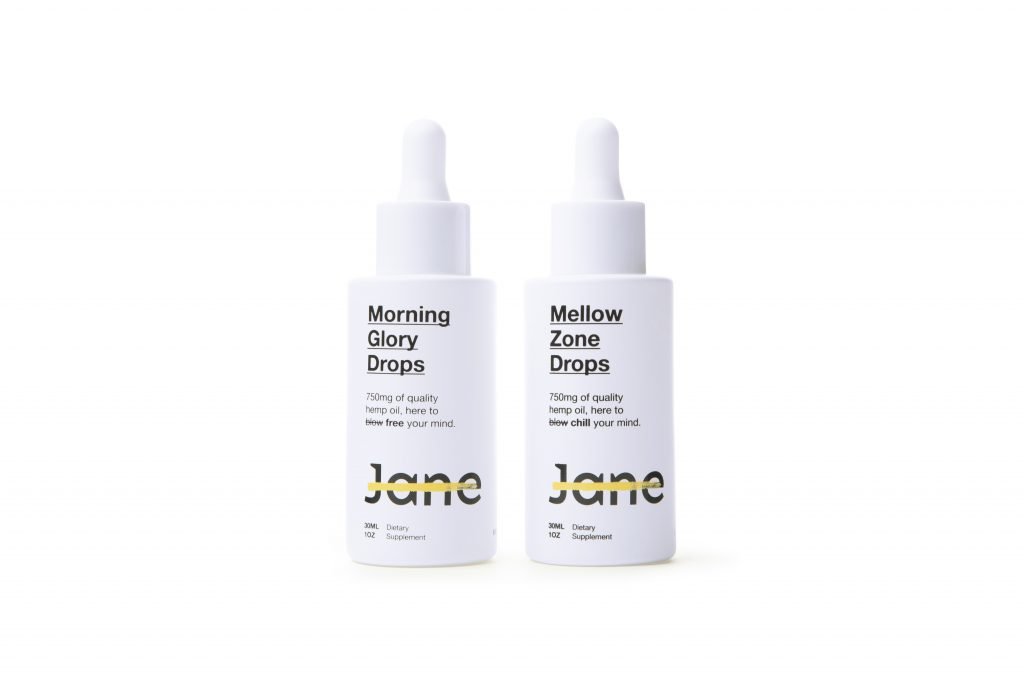 The McGuires, both 31, began developing Jane two years ago after Corey faced back problems that interfered with him caring for their newborn daughter. He wanted to consistently take CBD in palatable formats from a brand that resonated with his preference for cool, design-forward brands. It didn't hurt that the McGuires are connected through family to Hemptek, a certified organic industrial hemp farm in Oregon's Willamette Valley. The connection allows them to be involved in Jane's entire supply chain from hemp seed to completed goods.
"We spend a ton of time crafting our brand, and our products are legit. An incredible amount of time and effort goes into each one of them. It's a six- to nine-month process from when the plants first go in the ground to harvesting and being able to put the finished extract into our bottles," says Corey. "Although we are incredibly technical with how we craft our product, that doesn't necessarily speak to consumers. When people pick up our products, we want them to smile and laugh. Jane helps us tell that story. She has a no BS, fun, not politically correct way of speaking to consumers, and that's what we're all about."
"When people pick up our products, we want them to smile and laugh."
The brand is all about eye-catching packaging, too. Turned off by the noisy packaging that's pervaded the cannabis plant-festooned CBD consumer goods sector, the McGuires sought assistance from Willow & Blake, a branding agency that worked with Frank Body, and The Broader District, a design firm that fashioned beer brand Balter's sleek cans, to guide Jane's minimalist sensibility. Together, they chose white boxes and bottles with black text, and splashed Jane's black logo with a stroke of yellow. The yellow is incorporated in Jane's website to make it cheery and bright.
"Just like in the beer industry, everyone's packaging in the cannabis industry started looking darker and grungier. It looks the same. For us, it was about simplifying our packaging into a really clean palette that stood out for customers," says Corey. "Lachie Goldsworthy from The Broader District was really instrumental in helping us attain our vision. We picked him because he'd been successful in the beer industry, where packaging was heavily graphic and all looking the same, with really going back to the basics."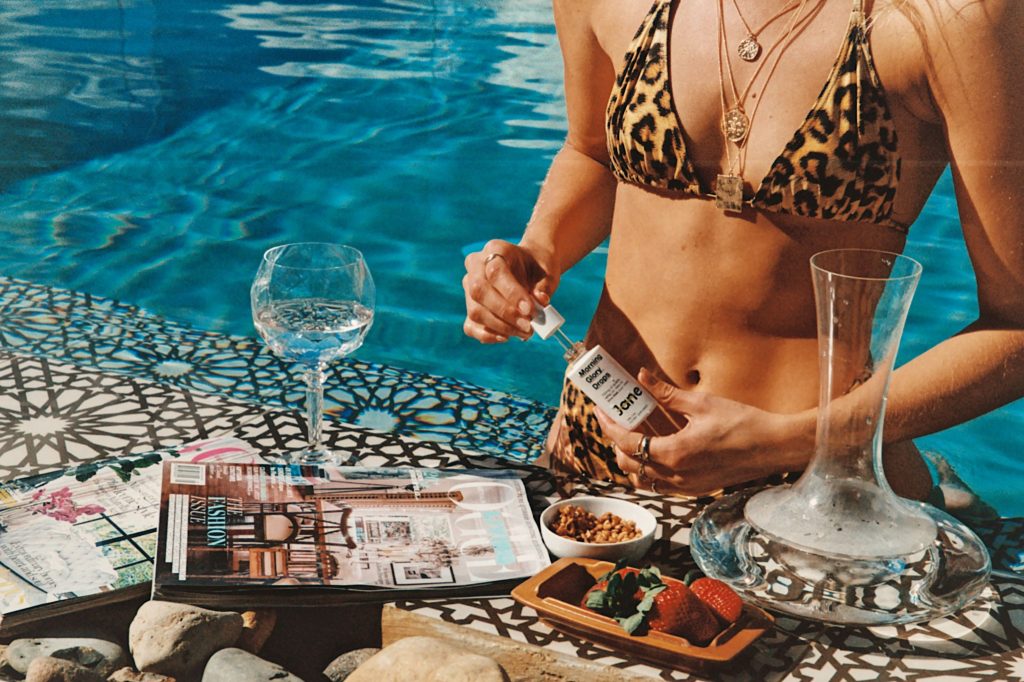 To create its products, Jane went back to the basics of communicating with consumers to figure out the best formulas for them. Corey estimates hundreds of people tested Jane's formulas before it finalized them. The testing led to the brand learning that effective quantities of full-spectrum CBD begin at 750 milligrams per ounce or 25 milligrams per dose. "I really don't foresee us ever going in the opposite direction to chase a price point. If anything, we would come out with a higher-strength version," says Corey, noting Jane's pricing of $75 for its daytime Morning Glory Drops and nighttime Mellow Zone Drops equates to 10 cents per milligram of CBD. He explains the per milligram price is at on the low end of CBD drops on the market that range primarily from 10 to 20 cents a milligram.
Jane also learned from consumer testing that a blend of lemon, lavender, spearmint, orange and peppermint essential oils, and apricot, avocado and grapeseed oils tastes better than the MCT oil most available CBD tinctures rely on. It was critical the brand produce appetizing drops to facilitate people routinely imbibing them. "It takes anywhere from five to seven days for someone to really experience the results…It's not going to be like a synthetic drug where you take it and it immediately solves your problem," says Corey. He shares sticking to daily ingestion of Jane's drops relieved his back problem, and emphasizes Jane's objective is for its drops to be interwoven in consumers' regimens similar to teeth brushing. It urges them to try Jane's drops for 30 days and has a hashtag #30dayswithjane that they can integrate in social media posts to document impacts over the course of 30 days.
"It's a six- to nine-month process from when the plants first go in the ground to harvesting and being able to put the finished extract into our bottles."
Jane raised a friends and family round to cover its initial inventory and marketing. The McGuires declined to disclose the total raised, but say it's sufficient for first-year expenses. Their plans are to concentrate on direct-to-consumer distribution at the outset. However, they'd consider placing Jane in high-end boutiques with health and wellness bents. A body cream is in the brand's pipeline, and the topical product could be beneficial in winning over retail accounts steering clear of ingestibles for now due to the regulatory uncertainty surrounding consumable CBD offerings. Jane's fictional character is an advantageous tool given the regulatory environment because she doesn't dabble in medical claims that have run afoul of the FDA. The character, whose name is a play on Mary Jane, a slang term for marijuana, currently is pictured as a young beautiful blonde woman, but Michaela says she will evolve with "different looks, ages, settings, stages in her life."
To raise awareness of Jane, the McGuires are embarking on a multifaceted marketing program across Twitter, Facebook, Instagram and YouTube. Michaela says, "User-generated content is and will continue to be important to our rollout strategy, making it easy for customers to share their experiences #withJane." Matthew Rodgers, a partner in Jane, friend of the McGuires, husband of actress Katie Cassidy, son of NFL agent Mark Rodgers and former brand manager for Seattle Seahawks quarterback Russell Wilson, has been integral in seeding Jane's products with celebrities. Cassidy, comedian Whitney Cummings, retired NFL player Sidney Rice and "Walking Dead" star Juliana Harkavy have given Jane shout-outs.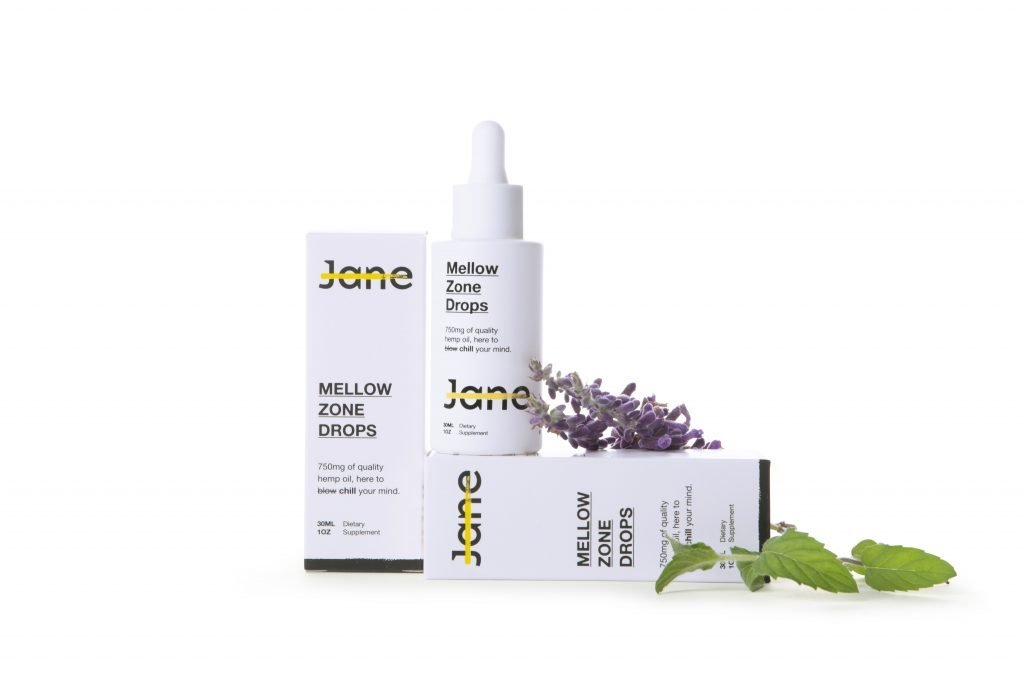 Early on at Jane, which launched a month ago, Corey shares, "We're really focused on selling more every month. Our goal has not been to take on additional outside investment, but get the company to the point where it can stand on its own two feet. It's important for us to build a company that can be profitable, hopefully by the end of year one."