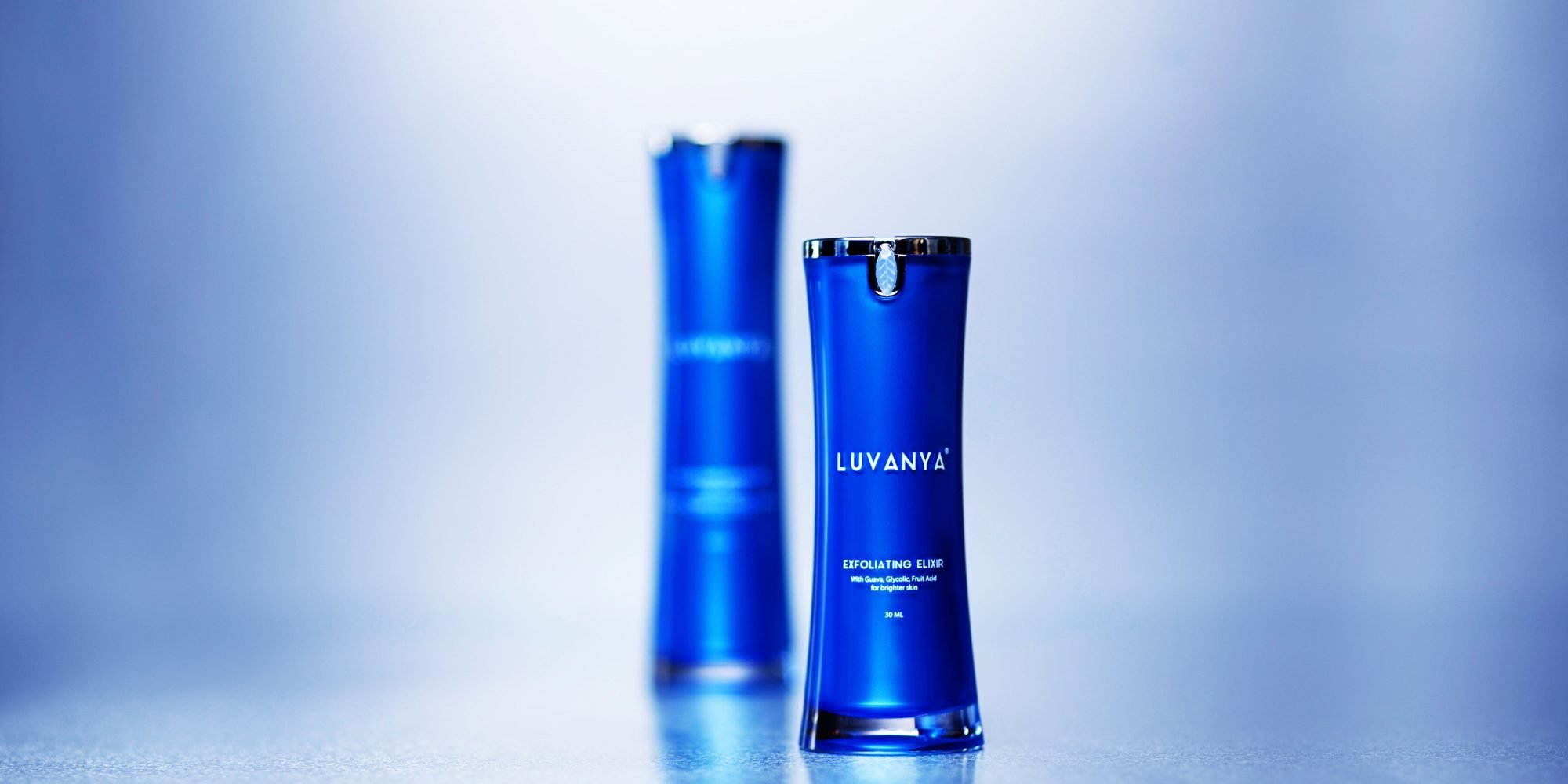 New Brand Luvanya's Prescription Is Safe Skincare
For physician Alpa Patel, clean isn't enough. Along with her doctor husband Alkesh Patel, her finance-trained sister Hema Shah and celebrity makeup artist Merrell Hollis, she developed Luvanya, a skincare brand focused on safety and transparency. Its first product, Exfoliating Elixir, launched late last year.
Some people suffer rashes or redness from skincare ingredients, but Patel faced serious health issues she feared were exacerbated by her personal care products. Four years ago, her health became so compromised that she had to leave Connecticut and her private medical practice for a more favorable climate in California. Patel says, "I also wanted to be closer to the ocean to draw from its energy and to help me mentally in overcoming the physical pain I've been enduring."
After eight surgeries and multiple prescription treatments still left specialists from all over the world baffled as to the causes of her ailments, Patel turned to Ayurvedic, homeopathic and eastern medicine. The alternative solutions and warm climate of San Diego proved to be incredibly healing. And, while researching medical alternatives, she uncovered flowers, roots and seeds she felt were overlooked in modern skincare. She says, "I wanted to see if these ingredients could be incorporated today."
Patel views Luvanya, which is named for the Sanskrit word for grace and beauty, as a combination of science and nature starring clean, trusted ingredients. Her initial formula was tested on her sister's 1-year-old daughter, who was afflicted with skin irritation. When Shah's daughter experienced amazing results, she knew she wanted to join her sister in Luvanya.
"This is a brand for the whole family, from infant nieces to grandparents," says Patel. "We want to educate everyone so they can make better choices." She cites research finding that the average American woman applies 15 different beauty products before leaving the house. "It can take as little as 26 seconds to absorb those chemicals," says Patel. "People should know what they are absorbing."
Three years in the making, Luvanya's founders worked diligently to determine the right percentages of each ingredient in Exfoliating Elixir to make them effective while simultaneously imparting a desirable texture and scent. "We went to formulators who said they couldn't do it, and that we were putting too much into it or it was too complex," says Patel. "There are up and downs of any business, and everyone has self-doubt, but we stayed focused on our mission."
Undeterred, the quartet packed the multifunctional serum Exfoliating Elixir with over 20 active ingredients. It's just the beginning of what industry observers believe could grow into an $80 million to $100 million franchise in five years. The founders declined to share projections. However, they sketch out a vision of Luvanya encompassing baby, teen and men's products, among many merchandise categories. This year, Exfoliating Elixir will be joined by face wash, moisturizer and face oil.
"This elixir isn't just for females, not just for one region or skin color. I wanted to create a product that could be useful for as much of the population as possible."
Luvanya's ingredients are listed on its website to inform customers about their skincare purchases. They include guava extract for tone and texture, broccoli seed oil to reduce the appearance of age spots, and mushroom extract to brighten skin. "With my sister's medical history, she carefully selects each ingredient to ensure both safety and efficacy," says Shah. Ingredients not included are parabens, phthalates, sodium lauryl sulfate, sodium laureth sulfate and polyethylene glycol.
Merely having the right ingredients isn't enough, according to Patel. She pays attention to synergies and says each ingredient interacts with other ingredients for maximum benefits. Patel adds every individual reacts to ingredients differently, and that's why education is on the front burner at Luvanya. To that end, the team answers skin questions posted on its Instagram account on Fridays. Recent questions covered how often skin should be washed and the best oils for it.
Patel points to Luvanya's pricing as an incredibly tough decision. "I wanted potency and rare ingredients that cost money," she says. However, she continues, "I don't want people to have to spend $500 to $600 to keep their skin healthy." Exfoliating Elixir is priced at $90 for a 1-oz. size.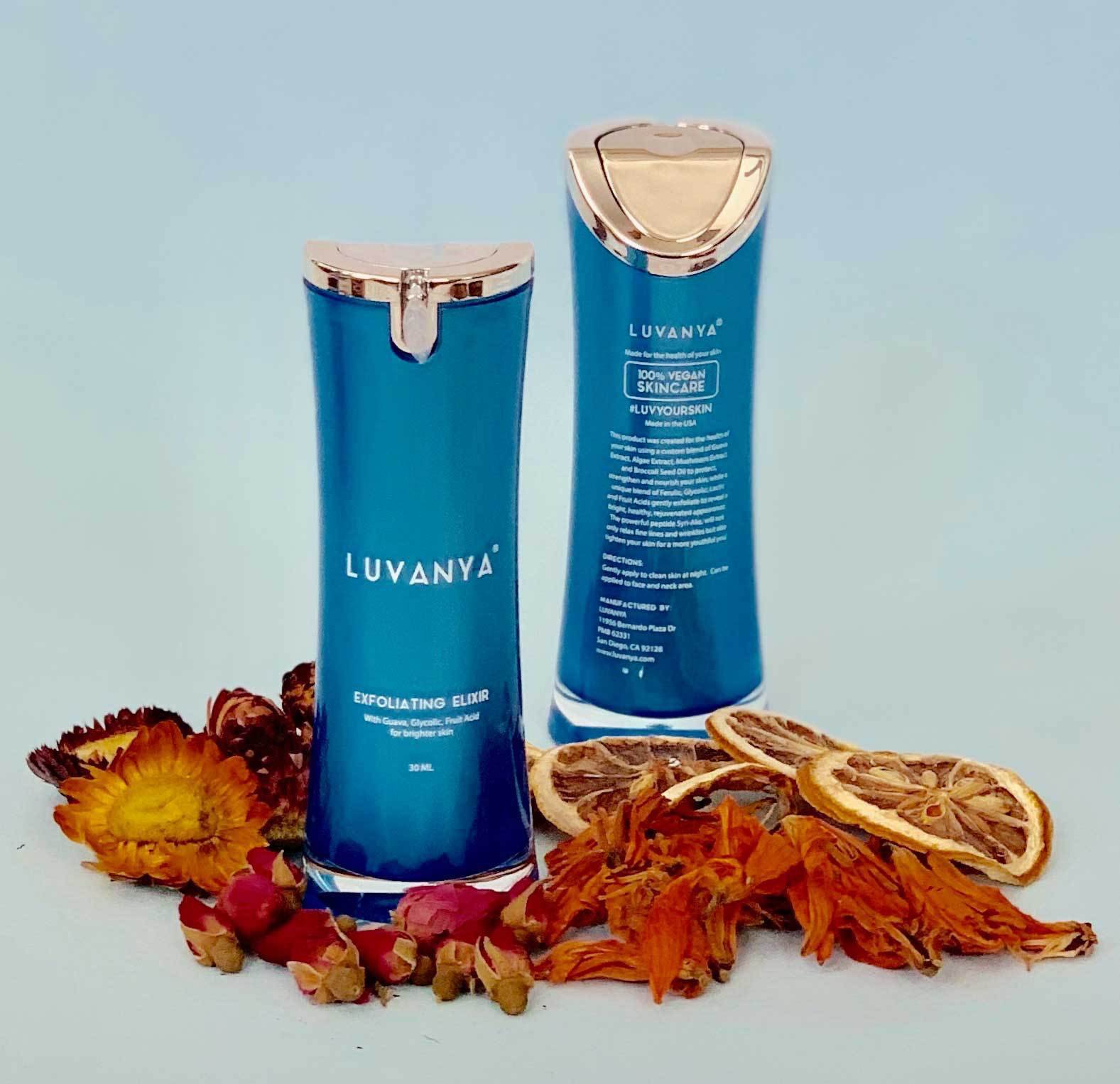 Luvanya joins a growing list of skincare lines formulated for a variety of skin tones. "This elixir isn't just for females, not just for one region or skin color. I wanted to create a product that could be useful for as much of the population as possible," says Patel of her brand's gentle night exfoliator she believes can be slathered on by more than 80% of the population without issues. It was devised for busy consumers without time for overly complicated regimens, but with product safety as a top concern.
Self-financed with a limited marketing budget, Luvanya is holding giveaways to build traction. The partnership with Hollis, who's worked with Regina King, Wendy Williams, Jennifer Hudson and Naomi Campbell, aids in raising awareness. Hollis had been searching the industry for a clean, yet effective beauty brand and, once introduced to Luvanya, knew its mission and beliefs aligned with his.
Sold direct-to-consumer at the moment, physical retail is part of the brand's game plan, but the founders maintain direct access to consumers is important as a starting point to effectively communicate Luvanya's message. Shah says, "We could see our products in spas and department stores eventually."