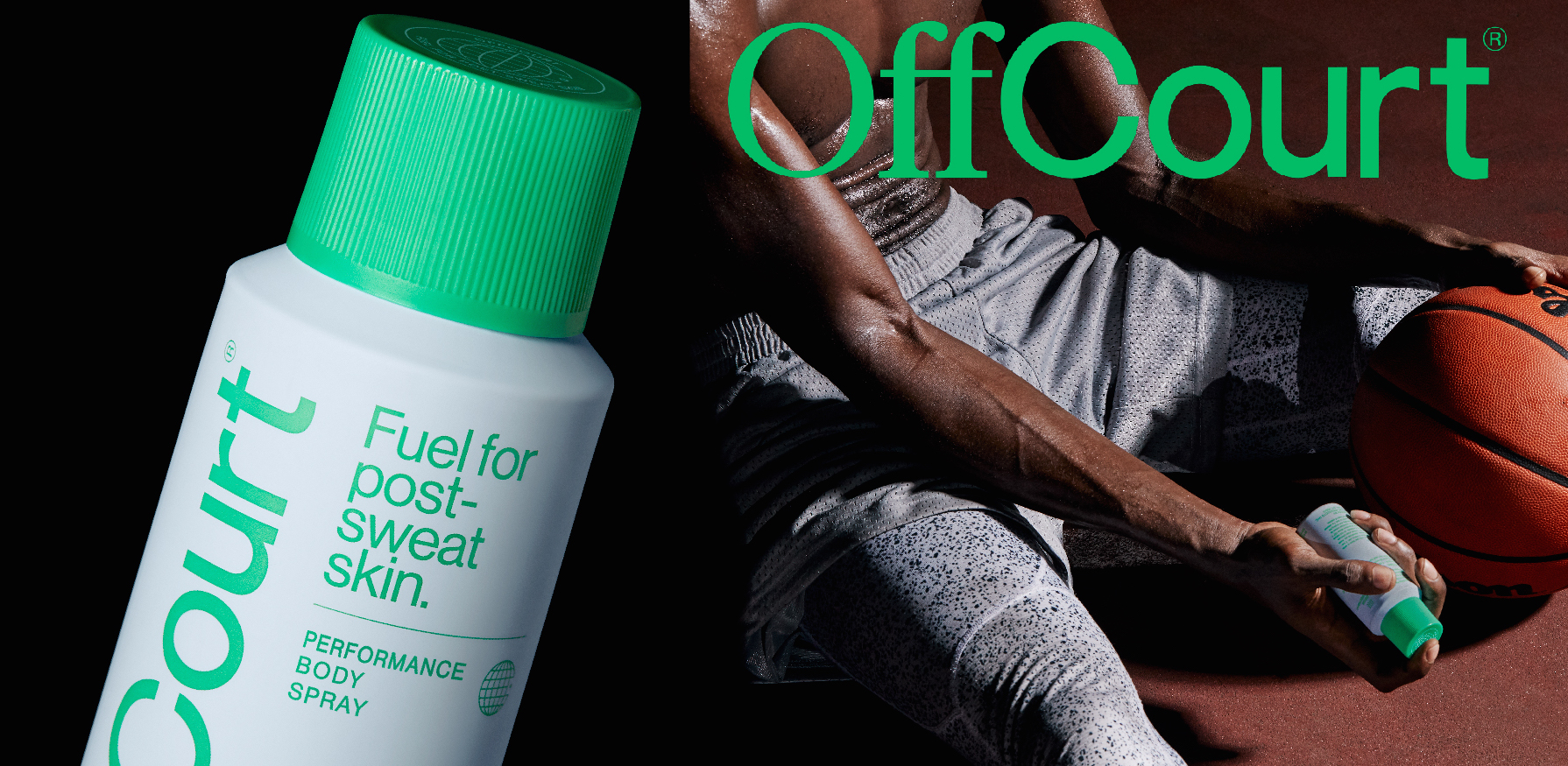 New Brand OffCourt Offers Sophisticated Body Sprays For Active Guys Upgrading From Axe
When you're putting out a body spray, the comparisons to Axe are unavoidable. Bani Bahari and Jonathan Lawrence, the married co-founders of OffCourt, a new men's personal care brand starting with the combo cologne-deodorant product, aren't running away from them. Instead, they're addressing them to show that a better body spray is possible.
"It was so successful, and really took over high school locker rooms and many college dorm rooms. When you get older, you don't want to be associated with something like that that has a strong brand identity. Also, your tastes for fragrance change," says Lawrence of Axe, adding, "It was limited because it was squarely focused on one demographic. There really wasn't anything to graduate to."
OffCourt is entering the consumer packaged goods game with a refined body spray—three to be specific—for guys to graduate to once their Axe days behind them. Produced with the fragrance houses Symrise and IFF as well as Ann Gottlieb, a leading fragrance expert who's worked on everything from Axe and Degree to Carolina Herrera and Dior, its debut scents are coconut water and sandalwood; fresh citron and driftwood; and fig leaves and white musk.
Lawrence and Bahari speculate coconut water and sandalwood, the deepest scent, will be the bestseller. "It has an addictive quality," says Bahari. OffCourt's website describes the scent as inspired by "long runs in the woods and Ralph Lauren's billiard room in Architectural Digest." On all its body spray varieties, the brand estimates it spent 2X to 3X what most personal care brands spend on scents.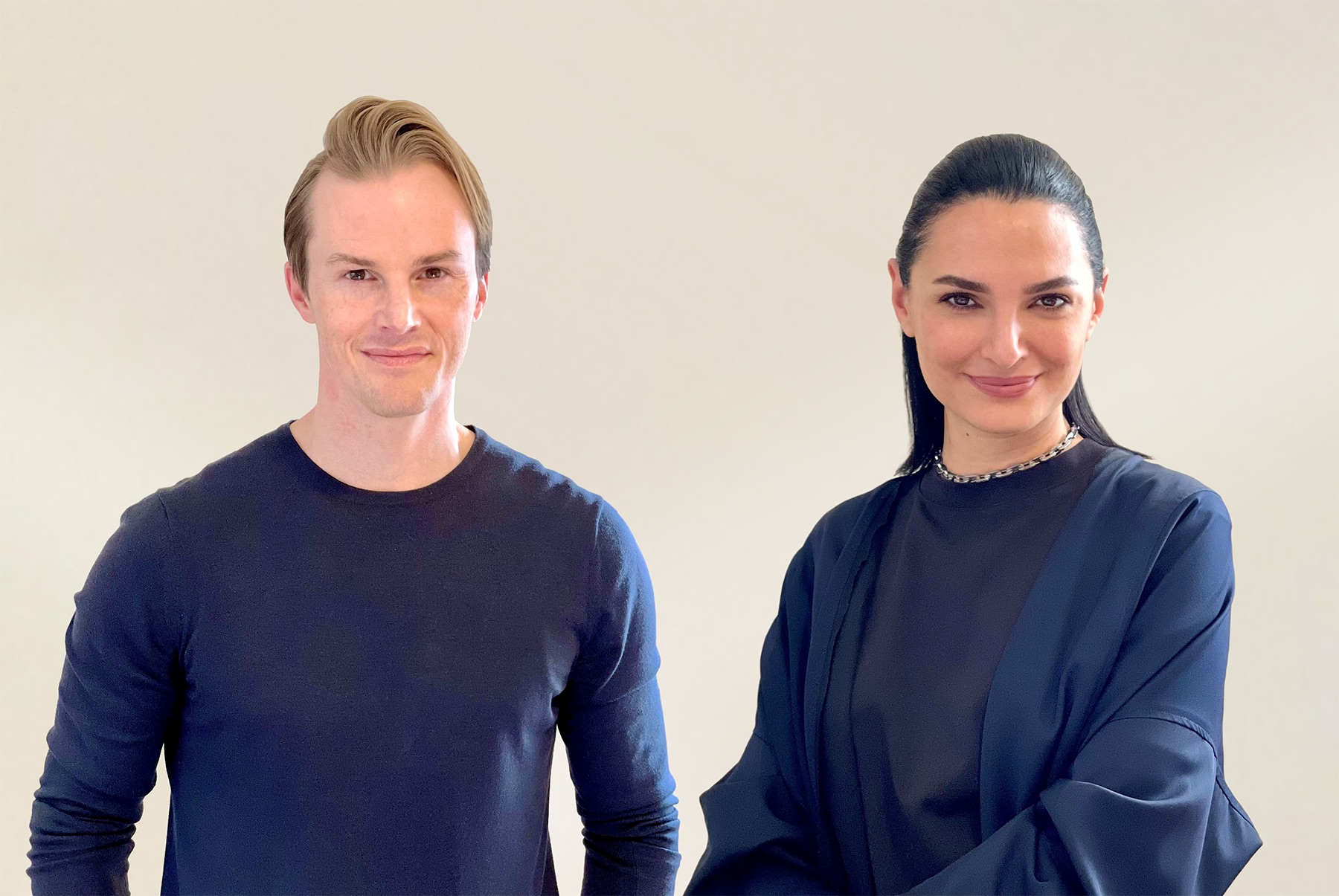 The idea of freshness is a theme across the scents, and OffCourt's aluminum-free body sprays are designed to last, but not be overpowering. Lawrence and Bahari point out consumers expect body sprays to be effective for 48 to 72 hours. The scents are blended with a deodorizing base of prebiotics to satisfy the odor-busting responsibilities of body spray.
"A lot of the new brands launching didn't really try to go after sophisticated fragrances. They more went the essential oil route with a drop of eucalyptus oil. That's certainly easier than trying to do custom fragrance development. So, it really felt like there was a lot of white space," says Lawrence. "The fragrances out there were basic and didn't have a lot of love from men, but we also talked to women because men's decisions often come down to the women in their lives. If a woman says, 'This smells great, the guys will be very loyal to it.'"
Sophisticated fragrance for the personal care segment wasn't the only white space Lawrence detected. A real estate private equity executive in his everyday career, he's a sporty fellow. A Canadian, he admits to dabbling in hockey, among an array of athletic pursuits. About three years ago, he began noticing the personal care products addressing him as a professional interested in fitness didn't suit his growing penchant for the finer things. He could buy cool and elegant electronics and clothes. Why not body spray?
"At the center of our product philosophy is sweat and creating products that make sense for the active consumer."
Lawrence shared his observation with Bahari. At the time, Bahari, formerly a strategy and operations analyst and consultant at Deloitte, was in the process of obtaining her MBA from Columbia University and interning at Glossier. She believed Lawrence had hit on an opportunity in the market. She conducted consumer research to delve into the purchasing behavior of 250 men—and learned several of the hypotheses she had about men's personal care tendencies were wrong.
The biggest misconception was that guys might be willing to shell out greater amounts for upscale body spray. Bahari discovered $12 was the maximum they were willing to pay. Lawrence recounts, "If you tell them it was $12, they would balk on it and say, 'I'm paying $5 now, why I would I pay $12?'" For OffCourt, Bahari and Lawrence landed on the body spray being $10 for a 3.4-oz. size to signal that the product is premium while placing it within the range of what male consumers are willing to fork over.
Beyond pricing, Bahari and Lawrence learned men are particular about marketing language. They aren't familiar with ingredients that beauty brands spotlight and shy away from products that seem to be vanity projects. "When we started talking about it from an athletic position about efficacy, then it started to click. We don't talk about the ingredients as much, but why it is different and should work in their routine. It's about performance," says Lawrence, emphasizing, "At the center of our product philosophy is sweat and creating products that make sense for the active consumer."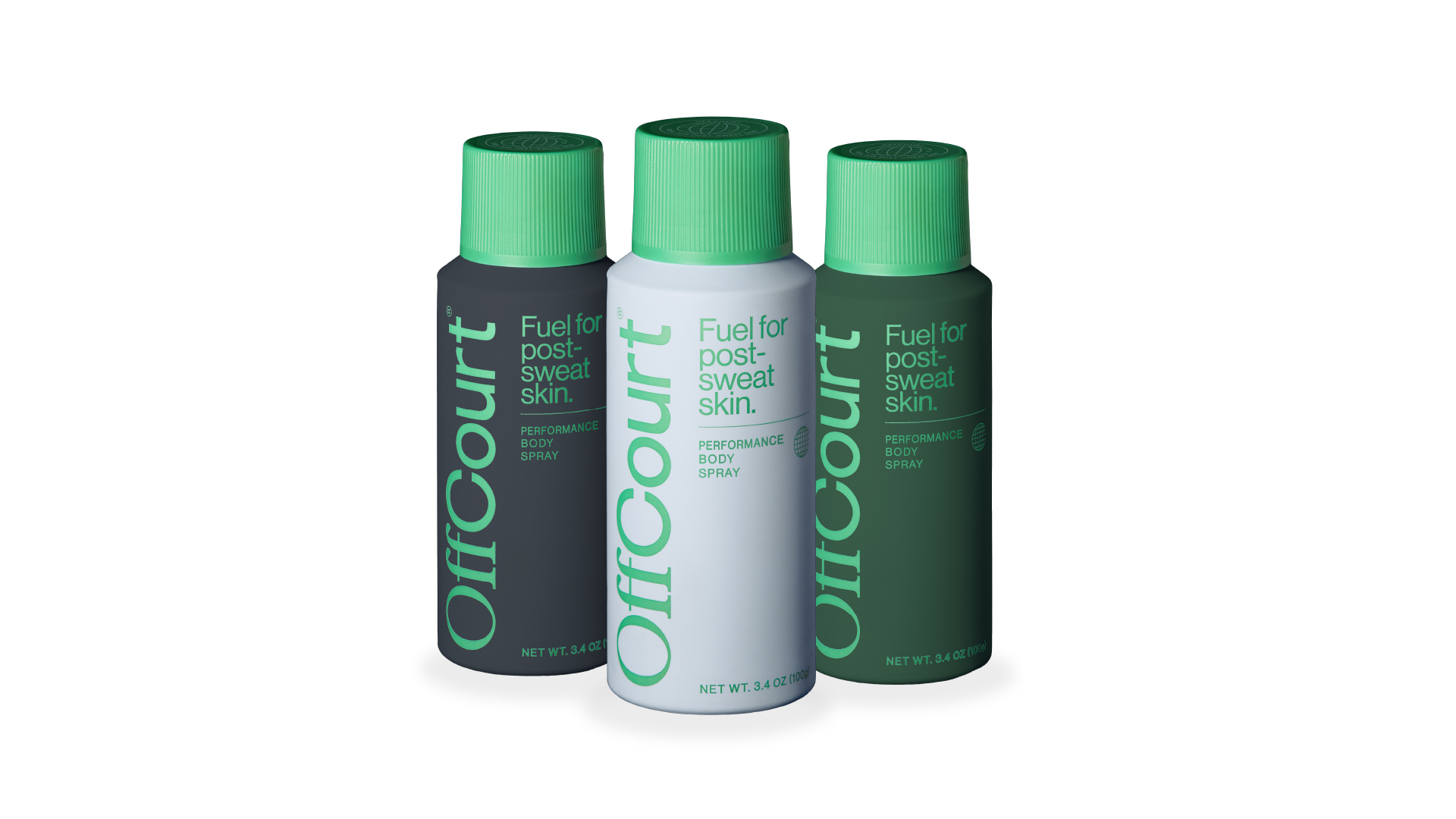 Finally, they learned men shop in traditional venues. Brick-and-mortar retail accounts for the vast majority of men's personal care transactions. OffCourt is kicking off on its site and Amazon, where body sprays are common, but Bahari notes, "In year two, we will look at other distribution channels. Really year one is about putting products in the hands of the target customer and getting feedback, and testing the formulas and the messaging." Lawrence pegs the target customers as men aged 18 to 35 desiring portable personal care products—they have to be gym bag- and travel-friendly—that smell superior to the usual stuff they've encountered at the drugstore.
The brand's design is gender-neutral enough to appeal to women, but skews masculine, although not excessively so. Bright green is a key color, and it's used for hairspray-style caps that break from Axe's twist-cap format. Bahari explains OffCourt is attempting to stand out on the shelf with a modern aesthetic. She says, "Internally, we say we are more Nike than Under Armour."
OffCourt's assortment will be expanded relatively soon. "We think we have a great, differentiated product. We want to follow that up with more differentiated products, and find that consumer that really resonates with the brand," says Lawrence. "It's about performance body care."
To get OffCourt off the ground, Bahari and Lawrence raised an undisclosed sum of pre-seed funding. To fuel the product pipeline and marketing, they're embarking on a seed round. Already, OffCourt is dispersing body sprays to 2,500 athletes, friends, editors, fitness trainers and influencers to spread the word. Even if they haven't picked up a body spray in years, Bahari says, "We think that, with an elevated option like OffCourt, we can bring them into the category again."