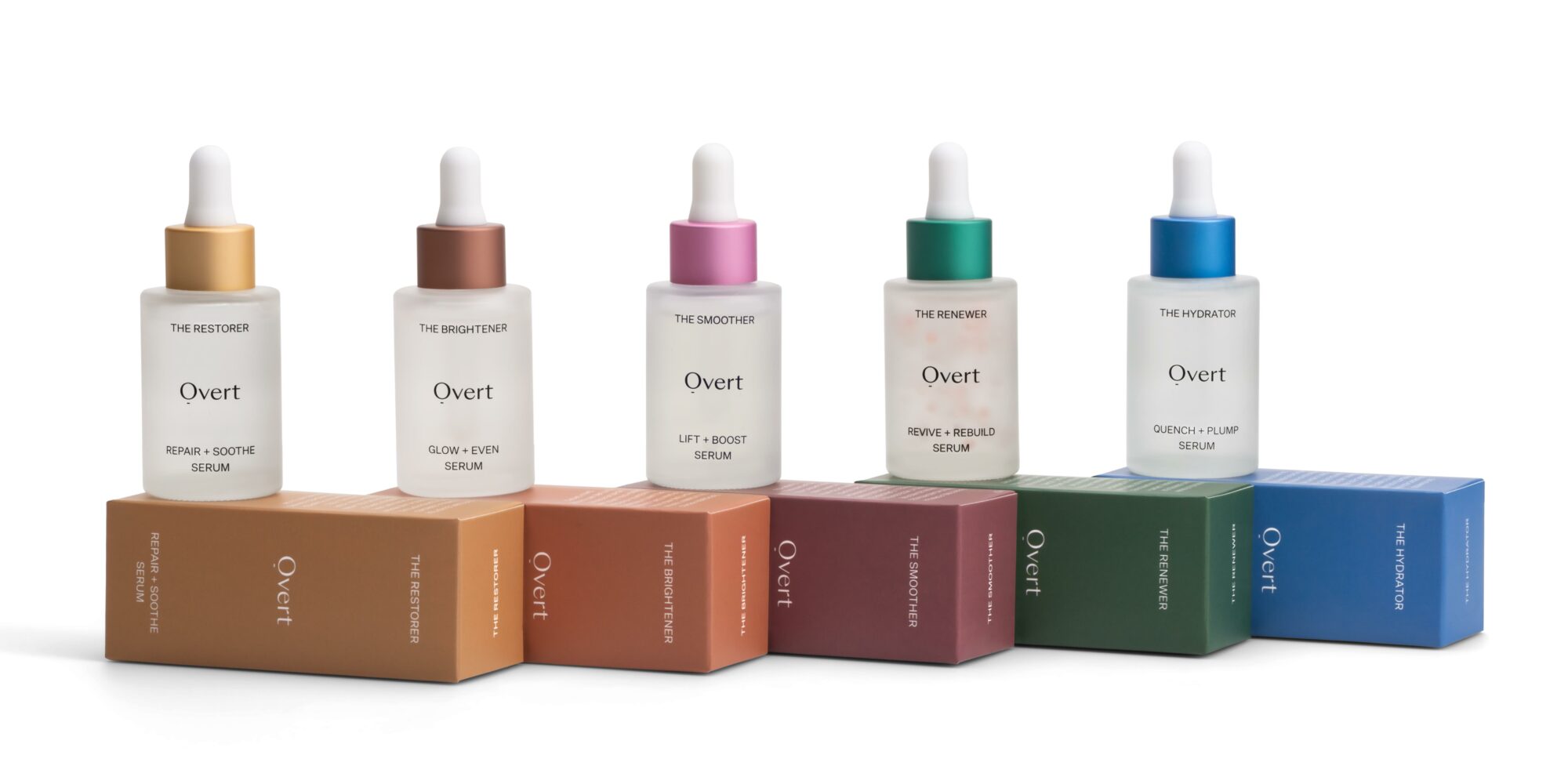 This New Brand Believes Consumers Want Great Skincare And Openness About The Supply Chain Behind It
As transparency becomes not simply a descriptor, but an ethical pillar for indie beauty brands, Overt Skincare is making its commitment to it, ahem, overt.
The new brand from IE Business School graduates Rory Semple and Giselle Chirinos is promising openness about elements of its operations beneath the label, whether they're manufacturing, distribution or sourcing. The engaged couple believes that promise will help Overt, which is starting with a lineup of five serums, forge strong relationships with customers skeptical about the beauty industry's marketing and social impact.
"Transparency is understanding everything, from our branding to our imagery to why we choose to make items that are gender-neutral, easily accessible or attractive, all the way to where we make the product and how we ship it to the warehouse and how it arrives at your doorstep," says Semple. "We want to be transparent about our supply chain. I think some brands, when they say transparent, they just mean an ingredient list, but, frankly, I think you have to go beyond that to win customer trust."
Overt details on its website that its products are manufactured in a cruelty-free, family-owned facility in the suburbs of the Chinese city Guangzhou that adheres to good manufacturing practices or GMP. It ships products to the United States, where it has a warehouse in Chicago, via maritime shipping, a method that has lower emissions than air transport. It packages its unisex products in recyclable or biodegradable containers and provides explicit instructions for disposal. (The shipping and product boxes, for example, can be hawked into standard cardboard recycling receptacles.)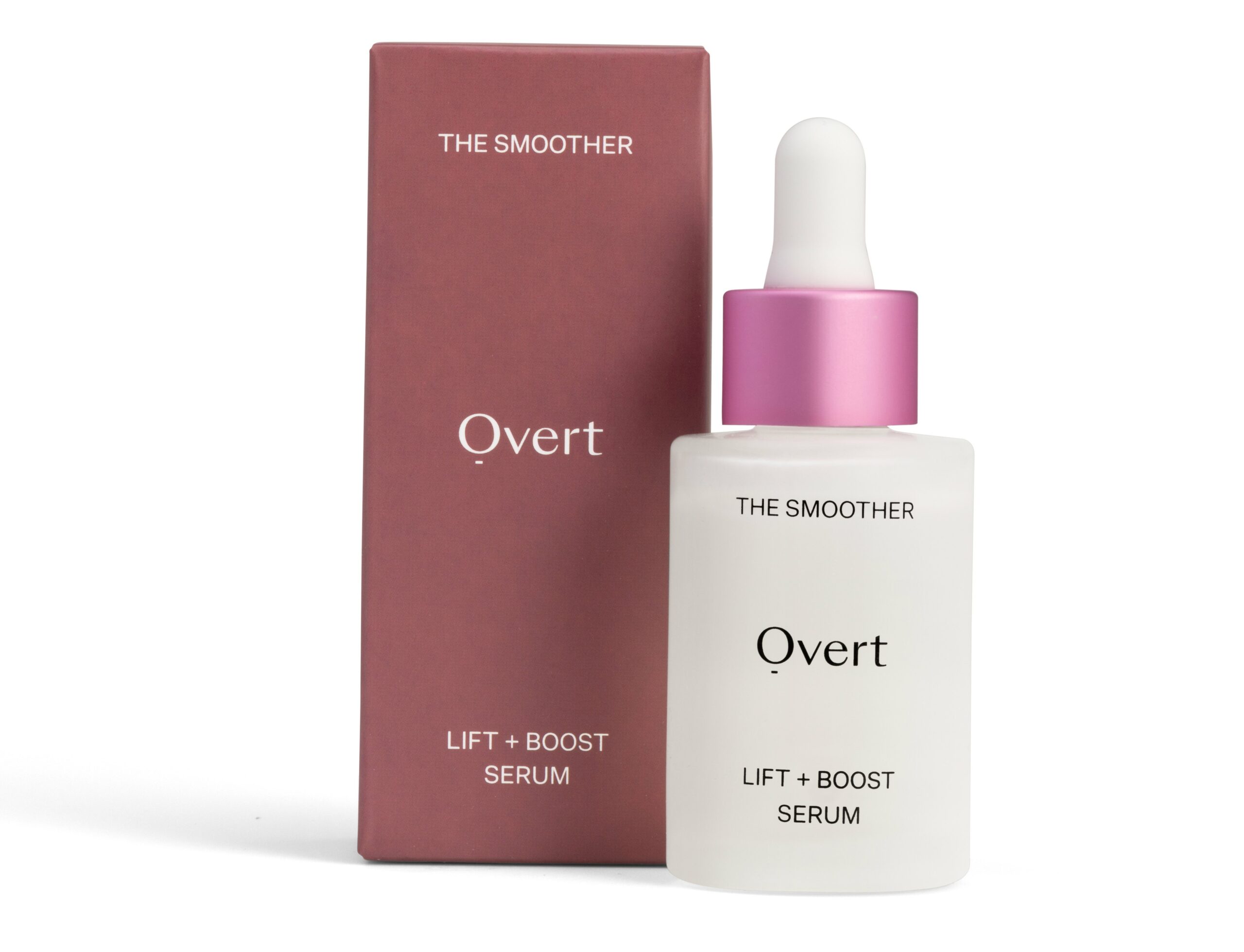 "Some people have a vision of skincare companies sitting around in their houses making giant vats of stuff and producing packaging, and literally going from a single point to the doorstep, but that's not how the process works," says Semple. "We want to be transparent from design to doorstep."
Overt's ingredient sourcing and give-back component are interwoven. The brand dedicates 10% of net profits to Anti-Slavery International, an organization fighting for the rights of the estimated 40.3 million people currently enslaved. In addition to avoiding ingredients causing environmental harm, Semple emphasizes Overt avoids ingredients associated with high levels of human exploitation in their harvesting or refining.
"We want to be transparent from design to doorstep."
Overt is centered on tried-and-true skincare ingredients. Its five initial serums are The Brightener with 20% vitamin C and organic hyaluronic acid; The Hydrator with organic aloe vera, organic centella asiatica and organic hyaluronic acid; The Renewer with epidermal growth factor, copper peptides and soy isoflavones; The Restorer with copper peptides, matrixyl 3000 and amino acids; and The Smoother with retinol, organic jojoba oil and organic centella asiatica. Individually, the serums are priced at $39 to $49 for 1-oz. sizes, but Overt promotes them in duos with a 20% to 30% discount. The Glowing Duo with The Brightener and The Hydrator, and the Anti-Aging Duo with The Smoother and The Restorer are bestsellers.
Chirinos explains Overt launched with serums to drive home its efficacy to consumers and address a range of skincare concerns. Off the bat, the serums tackle dryness, dullness, and aging and texture issues. Overt officially went live online on July 8 and, since then, it's been popular with consumers in their 20s and 30s, but is also experiencing traction among women in their 50s and 60s looking for results-oriented skincare. A quiz on Overt's website directs customers to the products suited to their skin.
The brand plans to expand product collections around various concerns. Its next step will be into moisturizers and a sunscreen is in the product pipeline, too. "We will continue to work on products that we feel bring real value without overcomplicating skin routines," says Chirinos. "We don't want to make something that we ourselves wouldn't potentially use."
Overt's early fans are serious skincare enthusiasts. Semple describes the brand as in a skincare brand class with the likes of Tatcha and Drunk Elephant in terms of offerings, but priced between them and cheaper brands like The Ordinary and The Inkey List. "Formulation-wise, we compete with the big guys, if not beat them," pledges Semple.
"Formulation-wise, we compete with the big guys, if not beat them."
Overt has been gaining a following in Reddit's SkincareAddiction community. In a review of The Brightener, one commenter in the community going by the handle Streetlightct said, "I really have noticed a huge difference in my skin, and recommend it 110%." The commenter added, "I like Overt because they have a cause and donate to charity. I know it's only the icing on top of the cake in terms of effective skincare, but to me it makes a difference."
Overt's origins date back four years to Semple's and Chirinos's tenure at IE Business School, where they met and learned they had similar skin histories. They had struggled with acne and didn't run across solutions for it that were affordable and beneficial. Chirinos says, "We wanted to create a company that meant something for us, that provided a solution that we both failed to find on the market, and we wanted to take it a step further."
Two years ago, she and Semple dove into developing Overt. They invested around $80,000 to get the self-funded company off the ground. While Overt has a digitally native approach, Chirinos and Semple view retail as critical arm of its distribution. The brand has been picked up by European luxury store Smets. Based in Madrid, Chirinos and Semple are targeting retailers in Europe and the U.S. They're drawn to curated boutiques that can deftly communicate Overt's mission to shoppers.
The pandemic has made it difficult for Overt to set sales goals at the outset. However, pandemic or not, Semple and Chirinos insist their first-year goals are more foundational than financial. They're interested in placing Overt in key retailers and enlarging its team. "We want to build a company that's not just focused on top-line revenue growth, but on a healthy, sustainable ecosystem," says Semple. "We want to focus on objectives that are more than a dollar figure at the end of the year."
Will Overt's transparency persist as the brand expands? Semple vows it most definitely will. "We go into detail on pretty much everything," he says. "I don't think there is anything we feel we wouldn't share."