New Marketplace The Fascination Wants To Make It Easier For Consumers To Shop DTC Brands
In a 2020 in which many companies were devastated, entrepreneurship flourished in the United States. Nearly 4.5 million small businesses started, making 2020 the biggest year on record for business formation with a 24.3% surge from 2019, according to data from the U.S. Census.
If a tiny fraction of the small businesses recently launched is interested in selling consumer goods online, the already noisy direct-to-consumer segment will become even noisier. For consumers trying to track down the right product for their tastes, budgets and performance demands, the e-commerce shopping process is getting increasingly overwhelming.
The Fascination is out to cut through the confusion. It's among a number of digital marketplaces that have been popping up to present the best of DTC brands for people without time to weed through pages of search results. Across seven merchandise categories, including beauty, health and wellness, and lifestyle and home, The Fascination showcases over 100 brands such as Huron, Proven, Aavrani, Disco, Cocokind, Glossier, Keeps and Oui the People. It went live on Dec. 21 with content and is scheduled to enact transaction capabilities at the end of the first quarter.
"The Fascination is a marketplace that allows consumers to discover new brands, read product reviews, research brands and shop all in one place," says Maggie Beth Gibson, a founding team member at The Fascination and partnerships lead. "Just as someone might have in the past gone to Nordstrom or Amazon, we ultimately want to be that for direct-to-consumer brands."

Matt Hayes and David Wolfe, co-founders of digital growth consultancy New Economy Brands who together built mattress brand Leesa from $25 million in revenues in its initial year on the market to $125 million in revenues in three years, are the forces behind The Fascination. Nik Sharma, CEO of Sharma Brands, is an advisor to it. The marketplace is zeroing in on inclusive, and women- and minority-helmed brands. According to Gibson, formerly business development manager at media company The Skimm and mattress firm Eight Sleep, The Fascination plans to onboard 20 to 25 brands per month.
"I want to help brands tell their stories on this marketplace. I'm also a consumer who loves brands, and I want to change the way people are shopping for them," she says. "I specifically put my money toward small female- and minority-led businesses, and I really want to support those businesses—and there's a need for that. We are highlighting those mission-driven brands and allowing consumers to connect with those that work for them."
"The Fascination is a marketplace that allows consumers to discover new brands, read product reviews, research brands and shop all in one place."
Gibson details The Fascination is aimed at older millennials largely living in cities with a bit of disposable income to spend on a conscious brand that's not the cheapest thing at the local drugstore. Still, The Fascination is attempting to amass a strong slate of products crossing a variety of price points. With its current content-based approach, participating brands earn revenues via affiliate commissions. The Fascination is linked to major affiliate programs ShareASale, Rakuten, Pepperjam and more. "They [brands] don't have to pay anything unless a sale is made," says Gibson. "We are almost like a content arm for them in a way, and that's one of the reasons why a lot of brands want to work with us."
The Fascination's content delves into what it calls the "science" and "soul" of a brand. The science portion concentrates on products and what's in them, and the soul part involves the impact a brand makes and its cultural perspective. Badges alert shoppers to whether a brand is ethically sourced, led by a woman or minority, organic, made in the U.S. and offers financing. Ming Zhao, CEO and co-founder of personalized skincare brand Proven, is a fan of The Fascination's content. "We want our story to be told and to be told well," she says. "So, we appreciate sites that work with good writers and journalists so that the resulting article is something that all parties are proud of.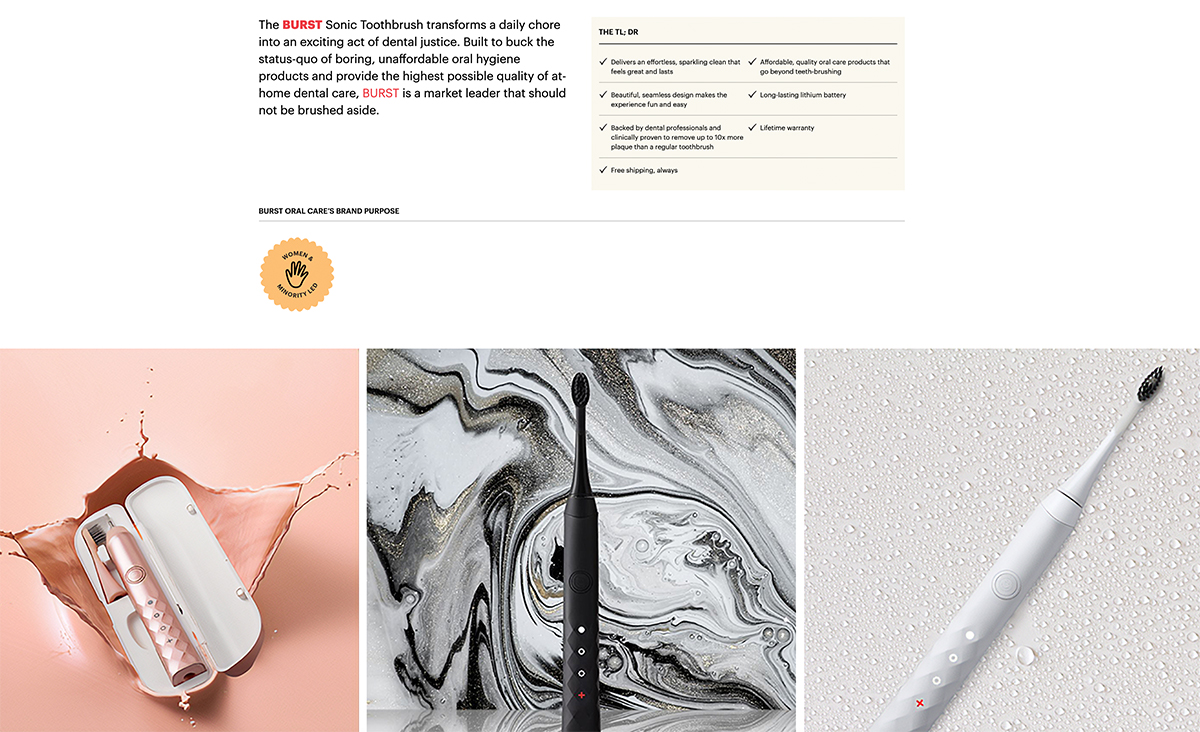 Product reviews are integral to The Fascination's proposition to online consumers. Its staff—it has about five employees today primarily in Virginia Beach, Va.—reviews products, and it solicits reviewers from beyond its staff to ensure it has a range of voices. The Fascination's extensive reviews tend to be written after 30 days, 60 days and 90 days of use, but a Keeps review was written after a year of use.
"Our goal is to have reviews with different takes, like maybe a dad and a single millennial talk about a men's product," says Gibson. "We want people to see themselves represented in product reviews to understand the experience. We are always bringing on new reviewers, and we want our customers to really understand who the reviewers are, so they can follow their reviews in the future."
"Curated marketplaces like The Fascination are the future."
The Fascination's in-depth curation and product reviews fueled Disco founder Benjamin Smith's decision to place the men's skincare and body care brand on the platform. "Curated marketplaces like The Fascination are the future," he says, adding about The Fascination in particular, "We are bullish on their chances of success given their team's background and deep expertise in the consumer space. Shoppers are looking for an easy way to find the best brands, and platforms such as The Fascination are the perfect platform for such discovery. Partnering with them was a no brainer, given their team's experience, and little to no downside for us. Worst case, we get high quality web traffic that we can retarget on our paid advertising channels. Best case, we convert their users into Disco customers."
Disco has omnichannel distribution. It recently entered Amazon and Nordstrom, where it's hitting shelves in 50 top doors. Later this year, its specialty retail presence will expand. Recognizing the importance of an omnichannel model for budding brands, Gibson says The Fascination sees its role as complementing brands' retail stockists and DTC opportunity. She explains, "We want to be a strategic partner for brands over time. From an industry perspective, obviously, retail has completely changed due to COVID, but I don't know if it will ever go away. There's something to feeling and testing different products that people love, but we work in tandem. A lot of the direct-to-consumer brands are in the Targets, Walmarts and Whole Foods of the world." Down the line, she points out The Fascination might consider a physical manifestation of its concept.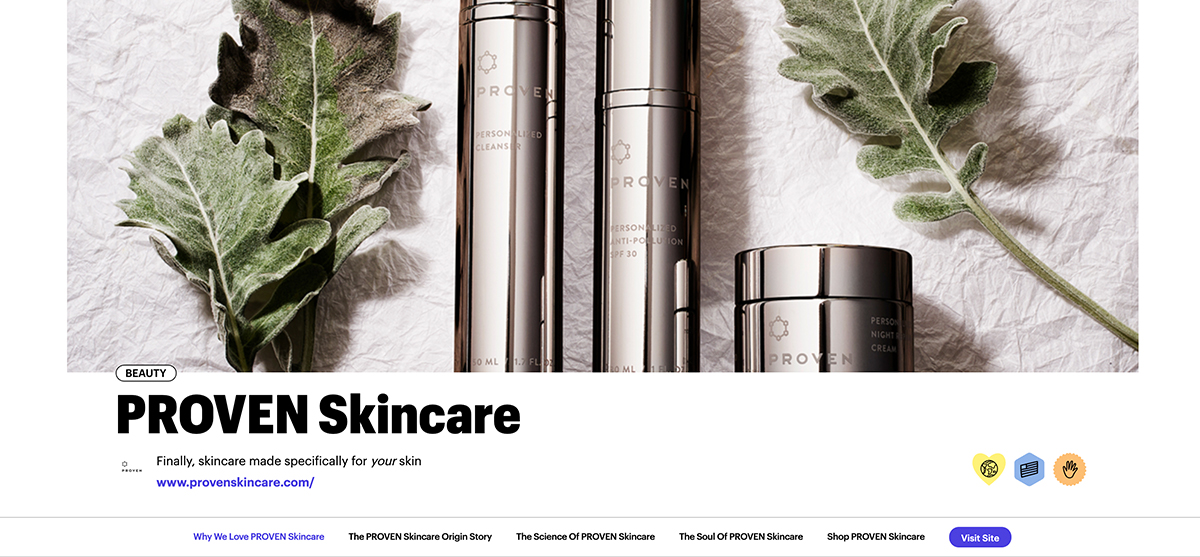 For DTC brands that could benefit from a financial boost, The Fascination has introduced the Fascinating Founders Grant Program providing grants worth as much as $10,000 to women and minority founders. "We want to champion the emerging DTC brands as much as we do the bigger ones," says Gibson. "As brands continue to start and grow, we want to accelerate that and be a place that people come to for them. I love hearing founder stories every day and telling them to our consumers."