New Melanated Skin Specialist Plantkos Launches In DTC, Enters The Detox Market's The Launchpad Program
Like many melanated women, Sejal Patel regularly struggled with hyperpigmentation and skin inflammation, but discovered that, just as the beauty product advertisements she saw didn't feature women who looked like her, the products in those ads didn't address her skin's needs.
As a pharmacist, Patel had a deep understanding of ingredient synergies. She chose to draw upon her scientific training and Indian roots to merge cutting-edge clean and Ayurvedic ingredients to create her own skincare brand, Plantkos, launching today. Though she's spent the majority of a 20-year career in biotech guiding startups, bringing her beauty products to market was daunting.
"I have no business being in beauty," says Patel, revealing a case of imposter syndrome that's apparently not a problem for the numerous celebrities jumping into beauty. "I don't know anything about the beauty industry, but I do love products, ingredients and how they work. My passion comes from being in the pharmaceutical industry, doing a lot of research on ingredients, looking at data, fully understanding how something works and making sure that you're balancing that effectiveness of with the safety as well. That's all we talk about as pharmacists and in biotech."
Patel's freshman foray into beauty product development includes Plantkos' range of five clinically tested facial skincare solutions: Phyto Exfoliating Cleanser, Phyto Replenishing Essence, Phyto A Face Lotion, Phyto Triple C Serum and Phyto Vitality Eye Cream. The products are priced from $37 to $73. Among the traditional Ayurvedic ingredients in them are schisandra root, gotu kola and amla. They're combined with skincare heavyweights like niacinamide and bakuchiol to form the brand's proprietary so-called phytomedicinal complex.
The complex is at the heart of Plantkos' ability to meet the unique needs of melanated skin. "You can design something to address hyperpigmentation, but, when you do that, those products sometimes do seem to dry out your skin because they're so strong," explains Patel. "You're treating one thing, but, then, you're causing something else to happen. You need to find a balance to treat some of the main concerns all at once, and I saw a lack of availability of products that did that. That's where the gap was for me."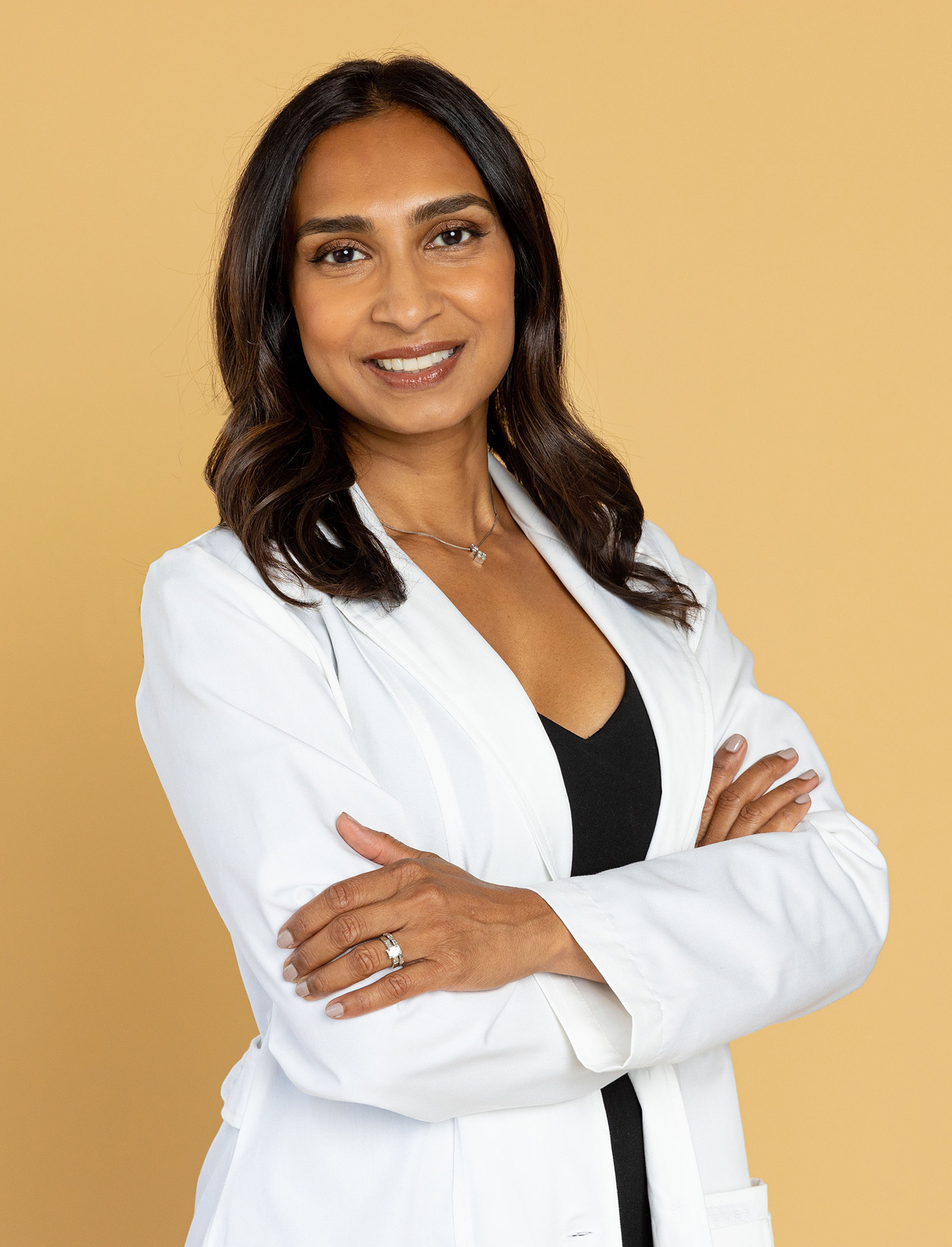 Since Plantkos' formulations are packed with a variety of ingredients, the newly minted entrepreneur wasn't interested in relying solely on the existing clinical trials proving the benefits of each component of the formula. She was driven to prove the products did what they promised. Patel commissioned extensive clinical trials on Plantkos' products to look at the synergistic effect of their ingredients. "I wanted to see in a lab setting, how does that combination function," she says. She found a lab that grows synthetic human skin that functions similar to human skin, allowing it to test the products' effects on the skin.
"I tested all five products to see, is it microbiome friendly? How is it activating the collagen? How is it activating some of the inflammatory cytokines or, in this case, not activating it? We went down to the true mechanistic aspect of how the final formulation with the phytomedicinal complex works and not just saying just because I'm adding amla and ashwagandha and all these ingredients have data individually for them, my products will do the same," says Patel. "I have the data with my final products, that, yes, they do."
Patel estimates the testing cost nearly $40,000. She believes it was money well spent. "I have zero complaints about it, and I'll do it all over again," she says. Kelly St. John, founder of consultancy KSJ Collective, who Patel brought on to support Plantkos' retail aspirations, says retailer feedback on the clinical trials has been overwhelmingly positive. "No other brands are doing testing to this level," remarks St. John.
One retailer impressed with Plantkos' value proposition is clean beauty specialist The Detox Market. Plantkos has been chosen to be part of the North American chainlet's The Launchpad, a program established to assist BIPOC clean beauty brand founders with scaling their businesses. 
"As a pharmacist, Sejal understands the complexities of formulating," says Elena Severin, senior director of merchandising at The Detox Market. "As a mother and someone who has witnessed the sensitivities that are prone to melanated skin firsthand, Sejal knows what ingredients have been proven to target, calm and help melanated skin thrive. Plantkos is a carefully crafted and beautifully executed brand that works. We are thrilled to welcome it into The Launchpad program."