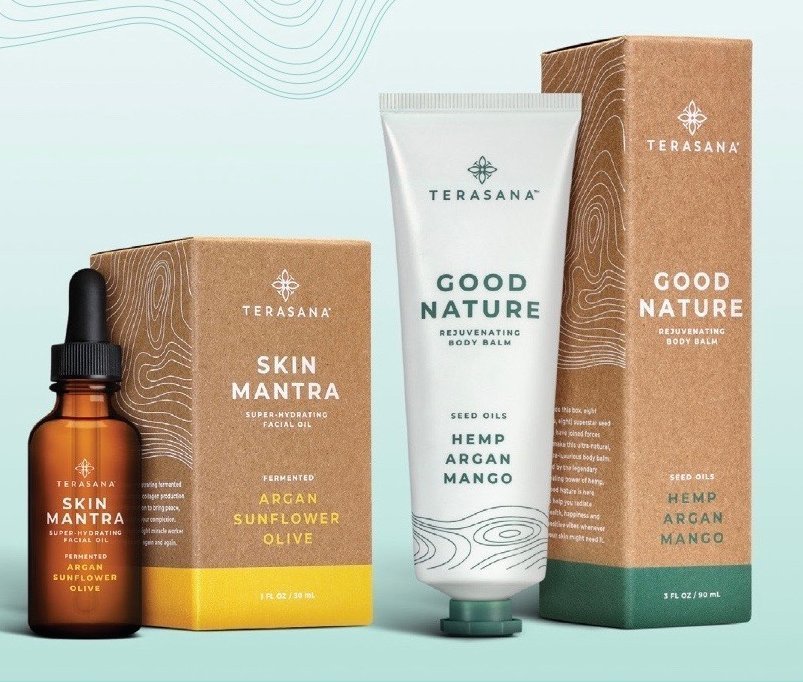 This New Natural Beauty Brand Is Trying To Do As Good For The Earth As It Does For The Skin
In 2017, Eric Kuskey, president of Manhattan Avenue Brands and longtime architect of celebrity brand deals for famous names such as Heidi Klum, Jennifer Lopez, Drew Barrymore and Iman, was having lunch in Manhattan Beach, Calif., when he decided to fill his dining companions in on an idea he'd been mulling: launching a clean skincare brand not attached to a big star.
Not coincidentally, his dining companions happened to be people, specifically aromatherapy aficionado Tina Rocca, founder of Pure Plant Home; influencer marketing and e-commerce whiz Jeff Smith, CEO of CreateTribe and co-founder of Influencer.co; and fellow celebrity brand specialist Philip Zellner, CEO of Lighthouse Beauty Marketing, who could help him execute upon his idea—and they did. Two years and close to a $1 million in development costs later, the quartet introduced Terasana with two products, Skin Mantra Super-Hydrating Facial Oil and Good Nature Rejuvenating Body Balm, before shortly thereafter debuting a third product, After Glow Repairing Vitamin C Serum.
"I wanted to make the brand from the ground up, make it authentic, make sure the brand was all-natural and safe, and make it highly efficacious," says Kuskey. "I have followed the growth of the green beauty industry for many years and saw it coming, and really wanted to be in that space, but I didn't want it to be a celebrity brand this time. We didn't want it to be a brand about the person. We wanted the brand to be about the mission."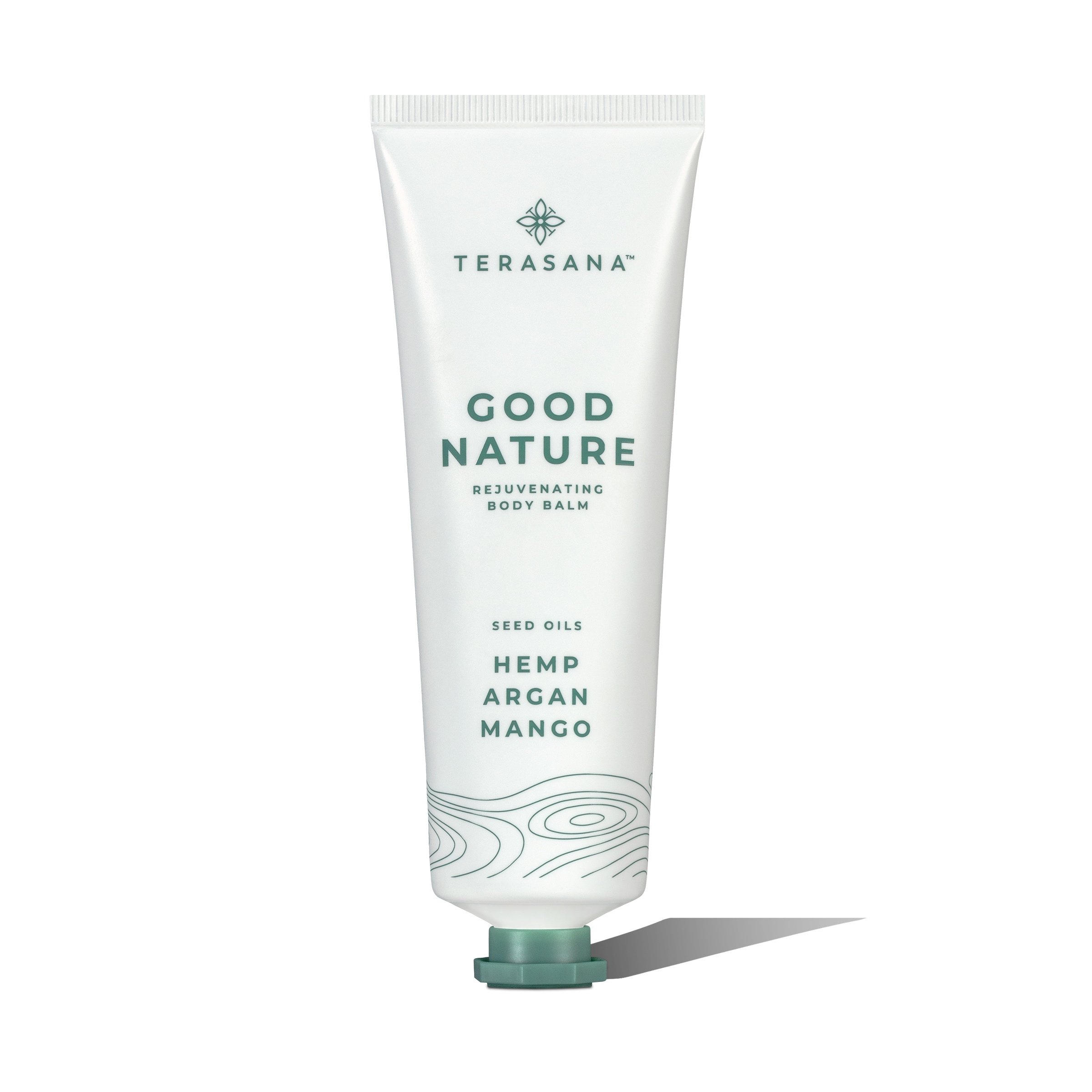 The mission is evident in both what's in Terasana's products and what's around them. The brand's scents are formulated by Rocca with essential oils. Terasana started with a single earthy, floral scent, but has a total of eight proprietary scents in its library in order to frequently roll out newness. The next scent is set to debut in April, and coconut wax candles featuring Terasana's scents are in the pipeline.
"We never put in an essential oil at a higher level than would be 100% safe for any user. In fact, that applies to all of our ingredients in our products," says Kuskey. "We have zero tolerance for potential negative reactions or irritations for any consumers. Even though we have formulated our products for the highest potential potency, we keep in mind that we don't want to go too high on anything, and we test our products extensively for irritation."
Terasana's product modus operandi is twofold: to create everyday basics and push the needle on innovation. Tapping into Korean skincare expertise, the brand's Skin Mantra Super-Hydrating Facial Oil is a blend of six fermented oils, including argan, sunflower and olive. Kuskey says, "You have a really luxurious feel to this light oil, and it has deeper penetration. For that reason, it has more efficacy than other oils." Speaking of the concentrated vitamin C derived from kakadu plum in Terasana's After Glow Repairing Vitamin C Serum, he continues, "Our vitamin C is impervious to the air, so it doesn't degrade or require an airless pump. This highly stabilized all-natural vitamin C extract is a scientific advancement that didn't exist five years ago."
"We didn't want it to be a brand about the person. We wanted the brand to be about the mission."
Kuskey pegs Terasana's core consumers as older millennials savvy about products, social media and online shopping. They're searching for alternatives to the conventional beauty products they've had in their routines and are hungry for information on them, but won't settle for poor results. "There have been plant-based ingredients for decades. The problem was that a woman had to pay a lot of money to get them, and she had to risk them not being efficacious. She had to make a choice whether she'd adhere to products with natural ingredients or go to something that was tried-and-true, but possibly had harmful chemicals," says Kuskey. "The science of green beauty is amazing today, and the raw ingredients that you can get today have every bit of the efficacy that you can get from a non-natural version of that raw ingredient."
There have been gains on the sustainability front as well. Terasana's recyclable secondary packaging is completely constructed from post-consumer waste and printed with vegetable ink. The boxes are accented with curved lines reminiscent of topographic maps, and the brand's graphic floral logo. "They were so hard to print and look good that we literally almost threw in the towel, but they were worth it," says Kuskey. "We had to look ourselves in the mirror and say, 'If you don't make your 100% post-consumer waste box work, who are you as a company?'" In its give-back program, Terasana focuses on the environment. For every product sold, the organization One Tree Planted plants a tree.
With its current products priced from $48 to $68, Terasana is positioned as an approachable luxury brand. "We source ingredients from the best sources, and we know we have incredible formulations, but we always kept in mind affordability," says Kuskey. "Little by little, year over year, we hope our prices will go down to provide even more accessibility for our target customers." He notes the brand isn't intended to sell in drugstores or discount outlets. Rather, upscale retail destinations would be distribution fits for it. Kuskey shares the Four Seasons Los Cabos and a handful of high-end boutiques in the Los Angeles area have picked up Terasana.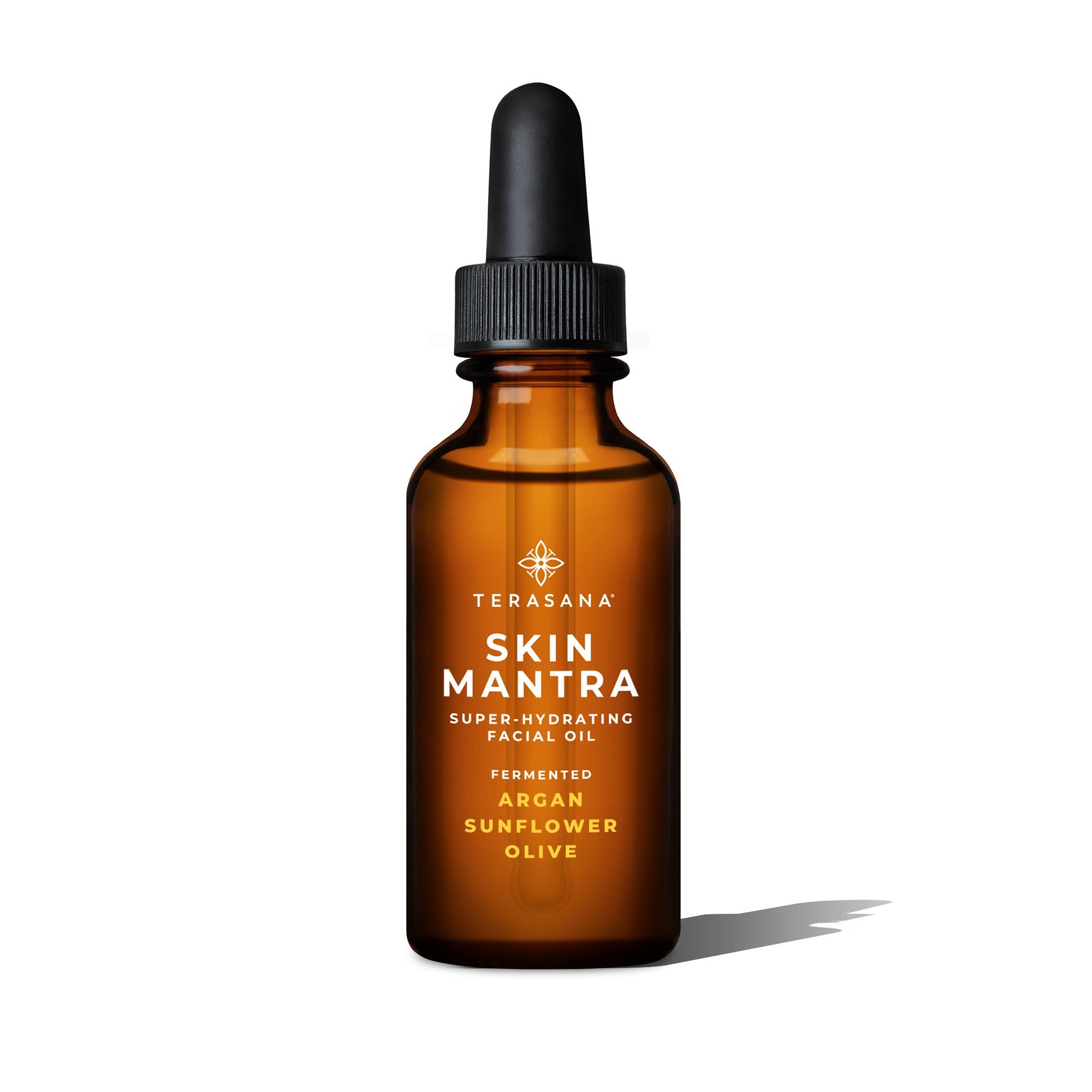 The brand has begun experimenting with paid media, and over 50 digital ads spotlighting it have run. In addition, it's raising awareness via influencer marketing. Kuskey estimates around it has 60 influencers on its outreach roster, and the number is expected to jump to 300 by April. It's leaning heavily on micro-influencers with followings of 20,000 to 200,000. "Even though I have a background in working with very big celebrities, I think influencers are amazing. Influencers are the new celebrities," says Kuskey. "We thought they would be a more authentic route to take."
This year, Kuskey projects Teresana could generate $1 million in sales. However, he emphasizes hitting a specific sales goal isn't the main objective at the moment. "Our short-term goals are first to really focus on creating the best possible products that we can. We are completely committed to a path of product integrity. A second goal is to create a community of engaged people talking about us," says Kuskey, listing a CBD product, face wash, toner and mask as future Terasana releases.  "We want to be known as a company that has excellent products, but also as a caring, environmentally-responsible company."