New Products On The Sexual Wellness Scene
The sexual wellness segment is still emerging, but it's also maturing. As the lube market gets saturated and adults' sex toy boxes overflow with tools of pleasure, companies continue to unleash new multipurpose, healing and increasingly risqué offerings. As ever, independent brands are creating compelling products. Here are five recent sexual wellness launches that excited us and will surely excite others.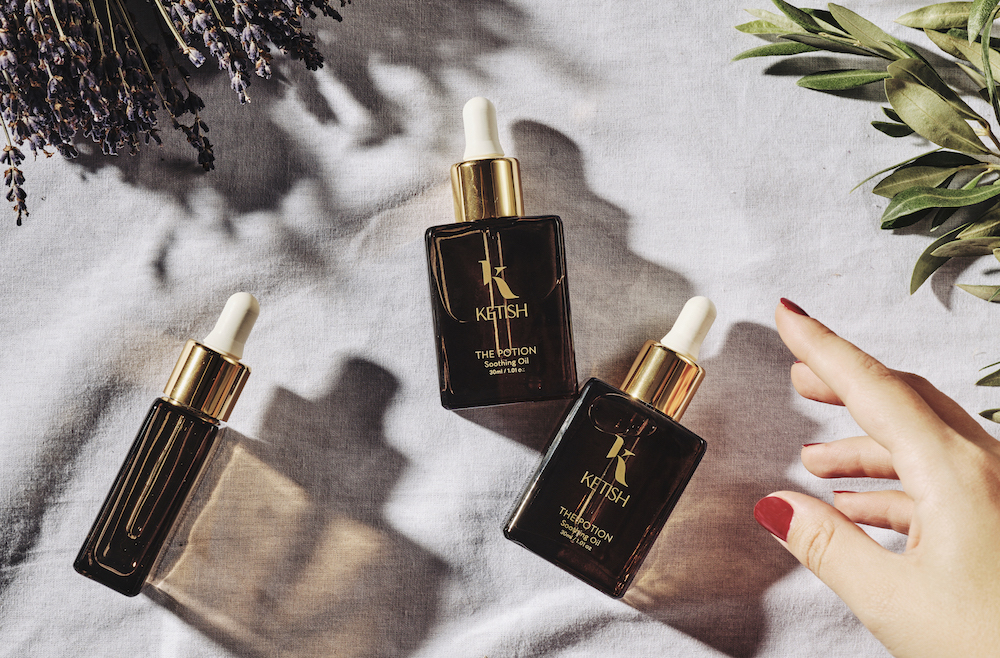 Ketish The Potion: Though she had the backing and blessing of beauty powerhouse Huda Kattan, Ketish founder Emaan Abbass knew she had her work cut out for her introducing a sexual wellness brand in the Middle East as a Middle Eastern woman. Four months into the existence of her brand Ketish, Abbass is pleasantly surprised with how well it's going. "We could have been met with a lot of friction," she says. "Although it has been challenging at times, the response has been incredibly supportive."
After debuting this summer with The Quickie Wipe, Ketish has revealed its second product, The Potion, a luxurious and soothing salve with hempseed oil, clary sage, bergamot, eucalyptus, lavender and arnica to manage and relieve period symptoms. The product is a personal one for Abbass, who suffers from painful periods as a result of polycystic ovary syndrome (PCOS). "This product is a natural alternative for those seeking to take the edge off monthly period discomfort," she says. 
Abbass's favorite way to use The Potion is to massage a few drops on her lower abdomen and back the days leading up to her period and during it. The formula can also be applied to temples or areas of tension around the body, but it's not intended for sensitive areas like the vulva. The Potion retails for $32 on Ketish's and Huda Beauty's websites. 
Kool for Men Male Endurance Patches: For the most part, recent entrants into the sexual wellness space have been female-founded companies like Dame looking to change conversations around sex to be more inclusive of women's needs. Now, male entrepreneurs are entering sexual wellness with brands aimed at assisting men with combating the deleterious effects of modern life, decreased libido chief among them.
The new lifestyle brand was founded by four men with a combined 75 years of experience in luxury health and wellness: Todd Hewitt, former vice chair of the International Spa Association and head of wellness for Shangri-La Hotels and Resorts; Carlos Calvo Rodriguez, a physiotherapist, massage therapist, aesthetician and feng shui master; Allen Cai, fitness expert and Hong Kong Crossfit gym owner, and Berlin Tan, a popular Chinese influencer KOL. In July, it debuted in Hong Kong with a collection of clean grooming and wellness products for active men. Last month, it launched outside of Hong Kong. 
"The rollout and response from the North American market has been surprisingly the same as that in Asia, all positive," says Hewitt. "Men have been thanking us for providing them with one-stop, easy-to-use and clean solutions to look and feel their best at all times. They have also been commenting that it's nice to see products designed by men for men so that they feel more comfortable when purchasing them."
Kool for Men's assortment features a range of discreet, targeted transdermal patches, including Energy, Calm, CBD, Immunity Support and Joint Mobility, each priced at $24.95 for a 30-day supply. Kool for Men's Male Endurance patches deliver a blend of herbs and minerals such as ginseng, muira puama, saw palmetto, gotu kola, guarana, damiana and fo-ti chosen to increase sexual desire and performance.
The brand has already begun its expansion beyond people with penises. Kool for Women, the brand's latest release, offers CBD drops formulated specifically for women. The drops are available in 1,000-mg. and 1,500-mg. doses.
Dosist Arouse Gummies: Jason DeLand, founding partner of award-winning ad agency Anomaly, launched Dosist in 2016—and it's quickly piled up accolades. The cannabis health and wellness company was named one of Time Magazine's best inventions, recognized by Fast Company as among the top 10 most-innovative health companies and was designated by LinkedIn as the No. 2 top startup.
Dosist isn't slowing down. Arouse, one of its latest products, has vegan, gluten-free gummies with 5 milligrams of CBD and 10 milligrams of THC to "awaken your senses and stimulate your mind." Directed at women, the strawberry mint-flavored gummies come in a pack of 10 and are available in California.
DeLand says Arouse is "designed to increase the feeling of pleasure while decreasing the feeling of anxiety. CBD is proven to agonize the serotonin 5HT1A receptor, which increases feeling of calmness and reduces anxiety. THC increases feelings of pleasure and euphoria by agonizing the CB1 receptor in the central nervous system." Sorry men, DeLand says Arouse isn't applicable to them. "Libido issues for men are very different and have to do blood flow, so cannabinoids don't really do that effectively," he explains. "THC is a vasodilator, but not to the extent that it would be an effective treatment for ED."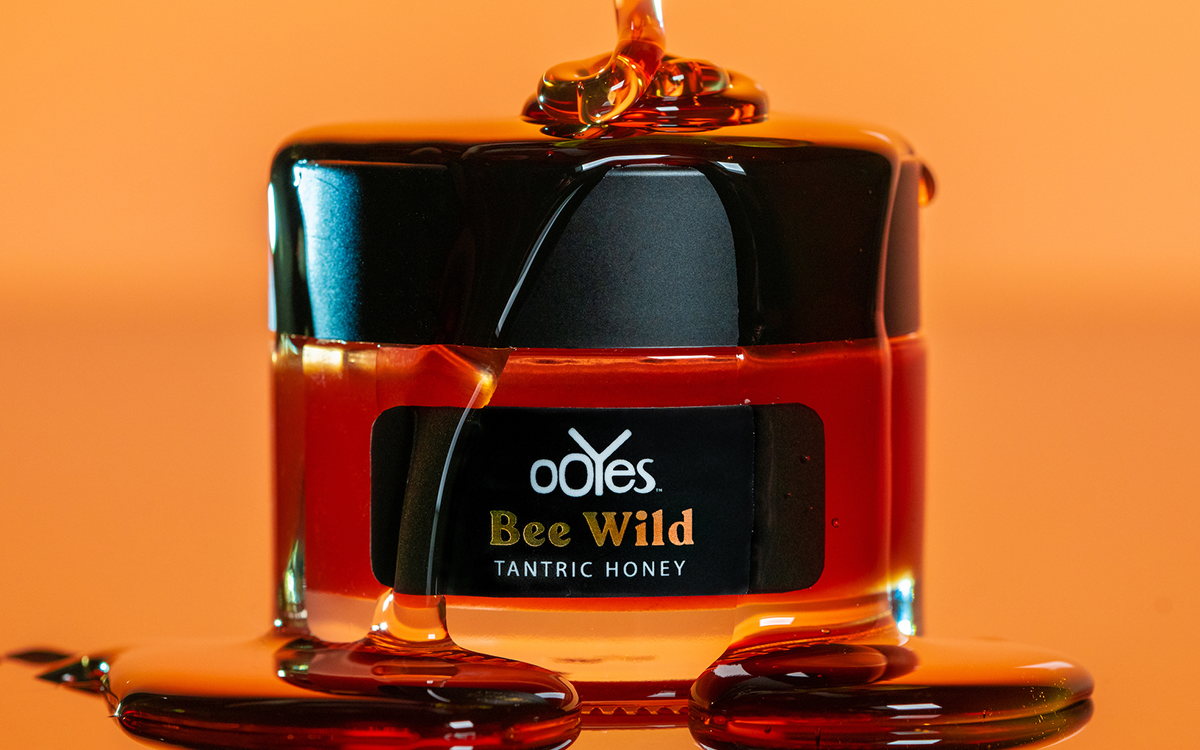 OOYes Bee Wild: Serial entrepreneur and OOYes founder Tanya Griffin spent the last three decades working in the family health field. Her journey started in 1995 with her Kangaroo Kids stores, where she aided parents as a lactation consultant. As her kids grew, her attention turned to plant-based medicines and building cannabis companies.
Now, she's concentrating her energy on OOYes, which she describes as "an ecstatic sex lifestyle brand focused on travel-centric, cannagastic" experiences. It's starting off with eight cannabinoid-infused products for sexual play and pleasure priced from $9.99 to $49.99. Additionally, it will sell products containing THC in Colorado- and California-compliant markets.
Going Down Oral Sex Elixir and Roll Baby Roll Roll On Sex Oil are early bestsellers. OOYes has also created Bee Wild Tantric Honey, a blend of full-spectrum hemp-infused honey and damiana, a plant used in the Mayan culture to boost sexual arousal. Bee Wild can be drizzled, dripped and licked during an intimate play session to make it as sweet as possible. 
"OOYes products are formulated with CBD and CBG," says Griffin. "While these cannabinoids do not get you high like THC, CBD is known for its anti-inflammatory characteristics and increased blood flow, while CBG or cannabigerol, known as the 'mother of all cannabinoids,' is known for its ability to reduce anxiety."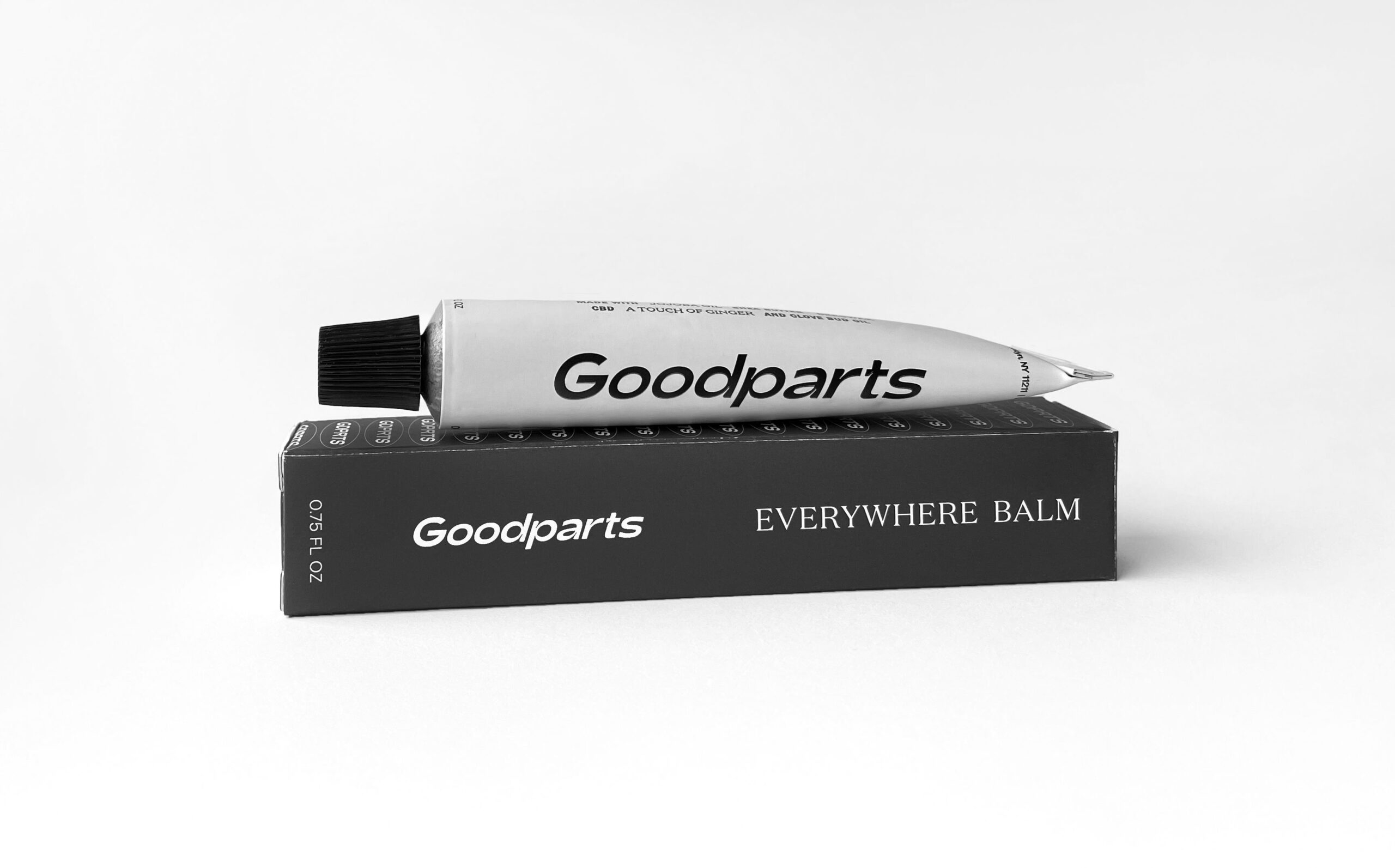 Goodparts Everywhere Balm: Dave Shanfield launched Goodparts in October 2020 to bridge the gap between people's sex lives, personal care and style. The unisex brand has two lubes: Hydrating Organic and Ultra-Smooth Silicone. Together, Shanfield says the lubes "speak to every possible partner, position and occasion." Ultra-Smooth Silicone was ranked the No. 1 lube for anal sex by Men's Health two years in a row. 
Goodparts' latest launch is Everywhere Balm, an all-purpose, all-over topical salve. Everywhere Balm has a moisturizing base of jojoba, shea butter and beeswax paired with a number of functional botanicals like clove bud and ginger oil to relax muscles and release tension, mango and papaya seed extract to provide anti-inflammatory and antimicrobial properties, and CBD.
"Everywhere Balm is designed for use both in and out of the bedroom," says Shanfield. "In addition to everyday use as a lip and body balm, it makes a great enhancement for anal sex and foreplay…Plus, with natural ingredients and a mouth-watering scent, it's great for oral fun, too." The name of Everywhere Balm's flavor, Original Heat, is inspired by body contact and designed to smell the way physical touch feels. 
Consumers can grab Everywhere Balm and Goodparts' other goodies on its site and FastAF, which offers two-hour delivery in New York, Miami, San Francisco and Los Angeles. The brand is in talks with hotels and retailers for distribution expected to materialize next year.