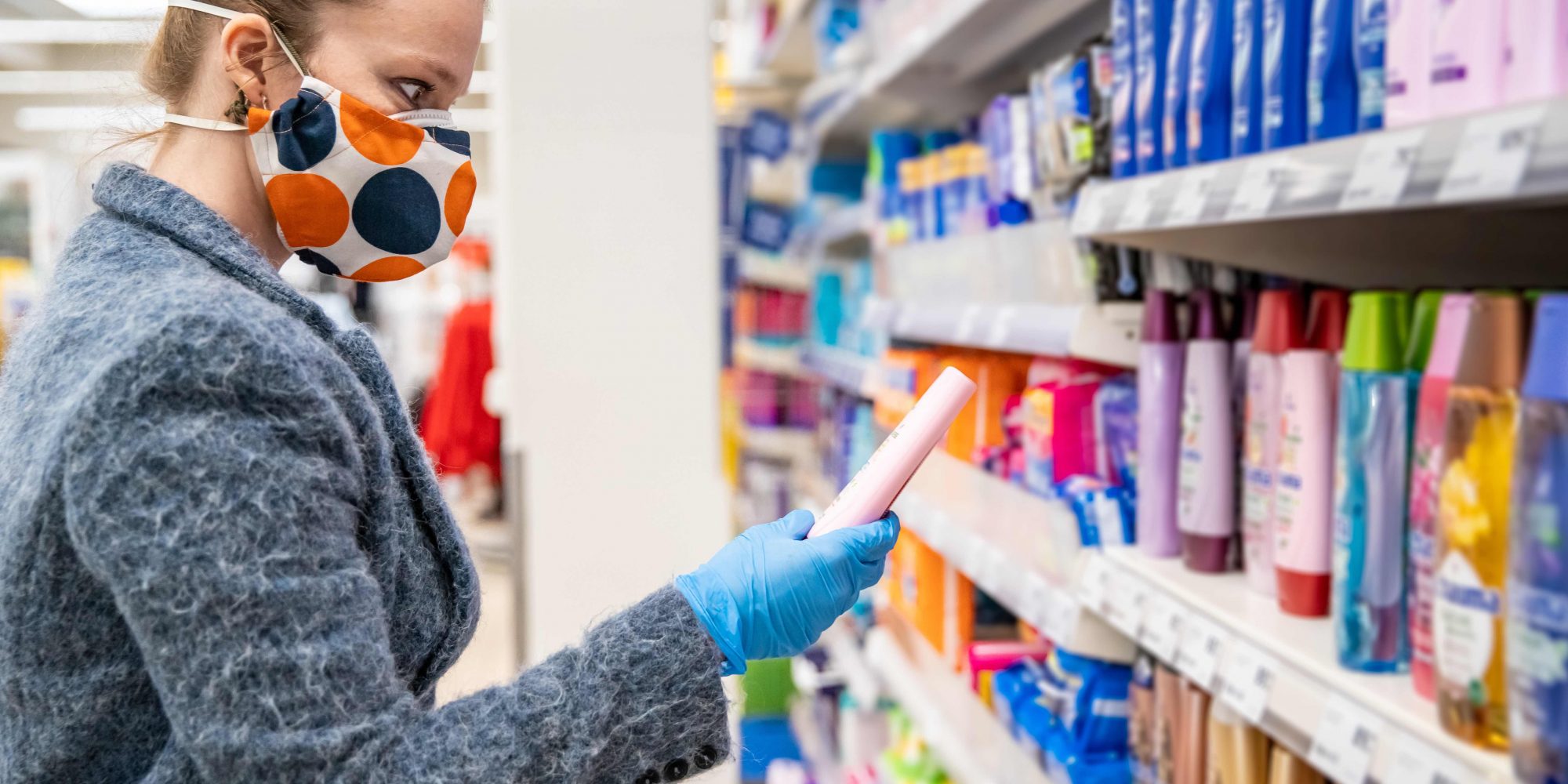 What The New Retail Reality Means For Indie Beauty Brands
Under normal circumstances, it's improbable for a beauty brand to break even at a big retail chain until it has been selling in the chain for three to four years. In the new normal, the profit horizon is being recalibrated as the costs of doing business with retailers amid the pandemic are likely climbing, making a hard path to store success harder yet for beauty startups.
Sephora and Ulta Beauty, which both began reopening in May, are operating with a set of safety protocols that limits the volume of people in stores, renders testers unavailable for trial, urges social distancing and hand sanitizer use, boosts cleaning of locations, and requires employees to wear masks and be subject to temperature checks. Sephora has also closed every other register in favor of encouraging customers to pay with contactless options, suspended services and appointed a hygiene leader from the staff in each store to oversee health guidelines.
Stores have been destinations for exploration in beauty, where shoppers stay and play, exposing them to brands they might not be familiar with. The possibilities for exploration have made them worthwhile showcases for indie beauty brands. The pandemic realities constrain those possibilities as fewer people linger in stores for less amount of time, undoubtedly forcing indie beauty brands to have to amplify marketing to woo customers. In addition, the increased expenses to rejigger fixtures, packaging, samples and more to maintain hygiene pile on charges to budding beauty brands with meager tills.
At big-box stores, Franklin Isacson, managing partner at Coefficient Capital, an investment firm backing the brands Hydrant, NomNom and Just Spices, has noticed customers changing their shopping behavior due to the coronavirus. "They are not there to peruse. They are there to get in and out as fast they can," he says. "That benefits the established brands. It's much harder for a young brand. You need sampling for people to be interested and curious to find something new."
Jodi Katz, founder of the creative agency Base Beauty, argues the demands of the moment are great, perhaps too great for some small beauty brands. "There will be some brands that don't survive. Just like there will be stores in your neighborhood that don't survive," she says. "The brands that will survive have to get strategies right—make changes to their supply chain and communications strategies—and partner with retailers in an innovative way to share costs."
Margarita Arriagada, a strategic advisor at TSC: Top Shelf Consulting and former chief merchant at Sephora, is comparatively quite optimistic. "There will be less customers, but should be higher average sale if the stores understand how to convert them all," she asserts. "Suffice to say, if customers actually make the visit to the store, it's because they have intention to buy."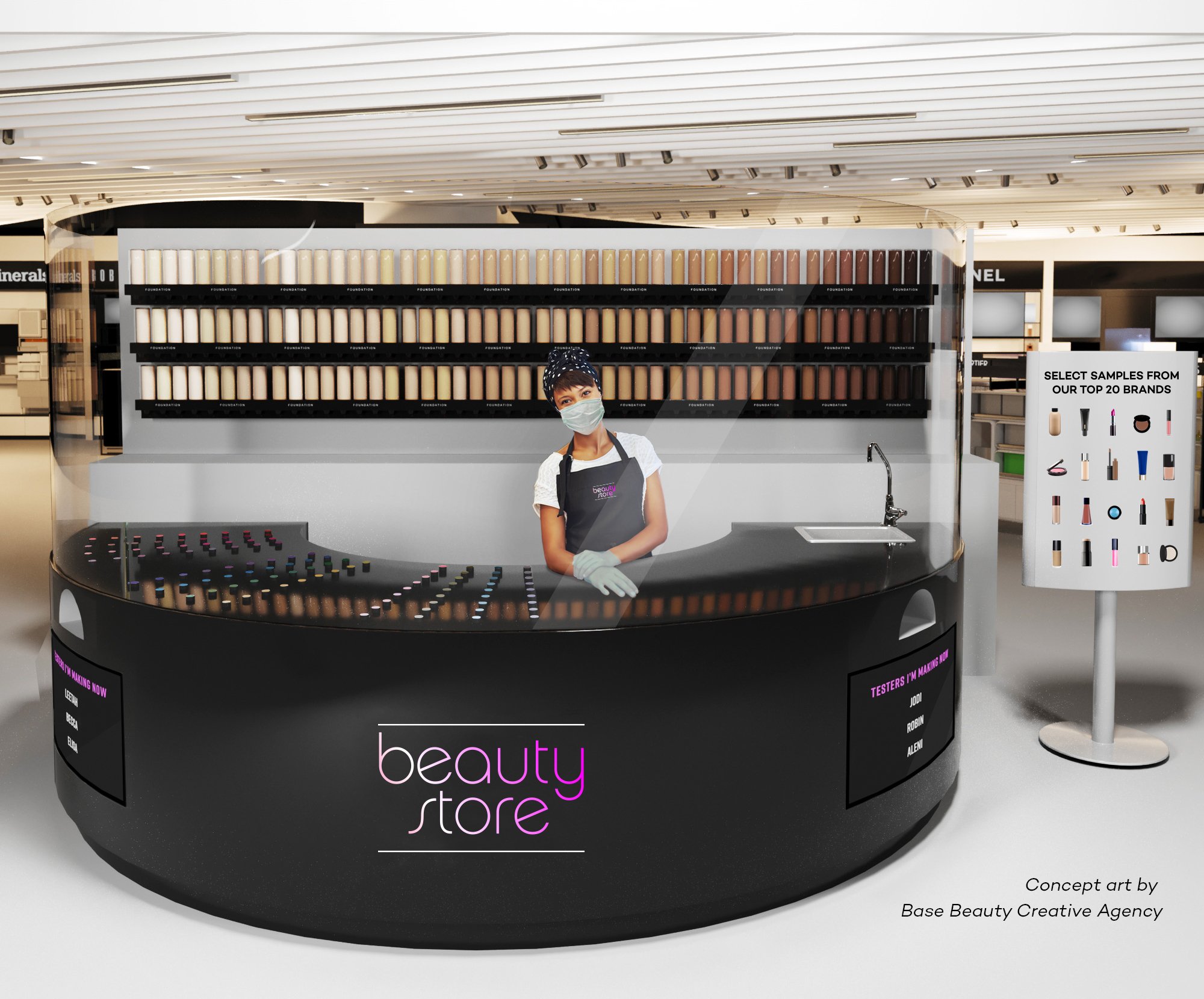 Arriagada foresees the prospect that beauty stores could head in a positive direction as they turn their attention to cultivating a comfortable retail environment for shoppers during an uncomfortable period. "This is a time to get back to key fundamentals in stores and raise the level of the experience," she says. "The stores are so much more than choice, testers and makeup applications. Customers come in to be stimulated, discover, be entertained, socialize and learn."
Sales staff is a fundamental component of stores that shrunk in the Great Recession and after as brick-and-mortar retailers dealt with decreased traffic. Staff associates could have different roles to occupy in pandemic-era beauty retailing. Base Beauty envisions an information and sampling hub or kiosk in stores manned by a beauty bartender of sorts. Katz doesn't think the hub would necessitate elevated staffing in stores, merely a reallocation of staff. If the idea takes off, indie beauty brands will have to ensure their product details and samples are being provided to and doled out by the beauty store bartenders.
Ellen Friedman, EVP at beauty display specialist RPG, says the moment calls for enhanced store staffing. She points out stores will situate staff armed with mobile checkout devices at entrances to handle questions about safety protocols and products, and ring up orders for customers visiting solely for replenishment to diminish store crowding. In the store, roaming staff will take care of customer service and checkout, and brands not in their frame of reference will be excluded from the conversations they have with customers. With the store staff being so central, Friedman notes what they're wearing is extremely relevant. She says masks and gloves, not to mention way-finding signs in stores, can be branding and communications vehicles for stores and perchance brands.
The costs for extra staff will primarily be covered by retailers, although there could be scenarios where select retailers, notably department stores where staff has traditionally been dedicated to and paid for by brands, ask brands to pitch in. The status of brand-dedicated staff is unclear in a retail landscape characterized by retailer control to verify safety. Many brands reduced field staffs that educate retail associates prior to pandemic and have furloughed or eliminated them in the midst of it, but enlarging them may be critical with extra store staff to train. It's unclear the extent to which retailers will permit external brand representatives into stores. However, training can be beefed up digitally.
Kelly St. John, founder of beauty brand consultancy KSJ Collective and former VP of beauty for Neiman Marcus, says, "Brands count on their dedicated freelancers to promote their product both to clients and amongst the retail associates." She adds, "For some indie brands, this will be a big risk factor in driving sales."
"This is a time to get back to key fundamentals in stores and raise the level of the experience."
The loss of in-store testers is problematic for driving sales, too. Retailers and brands are going to be relying on single-use samples to foster experimentation. Samples aren't cheap. Sonia Summers, founder and CEO of beauty salesforce company Beauty Barrage, says, "These samples can cost as little as $10,000 to $100,000 based on the number of retailers you work with and also counting their e-comm business."
Arriagada recommends indie beauty brands concentrate on sampling hero products to contain costs, and she emphasizes the pandemic didn't start consumer unease over testers. Two years ago, an Allure article warned, "Makeup testers can be breeding grounds for bacteria." Sephora was sued by a woman alleging she contracted herpes from a lipstick tester. Without testers, virtual tools will become paramount along with samples. Friedman highlights "touchless face and voice recognition" technologies enabling try-on will be imperative.
Arriagada says, "For the retailers that have try-on technology, the opportunity is to leverage and smaller brands [that] can also play in this regard. I am sure there are secondary packaging shifts that will evolve to help show the customers visually or sensorially what they are getting without trying." St. John stresses, "Indie brands are going to need to be prepared with ample content that will allow a customer to experience their brand visually, so that means brand and product videos, tutorials, product swatches for all categories to be used on dot-com com as well as on a phone or iPad to show the client."
Firms such as Base Beauty and RPG are coming up with alternative sampling mechanisms. Base Beauty has conceived of a touchless sampling machine similar to a soda dispenser that squirts out product. RPG has conceptualized a unit filled with single-use trays akin to tiny microwave meal trays that products can be mixed in for demonstration and sampling purposes, and displays and gondolas with single-use samples housed behind products for sale. Retrofitting fixtures, of course, will be pricy. A 2018 Vox story covering the costs of selling beauty products cites a beauty brand figuring the cost of 78 small fixture units at $13,000. Fixture costs can escalate considerably from there.
Certain product and brand displays may be cleared out of stores as retailers try to widen aisles to allow for social distancing. Removing displays could be troublesome for the retail presence of indie brands not as productive as their conglomerate counterparts. Friedman says, "I do think that store space will be more precious, and there is a potential that some brands that aren't performing as well could not make the cut and could come off the floor, at least temporarily." Jennifer Miles, former SVP and DMM of cosmetics at Barneys New York, says compact displays concentrating on bestselling products and samples for them make sense with the caveat that, "You have to be careful because you don't want to look like you're excluding shade ranges." Friedman remarks displays spotlighting top items from multiple brands in a product category or products fulfilling a specific trend could be valuable for shoppers wanting to navigate retail floors quickly.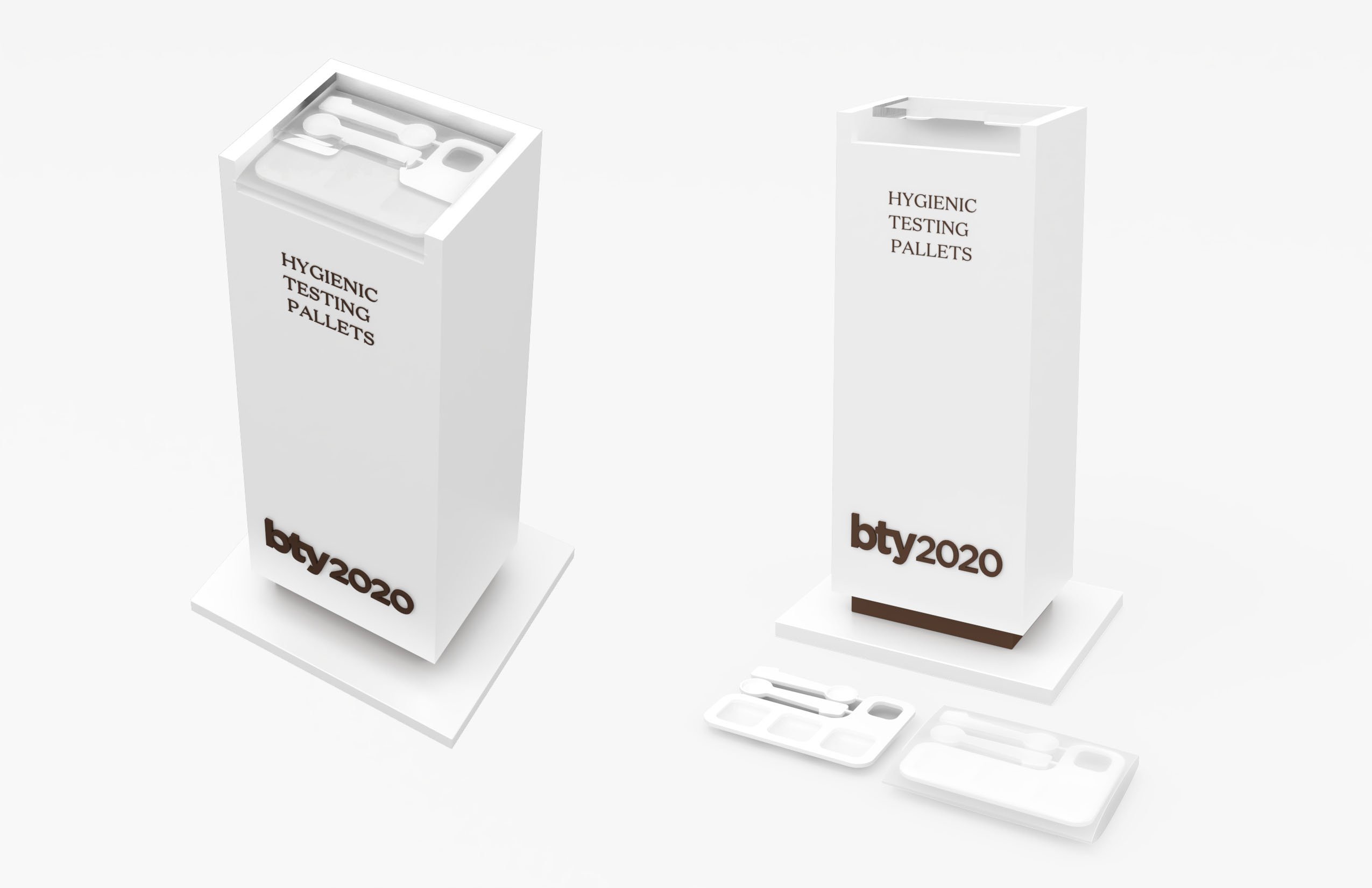 Arriagada doesn't believe store designs will rapidly transform and explains indie beauty brands shouldn't be hurt by the transformation that does occur. "Perhaps gradually there is an evolution towards shifting the store layout and reducing the number of overall fixtures, but this takes capital, something retailers will be very tight with," she says. "For now, removing freestanding fixtures is probably what is critical and, when that happens, it will level the playing field to all brands because the customer will focus on looking at all the home bays. So, I do not think it is a threat for smaller brands."
While she doesn't believe store design will be significantly altered soon, Arriagada argues there could be a paring back of assortments as retailers and consumers stick to tried-and-true products. She says the paring back of newness should lower costs. On the other hand, brands with products particularly pertinent to pandemic shopping habits will be prized. Wellness sections could be expanded, for example. Friedman says, "The whole intersection between beauty and wellness was being blurred, and it's getting pushed even further."
Convincing customers to shop at discretionary beauty stores may be trickier than ever. Promotions, exclusives and, for the remaining newness, truly unique and hyped product drops could be essential. Therese Clark, founder of the brand Lady Suite, and partner and CMO at salesforce and brand development agency Crème Collective, says, "Brands will likely need to step up marketing and promo support to drive foot traffic and compete with consistent online promos, which may be difficult for smaller brands."
Fueling much of the growth in beauty in the last few years, rising indie beauty brands, especially those with fanatic audiences and diverse founders, are coveted, and retailers will be dependent on them to foment excitement to lure people into stores. "Emerging indie brands are the lifeline of our industry. The retailers know this, and they should know customers crave this discovery and the creativity and freshness these brands bring to the table," says Arriagada. "Yes, the larger brands may be advantaged as they have bigger budgets and productivity, but the indie beauty brands often bring innovation and sizzle."
To retain indie beauty brands that bring the sizzle, the costs allotted to retailers and brands have to be divided adequately to make retail lucrative for brands in the long term. "There may have to be some leeway in margins. I think there's going to have to be creative thinking on both sides about how to make this work," says Miles. "I don't know how much flexibility retailers will have, but budgets on both sides are going to have to be looked at. They have common goals, which are to sell products, and regain customers and market share."
Wendy Gottfried, founder of Gottbeauty Consulting, and former VP and DMM for beauty, fragrance, lingerie and swim at Saks Fifth Avenue, suggests indie beauty brands cooperate for mutual benefit as they manage pandemic retail dynamics. "It is really important for small brands to work together," she says. "They each have different challenges and are at different stages in their development. By sharing and communicating with each other, they can come up with productive solutions."
KEY TAKEAWAYS
Stores have been destinations for exploration in beauty, exposing shoppers to brands they might not otherwise know. With exploration diminished as shoppers spend less time in stores, the opportunities for them to be exposed to indie beauty brands are reduced.
Product testers, a staple of beauty stores encouraging trial, are unavailable for now. In their place will be increased single-use samples and virtual try-on tools. Increased sampling programs will add costs, which will be a particular burden on emerging beauty brands with meager budgets.
Store staffing is changing to suit pandemic realities. More staff will be in front of stores to answer questions about safety and products, and check out customers visiting for replenishment only. Prior to the pandemic, brands cut back their field teams that educated store staff, but the need for them is growing as store staff in different roles necessitate training. However, it's unclear the extent to which brand representatives will be permitted inside stores.
Retailers may pare back fixtures as they expand aisles to allow for social distancing. The fixture reduction could eliminate indie beauty brands that underperform relative to their larger counterparts.
Bestsellers are growing in importance, and newness is not as important as it was. Fixtures and sampling will focus on hero stockkeeping units driving a large portion of sales.
Beauty retail experts recommend brands and retailers work together to share the costs associated with pandemic-related changes. Jennifer Miles, former SVP and DMM of cosmetics at Barneys New York, says, "There may have to be some leeway in margins."
Efforts to lure customers to stores will be more critical than ever. They could include retail exclusives, hyped product drops and promotions.
Indie beauty brands remain critical to beauty retailers' growth strategies. Margarita Arriagada, a strategic advisor at TSC: Top Shelf Consulting and former chief merchant at Sephora, stresses, "Emerging indie brands are the lifeline of our industry."