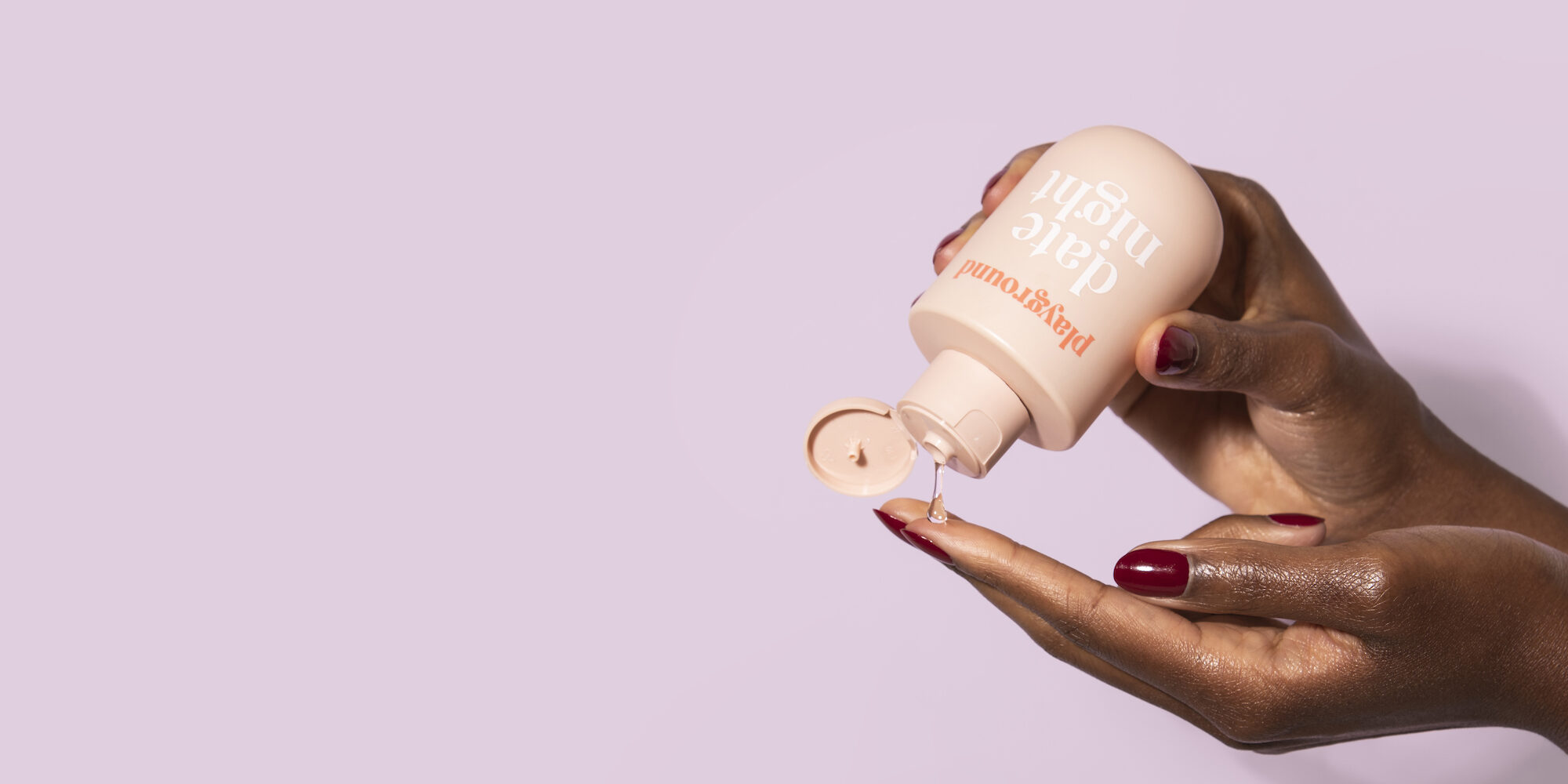 New Sexual Wellness Brand Playground Creates Lubricants To Enhance Different Sexual Sensations
Playground recognizes that pleasure isn't one size fits all. 
With the thesis that different libidos should have different lubricants, the sexual wellness brand launches today with four varieties of lube aimed at women available on its website: After Hours, Love Sesh, Date Night and Mini Escape. They're each priced at $24 for 3.7-oz. sizes. Vegan, pH-balanced and water-based formulas cross the range, but the lube varieties contain scent profiles—or what Playground calls essences—unique to them. 
"The No. 1 one sense a woman and a man use in the bedroom, even over sight, is smell," says Playground co-founder and CEO Catherine Magee. "It was very important for us to lean into this side of the chemistry to create different clean essences that spark the senses."
After Hours, which she pronounces Playground's sexiest lubricant, has musk and oud. Love Sesh is essence-free and serves as the brand's everyday product. Date Night features champagne and elevated vanilla. Mini Escape has coconut and sandalwood. "Women in long-term relationships need a little fantasy in the bedroom," Magee says. "This is to evoke something different and special." 
Magee and her co-founder Sandy Vukovic are well-versed in product formulation. They met 15 years ago while working at Bare Escentuals, where they helped launch the company's color cosmetics brand Buxom into Sephora. Vukovic most recently spent seven years as executive director of product development at Kendo. Magee's resume includes marketing and e-commerce roles at L'Oréal, Rodan + Fields and other companies in and out of the beauty industry. 
Their deep beauty expertise is on display in Playground's products. They incorporate skincare ingredients such as hyaluronic acid, vitamin E, and bamboo extract into the formulas.
"Every time a woman has sex, whether she knows it or not, she's creating friction in the most delicate area of her body. Lubricant helps to prevent this, but how can we soothe it? That's an important element. We've had these tested to be safe for sensitive skin, safely pH balanced," says Magee. "Lastly, they're libido-enhancing. We use a blend of three adaptogens—ashwagandha, black cohosh and horny goat weed—that increase blood flow. We're multisensory and multitasking."
During the development process, Playground spoke to over 10,000 women aged 25 to 55 years old. They discovered that women spanning age groups are open to using its products, but feel sexual wellness isn't yet a normalized category. Magee says, "It still makes women feel uncomfortable."
She adds, "Women in their 20s are using this product for connection with themselves. As they get older, they're using it in their relationships. We want to support wellness-minded women who are investing to improve their overall wellness in their life, and then saying to them, 'Hey, sexual wellness is part of that.' Our consumer group is more of psychographic versus demographic. We resonate with women in their 30s, 40s, 50s and even wellness-minded women in their 20s, but it really is those who are excited to focus on their overall health and wellness."
Magee and Vukovic recently raised what Magee describes as a "strategic angel" round to bring Playground to market, with participation from a dozen individuals, including founders and CEOs of digitally native consumer brands based in San Francisco, where Playground is headquartered, and New York City. Other beauty industry insiders, including Jennifer Goldfarb, chairman of the board of Ipsy, serve as business advisors to the brand. The co-founders partnered with Bartlett Brands on the design of the brand. The creative agency sought to play up Playground's fun, flirty and wholesome elements. 
"We weren't interested in a science-y, sterile or super clean angle. That already exists. We wanted to create a cult brand that is exciting and something you won't hide under your sink," says Bartlett Brands founder and CEO Rebecca Bartlett, elaborating, "We saw a unique opportunity to appeal to a consumer that feels a little uncomfortable with the category, which is still very focused on 'the big O' and the promise of mind-blowing sex. We walked it back a step to present the brand in a way that is so accessible and inviting, anyone can feel welcome."