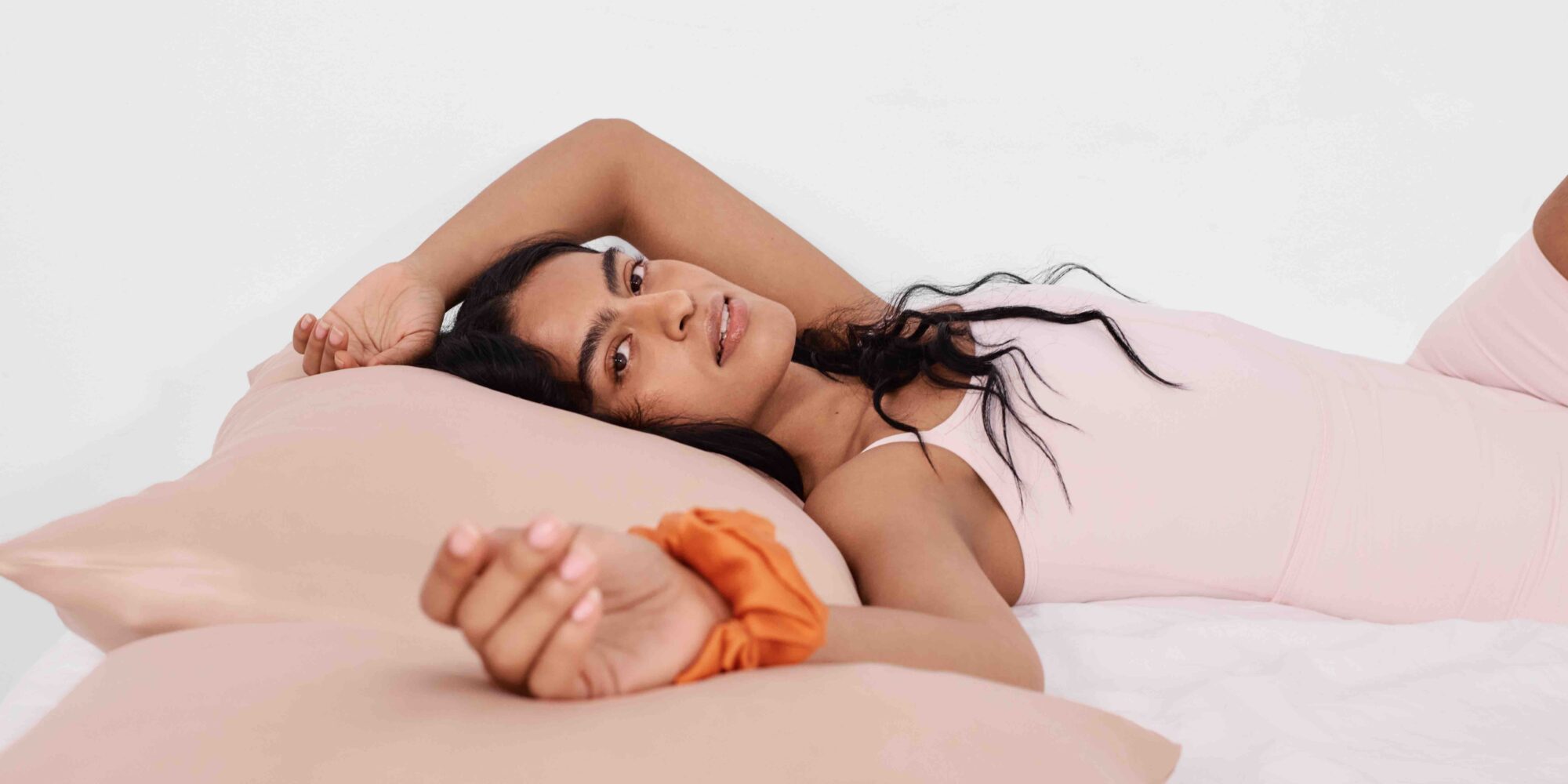 New Silk Staples Line Good Side Helps Consumers Get Their Beauty Sleep In Style
From the pop-idol posters of our teenage years to the duvet covers that have to be just so when we grow up, our bedrooms are an articulation of who we are—and one that's particularly true to us because they're rarely public spaces or social media showpieces.
Last year, after the pandemic forced people to spend seemingly endless time in their rooms at home, including their bedrooms, friends and occasional colleagues prop stylist and commercial interior designer Anna Niedermeyer and set designer Danielle Selig began discussing the products and practices that make their bedrooms special to them and enhance their well-being.
"I'm someone who has to make their bed every day. It helps me feel grounded," says Selig. Niedermeyer says, "It's about creating a space that feels as if you are expressing yourself and your style. We believe that's part of your self-care practice along with the things that protect your hair and take care of your skin. We get really excited about the beauty of the objects you surround yourself with and how they make you feel."
During Niedermeyer's and Selig's many phone calls and coffee klatches, the subject of silk pillowcases came up. Although they adored them for beauty purposes, they weren't crazy about the looks of the available options. "We started joking about how we would hide silk pillowcases that weren't quite the right color to go with our bedding," says Selig. "The more we started talking about that, the more we saw that there was an underserved market interested in the beauty tool aspects of the silk pillowcase, but weren't being served with the color palette or aesthetics they were excited about."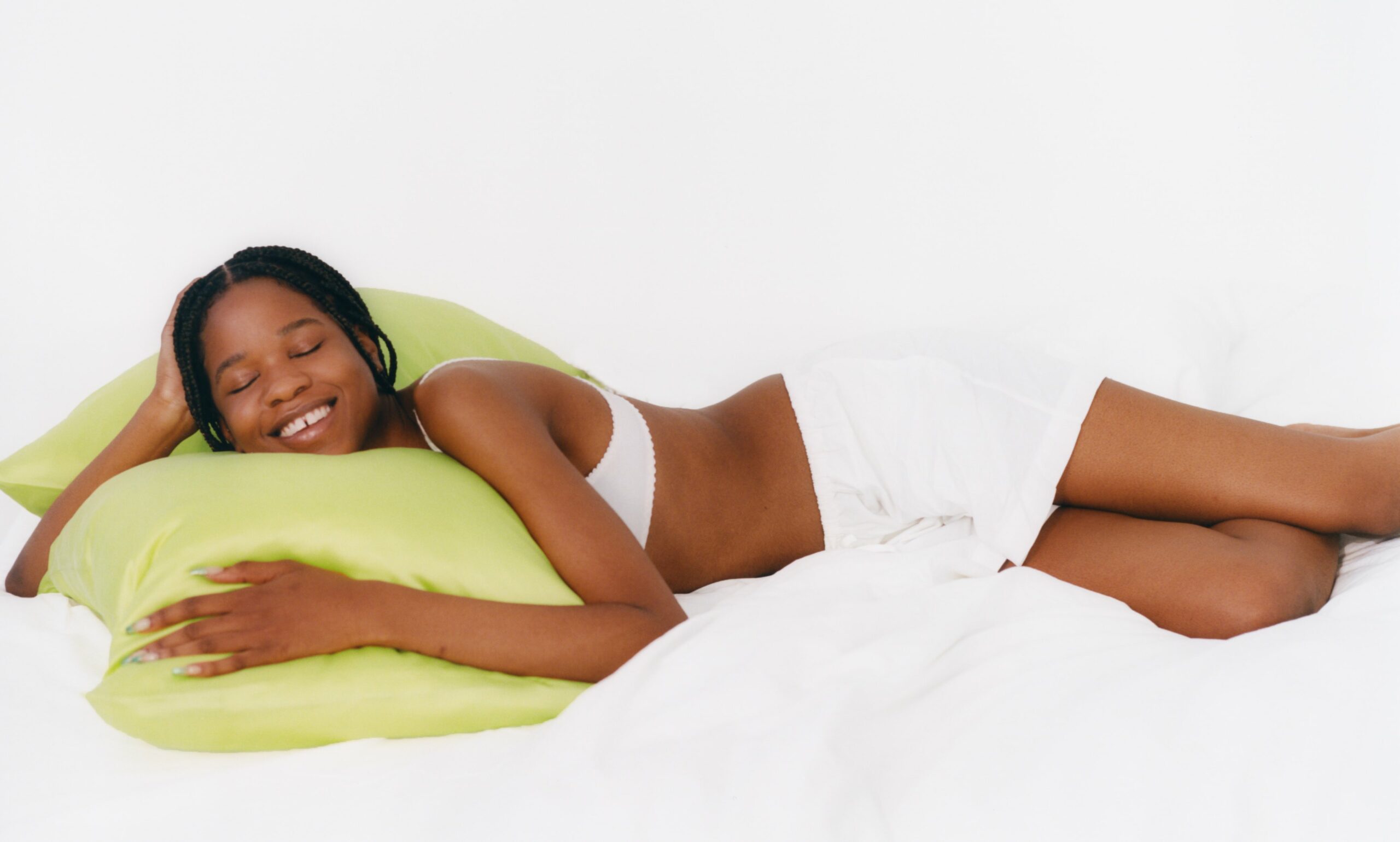 What ensued was hours and hours of dip-dyeing silk to arrive at the precise shades they sought for Good Side, Niedermeyer's and Selig's new home and beauty brand. It launched in September with pillowcases, sleep masks and scrunchies in six custom colors: chartreuse, sage, blush, terracotta, lavender and peach. Prices range from $15 for a pack of three mini-sized scrunchies, which are alternatives to regular hair ties that have a tendency to become entangled in hair, to $160 for a pair of pillowcases.
"We wanted the colors to be fun and fresh and live in the home wares space, but we have a few wild cards," says Niedermeyer. "We have chartreuse that we haven't see in the home wares space. It's our brand color, and it's really modern. It's something that you are not going to find out there."
Good Side enters a proliferating beauty-cum-bedding segment. Blissy, Slip, Silvon, Eucalypso, MYK, Colorado Home Co., Fishers Finery, Zimasilk and Grace Eleyae are among scores of brands selling silk pillowcases touting hair and skin benefits. Niedermeyer and Selig argue Good Side's quality and identity distinguish it in the crowds of silk stuff. The brand uses 22-momme 100% Mulberry silk that's sandwashed to give it a subtlety distressed surface. The material is machine washable, and Selig swears it goes "beautifully with cottons and linens."
Niedermeyer and Selig obsessed over the details. Good Side carries OEKO-TEX certification validating its silk is free of harmful chemicals, and houses its products in reusable, recyclable or compostable packaging. Its factory is audited by Sedex annually to ensure it fairly compensates workers and provides them safe conditions. Selig was intent on nailing down the perfect tension for the sleep mask's elastic. Good Side even swapped vendors to clinch the ideal stretchiness. "I maybe drove Anna a little mad," laughs Selig. "We make sure the interior is 100% silk as opposed to polyester. We designed it so it stays snug. Otherwise, I'd wake up in the middle of the night and be like, 'Where's my mask?'"
"We see Good Side as a brand that can really grow into something that fills out your entire sleep experience and sleep sanctuary."
The branding for Good Side is rooted in the notion of reimagining the old trope of waking up on the right or wrong side of the bed. Niedermeyer underscores Good Side is about supporting "people feeling their best." Good Side stays away from descriptors like frizz-fighting, unruly, anti-aging and anti-wrinkle that Niedermeyer and Selig think contribute to consumers not feeling their best.
"Those things may not feel like they are detrimental in the moment, but language can have such a negative impact. We are all living in a time that people don't deserve to be put down," says Niedermeyer. Selig chimes in, "We grew up in the '90s and '00s, and we wanted to build the brand we wish we had seen in terms of the language and how it speaks to people."
Niedermeyer and Selig unveiled Good Side with a digital campaign called "My Good Side" featuring seven films asking people, notably body-positive models Diana Veras and Minami Gessel, about their good sides. Jacq Harriet directed the campaign, and Cara Friedman was the director of photography. Lizzie Arneson and Allie Smith handled hair and makeup, respectively. Jamie Ortega was the stylist on the shoot, and editing and music composition was done by Peter B Samuels. Selig says the campaign celebrates "things that we can do every day to make ourselves feel good."
In the next six months, Selig and Niedermeyer aim for self-funded Good Side to cross into profitability. "We don't have a big budget behind us to do really big digital marketing spend," says Selig. "We are really trying to engage with our community and to grow organically and on social. Getting visibility is the biggest challenge we face."
Good Side is currently sold in direct-to-consumer distribution. International expansion is in the plans for the New York-based brand. Selig is from Sydney and extending Good Side to Australia is a goal. Selig and Niedermeyer are open to placing it in retailers and forging brand partnerships. Because Good Side touches on the beauty, home and sleep wear categories, they envision lots of possible collaborations and its merchandise stretching across categories. "We see Good Side as a brand that can really grow into something that fills out your entire sleep experience and sleep sanctuary," says Selig. "Between ourselves, we always say that your morning routine starts the night before by getting good, comfortable and cozy rest."
While the concept of Good Side emerged amid the pandemic as people were pushed to be homebodies by circumstances out of their control, Selig and Niedermeyer are confident that trends will remain favorable to the brand as consumers venture beyond their homes. "This idea of rest being one of the most productive things you can do for yourself is something that our customers are really interested in," says Selig.
She points out that the skinimalism movement is relevant to Good Side, too. "I've always felt really overwhelmed with multistep beauty routines. I'm in my 30s right now. I always felt a little bit guilty and shy about not having a routine," says Selig. "So, what I really love about the sleep mask and the pillowcase is they are simple, easy things that can really be such great additions to your routine that you don't have to overthink."