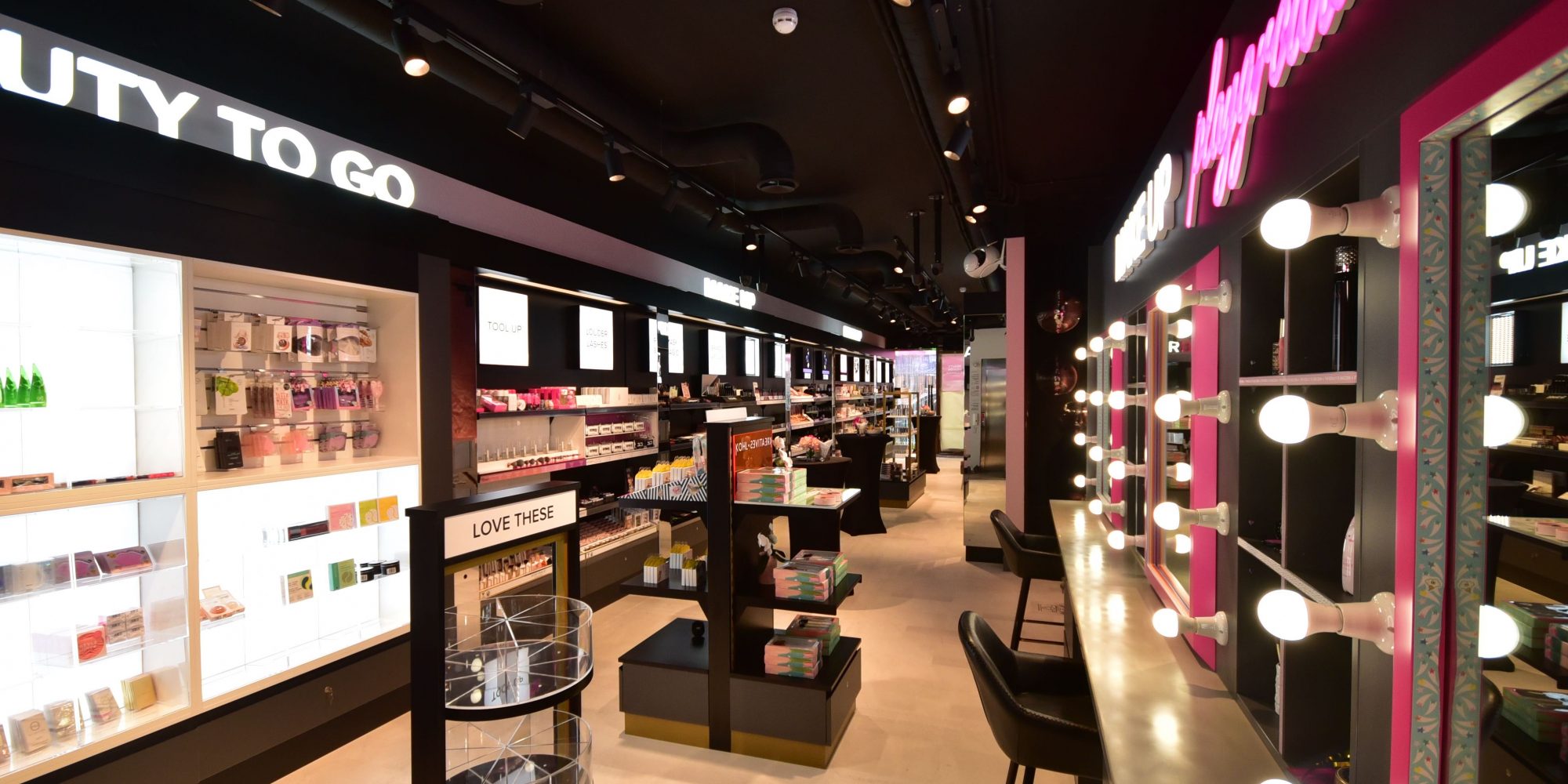 New Store AfterBeauty Moves Into The Millennial-Centered Beauty Retail Void Sephora Has Left In London
Judging by AfterBeauty, millennials don't like their beauty shopping subtle.
The London retailer aimed squarely at the sub-40 set has illuminated areas for snapping selfies, an elevator stuffed with teddy bears, 10-minute facials and at least four neon signs. Instagram-worthy design aside, AfterBeauty co-founder Jerry Taechaubol believes it's tuned into its core demographic by cultivating "a place to really experiment and discover new brands. They want to be left alone sometimes, to be able to go in and do their own thing rather than be bothered by retail assistants, and they want something that's experiential-driven."
The experience is catnip for beauty obsessives. AfterBeauty's three stories contain more than 4,000 products, and 140 prestige and accessible skincare, haircare, nail and makeup brands. At the entrance of the store, shoppers are met by the cosmetics section brimming with favorites from Milani, Beautyblender and Wet 'n' Wild. A sign reading, "follow the call of the disco ball," encourages shoppers to head downstairs to find beauty tools, a meditation room, a surfeit of sheet masks, and skincare from Dermalogica, Uspa and 001 London. They can also skip the sheet masks in favor of treatments, including express facials and body wraps.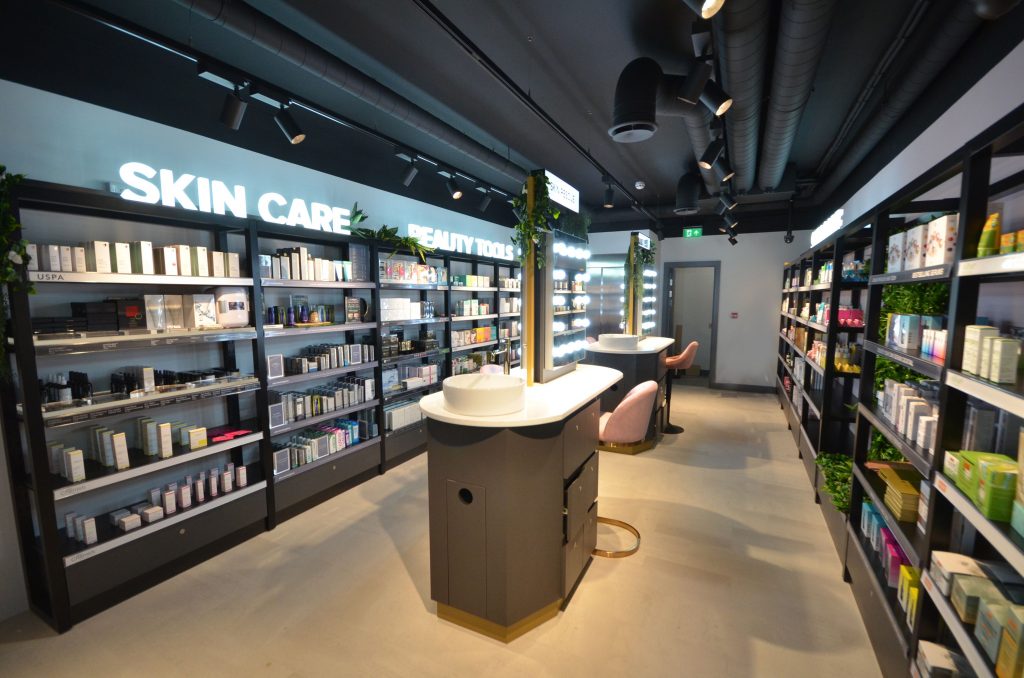 On the top floor, haircare products are situated alongside men's grooming merchandise, and lifestyle goods such as water bottles and beauty pillows. Tucked in a corner is one of AfterBeauty's main attractions: a nail bar festooned with marble sinks and pink velvet chairs. There are plans to add a hair component to the nail bar with blowouts and styling.
AfterBeauty is located in London's busy Piccadilly, a neighborhood that could probably support a minimum of two Sephora stores. However, there are no Sephora locations in the United Kingdom. The retailer pulled out of the country in 2005. Of course, British consumers have plenty of beauty destinations to patronize. On the luxury side, there are specialty retailer Space NK, and department stores Harrods and Selfridges, which have been renovating their beauty presentations. On the mass side, there are ubiquitous Superdrug and Boots pharmacies. But there's a notable gap in the middle where Sephora would otherwise play.
"There was a lack of places where people could have fun and combine affordable, mid and high-end products together all in one concept store."
"We were really about challenging the traditional brick-and-mortar stores," says Taechaubol. "There was a lack of places where people could have fun and combine affordable, mid and high-end products together all in one concept store and combine that with treatments as well. In the U.K., there was nothing like this out there." While AfterBeauty is fun and eye-catching, it's intended to be an intimate environment, too. Taechaubol says, "There's been a move from big spacious retailers toward something that's more local and has more of a neighborhood feel."
AfterBeauty's selection draws from around the world. Hailing from Singapore and sold at Sephora in the United States, Skin Inc. has launched exclusively at the store. The brand is part of an ample array of offerings from Asia. Taechaubol explains AfterBeauty sought to hit upon key trends and niche brands uncommon in the U.K. in its selection. He says K-beauty can be a bit advanced for some customers initially, but hopes the education provided to AfterBeauty's employees on the various brands and products they sell will help introduce customers to K-beauty concepts. He continues that the employees will communicate to customers about "the benefits of each of the face masks, why K-beauty is in trend, and what ingredients are better to use."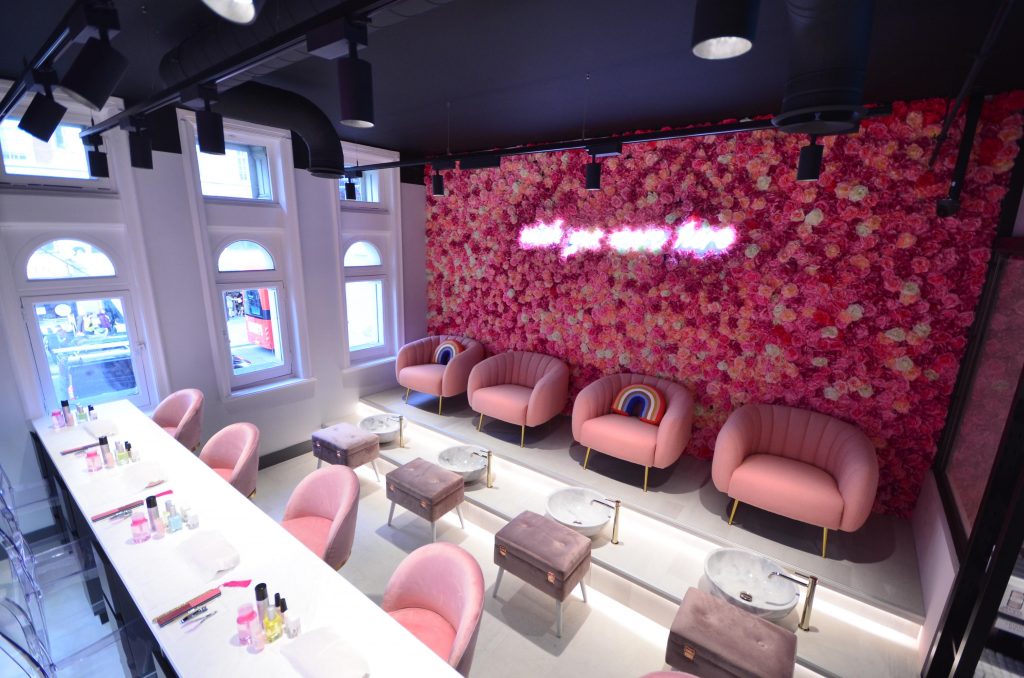 Taechaubol emphasizes AfterBeauty's store staff assists customers across categories. "We want to change the way that department stores typically sell beauty products," he says. "Employees in the past were usually all commission-based and only focus on, for example, the most expensive brands or one particular brand. We want to encourage cross-selling between different brands and different price points."
Expansion in Europe and Asia could be in AfterBeauty's future, but Taechaubol's current focus is on nurturing its community in the U.K. A key aspect of community building will be hosting pop-up shops and events in a space on the store's third floor. "I want it to be closer to a cocktail hour than a store," says Taechaubol, who started AfterBeauty with fellow beauty industry neophyte Zanelle Lim. He doesn't mean that metaphorically. AfterBeauty obtained a liquor license, and Taechaubol expects to eventually put a bar on the third floor. "We want to make it feel like a nice little gathering at someone's home," he says. "I believe these experiences allow you to connect more with our customers."