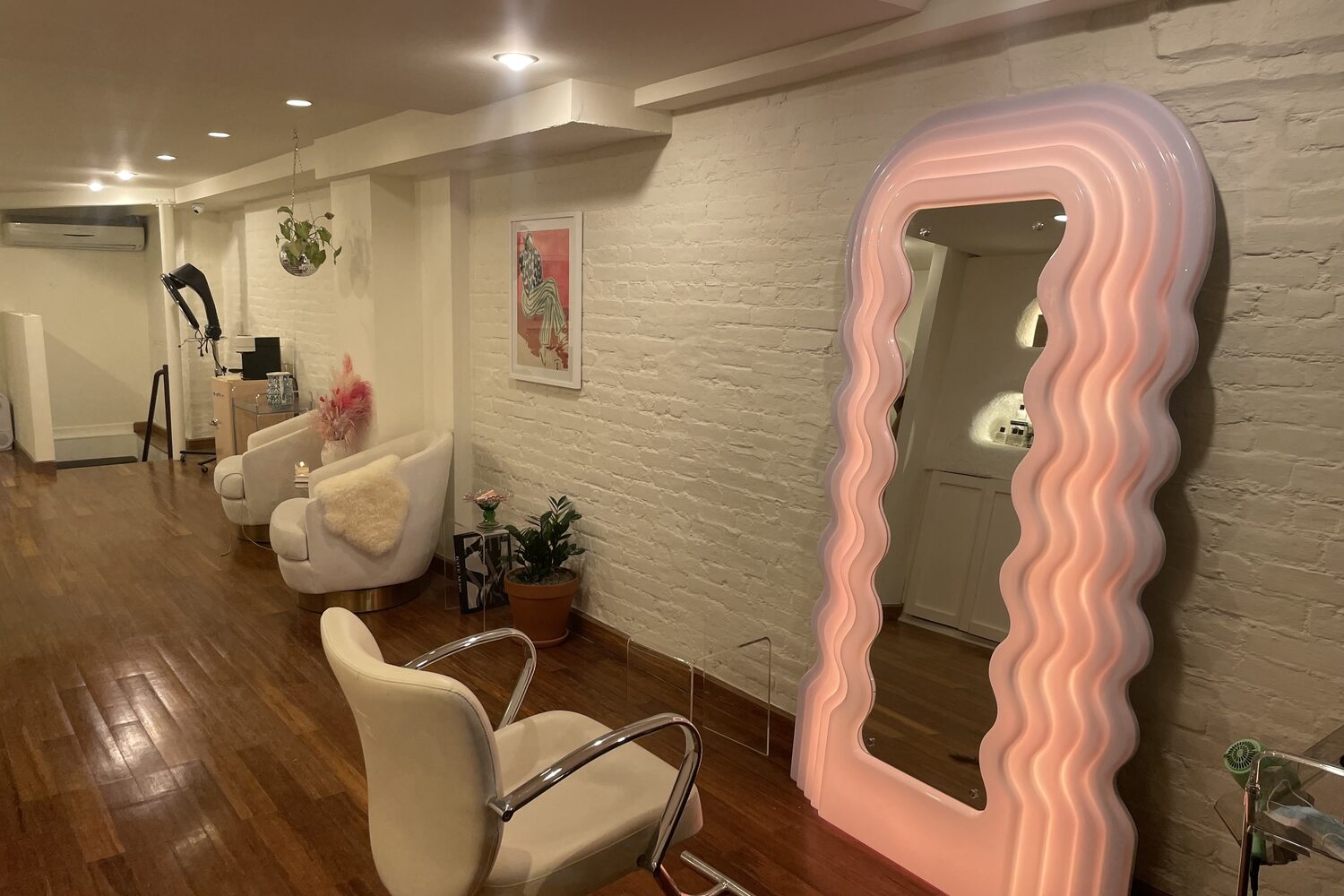 This New York City Salon Combines Hairstyling, Facials And Custom Fragrances At One Cool Location
Pearlita NYC isn't your average salon. It's what hairstylist and founder Megan Robinson refers to as a "creative beauty collective" where clients can get their hair cut, receive facials or brow tints and grab custom-made fragrances in a single location. "One of my clients described this place as a high-end clubhouse with all the talent and no attitude," says Robinson. "I feel like that's such a good description of what we have here. I don't think it really exists anywhere else in New York."
Beauty Independent chatted with Robinson about how the pandemic inspired her to open Pearlita NYC, the process of crafting a custom scent and plans for the future.
What inspired the idea for Pearlita NYC?
I moved to New York about eight or nine years ago, and I worked at this place called White Rose Collective. That's where I learned to dry-cut. I loved it there. It was an amazing learning experience, but then COVID hit. I ended up spending a lot more time back home in California away from my job, wondering what was next for me.
I came back to New York, and I was loving it, but I was still torn between whether to stay or move back to California. I knew that I needed a change in my life, but I just didn't know what that was going to be. So, honestly, it was very organic. I decided one day that I was going to walk around and look at commercial real estate in New York. I had no idea what I was doing. I was open to having my own place that would be just me and a couple other people.
Our aesthetician, Cali Strauhs, had been doing my facials for years, and we always spoke about doing something together. Our perfumer, Shabi Tavakol [from Kismet Olfactive], is also a really good friend of mine, and I wanted her to join us, too. She was working out of her apartment at the time, but I knew that she could take her career to the next level if she had a brick-and-mortar presence.
But how could I find a space that would fit all of us? We're in New York where places are small and expensive. Well, luck would have it, the first place I looked at turned out to be perfect, and I took it! It had a basement already built out, which is quite rare in New York. I signed the lease a week later, frantically got a loan, and all of a sudden I was a business owner. We do hair upstairs, and downstairs is the perfume lab and our facial and brow treatment room. We also built a private waiting room down there.
We opened in July 2021. It was one of the greatest joys in my life. The support I got from people was incredible, and I will never forget that feeling. I lost a lot of faith in humanity with everything that went on over the last few years, and I was so humbled and grateful. We really hit the ground running here when we started as far as clients and bookings. January was super slow, which is quite normal, but it's still scary when you own your own place. Omicron certainly didn't help that the year. Otherwise, we've been very busy.
Is the business self-funded? 
Yes. I got a business line of credit just to be safe, but I've hardly used it. I had a ton of savings from the last 10 years of working and being busy. It's very scrappy around here though. I have two carpenter friends who patched up the walls and painted them. Another contractor friend sanded the floors. Our stations and mirrors were handmade by another friend. My network is full of creatives, so I got very lucky in a sense.
How do the hair, fragrance, and face and brow services coexist in the space?
I make sure to show everyone who comes through the salon our downstairs area. I think Cali is just so incredibly talented, and I want everyone to see her for facials and brows, so I often take customers down there to meet her if they haven't yet, but I also want people to see the space that we've created together. Ninety percent of my clients are people that have followed me from other salons, so they're excited to see what we've created as well. Cali and Shabi also bring their clients to meet me. We all gas each other up.
Where do you see the biggest overlap in clients?
Between brows and haircuts, probably.
What are the most profitable parts of the business?
I would say it's pretty 50/50 between hair and the facials and brows.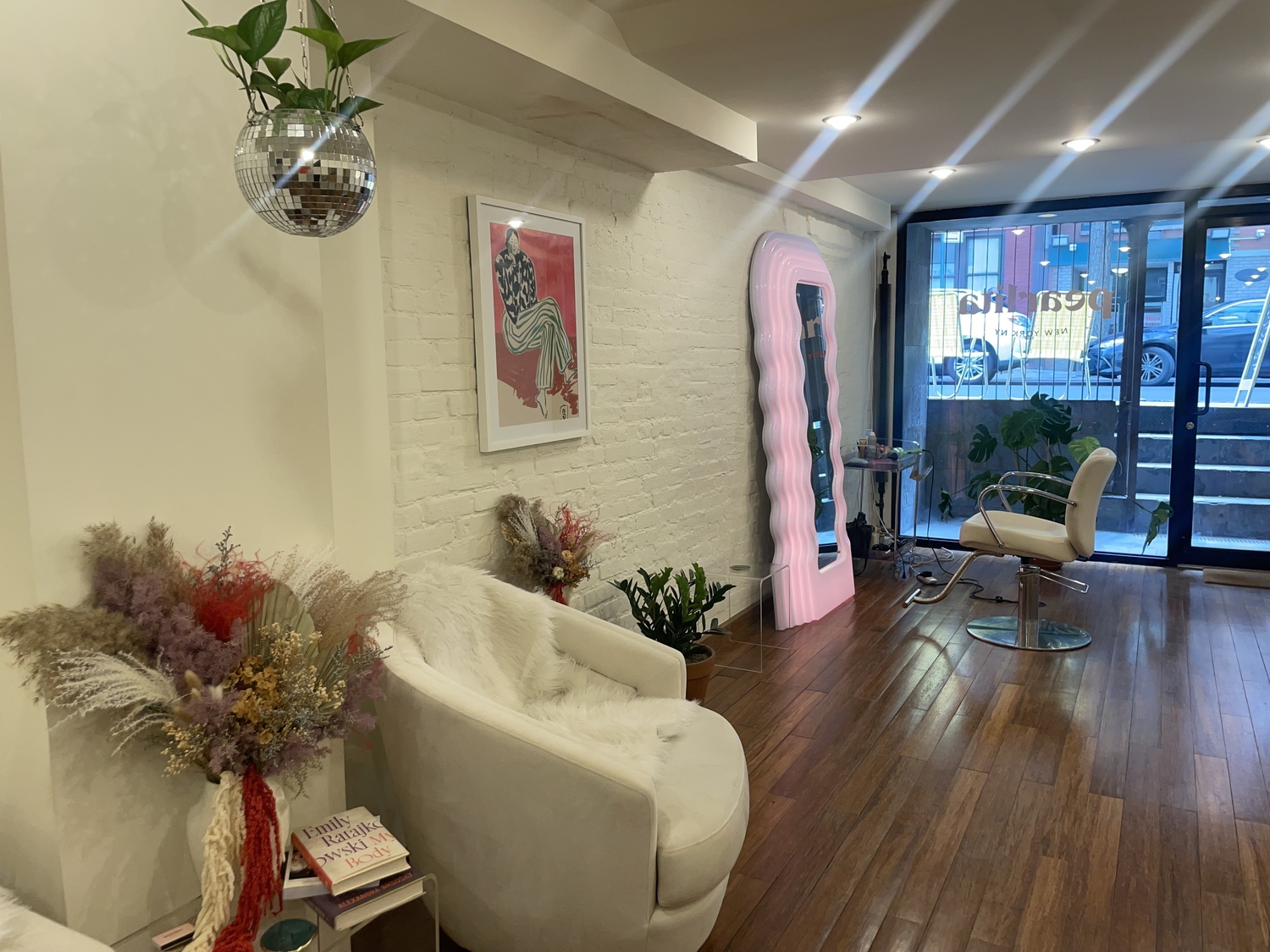 What's the experience in the fragrance lab like?
Shabi asks tons of questions during her custom scent consultations, very specific things that all twine together like, what's your favorite smell from childhood? Do like the smell of fresh cut grass? How do like your coffee? From there, she'll create a custom scent that the customer can have over and over again.
She went to fragrance school in the south of France at this beautiful prestige school. She is a teacher in the trade as well, so she has students come for workshops here, too. She also meets with other perfumers here, which is interesting because the perfume world is extremely secretive. Everything's usually behind closed doors. No one knows each other's potions, and she's changing that by being open about it and teaching people about it.
Does she create the scent in front of the client?
No. She usually has weeks of work to do after the consultation, which includes producing samples and getting feedback from the client. It's very time-consuming, so the charge is $1,500 upfront. Refills are $250 per bottle.
Does the lab get a lot of foot traffic in the space?
We usually have a few people a week go down there. It's such a niche thing to create a custom perfume for yourself. It's also not the cheapest thing to do. She also sells six base scents upstairs in the salon called her Fine Fragrances. We definitely have more people come in to buy those, usually around five people a day.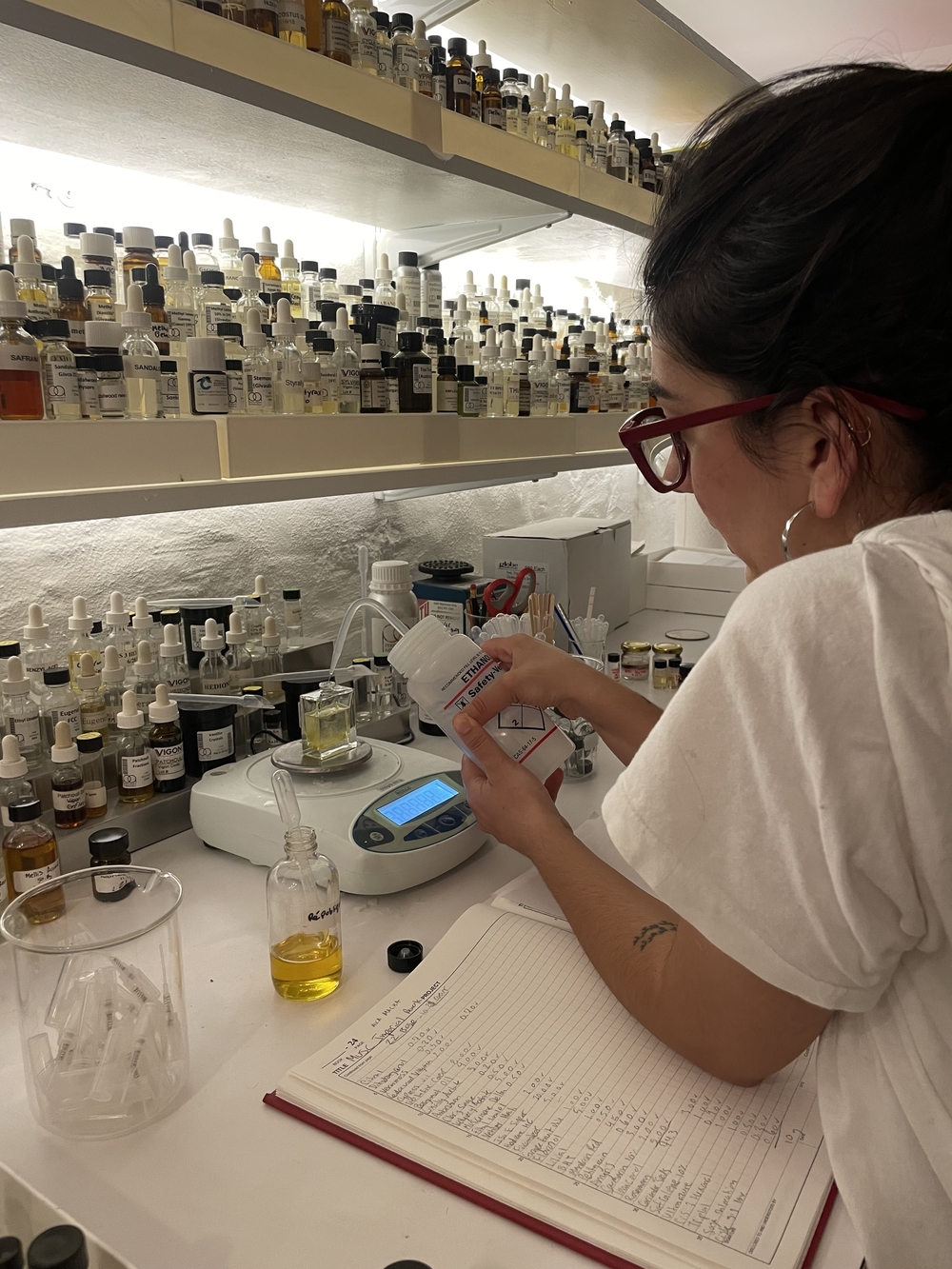 What are your most popular services?
My dry haircut. I offer two different haircuts. One is completely dry where the client comes in with clean, dry hair that I then cut. That goes for $225. Then, the other is a wash, blowout, and then a dry cut. That goes for $300. I have another hairstylist upstairs with me who does color, balayage and highlights. Those are also very popular services on our menu.
How big is the staff?
There is five of us. It's a very intimate feel when you come in. I actually have the room for one more person upstairs, but I'm waiting to add staff. I almost care more about who they are as opposed to what they do. They have to bring the right energy to our space.
What's the experience like when someone walks into the salon?
My assistant Cassidy or I will greet the client. We always make sure to offer them a drink like sparkling water, green tea, mint tea, coffee, whatever. I've been cutting most of my people for a really long time, so there's a great level of trust there. But if it's a new person who got recommended by another client or who found us on Instagram, we do a quick consultation before I start. We get to cutting, and then I will give them a dry blowout afterwards to show them how to style their hair on their own. That's usually it.
Is there a particular age group that you see coming in?
It's usually between 25 to 40. Some of my younger clients recommend us to their mothers, so I have a group of 60-plus clients as well. I do a lot of wedding hair, so I'll often meet the mother of the bride and then she may become a client, too.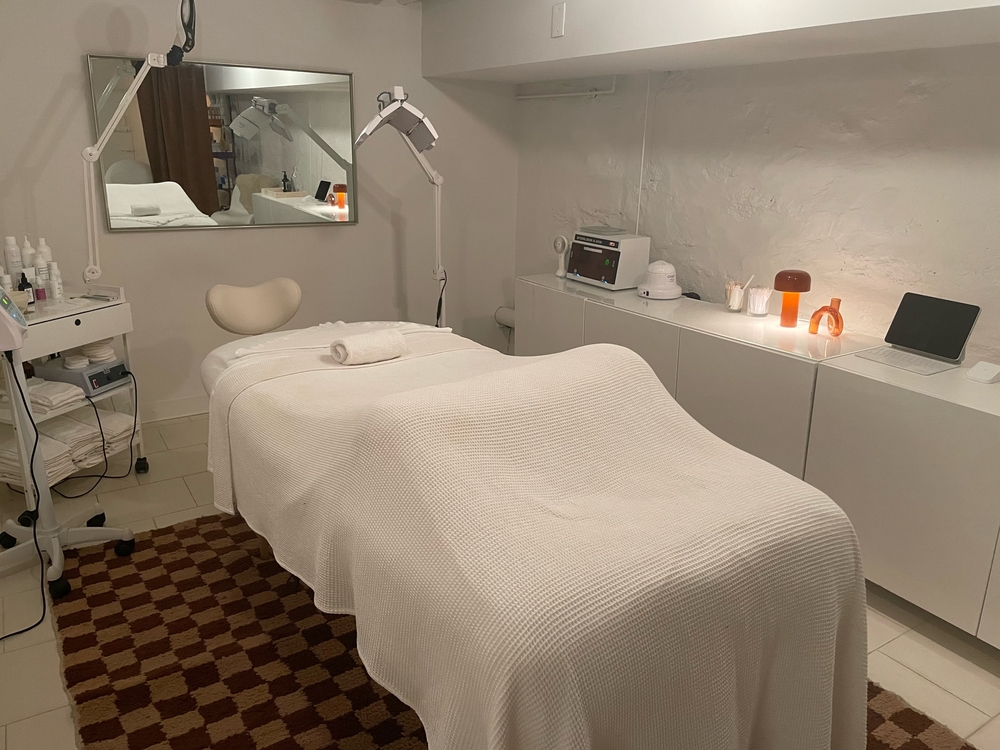 How are new clients finding you?
Word of mouth is absolutely huge. If you cut someone's hair well, they'll tell all their friends about it. Also, being on Elizabeth Street has helped us. We're on the first floor of a big apartment building and that's given us a lot of clients.
We don't really do much marketing. We have our Google reviews, and that's it. We don't have even have a Yelp page. It's definitely helpful having the face and brow services here, too, because those clients have started to see me and the other way around. It's like a one-stop-shop here for a lot of people when it comes to beauty services, which is nice.
What is typical volume like in the salon? 
On a busy week I can do up to 52 haircuts or 10 per day. I block off about 45 minutes for a dry cut, but an average week is probably more like 30 people for me. Everyone's an independent contractor here, so it's hard to keep track of everyone else's clients. If our aesthetician is here, she's totally booked.
What brands do you use at Pearlita NYC?
Rahua shampoos and conditioners, which are clean, natural and sustainable. I love that brand! The hair towel from Crown Affair is amazing, but I also like their oil, combs, dry shampoo and the Renewal Mask. I've also recently been into Hairstory's New Wash for air-dying. It's a co-wash or a shampoo and conditioner in one type product. If you use it correctly it makes for a perfect air-dry.
Obviously, we carry Kismet Olfactive since the lab is downstairs. She's also started making candles that are selling really well. Our aesthetician carries Environ Skincare, which we all love.
How robust is your retail business?
It's about 15% of my hair business. I'm minimal with product, and all my clients are low maintenance.
What are your plans for Pearlita NYC's future?
I opened this space on a whim, and I really don't think too far out. I have a five-year lease. What I'd like to do in the short-term is train my assistant to cut hair the way I do so she can start building a clientele and be my first commission employee. We can also grow the business by hiring more employees as well, but I'm good with a slow burn here.
Sometimes, I think about combining all the businesses here to create an official brand since Pearlita is technically just my spot. This would likely be well into the future. Perhaps we join an LLC and open another location where all of our assistants go work, but we'll see how things go.