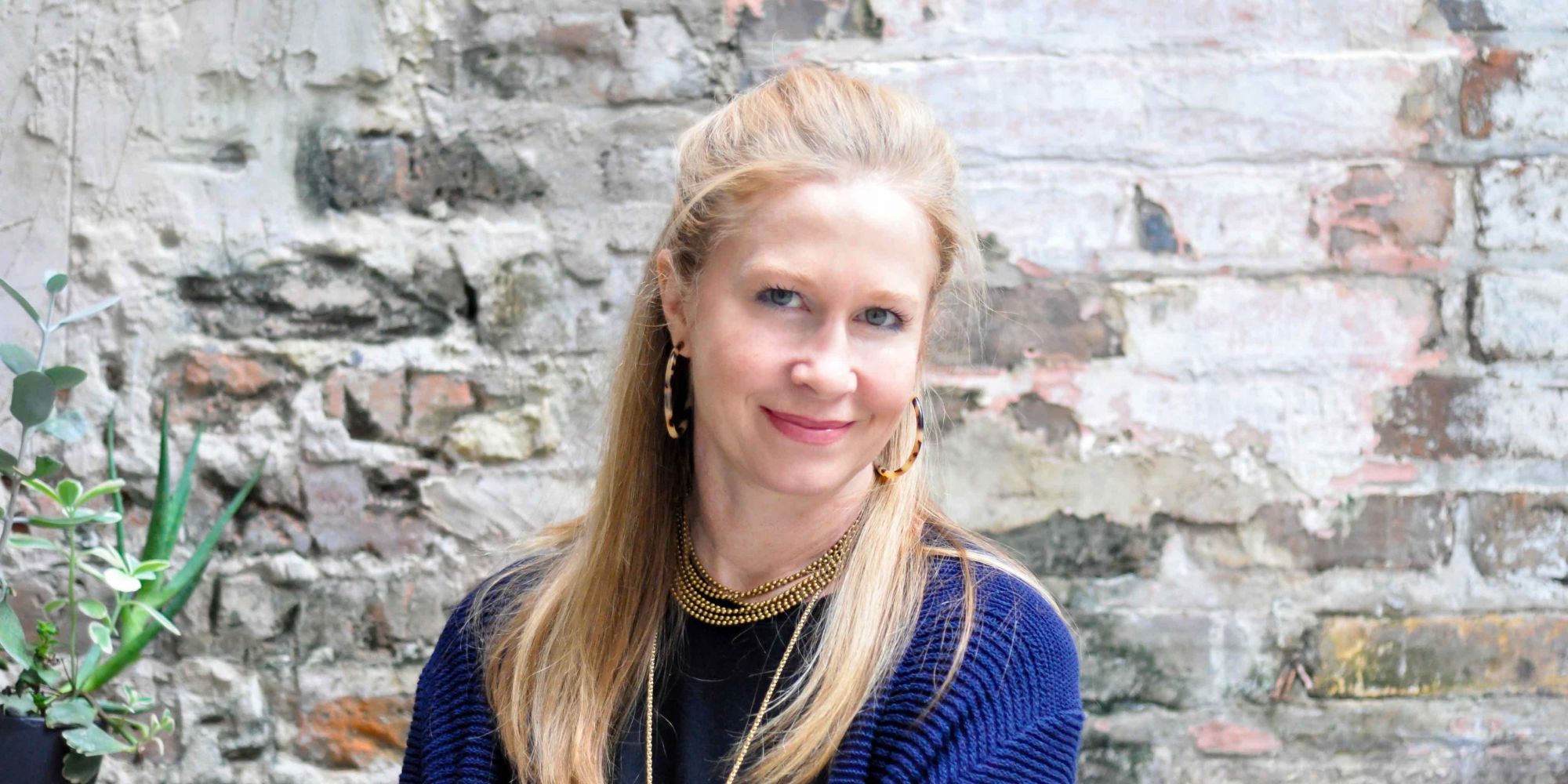 The Chef Behind Olive + M Whips Up Olive Oil Recipes For Your Skin
Olive + M founder Mariska Nicholson's skincare feeds faces. With a keen understanding of the benefits of olive oil for people's insides, the former professional chef created products to deliver the healthy liquid's benefits to people's outsides. Nicholson doesn't permit just any olive oil into Olive + M's formulas. "We source the olive oil from Texas because I know exactly what I'm getting with it," she says. "Beyond that, all of our ingredients are sourced domestically or sourced from Canada. That was very important to me because I didn't want a random ingredient coming from China." In a sweeping discussion with Nicholson, Beauty Independent uncovered more about Olive + M's ingredients as well as details about its background, website, distribution and growth.
Tell us a bit about yourself.
I'm a Texas girl. I was born in South Texas, but I moved to Austin when I was four and, then, I left for 16 years. After high school, I went to FIT, and worked in visual display for Ralph Lauren and Calvin Klein. I left New York and went to Los Angeles for eight years. I did wardrobe styling, mostly for commercials and a bit of editorial. Then, I came back to Austin. I got married and had two babies. I have 13- and 14-year-old boys. It's really great to raise my kids where I grew up. When I left Austin, it was a small town, and it's where everybody wants to be now. When I left, I was craving more culture, art and design, and it's all here now.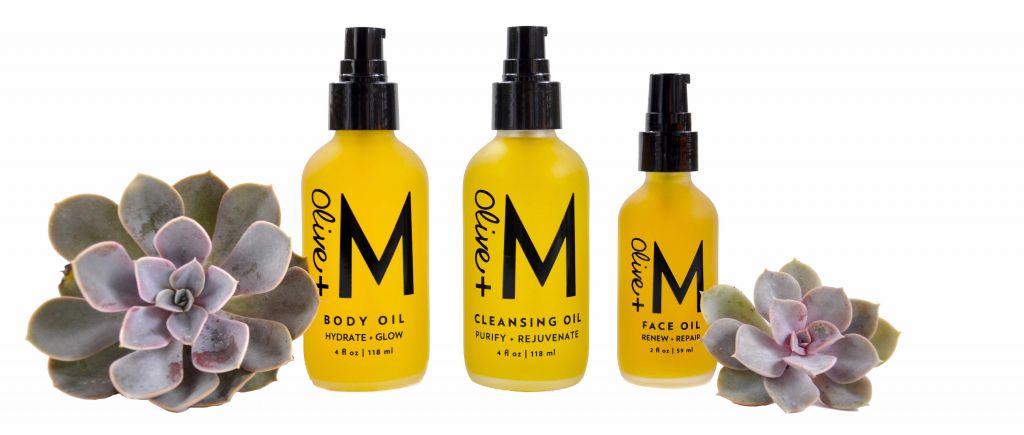 How did your brand come about?
When I moved back to Austin, for two-and-a-half years, I was flying back to L.A. for work as a wardrobe stylist. I had a great relationship with the industry out there. Then, Sept. 11 happened, and the whole industry changed. Production companies shut down, and people stopped flying in crews. I was like, "What am I going to do now?" One of my favorite things to do was cook, so I went to a sixteen-month program at the Texas Culinary Academy. I was very pregnant at the end of it, so the idea of going into a kitchen at that stage of my pregnancy and then with a new baby wasn't very appealing. So, I used my culinary experience to become a catering director and event planner. I worked for a couple of boutique, high-end gourmet shops and did high-end, high-concept private dinners. I brought my design background and my culinary background into doing them. I've had a slow, amazing journey through all things visual and tactile, and it eventually led me to Olive + M. I got to the bottom of a face oil I was using from Italy. I became really curious about the ingredients in it and started asking: Why olive oil? Why pomegranate seed oil? I'm a chef, and I went to the kitchen to blend my own oils. We officially launched the line in January 2015.
Pretend I'm a retailer. Give me a quick pitch on Olive + M.
Olive + M is more than just a skincare brand. It's the beginning of a conversation about what you put on your body being just as important as what you put in your body. We have been hyper focused on what we put in our bodies, and I'm asking for us to bring the same sort of awareness to what we put on our body. All of our plant-based oils are super high in antioxidants, omega-3s and minerals, all of the same wonderful things we want to eat.
How long and how much money did it take to start to the brand?
It's been upward of six figures. I worked on the concept and formulas as a side thing for about four years. I was sharing the formulas I blended myself with my friends and family. Everybody really loved them. One of my friends who was using it, her husband became my angel investor. We started with a good amount that gave us enough running room to really launch the brand the way it should be launched. I worked with a natural and organic formulator, so I could learn how to preserve my formulas while not using crazy preservatives. The formulas are all preserved with high-level antioxidants and vitamin E. Without the angel investment, I wouldn't have had the ability to create effective, stable formulas. We have had a couple of infusions since the angel investment, which has allowed us to introduce new SKUs and grow the brand, which is attractive to our investors. We've been looked at by some high-level private equity, which has been great because it's nice to be on their radar, but we are not ready for that.
When did you reach profitability?
We reached profitability last year. This year, sales in the first six months already doubled the sales from last year. We pour everything we make right now back into the business. I'm hoping by 2019 we are going to be able to keep a little for ourselves.
Where is Olive + M sold now?
Our business is 60% direct-to-consumer — 80% on our own website and 20% on other shopping sites — and 40% wholesale. We have been fortunate from the beginning to get a lot of organic press, and bloggers wanting to write about us. That has expanded our website tremendously. We ship to all 50 states, and that's from people reading about us online. Our sampling program on our website is strong. I would say one in four people purchasing the samples buy the product, and that was an important piece for me. I didn't want you to spend $68 on a face oil and then decide it wasn't for you. We are also in a few brick-and-mortar stores and spas. Spa wholesale accounts are probably our favorite. They provide a complete experience with the aesthetician using and loving the product, and a client getting off the table and purchasing it because she loves the experience of it.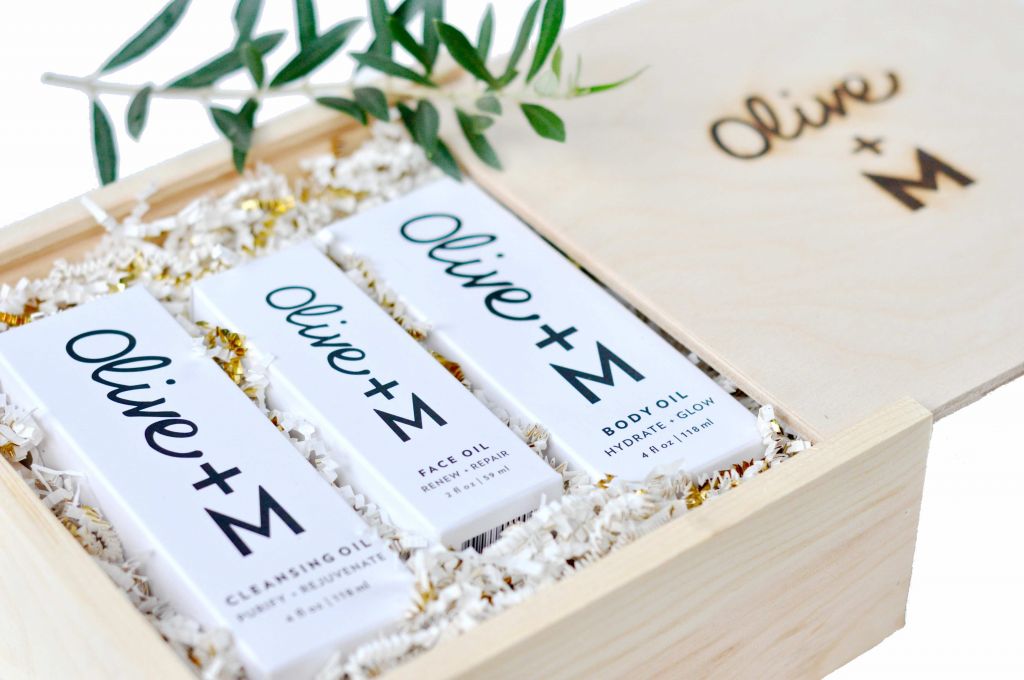 Amazon, yes or no?
We are not on Amazon. For now, Amazon is a no-go area for two reasons. My team doesn't have the bandwidth to manage it. More importantly, it's not that authentic of an experience. I want people learning about Olive + M in a clean beauty space be it a retailer, from a spa or from us online. For the next couple of years, I think it's important that's the way people learn about us.
Why are samples important to you?
When I lived in New York City, I lived right around the corner from the original Kiehl's store. I would go there, and they would put sample pots out for you. You would leave with a sample, try the product, love it and go back. That was such an incredible memory for me. They believed so much in their product, and they were willing to give you one-eighth of an ounce or so to use it for five days because they trusted you'd be back. Our sample kits have one-eighth of an ounce of the Face Oil, Cleansing Oil and Body Oil, and can be purchased for $36 on the website. When we do shows, we pass out samples to people, and they circle back to us the next day after using the oils and say, "I'm in."
Why are you so interested in spas as a platform for Olive + M?
It's a way for the brand to gain traction in a very real way. It's not paid advertising. It's real people telling stories about the products they really love. Our products also play well with others at the spas. You can start your facial with the Cleansing Oil and end it with the Face Oil and, in between, you can use a myriad of different lines. For example, I personally use a vitamin C serum and hyaluronic acid after I apply my Face Oil in the morning. The Face Oil is a great vehicle for these serums to attach to in order to travel deep into the skin. Olive oil is close to your skin's natural sebum, and it penetrates easily and quickly. I train aestheticians that they shouldn't be afraid to use our products with other lines to achieve maximum effect. We have a couple of spas that are doing an Olive + M facial, and they call it a vegan facial. All of our products are cruelty-free, GMO-free, gluten-free and vegan.
Why did you want your products to be gluten-free?
I am celiac, so I pay attention. Gluten has historically been in everything because it's a filler. So, it was in lotion, mascara and shampoo. It was clearly in foods. It was more recognizable in food, but companies were putting it in all kinds of products. Our Face Polish has oat powder in it, but it's a gluten-free oat powder, and I make a point of saying that. Oats don't normally have gluten, but companies have been adding gluten to oatmeal as long as they've been making oatmeal.
Where are your products made?
We make them locally here in Austin. It was important for me to work with somebody that was close by. I started with some possibilities in Dallas, but was really thankful when we found somebody closer. I like to meet people face-to-face and know who they are. We also source all of our olive oils locally. We are currently sourcing from the Texas Olive Ranch. Olive oil can be a rather shady business. The F.D.A. doesn't regulate olive oil coming into this country. You can say it's extra virgin olive oil on the bottle, and it doesn't have to be. When I get my olive oil from Texas Olive Ranch, I know exactly what it is and when it was pressed. It's the real deal.
What's your hero product, and how did it come to be?
The Face Oil, definitely. It's the one that I formulated first, and it was solving a problem for me. It was getting to the bottle of a face oil that I was using that caused me to research plant-based oils. Then, I went to the cosmetic chemist, and she educated me on oils that counteract each other. I think we did only two versions before we completely nailed it. I wanted to make a face oil for women that is luxurious, eco, effective and affordable. Every ingredient in the formula has a purpose. I didn't want my ingredient deck to be 36-ingredients long because I learned from the chemist that, in an ingredient deck, the first ingredient has the highest percentage and, as you go down the deck, the percentages get lower. I don't think it's fair when companies put argan oil as the 36th ingredient because there's no efficacy at that level. We also offer our Face Oil at $68 for two ounces, and a bottle will last you three-and-a-half to four months. You purchase it three to four times a year, and I felt that it was something women could plug into their budgets.
What was the worst day in your business and why?
We migrated our website from one server to another, and that took my site down for five days. So, I guess it was five bad days. The website is the most difficult piece for me. I'm a very visual person, but I'm not a techy person. I rely on others to tell me how it's going and, then, I trust them. I've had a few bad experiences, and it's a scary area for me, to be honest.
You have recently been redoing Olive + M's website. Why?
We have just outgrown it. On this new site, we have distilled our message. We are a brand with ingredients made by Mother Nature, not made in a lab.
What functions do you outsource?
I outsource PR, marketing, web design and fulfillment. I have all my social media in-house. We are really conscious about where we spend our dollars. Eventually, it would be great to have all of those things in-house. My in-house team today is myself, my assistant and an intern.
You changed the Olive + M packaging early on. How come?
I think we were 10 months in, and we went to Indie Beauty Expo. We were listening to a panel with [Brook Harvey-Taylor from] Pacifica, and somebody in the audience asked her a question about the advice she would give to a new brand. She said don't buy huge quantities of your first packaging because you will change your packaging. At that moment, I knew something was just not right about the packaging. It was too playful, and it didn't seem like a $68 bottle of eco-luxury. We changed to glass bottles. We were in plastic. We went to new packaging, and it was a game changer for us. It was almost as if we were a new brand.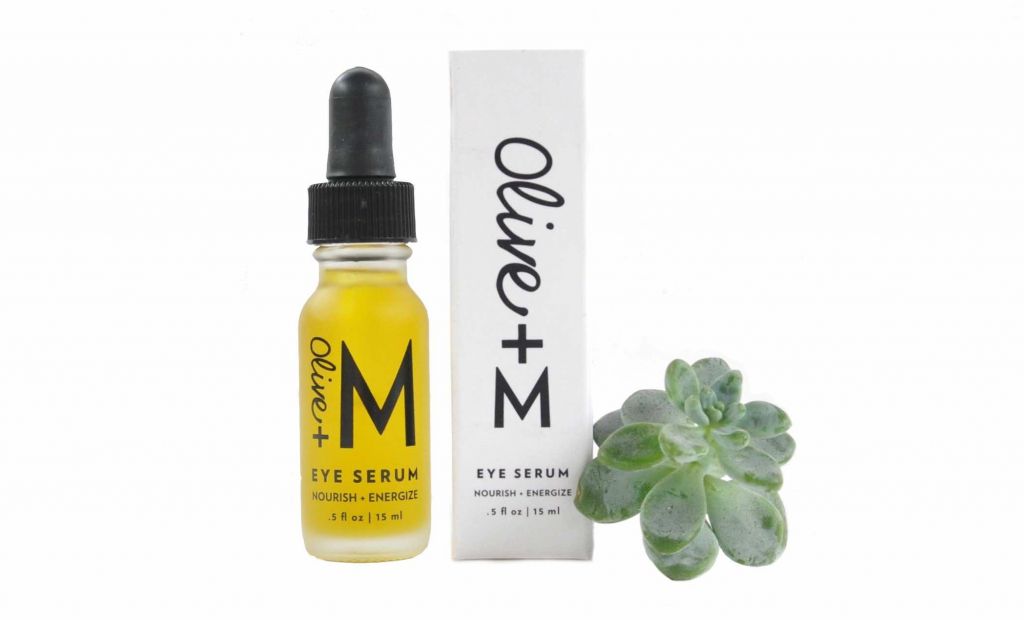 What's the biggest lesson you've learned so far about what it takes to make it as a beauty entrepreneur?
You have to be willing to make changes and make them fast. When you get too hyper focused on the one way it's supposed to happen and it's not happening that way, you have to go in the other directly and quickly. You are wasting time and money if you don't.
What's something in your office that's precious to you?
On my desk, I have what I've always called Buddha, but my friend told me he is not Buddha, he's a priest. He was my father's, and I inherited it. He is adorned with little gifts. He makes me happy every time I walk into the office, and he's there holding a bowl of crystals. My father was an interior designer and antique collector, so we were always surrounded by treasures.
What is a goal for the future of Olive + M?
We want Olive + M to be a household name in plant-based oils, health and wellness. We have big plans outside of women's skincare and expanding to the whole house.