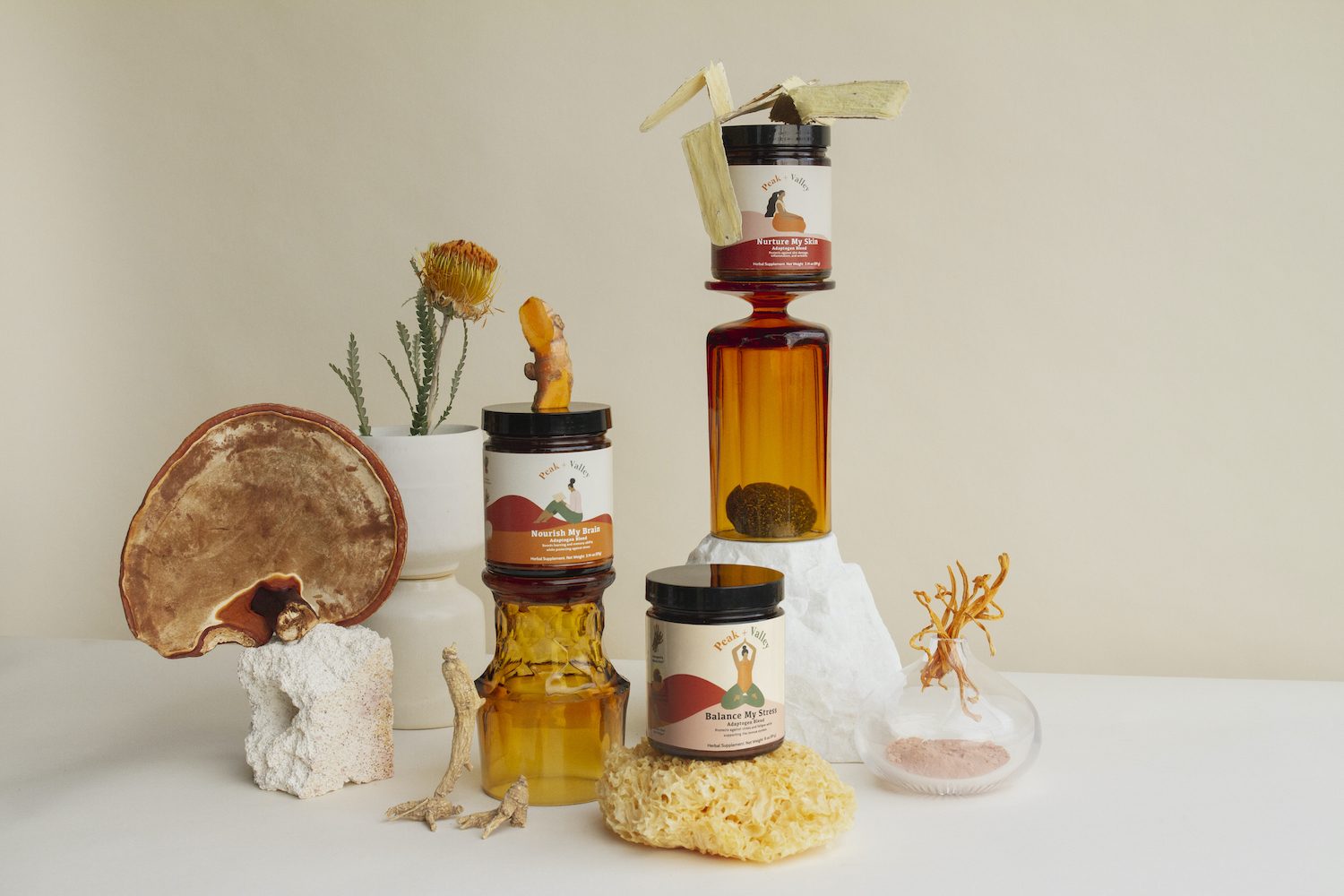 Why Peak And Valley Pivoted From DTC Distribution To Retail
Last year, when the iOS14 update made it harder for brands to realize a return on digital advertising, Peak and Valley founder Nadine Joseph joined a lot of entrepreneurs in pivoting. "I really left DTC in the dust because I wanted to wait until the social media landscape as a whole settled and became profitable again," she says.
Growing retail became the new focus for her wellness brand. It launched at 49 Whole Foods doors earlier this year and 690 The Vitamin Shoppe doors last week, and it's in the process of rolling out to 132 Fred Meyer stores. That's not all. Peak and Valley is available at around 200 independent boutiques and grocers, and a drugstore partner is lined up for next year.
Despite her decision to pivot to retail, Joseph admits retail isn't easy. Last year, Peak and Valley was set to enter an undisclosed national retailer seeking to put more Black-owned brands on shelves, but it didn't bring it in last minute due to an issue with its labels that wasn't communicated promptly. The reversal almost tanked the business.
"We had to figure out how to sell the inventory quickly, in a time shortly after iOS14 when there were fewer ways to offload inventory via DTC," recalls Joseph. "We couldn't just invest in more ads or influencer partnerships because they just weren't working at that time."
Bootstrapped up until that point, Peak and Valley was gearing up to raise money and lost interest from investors once the retail partnership fell through. Joseph says, "I had divested from several other parts of the business in order to save money and inventory, which naturally caused our revenue to decline in preparation for the launch. When the launch didn't happen, we experienced a slower growth curve."
The debacle shaped how Peak and Valley approaches retail partnerships today. Joseph is highly selective and concentrates on deepening relationships rather than piling up accounts on her and the brand's sales manager's plate. She says, "After we grow into all of these accounts and get our velocity up to where we want it to be, then I want to start expanding horizontally into other retailers within the same channel, so other grocery partners, other specialty partners or natural and organic partners."
Breaking into retail is an exciting prospect for indie brands, but, in order to be successful, Joseph stresses the importance of being prepared financially. She advises, "Create a financial analysis of how it's going to work out: Will you have enough cash flow to fund it? Because more likely than not it's not going to be profitable, especially in that first year. Really dig into the terms they present you and realize everything is negotiable, and negotiate it in such a way where you can be as profitable as possible while also giving them respect for the risk that they're going to be taking putting a new brand on their shelf."
Grants helped keep Peak and Valley afloat when its retail partnership fell through last year. Joseph amassed over $130,000 through various pitch competitions and accelerators. Funding from family, loans from private sources like Daintree Capital and her business credit card was integral to covering the large purchase orders Peak and Valley received this year.
The brand been approached by investors, but Joseph wants it to stay bootstrapped as long as possible primarily because of the dismal historical fundraising landscape for Black women and the effort it takes to secure capital. Joseph says, "My goal is to be one of those brands that can make it into retail without raising a whole bunch of money and to do it successfully."
She posits retailers are drawn to Peak and Valley because of its popularity with millennial women. Joseph says, "Some of these retailers typically have people in their 50s and 60s going in on a regular basis, and they're really trying to attract a younger market."
Peak and Valley is trying to expand its demographic reach, too, and a strategy for doing that is venturing into capsules. The brand's current selection contains four powdered herbal blends priced at $38 each: bestseller Nourish My Brain, Restore My Sleep, Balance My Stress and Nurture My Skin. It plans to drop capsule versions of the blends in November as Fred Meyer exclusives. Medicinal mushrooms are core ingredients in Peak and Valley's supplements.
Joseph says, "The generations before millennials and before them, they tend to have only been exposed to capsules, that's what they're used to taking and what they're always going to take, but a higher proportion of millennials prefer powders because it's something that was introduced in their time and that's just the natural preference."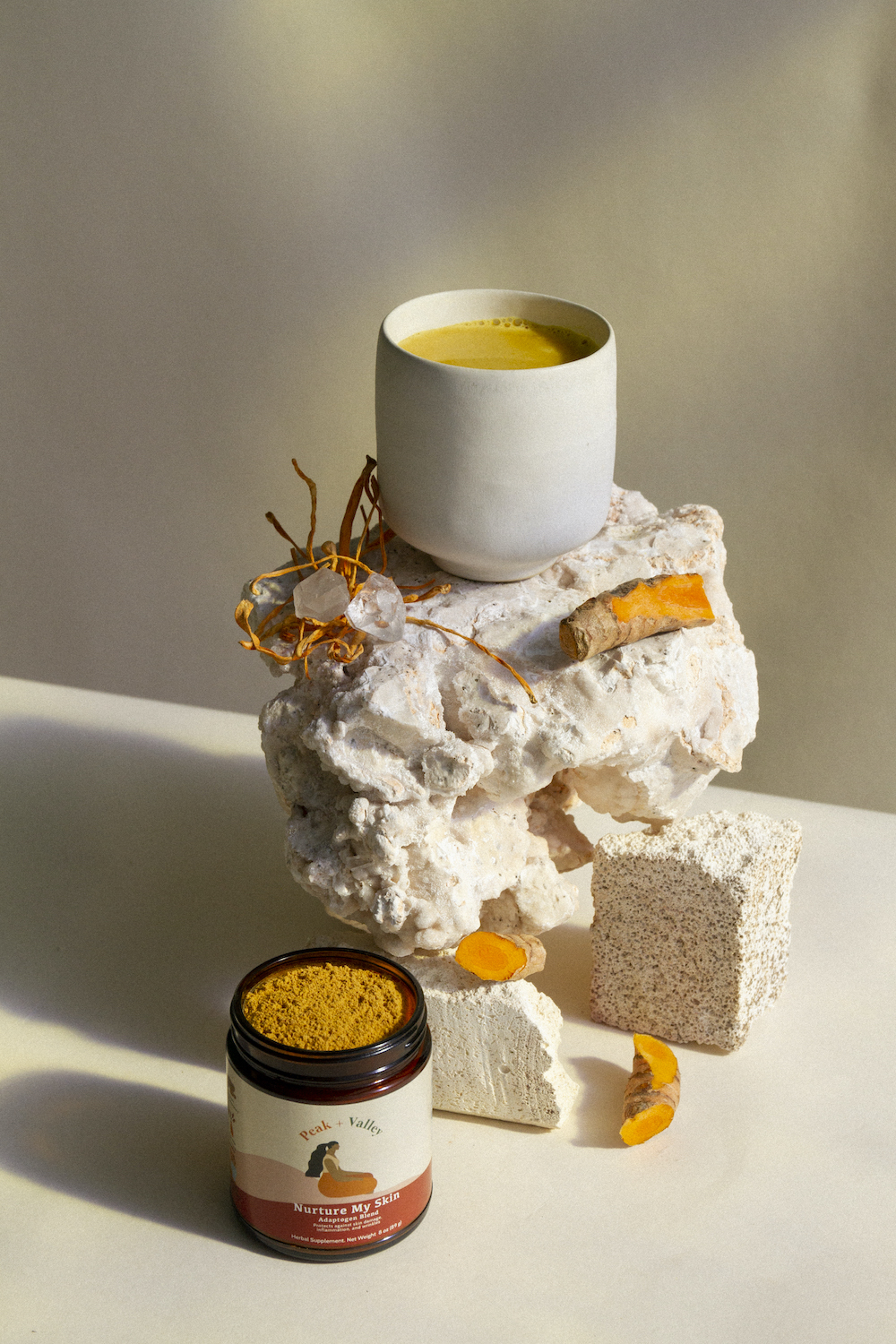 Joseph describes Peak and Valley as having a"mindful product innovation pipeline." Restore My Sleep was added to its inaugural collection of Balance My Stress, Nurture My Skin and Nourish My Brain last year. It was the first produce release since the brand's launch in 2019.
"I've been very conservative with launching new SKUs because each new SKU is an investment, and I also directly source," explains Joseph. "So, it's not just that I place an order with my manufacturer, and they find a new wholesaler to buy my ingredients. I actually have to go out in the field and make partnerships with new farmers for each ingredient that I launch."
Estimating 70% of Peak and Valley's ingredients are sourced directly, Joseph continues, "Our main differentiator is the fact that we directly source and actually have respect for cultures and the people that all of these ingredients come from, and I think that we're going to see more and more supplement players bring that out in their brand because that's what this new general market is really demanding."