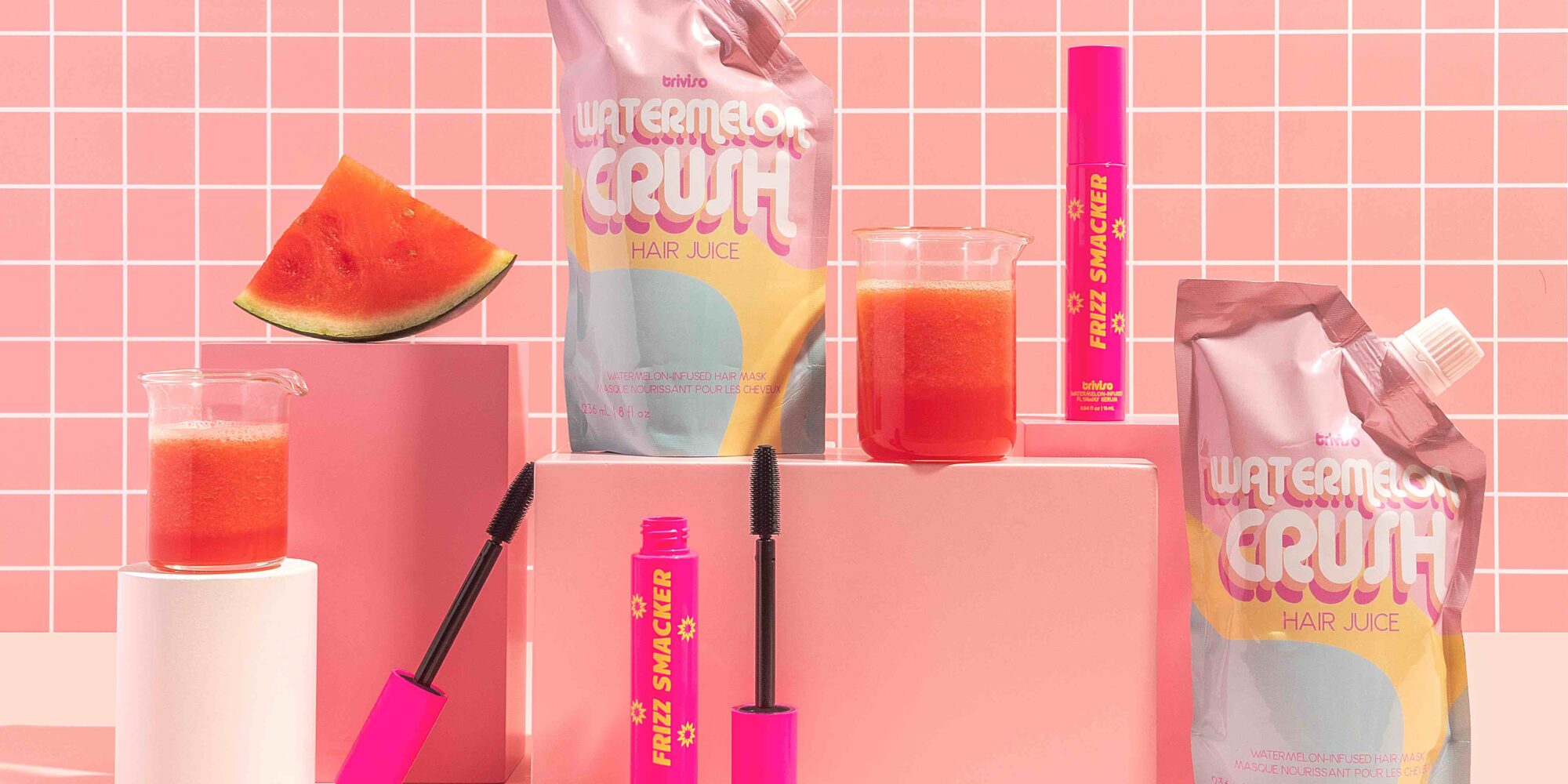 How Playful Haircare Brand Triviso Baked TikTok Into Its Business
Similar to most beauty brands, haircare brand Triviso is aimed at particular consumer demographics—in its case, gen Zers and millennials—but it's also aimed at consumers who identify with particular TikTok aesthetics. Officially debuting Thursday, it's second product, the flyaway-smoothing Frizz Smacker Serum, is made with "that girl" and "clean girl" aesthetics in mind.
"Those girls typically have slicked-back hair and take care of themselves," says Triviso co-founder and former corporate lawyer Sajal Waheed. "It's just the easiest look. And, essentially, this product really simplifies it. You can easily carry the product with you for touch-ups during the day, and at the end of the day when you brush out your hair, it doesn't leave buildup or grease like gel or hairspray would."
Launched in November with Watermelon Crush Hair Mask and in development for eight months prior to the launch, Toronto-based Triviso, which was funded with $20,000 from Waheed and her sister Neha's personal savings along with a loan from the Canadian government, was incubated and introduced during a period of TikTok ascension in the beauty industry. The platform's impact is evident in virtually everything about it, from the format and function of its products to its marketing and distribution.
"The hair mask looks like a juice pack. So, it looks very different, and it's branded as a hair juice. We did that because we wanted to put our content up and have people wondering what it was because that boosts your engagement and number of views," says Waheed. "And we really did have people asking, is it edible? Is it a hair juice? What do you do with it?" In addition, with rice water for haircare being talked about on TikTok while Triviso was refining Watermelon Crush Hair Mask, it threw rice powder into its formula to enable its customers to skip rice water rinses.
Today, 60% of Triviso's sales are driven by TikTok, where it has nearly 87,000 followers, although percentage is due to shift as retailers jumping on TikTok trends pick up the brand. Triviso recently launched at Free People, and Urban Outfitters is on deck for June. The brand is found on Verishop and Supergreat as well. It's expected to cross $500,000 in sales this year.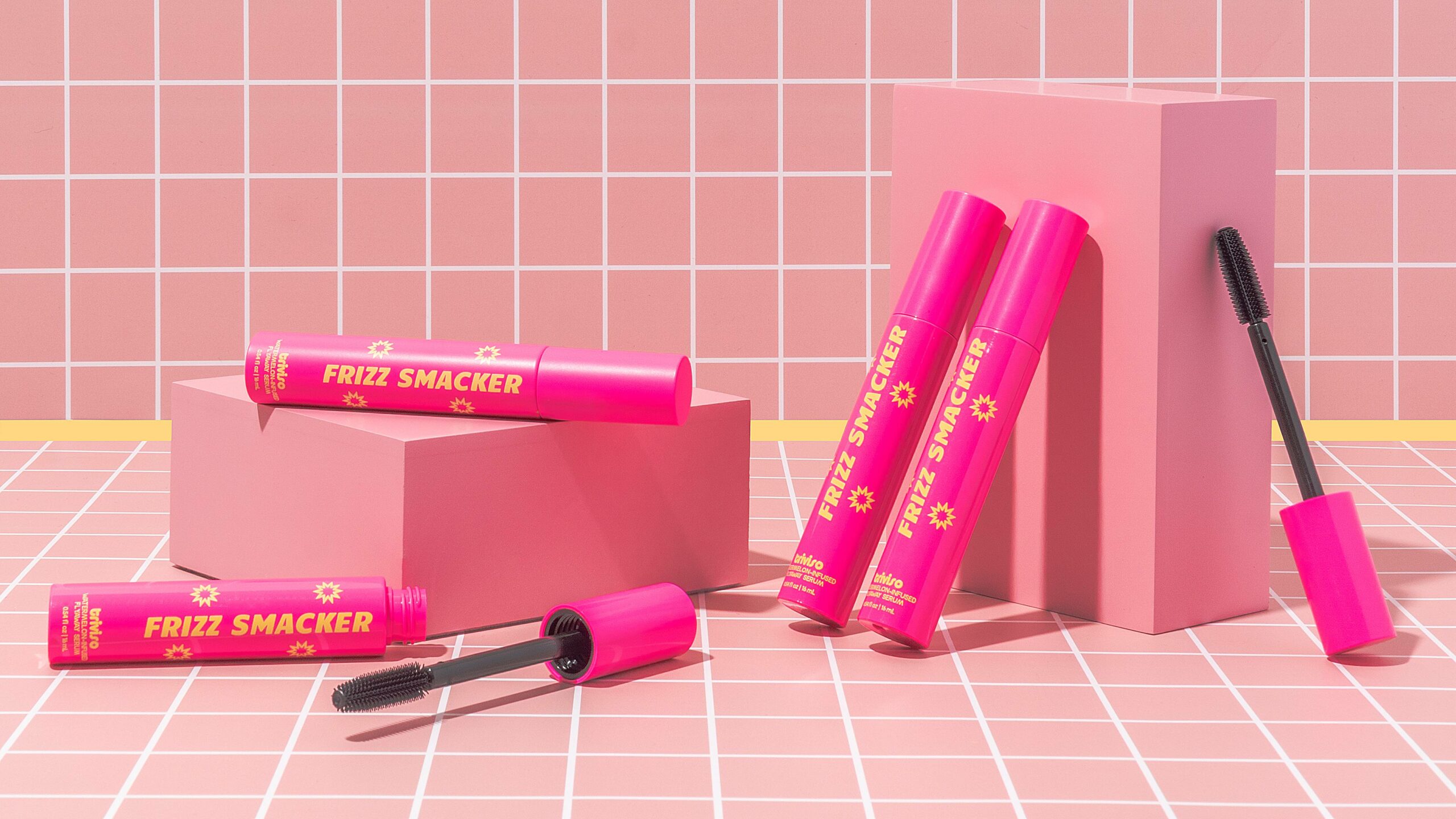 For both Watermelon Crush Hair Mask and Frizz Smacker Serum, inspiring curiosity and delivering visible changes that can be captured in seconds-long videos are critical. Watermelon Crush Hair Mask's packaging is pastel blue, yellow and pink. Frizz Smacker Serum comes in a hot pink mascara tube. TikTokers can run its spoolie brush and formula containing watermelon extract, and grapeseed, avocado and jojoba oils over their hair to keep pesky strands down and create social media-ready sleek buns.
Before finalizing Frizz Smacker Serum, Triviso solicited feedback on the concept from its following. Waheed reports, "We kept getting responses like, 'Oh, I need this because I make that hairstyle all the time, and it would be so easy to have a product like that,' or 'My hair's so frizzy, I would love to have something really simple that just tames the frizz."
With Watermelon Crush Hair Mask, instant effects were a big consideration. "We didn't want a product that just washes out without really seeing any result," says Waheed. "We wanted people to use the product and immediately want to hop on in front of the screen. We went through a ton of sample formulations of the hair mask until we got something that we really felt confident in, and it really translated, both in terms of influencers just hopping onto Instagram Stories and saying, 'This really works,' and when we're speaking to buyers and sending samples, we're quite confident that, OK, they're probably going to like this."
Three months in advance of Triviso's launch, the brand began a concentrated effort to raise awareness on TikTok. It commented on #hairtok content creators' posts and posted content regularly. "We didn't want it to be only, 'Here's a product, use it, it's going to work well for you,'" says Waheed. "We wanted to create a real connection with our community. We wanted to give them value. We wanted to tell them, 'This is what you're currently doing with your hair, this is why it's not working, and this is how you can maybe improve.'"
"To have longevity, you need to grow with your audience. We want to remain very attentive to what they need."
To seed its first product, Triviso reached out to about 100 micro-influencers split between Instagram and TikTok. Sensing that #hairtok content creators and their followings were being bombarded by hair products, it stretched beyond them to lifestyle influencers that recommend products of all sorts to fans hungry for their suggestions. A beauty TikToker named Kensington Tillo with 1.1 million followers posted a video featuring Watermelon Crush Hair Mask that's garnered almost 187,000 views.
To seed its second product, it's increased its outreach to 300 to 500 content creators and focused on TikTok's aesthetic category hashtags. "We're trying to find those types of girls who maybe post about their healthy eating routines typically, not really about beauty," explains Waheed. "We know they're attracting the right type of audience, the type that wants to get that look."
She mentions Triviso is exploring advertising on Instagram and Facebook, but isn't advertising on TikTok. "People just have a different impression of TikTok versus Instagram. Instagram is where you are used to seeing a lot of paid partnerships from influencers," says Waheed. "TikTok is at the moment somewhere you go to just relax and do or see funny, really lighthearted things. I don't personally think people are very interested in seeing ads through TikTok, and I've listened to other brands that say, when you do paid marketing on TikTok, your organic views go down."
Besides the Waheed siblings, there are three people on staff at Triviso managing content. The brand posts on TikTok two to four times per day. On Instagram, it posts every other day and does Reels once a week. It constantly uploads videos and images to Pinterest. Triviso has 14,000 followers on Instagram. On Pinterest, it's racked up 1.3 million monthly views.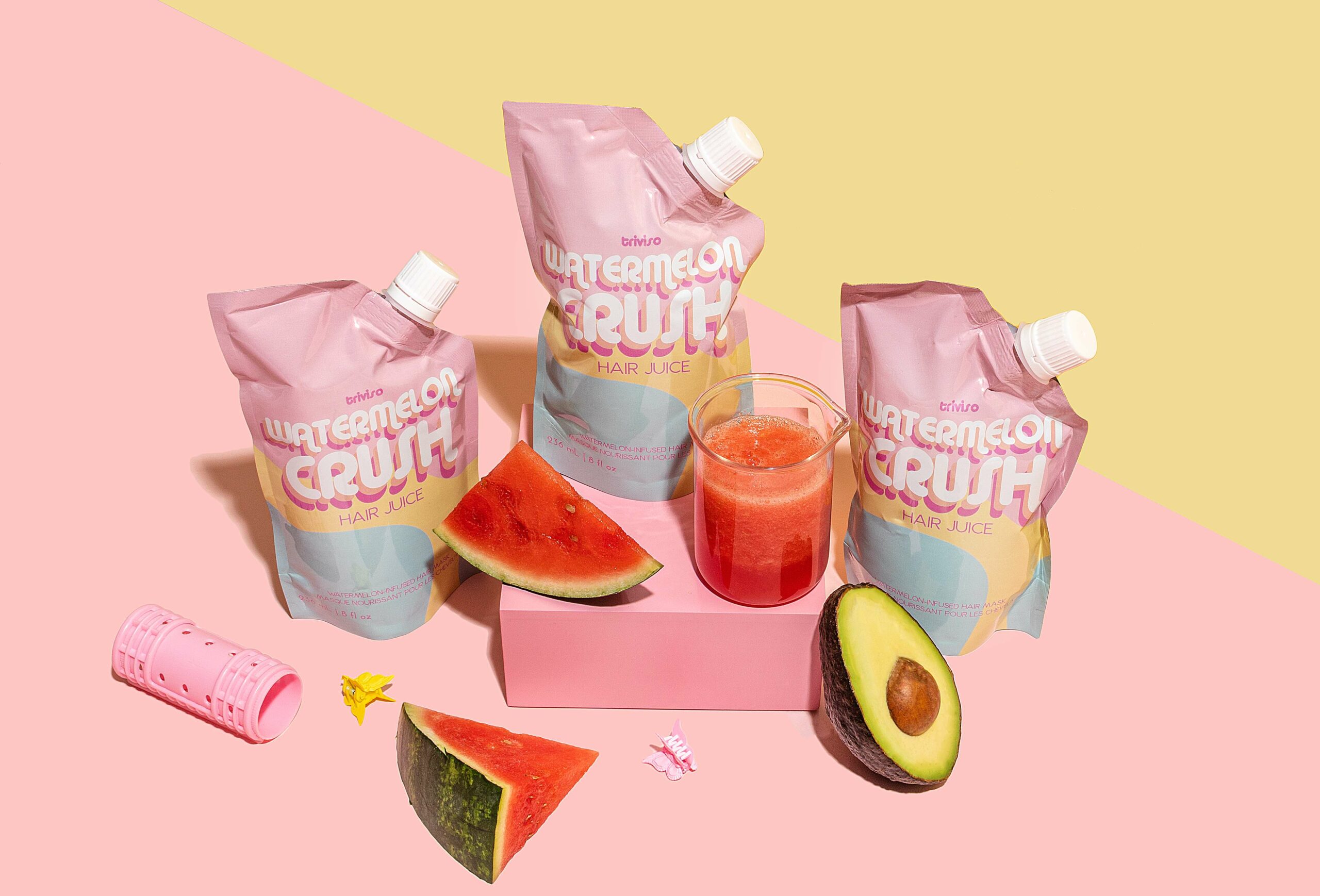 Retailers and influencers are noticing. "It's so lovely when you're reaching out to influencers, and you're asking them if they'd be interested in joining your next campaign, and they say, 'Oh, I've seen this brand so many times,'" says Waheed. "The even more exciting thing is, a couple of weeks ago, I was on a call with a buyer from a very large Canadian retailer, and she said, 'I had seen your brand multiple times on TikTok before you reached out.'"
Triviso has teamed up with Adit, the service connecting indie beauty brands with retailers owned by Beauty Independent's parent company Indie Beauty Media Group, to expand its retail presence. Waheed points to Target, Sephora and Ulta Beauty as dream retailers for the brand. Subscriptions boxes such as FabFitFun, Boxycharm and Birchbox are on the roadmap, too. Frizz Smacker Serum is priced at $19, and Watermelon Crush Hair Mask is prices at $22. Waheed describes the prices as "digestible" to open Triviso up to a variety of retailers, including drugstores and prestige beauty chains.
Within three years, the brand plans to release four products to complement Watermelon Crush Hair Mask and Frizz Smacker Serum. The products in its pipeline are multitaskers. A dry shampoo is among them. Certainly, TikTok will play a role in its future products, but Waheed is cognizant that a brand has to resonate outside of the platform to have longevity.
"To have longevity, you need to grow with your audience. We want to remain very attentive to what they need as they may be going through life and create products accordingly," says Waheed. "I think it's very important for your brand to be more than just trends. I think you want to continue emphasizing your values. You want cruelty-free products. You're against animal testing. You want vegan products. You're BIPOC-owned. You're for inclusivity. For example, I think Rare Beauty is handling it really well. It really stands for something. It's a brand rather than just viral products."