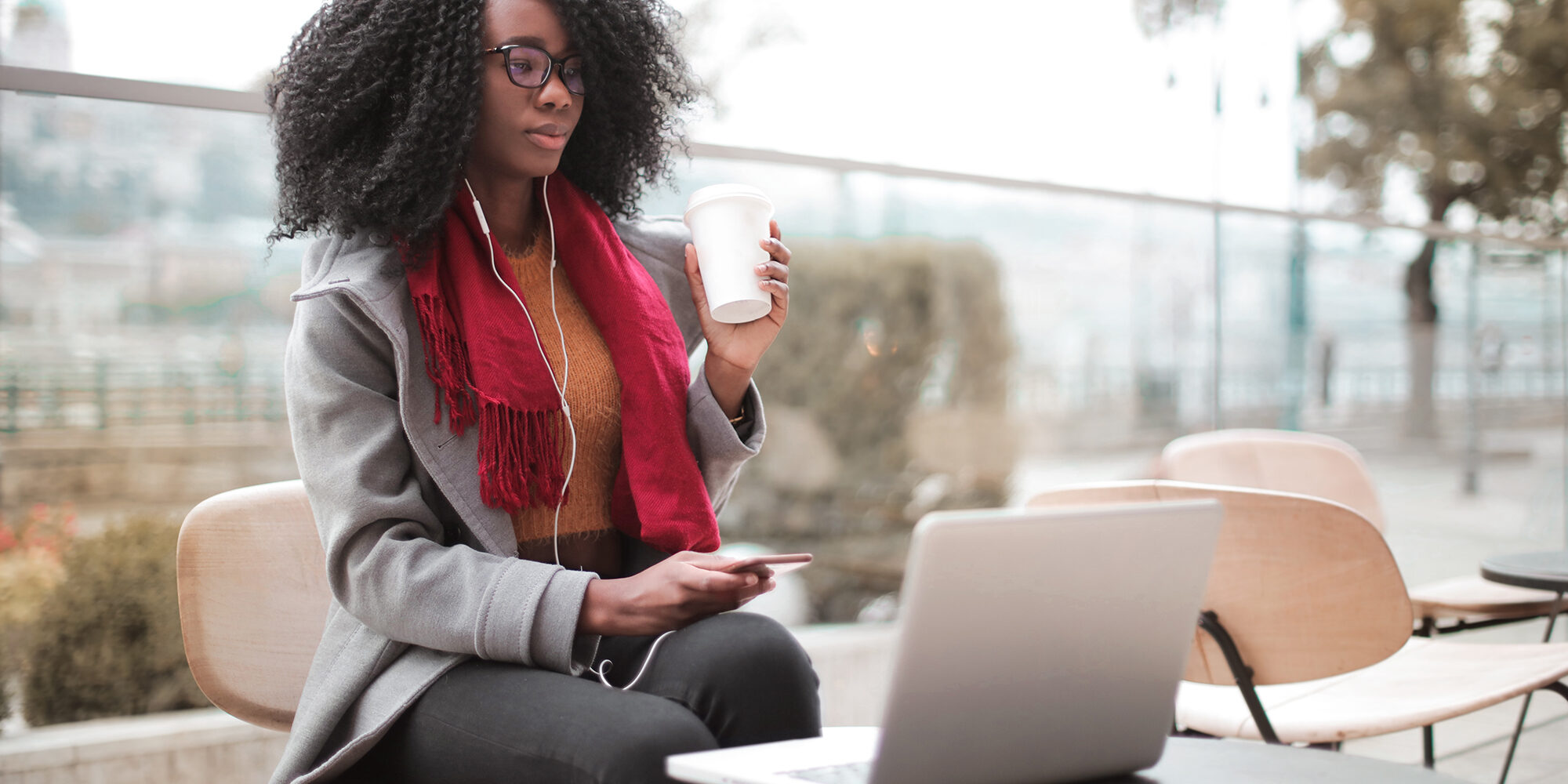 Politics, Pinterest And More: Five Social Media Developments From This Week
If you weren't dodging social media before, this week might have been the best time to do it. I completely understand the self-preservation impulse. However, abstaining from apps probably wouldn't have saved you from catching news or viewer opinions of the first American presidential debate on Tuesday. Reactions here and abroad were swift and unkind. The sorry episode could be a precursor to a rocky stretch between now and Election Day—and even after. Compartmentalizing the personal, political and professional with the stakes high is incredibly difficult. As we look back at the digital developments from this week, we delve into ones expressly political and ones not, but even the ones that seem outside of politics are tinged with the power struggles of our strife-ridden moment.
1. Influencers And Politics 
Politics is coming to influencers whether they like it or not. In a BuzzFeed article published on Wednesday, reporter Stephanie McNeal posits, "For those influencers who would rather stay silent to avoid alienating people on either side of the political spectrum, the choice may soon be made for them. Followers are starting to notice which influencers are staying silent, and for many audiences it is a breaking point." Lauryn Evarts Bosstick, creator of the lifestyle blog The Skinny Confidential, shut down  after former members of the group say it deleted comments about Ruth Bader Ginsburg following the Supreme Court justice's death. Bosstick explains she closed the group that had around 60,000 members because negativity crept into it.
McNeal argues influencers' attempts to be apolitical seem tone-deaf. "Influencers who continue to post their usual content without acknowledging the realities of this country face the risk of appearing so laughably out of touch that it renders anything else they have to say irrelevant," she writes. To prove her point, McNeal conducted an admittedly unscientific poll via Instagram Stories of roughly 5,000 people. Three-fourths of them have unfollowed an influencer upon realizing the influencer didn't agree with their political views. Nearly 80% asserted an influencer can't remain relevant while staying out of politics and skipping discussions of current events. Almost 60% have unfollowed someone because they ignored politics, the election, Black Lives Matter or the pandemic. Read more of McNeal's take here.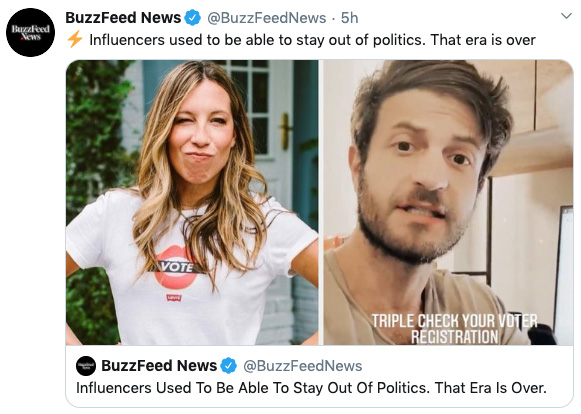 2. Facebook's BIG Play
In a thorough article, Fast Company technology editor Harry McCracken explores how Facebook is weaving together its platform, Instagram, Messenger and WhatsApp as watchdogs and regulators close in. This week, Facebook launched Accounts Center in test mode. It allows users to change settings across Facebook, Messenger and Instagram, including the ability to log into each service and cross-post. Techcrunch writer Sarah Perez notes the feature "highlights the extent to which its suite of apps now interoperate." The merging capabilities come as Facebook is under scrutiny for its privacy and monopolistic practices. Click here to read more.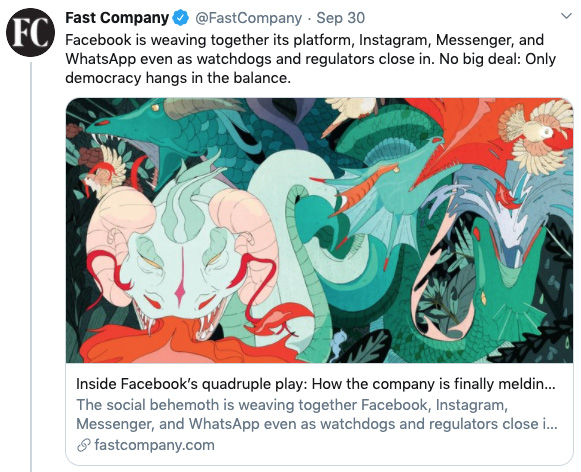 3. #ShareTheMicNow IN THE UK
Following June's #ShareTheMicNow campaign in the United States putting the social media spotlight on Black women, the movement has headed across the pond to mark Black History Month in the United Kingdom, which kicked off Thursday. Vanessa Kingori, publishing director of British Vogue, and Stephanie Phair, chief customer officer at Farfetch and chair of the British Fashion Council, were catalysts in bringing the effort to the country. British Black women, including author Bernardine Evaristo and television broadcaster June Sarpong, will take over the Instagram accounts of 70 prominent white women, including celebrities Gwyneth Paltrow and Victoria Beckham, for a day amplify Black female voices and work. Learn more here.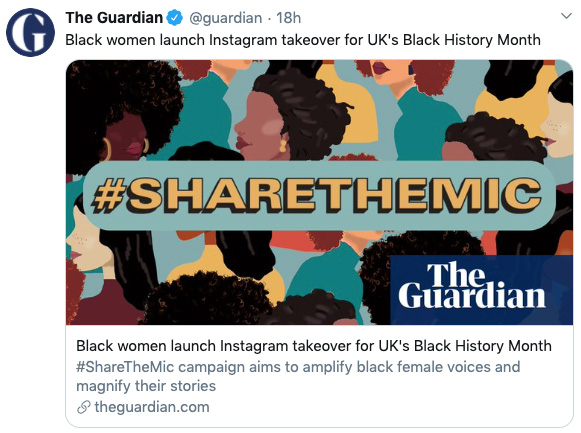 Prepare to get inspired and learn what makes pinning on Pinterest work at the free Pinterest Creators Festival on Oct. 15. In a recent announcement, Pinterest shares attendees will learn how to craft captivating stories and turn ideas into businesses. Hear from creators, entrepreneurs and editors, including journalist and author Elaine Welteroth, Schmidt's Naturals founder Jaime Schmidt, costume designer June Ambrose and more. View the full speaker lineup and register to attend here.
5. TikTok Initiatives 
Despite a ban still looming, TikTok is still ticking on in the U.S., and the platform is making updates to keep users safe and engaged with its product. Last week, TikTok cracked down on weight-loss ads promoting harmful body image. It's partnering with the National Eating Disorder Association to redirect searches and hashtags for terms it deems detrimental to the organization's helpline. On top of that initiative, TikTok introduced three new Deut options enabling users to collaborate more easily with other video creators. Learn more about the updates here.