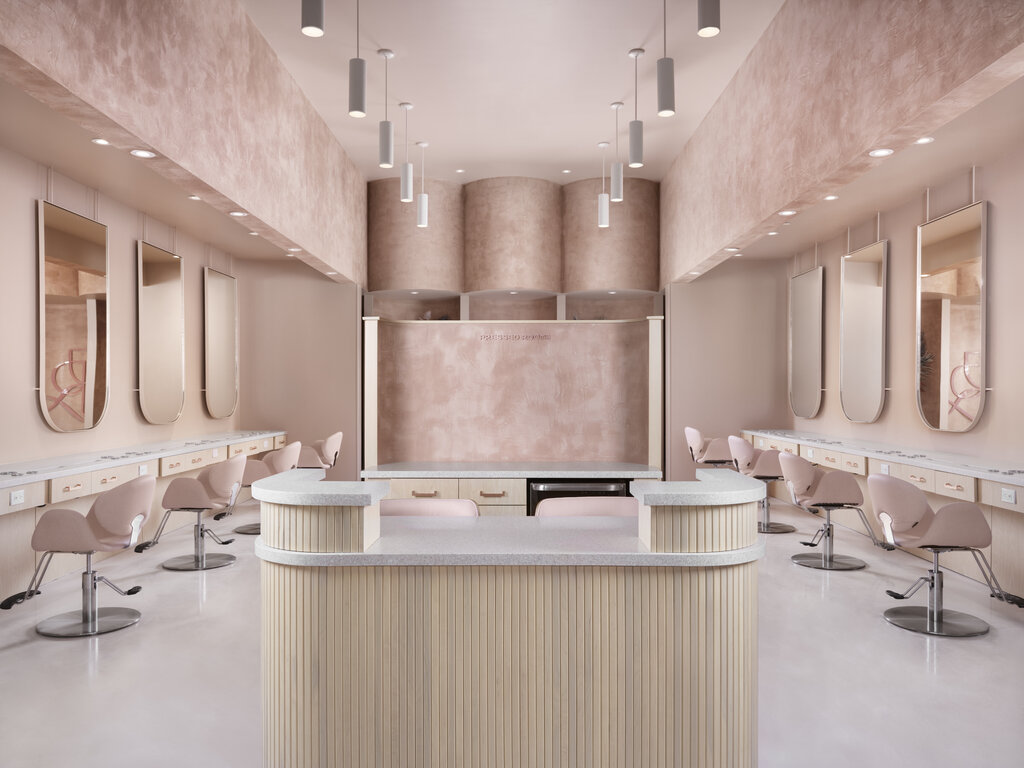 This Budding Salon Chain Wants To Be Drybar Of The Textured Hair Salon Business
Piersten Gaines is out to reinvent salons for the textured hair community with a mix of knowledge, customer service, class and fun. So far, it seems to be working. Her concept Pressed Roots, which specializes in blowdry and silk press services, is scaling fast. After opening a Dallas salon in March 2020 to a sold-out first weekend, the pandemic forced the location to shut down for two months and dampened traffic, but demand has come roaring back. Early this year, Pressed Roots added a location in nearby Plano. A total of 10 locations are scheduled to open by the end of 2024.
"Of course, Drybar has existed and luxury salons have existed, but a salon like this that was built with this demographic in mind is quite new," says Gaines. "All of our stylists have been highly trained on different types of textured hair because not all textured hair is created equal. Most of the other salons who do know how to deal with texture are not as professional or as highly focused on customer service as we are."
Beauty Independent recently caught up with Gaines to discuss the challenges of maintaining textured hair, the early pop-up strategy behind Pressed Roots, and the importance of building and sustaining customer loyalty.
Talk about what inspired you to start Pressed Roots and the journey of starting it. 
I grew up in the Bay Area and played sports my entire life. I was big into soccer. From the time I was young, it was very tough for me to find quality haircare services. Being an athlete and being a Black athlete, I couldn't wash my hair every day like a lot of my team members. It would just fall out.
In high school, I went to a salon and got a relaxer put in my hair, which, at the time, was the standard way to straighten textured hair. My hair completely fell out, and I went bald. Most people didn't know what was happening. I wore wigs and extensions for years until my hair grew back.
I decided to go natural and take out my extensions when I went to college in New York. I went to a Dominican hair salon there since a lot of people with textured hair would often go to them, but my hair fell out again. Perhaps they mixed some kind of relaxer into the conditioner to make the blowout process easier or maybe the tools they were using were too hot for my hair. I don't know, but I kept having these traumatic hair experiences from California to New York.
After I graduated from Columbia University, I went into luxury retail. I was a buyer and merchandiser at Gilt Groupe, and then I went to Bloomingdale's. I never thought about changing careers or starting a company at this point. I ended up applying to business school because I wanted to do more within the space of retail. I initially had an internship with Wayfair, doing strategy.
So, I was in Boston, in a new city, and I wanted to get my hair done. That's when I started learning about the blowout bar concept because a lot of my classmates were going to them. I thought it was so interesting that people could just go into a salon, not knowing who their stylist was, and trust that anyone could give them a good experience. I couldn't fathom that.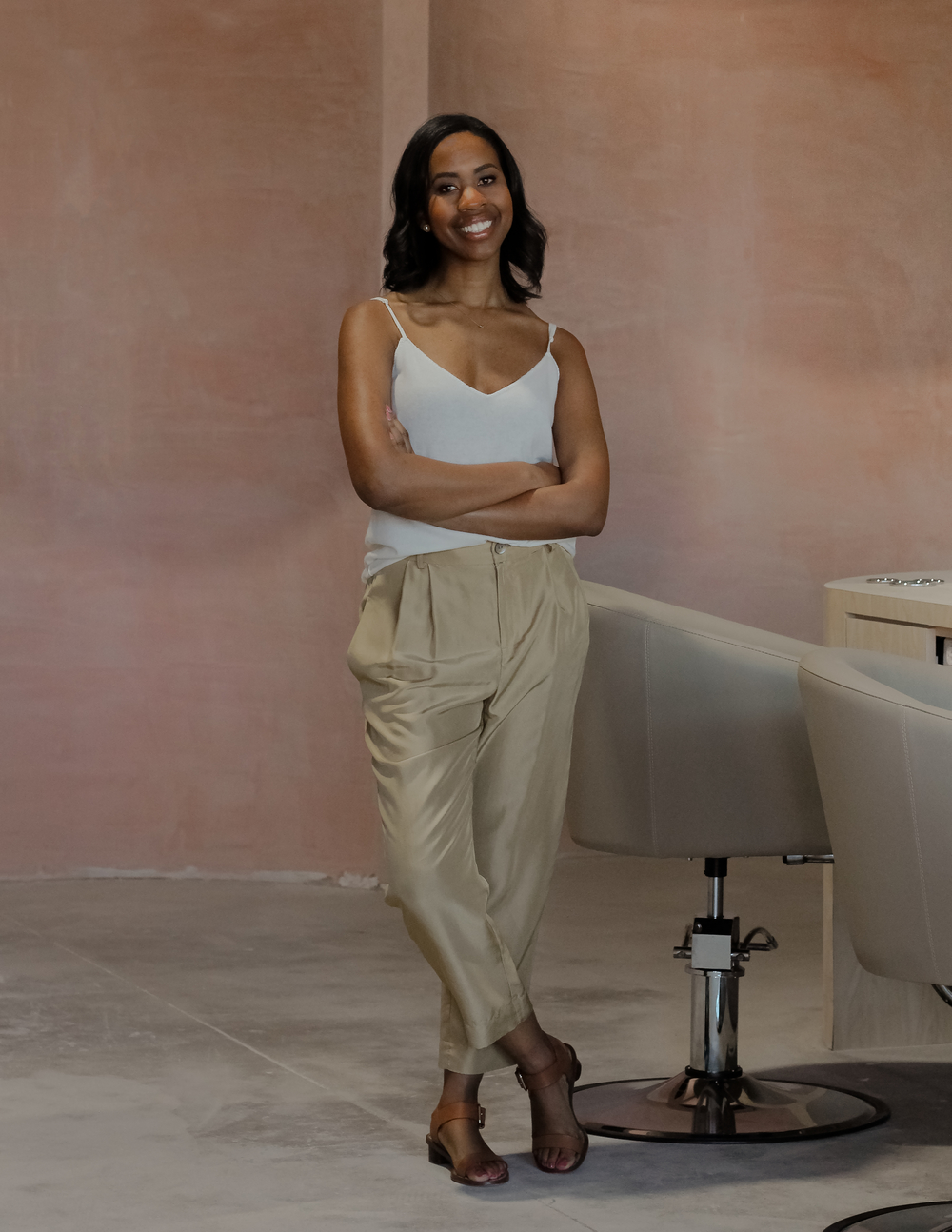 I was in this African American student organization group chat, and all of the Black girls were asking each other where they should get their hair done. The second-year girls referred us to the same stylist at a blowout bar across the street from school. I tried it, and it was so eye-opening for me. The idea that you could get in and out in an hour was amazing. It was super close to campus, plus it was so professional. It was such an upbeat, fun environment where they greeted you with champagne.
After that initial visit, I started going there weekly. I was pretty much the only Black girl in there, and my stylist was the only Black stylist. I noticed that a lot of the other girls getting their hair done were there for special occasions like interviews, dates and parties, while I was going there for basic maintenance.
I had friends in school who were going to New York once a week or every other week to see their trusted stylist. One friend travelled as far as Houston to get their hair done. I started to realize the differences in the way Black women think about and maintain their hair. That's where I started to see the white space and where the initial concept for Pressed Roots came from.
I thought, if all of these stylists knew how to do textured hair really well, that would be a great business model. Ladies with textured hair come back every week to two weeks, and they don't look at it like an occasion. They think of it as basic maintenance. I knew the concept could work, so we started doing pop-up shops around Boston to test it.
How long did you test the concept?
We did over 20 pop-ups in Boston, Atlanta and Dallas in two years, from 2018 to 2019. Each pop-up would last for a day. We'd rent out salon space over the weekend and hire some stylists and train them. My original stylist from Boston helped to create a training video that we would use in the hiring process.
We were testing everything about the concept at that point, from how much we were going to pay the stylists to what the experience was ultimately going to look like. We would send out post-appointment surveys afterwards asking customers how they found us, where they got their hair done before, and why they decided to come to us. We ended up getting a lot of feedback, and the people who came always posted on social media and tagged us so the buzz started to grow.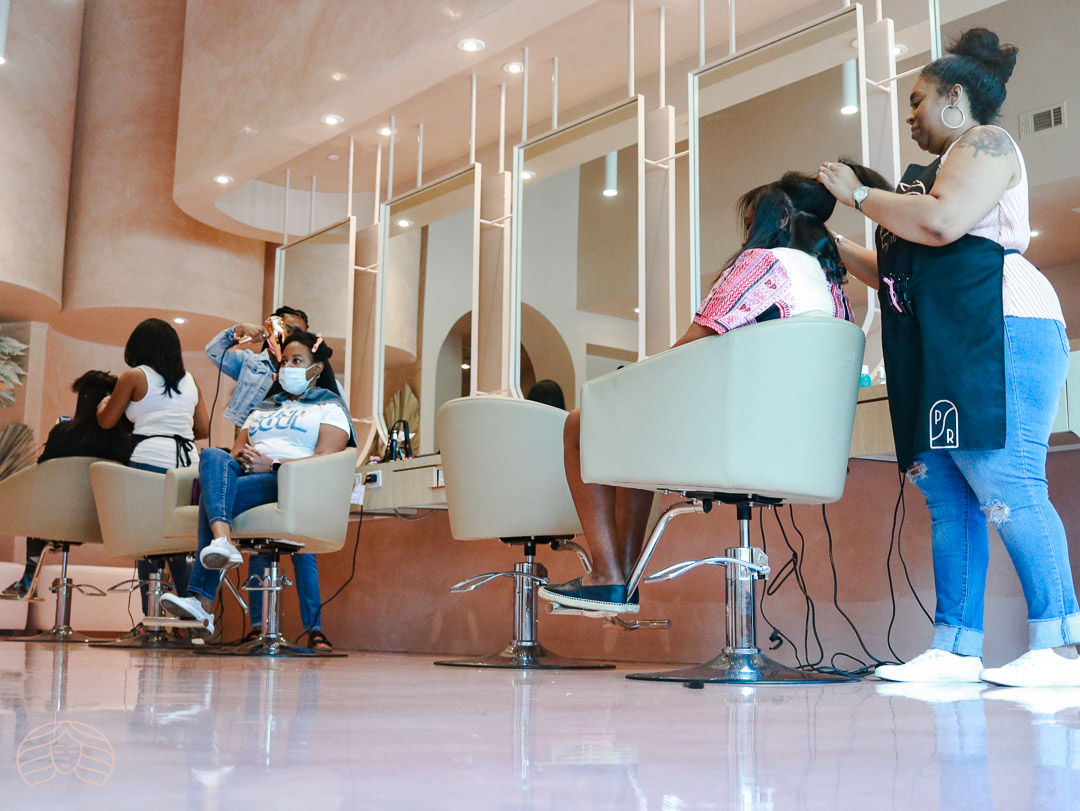 How did customers find you?
Colleges were a big piece of our marketing strategy during the pop-up days. I created flyers that said, "Finally a blowout bar for you," with a picture of a woman with curly hair. I sent it to all the presidents of the Black and Hispanic student organizations of all of the colleges in Boston. All of the multicultural fraternities and sororities, too. That's how we did Boston.
In Atlanta, I was in an incubator, so I asked all the women in my cohort to spread the word. I also went around to the college campuses. The HBCUs are very big, and they'd have these market Fridays where students and outside organizations would set up booths and sell things. We had a table with flyers, plus a video of the earlier pop-ups playing behind us.
What was the funding process like?
I started doing the pop-ups in 2018 during my first year of business school, so I used my student loans to help fund them at the time. I had a few conversations during this period about funding, but I kept getting feedback that it was just too early.
We didn't have a permanent location yet, and we needed to further prove the concept. These were one-day pop-ups, so the question was, could we keep up this momentum seven days a week? But after about two years, I raised $500,000 to open up our first storefront. Our lead investor is here in Dallas.
Why did you choose Dallas for the flagship location?
We initially thought Atlanta was going to have the first permanent location. It's the Black hair capital of the country and the seat of a lot of Black wealth. Our pop-up there always sold out. I surveyed about 200 women with textured hair about how they would react to a salon experience that resembled that of Pressed Roots. All of them said they wouldn't go to a salon they didn't know or hadn't gotten a recommendation for. Interestingly, all the pop-ups we did always sold out, so this went against the data we initially collected.
Plus, in a lot of the Atlanta customer surveys, they would tell us they not only had a stylist, but they also had a back-up stylist. The reason they were coming to Pressed Roots was because, besides the champagne and mimosas, it was something fun they do with a girlfriend. We had four or five stylists on the floor at one time. This was during homecoming season, so they would come in as a pre-game or between big events.
I went to Dallas during the holidays to visit my sister and decided to do another pop-up there, which sold out really fast. When we got the surveys back asking why they came, we saw a lot of similar responses. A lot of customers had moved to Dallas over the past few years and still hadn't found a stylist that could deal with natural hair. That's why we chose Dallas. There was a lot of people who were actively looking for our services. I know Atlanta will be a great market for us one day, but it's harder to pull people away from their longstanding stylists.
We had an opening party for the Dallas salon and so many people came, snapping pictures and sharing on social media. The buzz and awareness grew from there. The opening weekend in March 2020 sold out, but then we almost had to immediately close. We had so many appointments we had to cancel. We didn't reopen until May.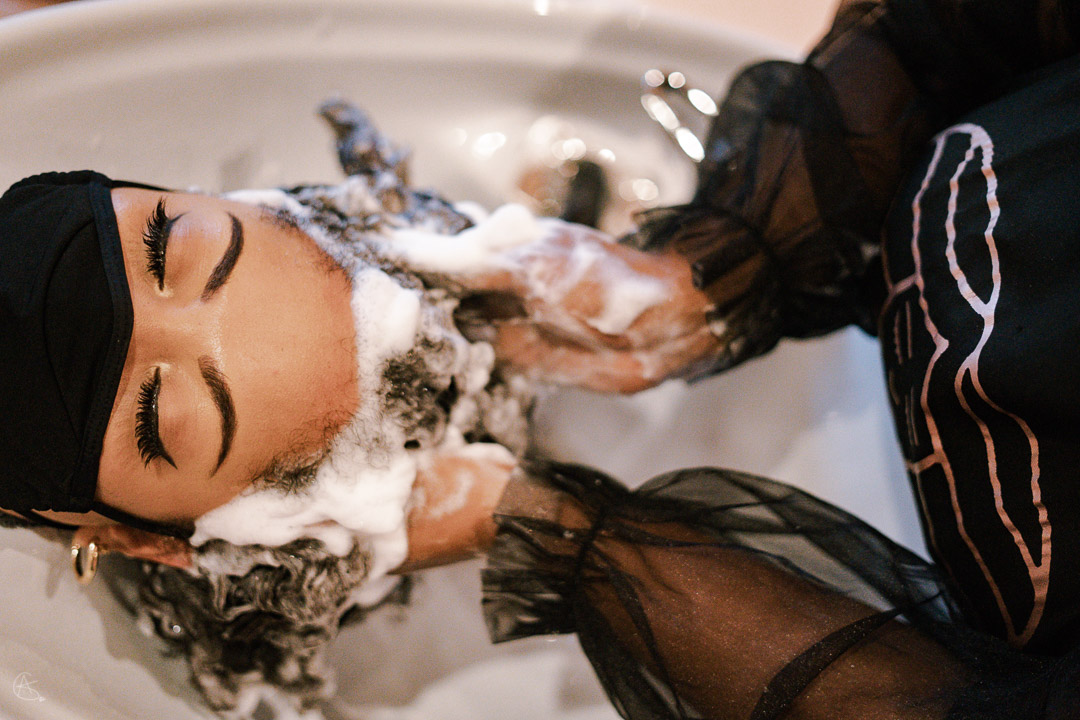 It was really challenging for the business and for the stylists. Some of them completely quit and ended up leaving their careers. It was tough. Thankfully in Texas we were only shut down for about two months. We did some virtual Q&A sessions about once a week on how people could take care of their hair while they were stuck at home.
We tried to keep in contact with the people who just started following us as much as possible. It was challenging, but it put into focus how big of an impact that the brand and our services had already made in people's lives. I was determined to figure out a way that, if we came back with, say, only two stylists, we'd still find a way to be successful.
Appointments started again pretty immediately after we reopened in May, but all of our stylists didn't initially come back. A lot of them eventually did, but it took time. At that time, we were only allowed 25% capacity, so every slot got filled immediately. A lot of those girls said they hadn't touched their hair in two months.
What services and treatments does Pressed Roots offer?
Our main service is the signature silk blowout, but you can get different styles like curly, wavy or straight. We have add-on services like deep conditioning treatments and steam treatments. We don't have any cuts, but we do offer trims up to one inch. This is different than a lot of the other blowout bars. Drybar, for example, doesn't offer any trims.
On average, we have about 10 stylists on the floor at a time and our output is between 70 to 80 heads a day. The basic process takes about 90 minutes and costs $70, though the average tab is usually around $80 because most women do some of those add-on treatments. We've been maxed out pretty much from day one, from the pop-ups to the salons, with waiting lists to get in.
What are demographics of the clientele?
Our clientele is mainly African American. We have a small percentage of Hispanic women who come in and, once every few months, we will see a few Jewish women or Asian women with textured hair come in. We have our first VIP area in the new Plano salon, which is private, and interestingly we've had outreach from some Muslim women who wear hijabs who are looking for privacy while they get their hair done.
Walk us through a typical salon experience at Pressed Roots.
All of our stylists have been highly trained on different types of textured hair because not all textured hair is created equal. That's very important. Most of the salons who do know how to deal with texture are not like us, they're not as professional or as highly focused on customer service as we are.
This is what it the experience looks like from beginning to end. You book online, and then you get a prompt to fill out a hair quiz where we ask everything about the client's hair from the density to the porosity and the curl pattern. We give them the tools to answer those questions, but right there that makes people feel more comfortable and trustworthy. This is not a one-size-fits-all experience. We train our stylists off of this hair quiz., too, including how to recognize density, texture and curl pattern, and what kinds of products to use for these hair types.
We greet the customer when they come in with their choice of beverage, from mimosas, rose, champagne, green juice, sparkling or tap water. Then, within five minutes—always five minutes—someone will greet them to get their appointment started. This promptness is also something this demographic isn't used to at the salon.
When I surveyed those 200 women with textured hair back in school, a lot of them shared that they'd often wait in their salons all day for their appointment. It may start at 10, but they wouldn't get out of there until nighttime because stylists were inefficient, and they'd offer double or triple book their schedules. That's not the case at Pressed Roots.
Once we get them started, the stylists will do a consultation to confirm the client's hair quiz. They discuss their hair goals, do a scalp analysis in person, and just generally try to understand what's really going on with the client's hair.
A lot of people still come in with anxiety because of their past experiences, so we need to get them comfortable and start to build trust. We then shampoo, and if they want any add on treatments, we do that at this point. Then, we do the blowout. Of course, at the end, we do the big reveal and show them the finished look. We ask them if like it or want anything to change.
It's completely customer-oriented. We have salon apprentices who come up throughout the whole appointment and check in. The vibe here is very much like you're getting pampered today. A lot of times, clients request before-and-after photos or they take pictures with one of our ring lights, especially if they're with their girlfriends. We immediately ask for feedback after appointments, at the counter and also over email, too.
Do you have retail spaces in the salons? What percentage of the business is retail?
We currently retail gift boxes that include Pressed Roots-approved products that we know work well for textured hair, including Moroccan Oil and Design Essentials products. We also offer silk scarves, and some of the tools that our stylists use in the salon that help us achieve our beautiful silk blowouts, including blow dryers and flat irons.
While we do have these products in-store for customers and some of the items are available for purchase online, the majority of our current business relates to the services we offer.
What are the expansion plans for Pressed Roots?
We're opening a third location next month in Arlington, and then we are going to Houston. That location will likely open at the beginning of 2023. We're aiming to have 10 locations total by the end of 2024. Long-term locations aren't completely set yet. After that, we'll begin franchising, so growth will be a lot faster.