Prestige Beauty Retail Concept Glove Beauty Springs Up In The Rocky Mountains
Indie beauty boutique
Glove Beauty
is bringing prestige beauty to the residents of Bozeman.
Located on busy Main Street downtown, the 1,200-square-foot shop is home to about 800 skincare, body care, makeup and wellness products from 62 brands, including OSEA, Augustinus Bader, Westman Atelier, Vintner's Daughter, Furtuna Skin, LILFOX, RMS Beauty, Saint Jane, Henne Organics, Hatch, Act+Acre and Fitglow.
Makeup artist and aesthetician Valentina Belova Carder opened Glove in late 2020 after the pandemic shut down her two facial studios in Los Angeles and Las Vegas, and she relocated to Bozeman. "I love beauty so much. I can't live without it," she says. "So, I was like, 'Why don't I open a small beauty shop?' I started looking at places, and I found this spot in the downtown area." 
With 50,000-plus inhabitants, Bozeman is the fourth largest city in Montana by population. In 2018, it was named one of the fastest growing cities of its size by the United States Census Bureau as its technology sector expanded. The pandemic boosted its population as it gained residents from California, Washington, Colorado, Oregon and Idaho, and downtown development ramped up to make it a bustling destination for local shops, bars and restaurants.
When Belova Carder arrived in Bozeman, she noticed that large retail chains like Ulta Beauty, Target and Sally Beauty were the only places to shop for beauty. Sensing a blue-sky opportunity, she quickly moved forward with plans to open Glove without doing much, if any, formal market research.
"I just had this feeling, I don't know how else to explain it. It's the same as when I decided to come to the United States from Russia years ago," she says. "Everyone said it was the dumbest thing I could do because I didn't speak the language, have papers or money, but something in me knew it was the right decision. Same with Glove."
Belova Carder curated Glove's assortment to contain clean beauty brands alongside professional- and doctor-led brands that Bozeman residents can't find anywhere else. She prioritizes female-owned brands and European brands as well as indie brands like Bastille Paris and In Fiore with compelling founder stories. Ayuna, Furtuna Skin, OSEA, Odacite, Henne Organics, Nature Of Things, Vapour Beauty, Nucifera, Reverie, Eco Tan and RMS Beauty were inaugural 10 beauty brands available at Glove.
"In Fiore, for example, is an amazing brand but it doesn't market itself a lot because it invests all its money in its products," says Belova Carder. "I feel like it's my responsibility to educate people about brands like that."
Getting larger beauty brands to take notice of Glove hasn't been easy. Discussions with Augustinus Bader and Tata Harper spanned a year before the brands were convinced to partner with the boutique. Vintner's Daughter signed on following a store visit by founder April Gargiulo.
Belova Carder theorizes that Bozeman's relatively low profile, Glove's small size and subpar visual branding at the outset contributed to the store's early difficulty with larger brands. She says, "I didn't invest much in branding at the beginning because we didn't have the budget for it. My initial idea was just to bring the inventory in, and let locals know that I'm here."
Glove's typical customer is a woman between the ages of 30 and 50 willing to splurge. Belova Carder says very few customers are looking for affordable items at the shop. They're used to paying a premium. The cost of living in Bozeman is 21% higher than the national average. Housing costs are 59% higher than the average. 
"People don't understand the value of this town and the community. We have some customers that come in and buy everything that we suggest without question," says Belova Carder. "That's not the behavior that you'd expect in a smaller town." 
Paying almost $300 for Augustinus Bader's The Rich Cream isn't causing Glove customers to break a sweat. The moisturizer practically flies off the shelves, says Belova Carder, as does Vintner's Daughter $195 cult favorite Active Botanical Serum. Along with Augustinus Bader and Vintner's Daughter, OSEA, Ayuna, Biologique Recherche, LILFOX, Maya Chia and Westman Atelier are top performers at Glove. Products that haven't worked are intense exfoliators and wellness offerings like teas and sage.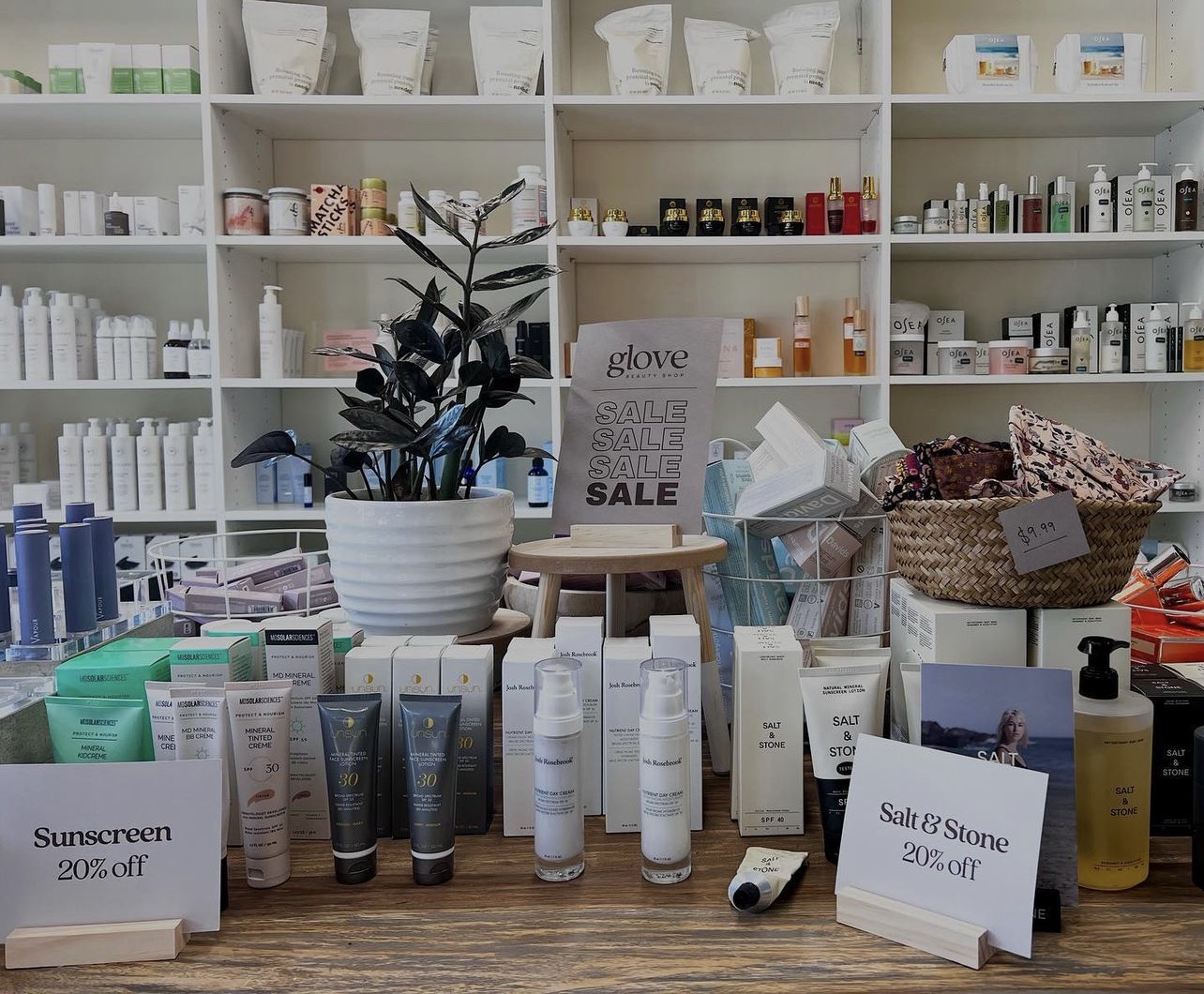 A former educator for OSEA and Sisley Paris, Belova Carder takes a high-touch approach to service leaning into customer education and fostering long-term relationships. New customers receive skincare and makeup consultations along with samples. Belova Carder figures 75% of customers who go home with samples return to buy full-size products. The program helps to reduce returns, an important benefit for an emerging beauty business. 
"I don't want anyone to feel like I'm trying to sell them something," says Belova Carder. "This approach obviously takes more time and money because we invest in each relationship with the customer, but we've built a very strong community here because of it."
Glove's facial component encourages customers to return, too. They can book appointments for microcurrent or custom facials featuring Belova Carder's signature facial massage technique. Glove's on-site aesthetician performs about 10 facials a week, and microcurrent is the most popular. Ninety-minute sessions, which encompass extended facial and buccal massage, microcurrent and professional-grade LED light therapy services are priced at $250. Sixty-minute sessions are $175. 
Facial services account for between 10% and 15% of Glove's revenues—and their contribution is increasing. Belova Carder is considering adding another treatment room to the store this year. "The facials are really huge for us, and it's not just about bringing people into the store," she says. "When you touch a person's face, there's a more personal connection. You become their practitioner."
Looking ahead, Glove will be slowing the number of brands it takes on as Belova Carder concentrates on heightening its presence in Bozeman. A second location is on Glove's roadmap as is accelerating its e-commerce business. However, nurturing customer relationships will always be top priority. Belova Carder says, "The connections and friendships that I've built through the store are priceless."