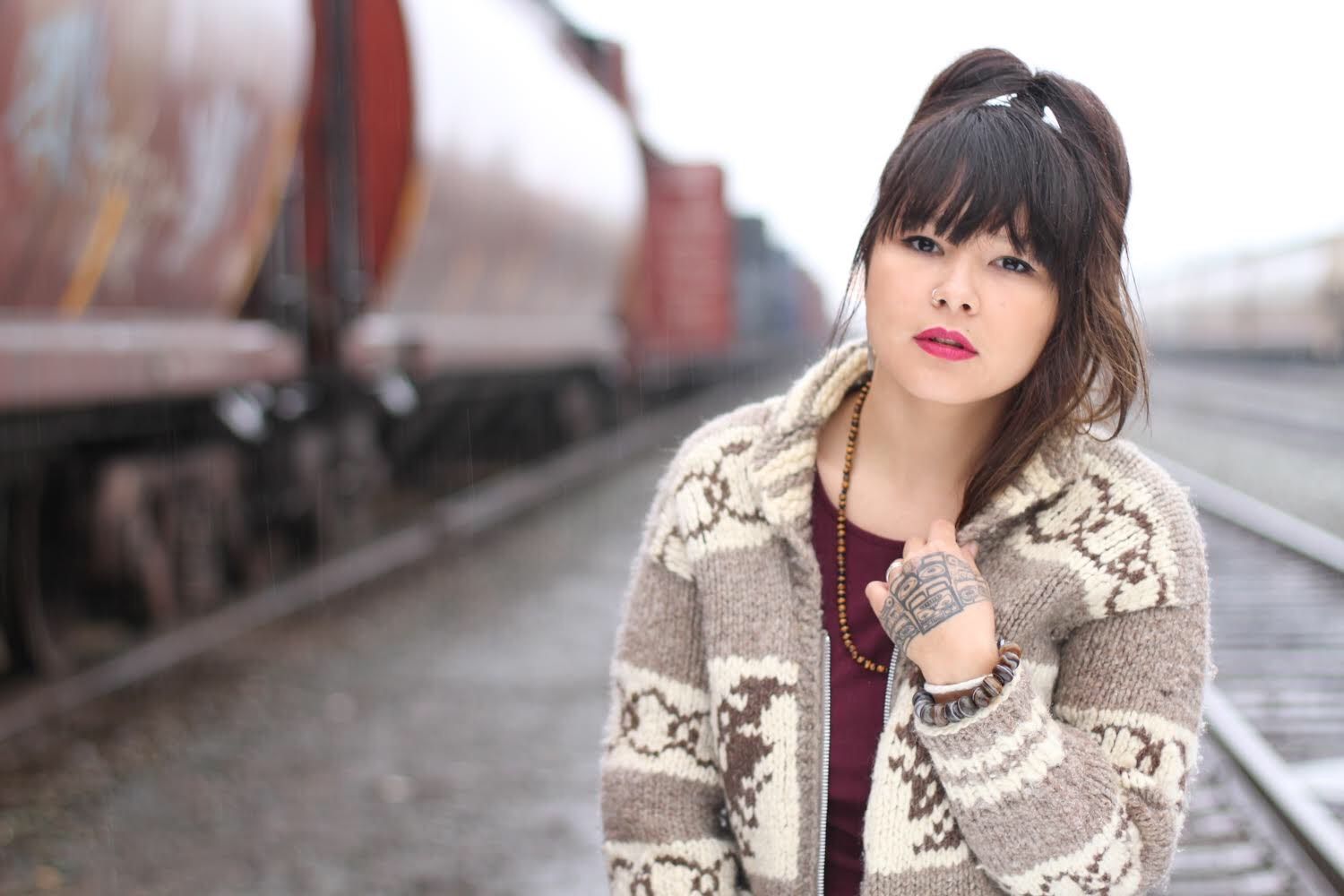 Quw'utsun' Made Founder Arianna Johnny-Wadsworth Honors Indigenous Plant Medicines With Her Skincare Products
A salve can tell an awe-inspiring story. Take Quw'utsun' Made Devil's Club Salve. It contains extracts from native plants founder Arianna Johnny-Wadsworth harvests in the mountains of Washington and judiciously transforms into a healing product. The ingredient devil's club connects Johnny-Wadsworth to her indigenous Cowichan ancestors, many generations of whom esteemed it for spiritual and medicinal purposes. Not surprisingly, she doesn't trust the salve with just anyone. "The reason my skincare is different than other skincare is that it incorporates these sacred medicines. I try to find people that honor and support that," she says. "My cultural integrity drives my business." Beauty Independent spoke with Johnny-Wadsworth about her background, brand goals, social media exposure, store distribution and her position as a role model.
Where did you grow up?
I'm from the Cowichan Tribes First Nation in Vancouver, British Columbia, and I grew up in a town called Duncan. I was born there, but I left my community when my parents passed away, and I moved to Vancouver in 2002. My mother was in residential school at a time when the government of Canada had taken children away from their families and put them in boarding schools to assimilate them. I think that really affected her life. Both my parents struggled with addictions, and ended up succumbing to their addictions and illness. I left my community because everyone in my community said, "If you don't leave, this might happen to you as well." So, I left and grew up in Vancouver, where there are resources for First Nations children. I was really fortunate. Moving to Vancouver changed my life, but my community is always calling me back. I'm trying to move back there at some point. I acknowledge the resilience that I learned growing up in two different places and without parents. It also gave me a ton of confidence. When I started my business, I wasn't like, "Oh my God, what if it doesn't work?" There are a lot of things in my life that didn't work out, and I think I deserve some of the awesome things that have come my way.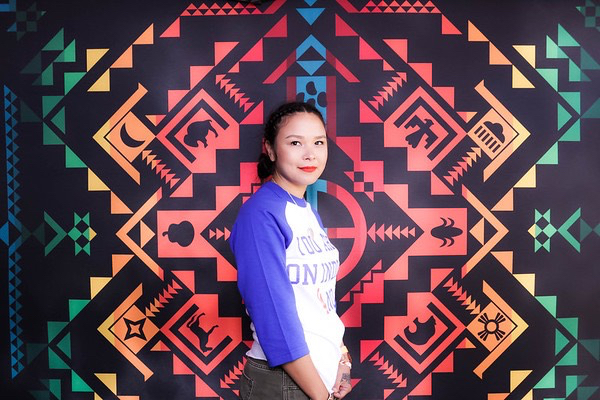 What led to Quw'utsun' Made?
I have been living just north of Seattle for the last five years. I had been trying different things, stumbled into skincare and found a way to relate it back to my community by incorporating traditional medicines. I didn't really know what I was getting myself into. I started out with skincare and a line of candles. I experimented with adding essential oils based off of traditional smudge medicines. I used tobacco, sweetgrass and cedar to create candles. From there, I was able to add pieces of my traditional medicine in skincare. I started off very small with a very little amount of money. I added skincare products over time using a lot of the methods that my grandmother had taught me and methods I learned myself. I use a lot of traditional devil's club and stinging nettles.
How did you stumble into skincare?
I had been on Instagram quite a bit, and I started to see different people experimenting with making their own skincare and decreasing waste from their daily beauty habits. I was really inspired by that. I started making my own toners out of apple cedar vinegar. I would look for recipes online and see what I could make for myself. By doing that, I was able to incorporate traditional ingredients that I knew were great for skincare.
When did you come out with the first Quw'utsun' Made products?
February 2016 on my 26th birthday. I quit a job, went home and immediately started putting the cedar, sweetgrass and tobacco candles together. I started selling my products locally in my community at events. In my first weekend, I sold out of 36 candles. I had only made 36. I put the money aside to buy raw materials for salve. I bought tins and the wax bases, and started figuring out how to make my salve. I was gifted a free box of devil's club that was already harvested and decided to work with that.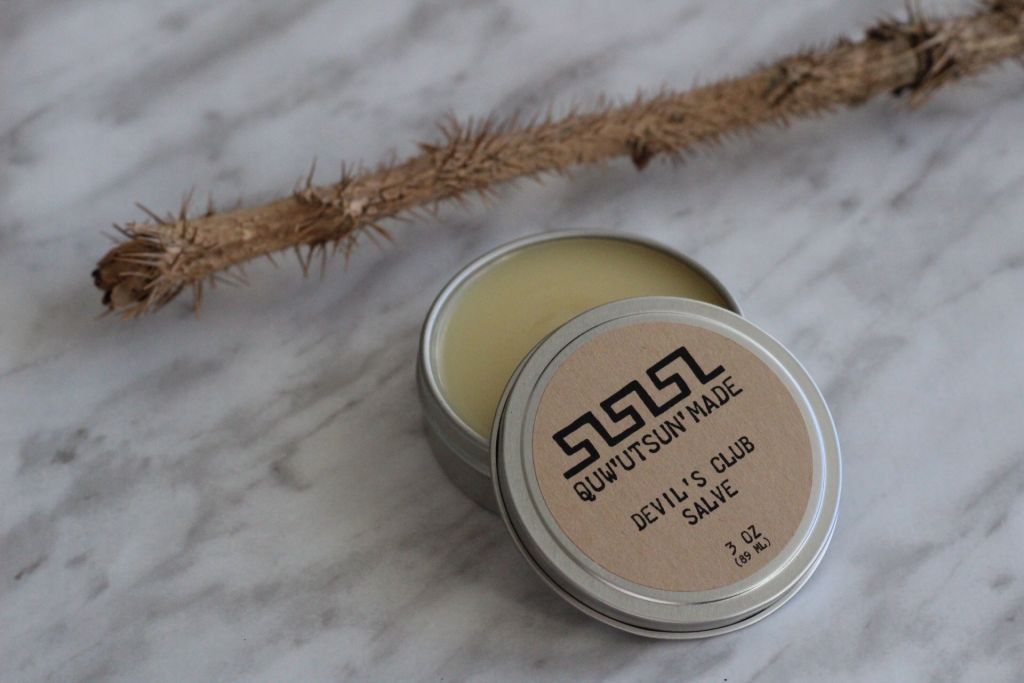 How much did it initially take to produce the Quw'utsun' Made products?
It started when I quit on my birthday. I tried to talk to the boss about realigning my goals, and she blew me off for yoga. I took it very personally. We were trying to co-brand a business together, and it wasn't working out. I wrote her a letter, quit and went home. I sat down and made a business plan. I was trying to turn the co-branded business into a self-directed business. It started from the last paycheck I had, which wasn't very much because I quit half way through my work week. I think it was $280. I thought I could play with that $280, get some materials, and see if the business could grow from that. It did.
What is your brand's mission?
I want to teach as many people as I can about the traditional ways of my people. We have been living off of the land for thousands of years. We are really warm and compassionate people, and the medicines, language and culture of my people are very strong. Other people can really benefit from them. By introducing other people to these ways, I'm teaching them to be good ancestors and to walk in the world in a good way.
Did you use the ingredients you use in Quw'utsun' Made when you were growing up?
We used a lot of them with my grandmother. In my culture, devil's club is used in a tea to treat diabetes. Another medicine is called Indian Consumption Seed in English. I don't make anything out of it. It's very localized to British Columbia and Vancouver Island. We worked with these medicines to treat everything my grandmother needed to treat, and she also taught us how to harvest them. I grew up with them in my household, but didn't necessarily apply them to skincare until I was in my 20s.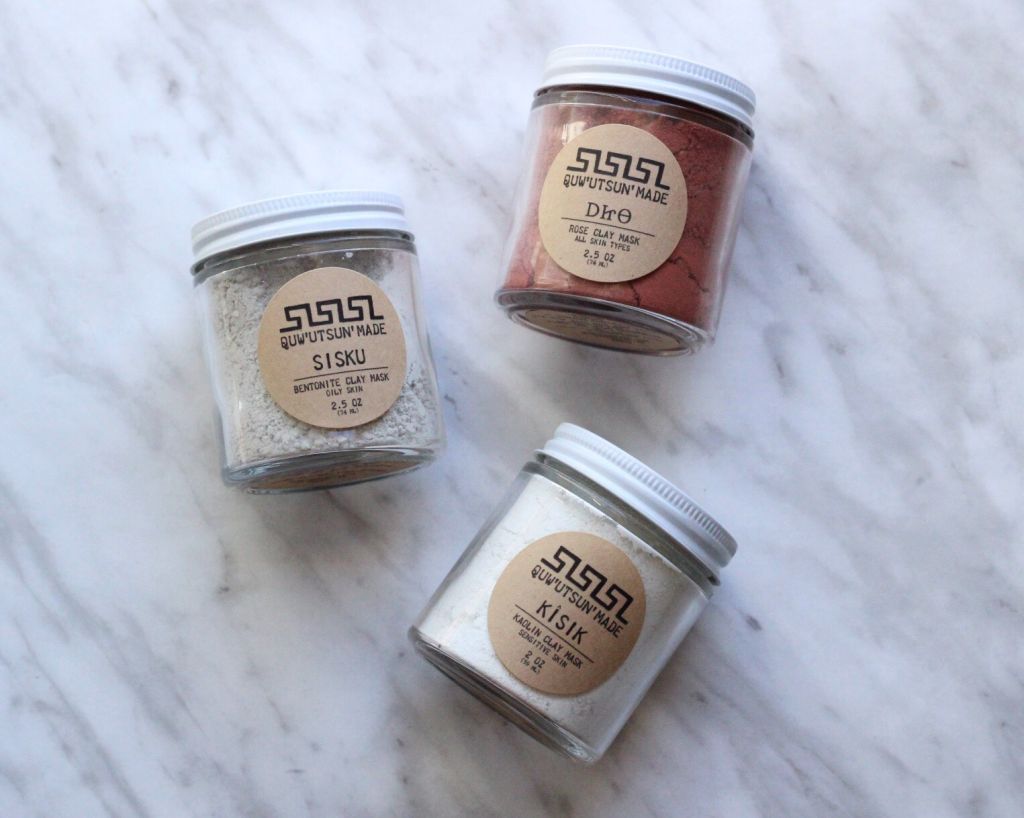 How many Quw'utsun' Made products are there now?
It is upwards of 15. Sometimes we put products on the back shelf for a while like soap and bath salts, and bring them back when customers request them. The most popular ones are the ones that incorporate traditional plant medicine in skincare: my lotions and salves with devil's club. I also sell perfumes that are doing really well. The most popular one is Tzinquaw. In my language, it translates to Thunderbird, a type of dancer that expresses traditional stories through dance. It's really popular because it uses the same essential oils that I use for my tobacco candle. A lot of people were requesting that I turn that candle into a perfume because they love the fragrance. We market it to men, but women go crazy for it. People love the idea of buying something they can't pronounce as well. It's an opportunity for them to learn.
Do you speak Hul'q'umi'num, the language of the Cowichan Tribes?
I don't. I am learning my language as I grow my business. I teach workshops on how to apply traditional plant medicine to modern life. In the workshops, I teach people the plant names that I know in my language. I've been digging deeper and deeper. There is vocabulary online. My dad is English, but he was raised on Vancouver Island. My dad learned our language, and I think he is one of the few non-natives to learn the Hul'q'umi'num language. He would teach us a little bit growing up. My language is dying, and there are hardly any speakers at all. People are trying to help revive the language.
Do you feel it's important to use traditional plant names?
In our culture, we treat the plants as sacred, and I like to call them the names our people have been calling them for thousands of years.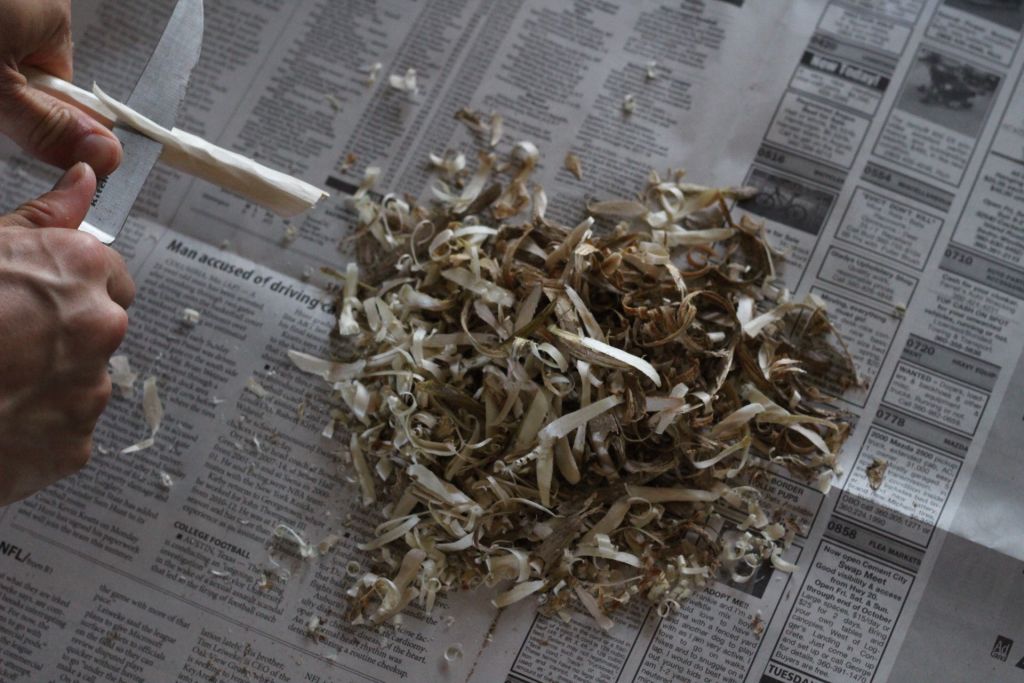 What goes into creating Quw'utsun' Made products?
I start my process by harvesting devil's club in the mountains of Washington usually. From there, I do a traditional ceremony, which asks permission of the plant to harvest it and bring it home. When I go to make the product, I also ask permission from the plant because it has a spirit, and it is one of my ancestors. Then, I prepare it. To make most of these products, I have to start with an infused oil. That is a long process. Once I get those infused oils made, I make the actual products. I never make a year's worth of products in advance and let it sit on my shelf. I make my products a couple times a month. A lot of my products don't use preservatives, so I would prefer them to be as fresh as possible.
Why does Quw'utsun' Made look the way it does?
Quw'utsun' is my tribe. The logo is the first knitting pattern my grandma taught me how to knit when I was 5. I wanted the product labels and packaging to reflect my tribe and that initial knitting pattern I was taught. I went for a craft label for a natural look. It is not necessarily the best label for skincare because it tarnishes easily. All of my packaging is recyclable and easy to sterilize for reuse.
What has your strategy been to grow Quw'utsun' Made?
I have done it quite slowly. About 25% of my business is from my website, another 25% is wholesale, and 50% is through workshops and talks. Instagram has helped me reach out to different stores and organizations. Often, I get DMs from stores saying, "How do I get your stuff?" I email them the price sheet. From there, I see if I like them. In two years, we have hit about 25 stores. We try not to ask people to carry us. We let them find our products.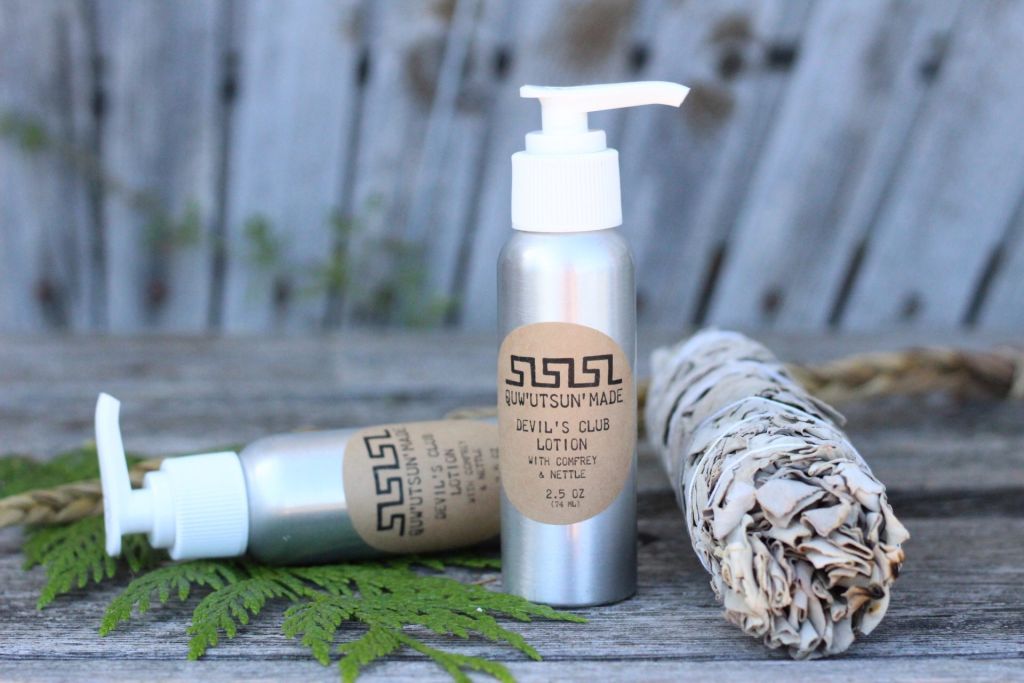 How's your business doing?
I haven't had to get a job since I quit my job on my 26th birthday. I have been living off of my business. Some months I make more than others because of the holiday season or market season. I roughly make $4,000 to $6,000 a month from my workshops, the website and wholesale.
What stores do well with your products?
I have a friend through Instagram named Ladybird Raven Ann, and she owns Ladybird's Boutique in Haida Gwaii, which are islands off of British Columbia. The products sell out almost immediately because the people there are able to get them at a decent price and not pay shipping. The Eighth Generation store in Pike Place Market is an incredible journey. The only person he [Louie Gong] wholesales from is me. The rest of his store is his own brand. My products are affordable and small enough to travel with, so tourists can throw them in their carry-ons. I have had people all over the world tell me through Instagram that they found my products at Eighth Generation. From there, they buy directly from my website.
What have you found most challenging in building your business?
It's maintaining the consistency of my products and teaching people that I'm not exploiting the medicines that I'm using. People ask, "Why are you out of this or that?" If I miss the season or if it's overharvested in the area, that product doesn't get made. Over the last two years, I've been harvesting enough to maintain and not run out, but it's a conversation I have to have with customers who order a large amount for wholesale. It might not be sustainable or economical for a plant if I overharvest.
What has been successful for you on Instagram?
I like the feature of polling people through Instagram Stories. Recently, I asked people, "What is it that drives people to my Instagram? Is it my personal story or my business?" Through that, I found a lot of people really were pushing me toward my personal story. People are following me and purchasing from my business because of my personal experiences.
Are there topics you won't address when you share personal experiences?
I try to filter. My motto is, "Be a good ancestor." If I have strong opinions, they are at least promoting a good message. I don't speak negatively about a certain organization or person. I don't really talk about politics too much unless it's about indigenous politics and ways to support our people in this crazy world we are living in right now.
What goals do you have for Quw'utsun' Made?
My brand is starting to become recognized in my community, but I would like it to be more recognized in Vancouver and Seattle. I want to own my own boutique where I carry my products and products from other indigenous business owners. That is something I have in my 10-year plan. I'm not sure where I want to establish that store as my flagship. I like that my business moves [at a pace] other people would consider slow.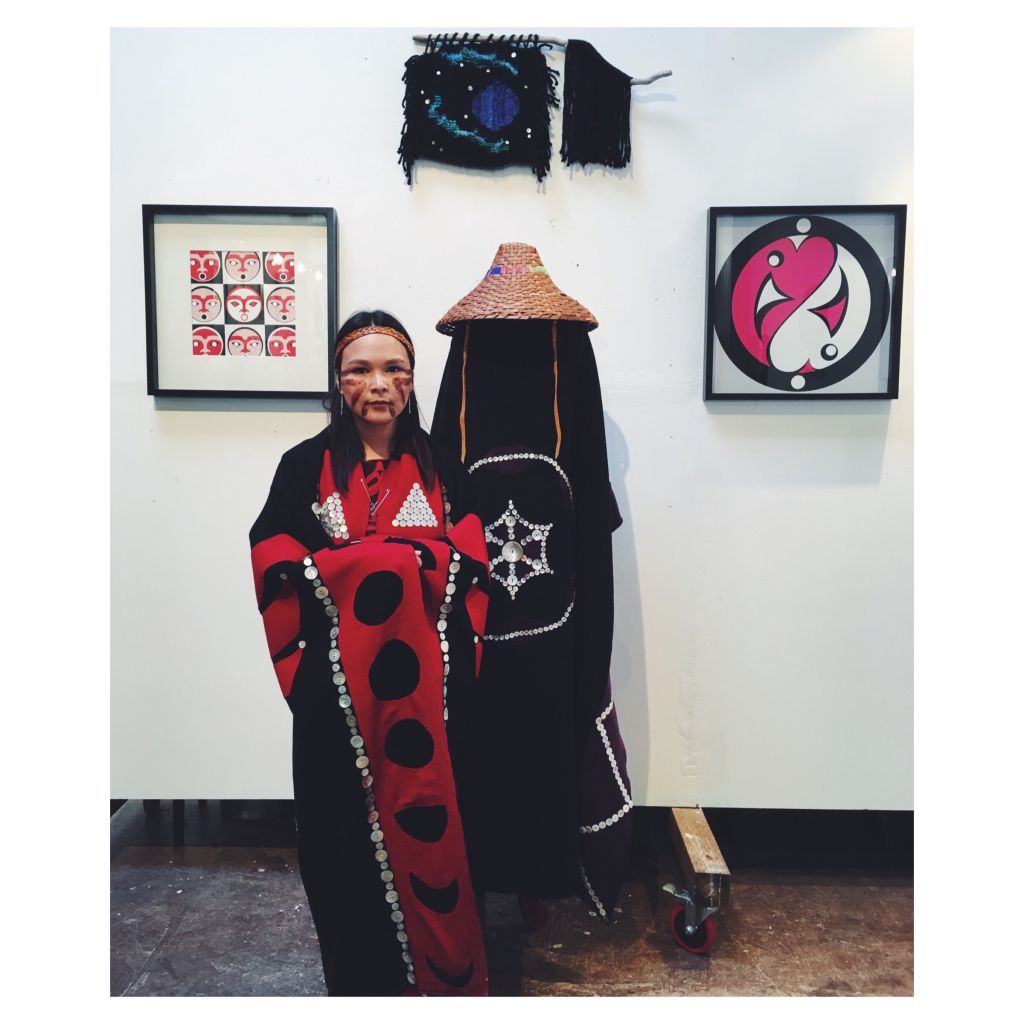 Do you view yourself as a role model?
I am trying to be a role model for youth, especially those who don't have as many resources as others. I didn't have a whole lot of resources. My business sprouted from that $280 paycheck. I try to show people that, if you have a good idea, a good path that you are walking on and you know who you are, it's really not that hard to start a business and be a role model for somebody else.