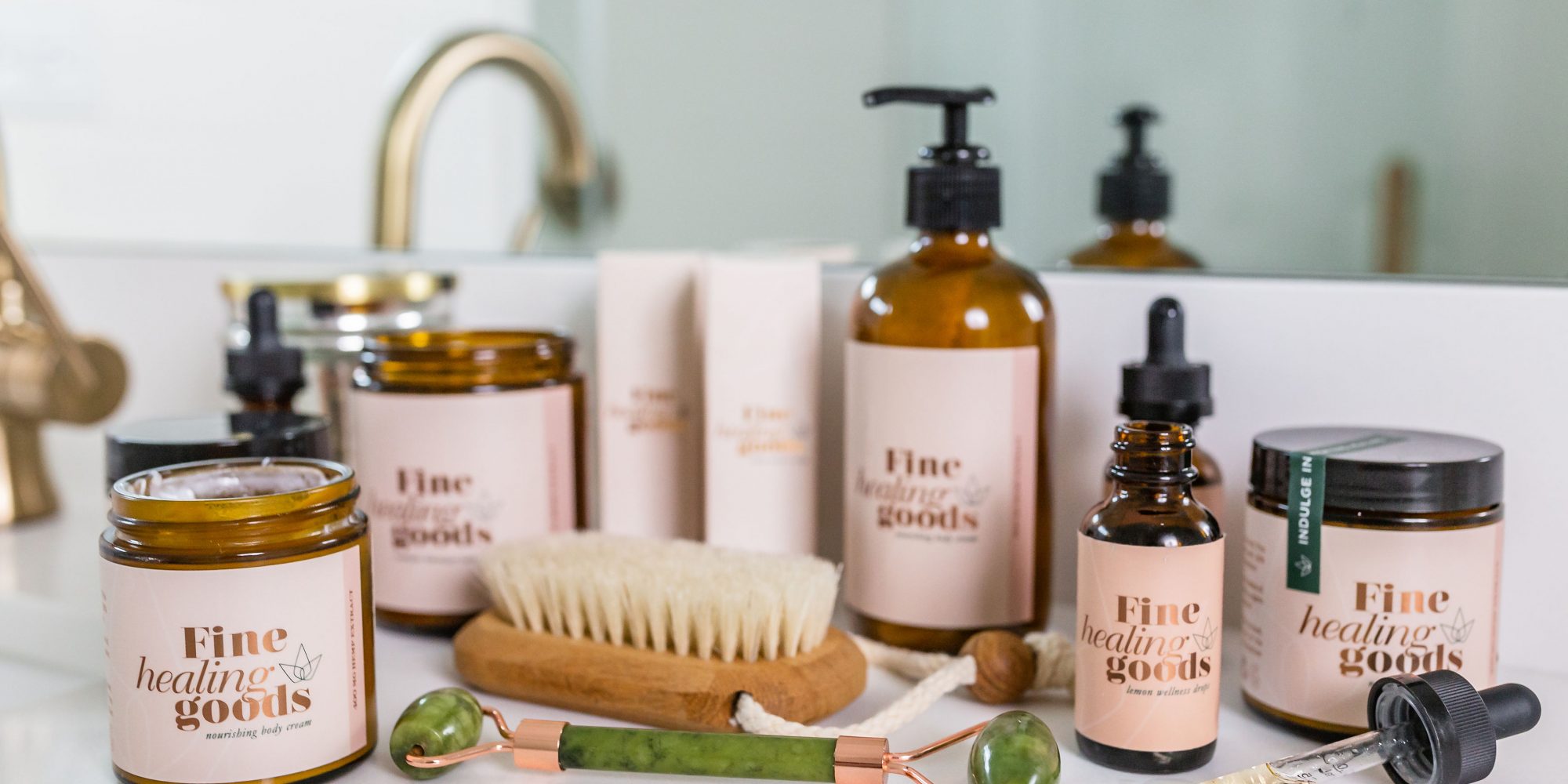 A 12-Year Struggle With Infertility Led Rachel Daugherty To Create A CBD Brand For Moms Everywhere
A decade into what would become a dozen-year infertility struggle that included three cycles of IVF, six miscarriages and four surgeries, Rachel Daugherty, depressed following a failed adoption, settled into a bath that was fizzing as a Mary's Nutritionals bath bomb with Epsom salt and full-spectrum CBD melted into the hot water.
"This was before the whole CBD trend, and my husband begged me to try CBD. He was really trying to help me because I was drowning in my sorrows with a bottle of wine and Xanax, but it wasn't my style," she remembers. "I didn't want to go to a vape shop. That didn't speak to me. I thought, 'If Xanax and doctors can't help me, how could CBD help me?' I just didn't believe it."
The bath turned Daugherty into a believer. The CBD made the depression and pressing anxiety that had consumed her slip from the forefront to the back of her mind. She felt like herself, only a bit better. That experience, in August 2017, convinced Daugherty to bring CBD products into Peppermint Pedi Parlor, a day spa she owned from 2015 to 2018 that was the first in Austin, Tex., to provide CBD services.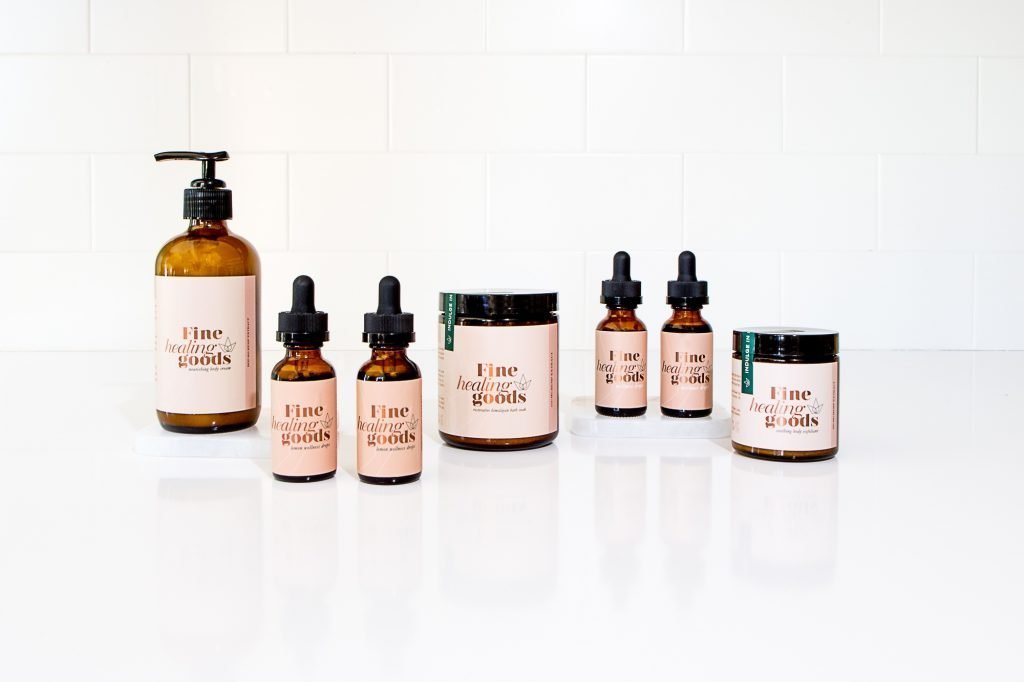 In the search for CBD items for her spa, Daugherty was exposed to the various CBD products that were available. She encountered many that weren't clean or classy. Daugherty began to wonder if she could improve upon them to convince women like her skeptical of CBD to buy merchandise with it. That curiosity led to Fine Healing Goods, a brand that went live online in March with the aim of taking CBD mainstream.
"I made it my mission to offer it somewhere like Anthropologie, where you could walk in and grab it off of the shelf, and it didn't look like it was from a vape shop or medicinal. My target customer would pick it up and think it was great regardless of the CBD. CBD was the icing on the cake," says Daugherty. "I wanted to market a product that was luxurious in nature regardless of the ingredients."
"I hear a lot of women say, 'Don't judge me, but I use CBD.' I don't want women to say that about Fine Healing Goods. I want them to pull it out of their purses and say, 'Look what I have.'"
The Anthropologie part of Daugherty's mission has been accomplished. Fine Healing Goods has launched on the retailer's website and will soon enter 38 of its doors. The brand is also sold in nearly 20 e-tailers and boutiques, including Svn Space, Aurum Rose, Sentrel Natural Beauty and Undefined Collective. In its initial year in business, Fine Healing Goods expects to cross $1 million in sales.
Fine Healing Goods' design is critical to it being more than a niche cannabis brand. It seems effortless at Anthropologie, but the process to get it to appear so wasn't effortless. Most designers didn't grasp Daugherty's vision. She went through three and landed on Nikki Nuckols. The creative director at DoodleDog really understood the brand Daugherty was shaping. With labels in shades of nude with green accents to hint at hemp, Fine Healing Goods' packaging is feminine, but not overly feminine. It nods at CBD, but CBD isn't the primary design focus.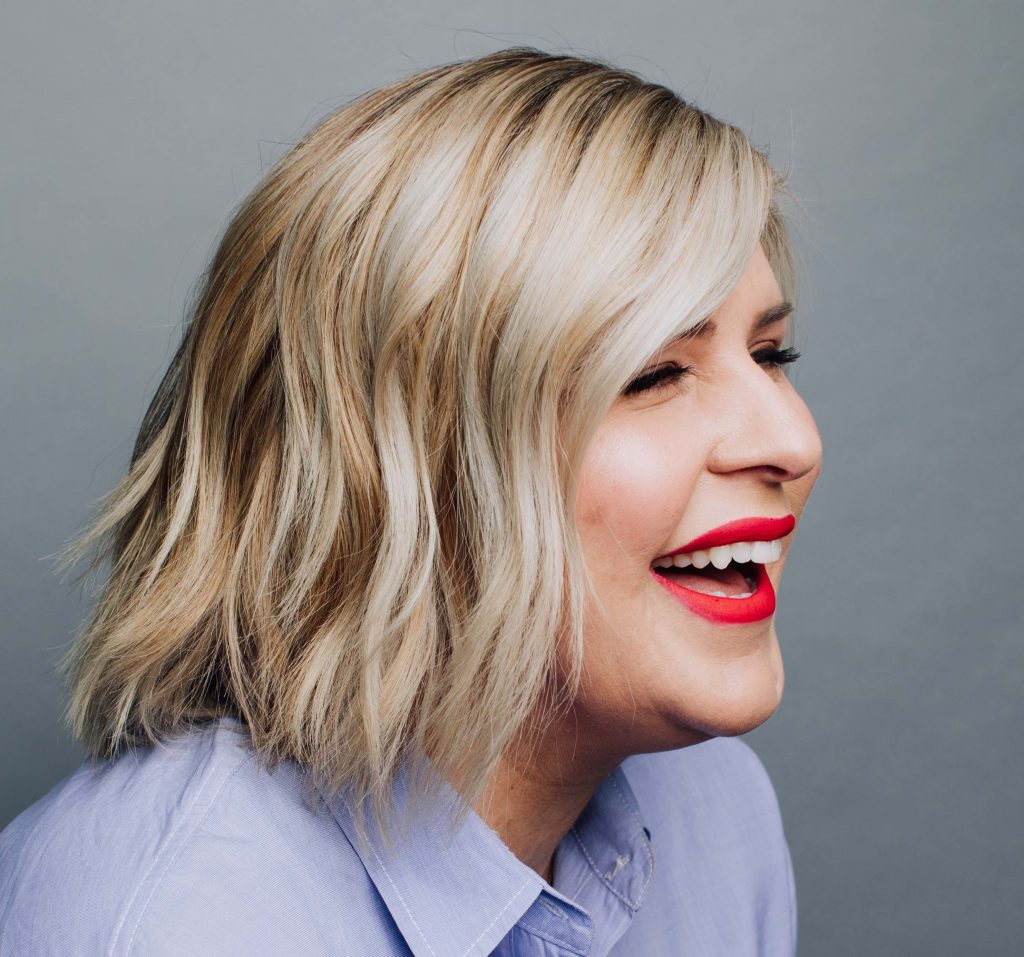 "I hear a lot of women say, 'Don't judge me, but I use CBD.' I don't want women to say that about Fine Healing Goods," says Daugherty. "I want them to pull it out of their purses and say, 'Look what I have.'"
Daugherty kicked off product development with Fine Healing Goods' tinctures, which it calls Wellness Drops. The brand sells Lemon Wellness Drops and Original Wellness Drops with 600 and 1,000 milligrams of full-spectrum CBD. Recognizing that the regulatory landscape around ingestible products remains hazy, Daugherty decided to add topical products to Fine Healing Goods' assortment. Its topical range has Hypoallergenic Body Cream, Nourishing Body Cream, Restorative Himalayan Bath Soak and Soothing Body Exfoliant. Fine Healing Goods' prices run from $35 to $115.
"I have two babies at the same time, but babies come when they are ready. We've been trying for 12 years, and it happened when it happened. They are both intertwined. She was the reason this company came about."
The creams contain 100 milligrams of CBD per ounce, a high dosage relative to beauty products from leading CBD brands. "We wanted something strong to feel the relief. With topicals, it's more about pain relief than mental relief," says Daugherty, noting that her husband Deaglan was originally introduced to CBD to address his arthritis. "When I go to shows, the products speak for themselves. I have people who say, 'How much can this really work?' They put it on their backs, and come back 30 minutes later and say, 'How can I buy this magical elixir?'"
To start, Daugherty's distribution plan was to pursue shops by herself and be very careful that the shops were as intentional as she was about Fine Healing Goods. She's still selective about retail partners, but realized she needed outside assistance once big chains reached out to the brand. Daugherty hired the Mia Simone Beauty Group to steward Fine Healing Goods' distribution push. The brand is in talks with a distributor in the United Kingdom to expand beyond the United States.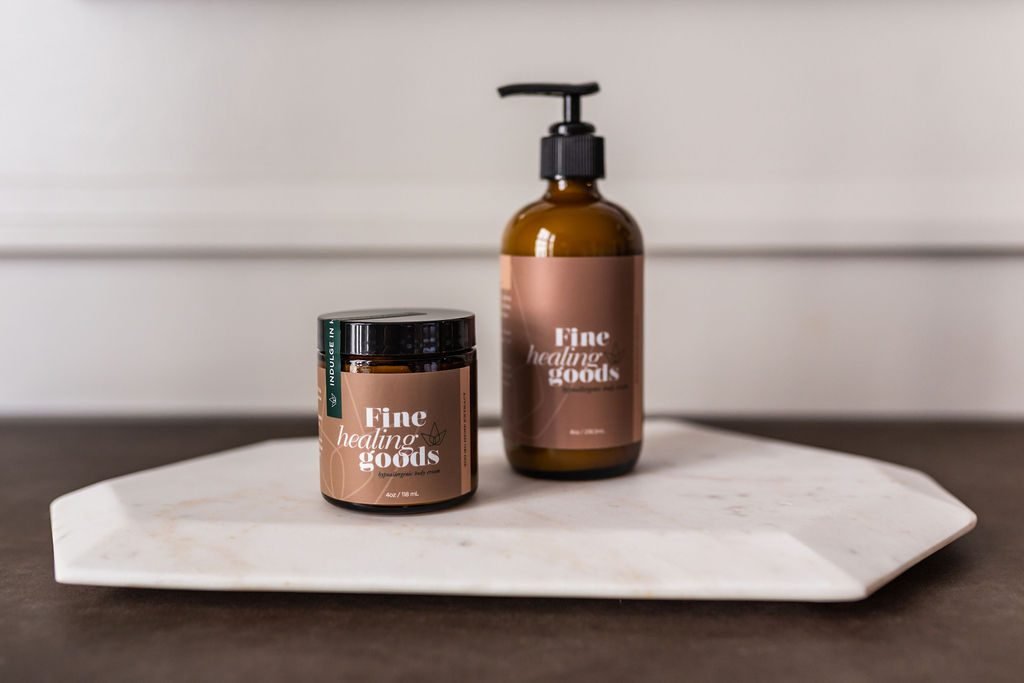 "Anthropologie is our first large retailer, and we are really proud of that. That was my goal to, within a year, work with Anthropologie, and here we are in their stores five months after launching. I was giddy when I got the PO," says Daugherty. Now, she has new goals. Daugherty is out to make Fine Healing Goods a household name. Even though the CBD market is crowded, she's confident it stands out. Speaking of the market, Daugherty says, "I truly believe that the cream will rise to the top over the next 24 months, and I think that's already happening."
Setting aside its market potential, Fine Healing Goods has been a personal triumph. While its genesis was at moment of anguish during a long infertility battle, Daugherty has survived that anguish to become adoptive mother to baby Charlotte Jane this month. "I have two babies at the same time, but babies come when they are ready. We've been trying for 12 years, and it happened when it happened," she says. "They are both intertwined. She was the reason this company came about."