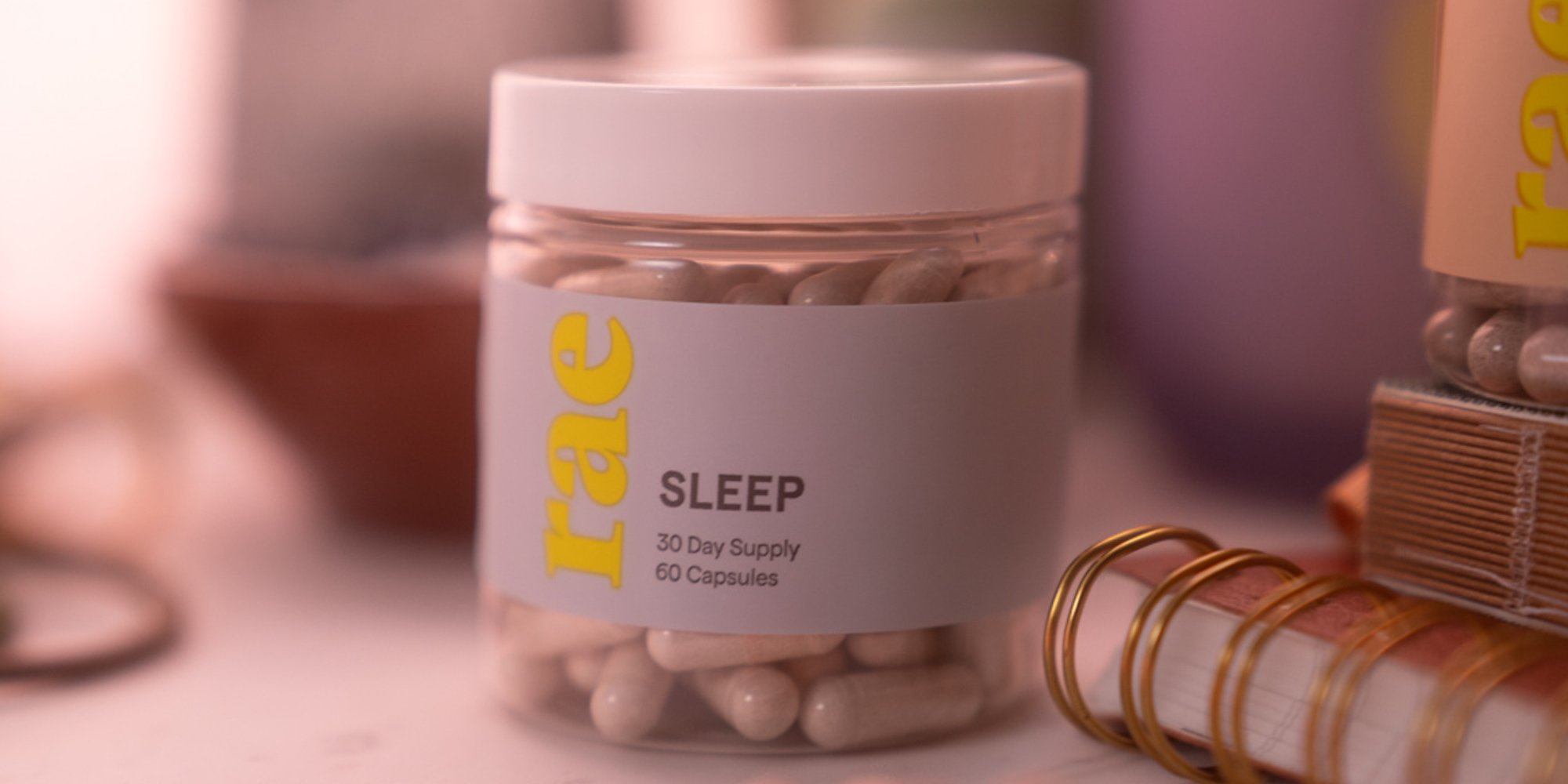 Rae Co-Founders And Former Target Execs Angela Tebbe and Eric Carl Believe Cool, Effective Supplements Shouldn't Cost A Ton
Emerging brands like Ritual, Seed, Moon Juice, Goop, WelleCo and The Beauty Chef have transformed the stodgy vitamin segment with chic packaging, sophisticated marketing, clean ingredients and advanced science, but Angela Tebbe and Eric Carl believe they're missing out on an important group of consumers: mainstream shoppers.
The former Target executives (she was a senior director of merchandising and he enterprise wellness strategy lead) teamed up to create Rae, a new brand based on the premise that cool and effective supplements shouldn't be exclusive luxury goods. It's launching with 20 vegan, gluten-free and non-GMO stockkeeping units spanning the beauty, health and hormonal categories with capsules, powders and tinctures all priced at $14.99 for a 30-day supply.
"The brands that are upmarket are doing amazing things from a messaging and content perspective, but a mainstream consumer can't always afford what they're charging," says Carl. "We have built careers identifying trends to bring trends aimed at more affluent consumers to a mass consumer. We have years of experience leveraging that formula."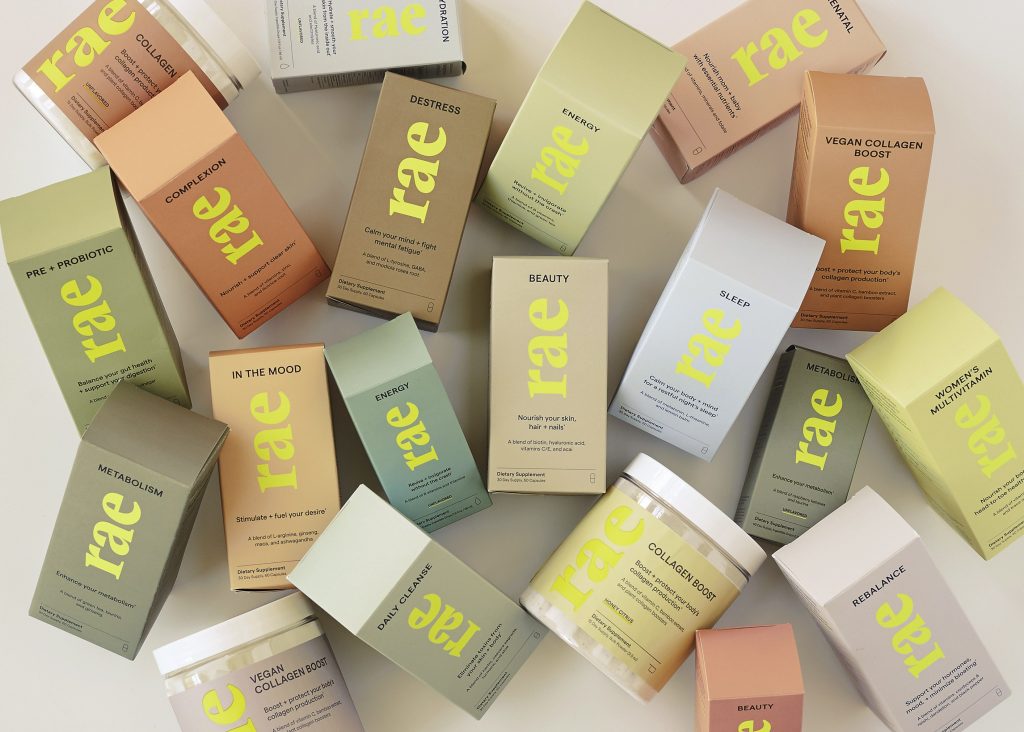 Not only are snazzy vitamin startups too expensive for most consumers, Carl and Tebbe contend they're too confusing for them. Rising brands often zero in on trendy ingredients like ashwagandha, turmeric and maca rather than the purposes of their products. Those ingredients are in Rae's products, but it puts the purposes of its supplements front and center. The brand's jars and bottles, for example, spotlight that the formulas within them are for energy, metabolism and hydration.
"Unless they are living and breathing the category, mainstream consumers may not really be sure what they should be using turmeric or ashwagandha for," says Carl. "Instead of leading with those ingredients, how do we help the consumer in language that they know? We have done consumer surveys with hundreds of women, and we're hearing the same need states: "I'm tired." "I need energy." "I'm not sleeping." We are targeting those lifestyle needs instead of leading with the ingredients."
"The brands that are upmarket are doing amazing things from a messaging and content perspective, but a mainstream consumer can't always afford what they're charging."
Rae's expansive range allows consumers to tailor supplement cocktails to their needs without enduring online questionnaires or DNA tests. Its supplements were formulated to be taken together. Out of Rae's many products, Carl and Tebbe single out Sleep and libido-boosting In The Mood as possible bestsellers. In their surveys of roughly 1,000 women in preparation for Rae, they found 93% of women experienced burnout over the past year and a majority felt stressed out most days. Tebbe explains stress can result in a loss of interest in sex.
"Another macro trend that is happening is that the consumer isn't thinking about their routine or wellness lifestyle as needing a one-a-day solution. Their needs change week by week or month by month, whether that's due to different life stages or because they're having a day or so where they feel particularly tired or stressed," says Carl. "We want the consumer to be able to self-select, and their selections may change over time. Instead of being a one-SKU brand, we bring a whole suite of solutions to meet all their needs."
Continuing on the subject of trends, Rae is translating the tincture trend that's huge in the CBD sector to supplements with its Metabolism Drops, Beauty Drops and Energy Drops. Rae is piggybacking on the collagen trend largely driven by products containing bovine-derived collagen with its Vegan Collagen Boost Powder. Thirteen of its 20 SKUs, however, are capsules, a format Carl and Tebbe maintain is widely accepted by supplement customers.
The brand, which is named for Tebbe's middle name and to be a twist on a ray of sunshine, is kicking off in direct-to-consumer distribution. Retail is in its future, though. Carl shares Rae is in negotiations with major retailers. Chains like Target are on the brand's retail account wish list. To support its push into retail and online, it's secured an undisclosed amount of investment from angel investors Tebbe and Carl declined to identify. They also declined to discuss Rae's first-year sales goal.
"Women have a world to conquer, and they have shit to do, and that's the voice that you will see come across in the brand."
To stand out at stores and on screens, Rae's packaging incorporates neon yellow. Its logo is in the bright hue. Beyond the logo, the brand sought straightforward design. Its labels aren't saturated with copy. "We needed to make sure that it cut through the clutter in a sea of overworked packaging across direct-to-consumer, Amazon and physical retail," says Tebbe. "We wanted to make sure that it was fresh, holistic, earthy and clean."
Cutting through the marketing clutter is an objective, too. Rae's inclusive marketing features millennial women of different shapes and sizes, and from different backgrounds. Tebbe says the brand is going to be unabashedly addressing taboo topics like libido and talking about women prioritizing their health as an "act of self-love." She declares, "Women have a world to conquer, and they have shit to do, and that's the voice that you will see come across in the brand."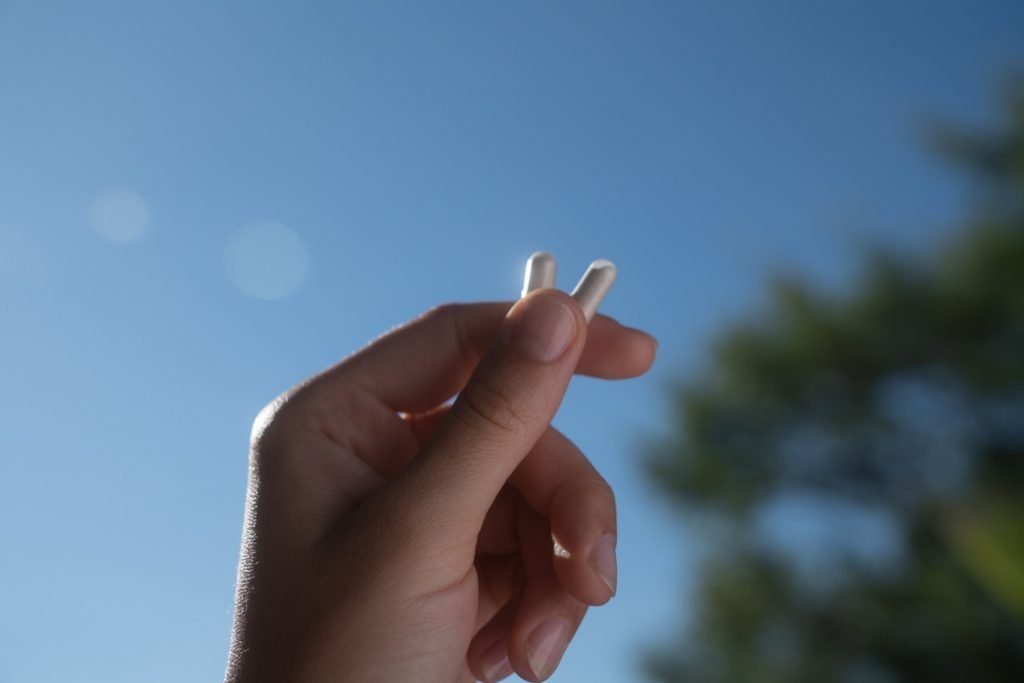 While the supplement segment is exceptionally crowded, Carl and Tebbe are confident there's room for a new player. Carl points out 80% of women are nutrient-deficient and 50% aren't ingesting vitamins. Industry data suggests consumers are increasingly snapping up supplements. Grand View Research estimates the global supplement sector will proceed at an annual compound growth rate of 7.8% to reach nearly $195 billion by 2025.
"There is no shortage of brands that already exist in the marketplace, yet there are still such issues in terms of nutrition for women. How do we make easier, more simplified solutions to bring consumers into the category or help them expand how they are shopping the category today?" asks Carl. Tebbe answers, "There are pricing thresholds that exist that are critical to hit. If you think of all a woman needs to accomplish in her life to take care of herself and others, that all goes in a basket together, and we remove the barrier to entry to make supplements a part of that."