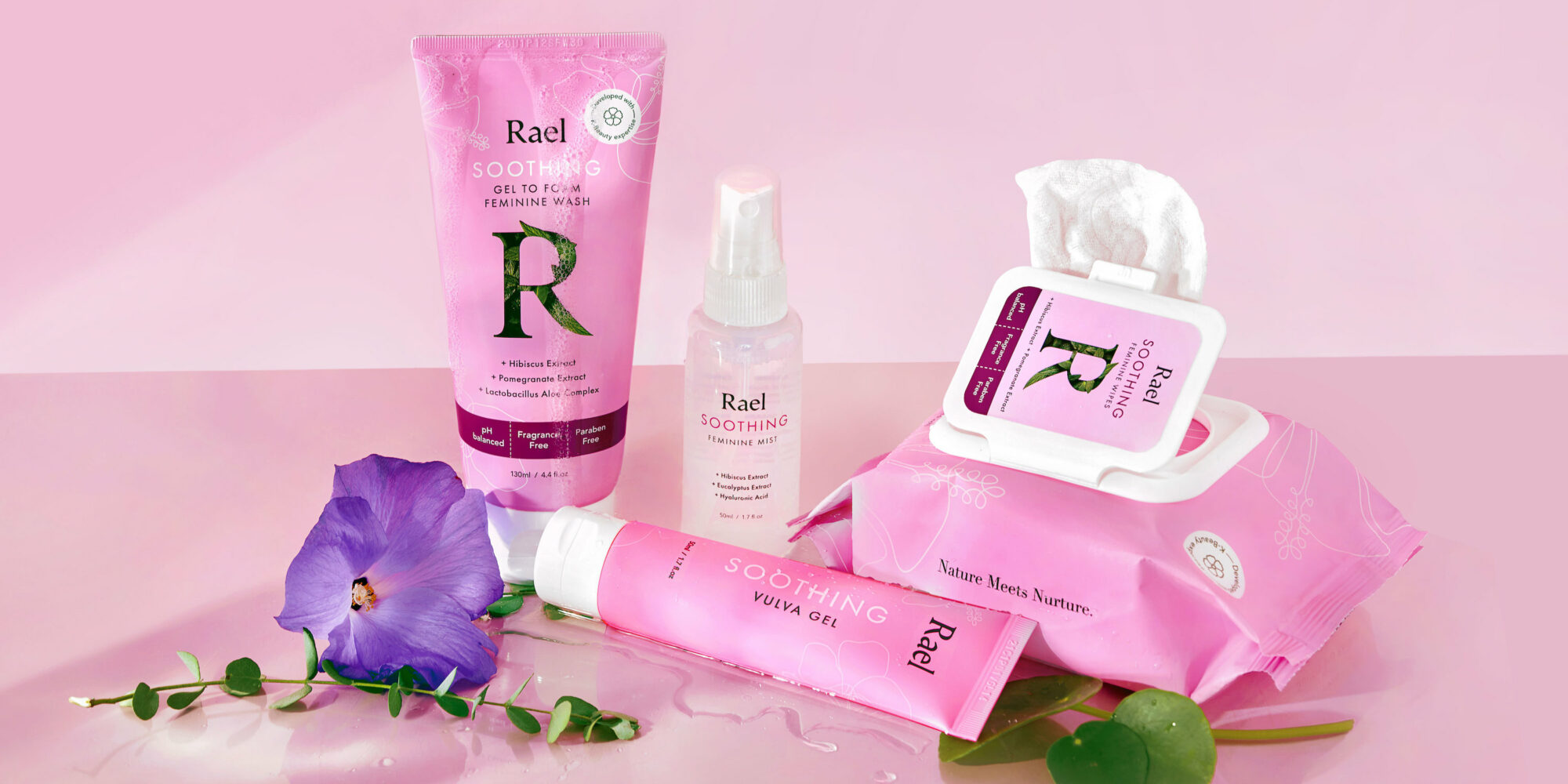 Clean K-Beauty Brand Rael Brings Vulva Care To Walmart And Skincare To CVS
Walmart is realizing that "live better" can and should include better sexual wellness.
Rael is rolling out to 2,000 of the big-box giant's nearly 11,450 stores with skincare and intimate care. The K-Beauty brand's new vulva care line is being carried in 720 of the doors and its organic period care products will be available on Walmart.com. The partnership comes on the heels of direct-to-consumer men's health darling Roman entering 4,600 Walmart doors as well as the retailer's website with supplements for heart health, stress relief and prostate health. 
Walmart doesn't represent Rael's only recent retail launch. In March, it introduced its 10-product skincare range spanning sheet masks, acne patches, cleansers, toners, serums and more in 723 CVS doors across the United States. The brand hopes to extend its relationship with the pharmacy chain in the fall, bringing in its bestselling organic period care and intimate hygiene products. Among Rael's other retailers are Target, Walgreens and Nordstrom. Rael also has a robust business on Amazon, where it debuted exclusively in 2016.
"We are trying to become a holistic personal care brand," says Rael co-founder Yanghee Paik, a Harvard MBA who founded the company with Aness An and Binna Won. "We started as an organic feminine care brand, pads, tampons, liners, so we've been expanding a lot from a product perspective. Our vision is to be able to be in these stores with a presence in the beauty and skincare aisle as well as the feminine hygiene aisle, so that people recognize our brand in multiple locations [and] can connect the dots that we're not just a tampon or pad company. We provide clean ingredients that work really well and also bring in innovation from Korea."
Today, Rael offers everything from cramp-treating heating pads to reusable period underwear and incontinence pads to hyaluronic acid concentrate, mostly in the $5 to $30 range for single items. Rael's latest launch, its vulva care line, contains a wash, wipes, serum and mist priced from $6 to $10. Like with its earlier products, the brand's clean and K-Beauty positioning makes its vulva care line stand out. 
"The feminine hygiene space—wash and wipes and mists—is still dominated by the big brands that use a lot of strong fragrances," says Paik. "Clean ingredients haven't really taken off." She adds, "It was great that Walmart was interested in bringing cleaner products and natural ingredients. We didn't necessarily push the K-Beauty angle as much for our period care or feminine care and hygiene, it was more for the skincare, but we talked about it. There will be a little icon on the packaging on the front showing that it's made with K-Beauty technology." 
Paik, An and Won created Rael after An moved to the U.S. from South Korea, and discovered a lack of safe and comfortable period products here. As a new mom of twins, An strove not to settle for possibly harmful products, and she joined forces with Paik and Won to develop the safer and effective alternatives to conventional period products that she felt were missing from the market. Three months after launching on Amazon, Rael's pads became a bestseller, and the brand became a leader in the organic feminine care category.
Rael's growth has been impressive beyond Amazon, too. Between 2018 and 2020, its revenues grew over 5X. During the pandemic, Rael more than doubled its revenue, experiencing 110% year-over-year growth from 2019 to 2020. The brand maintains headquarters in California and South Korea, where most of its products are manufactured. 
Rael has raised in excess of $20 million in two rounds of funding, a $2.8 million seed round in May 2018 and a $17.5 million series A round in November 2018. Investors include Native Deodorant founder Moiz Ali, NYX Cosmetics founder Toni Ko and BAM Ventures, a firm helmed by The Honest Co. co-founder Brian Lee. Paik says Rael is once again beginning the fundraising process to support Rael's stretching its international reach to Europe and China.
"We want to find a partner who can really help us get to the next level," she says. "We've done very well over the last few years to grow this brand. We already have a thriving business in Korea. We want to find a partner who can really help us with the marketing and international expansion." 
An acquisition isn't out of the question. In 2019, period care brands Sustain Natural and This is L. were acquired by Grove Collaborative and Procter & Gamble, respectively, the latter for $100 million. In early 2019, Paik told Beauty Independent that Rael was on pace to exceed $50 million in revenue that year. At 110% year over year growth, that puts Rael's revenues for 2020 beyond the price P&G paid for This is L. in a global feminine hygiene market set to grow at a rate of 5.8% over the next four years, reaching nearly $28 billion by 2025.