Sacred Beauty Salon Founder Rebecca Casciano On Paying Attention To The Inside While Making Up The Outside
Veteran makeup artist and clean beauty expert Rebecca Casciano doesn't believe true beauty is found in a bottle of foundation. She's an adherent to the philosophy that beauty radiates from the inside, but a vibrant pink lip painted with natural makeup can add a playful zing. Beauty Independent spoke to Casciano about discovering your calling, what's still missing from today's clean makeup assortment and the sisterhood of Sacred Beauty.
How did you get started as a makeup artist?
In 1994, I moved to New York City to study advertising design at The Fashion Institute of Technology. I wanted to be an art director or graphic designer. When I started at FIT, we did everything by hand: cutting out paper, glue sticks, X-Acto knives and I loved that. Once we moved into computers for design, I realized that was not what I wanted to be doing. I wanted a tactile experience: I wanted to use my hands; I wanted to use color. It was a real moment for me. I was like, now what? I started working in retail, which was fun but also challenging. When you're a creative person and you don't know what to do with that creativity, it's really hard. I've always loved makeup, but I thought you had to go to cosmetology school to be a makeup artist. It wasn't until I was inspired by a makeup artist I met who told me to get some business cards and go for it. That's what I did. I started promoting myself and building my portfolio and resume. It was something that was natural for me. Now it's been 17-plus years. It was a very different time when I started. There was no social media; it was all about word of mouth and face-to-face contact.
When and why did you start the Sacred Beauty Salon?
In 2008 I enrolled in the Institute of Integrative Nutrition to become a health coach. That's when I really started looking at the makeup I was using. When I initially explored clean makeup, it was very sheer and didn't have good coverage or color options. At first I just dismissed it, but when I decided to become a health coach I realized I couldn't talk to anybody about wellness without looking at what we're putting on our skin. I started going down the rabbit hole of ingredients, and I was shocked by what was happening in the beauty industry. It became my passion to change my whole makeup kit over to clean beauty, educate women on why that change was important and what the alternatives were that I was discovering. That became a big part of my work, but I realized there was still something more. I was talking to so many women about products and diet and lifestyle, but how we really feel about ourselves as women comes from some place so much deeper, and we have to go there. That was what inspired me to create The Sacred Beauty Movement in 2015, which helps women explore the powerful relationship between inner and outer beauty through self-love, sisterhood and spirituality. It began as a live, 4-part workshop series and has since evolved into online programs, 3-month membership programs and one day events that I have hosted across the country. Sacred Beauty provides women the opportunity to transform their relationship to beauty and create meaningful connections with like-minded women. From the first workshop, I knew this was what I meant to be doing.
Who comes to the Sacred Beauty Salon? What's the age range?
Women in different stages of life and from all walks of life. It attracts people that are already on the path, but want to go deeper. I've had bloggers who are into clean beauty and just get it instinctively, but also women who look at Sacred Beauty Salon and they're like, "What is this? I don't get it." Once they're here they're like, "This is amazing." The age range is women from 25 to 45, with a few outliers.
Do you plan to bring Sacred Beauty Salon to companies?
Absolutely. I did a workshop with women in finance and realized how needed this message is in the corporate world. The women explained that this industry is very male-dominated, to the point where they don't feel comfortable wearing certain colors, certain necklines. One woman asked me how she can stop her lipstick from getting on her cup because she's always in meetings with all men and she's so self-conscious about it. All these things they worry about that you wouldn't even think about if you're not working in that environment.
How have you seen the switch to cleaner beauty happening since you started in makeup?
Over the past few years especially, I've seen a lot more clean beauty showing up in the mainstream fashion and beauty world. I just went to an event at Credo with Allure Magazine, and they were honoring Innersense Beauty, Rituel de Fille, Tata Harper and W3ll People. It was great that Allure Magazine had chosen their top picks from these brands. I would love to see more of it, but it's definitely happening. Other makeup artists have called me to ask me for my recommendations because they are working on a celebrity and they [the celebrity] requested clean beauty. It makes my heart smile when I see celebrities on Instagram wearing Alima Pure and all these clean brands. There's a lot more curiosity and the interest is spanning all ages, cultures and professions.
What are some of your favorite brands and how do you discover new ones?
Brands I've been working with since I first changed my kit over, like Vapour Organic Beauty, Alima Pure, jane iredale and W3ll People are still staples, as well as newer discoveries like Nu Evolution and Modern Minerals. Shout out to Spirit Beauty Lounge because she was the first in clean beauty to have an online shop. The founder, Spirit Demerson, introduced me to brands that were clean, luxurious and effective. Her recommendations, along with Green Beauty Team's Kristen Arnett's, really helped to build my original clean beauty makeup kit. Social media is a great way to discover new brands, also industry events like IBE and some of the smaller things that have popped up where you can see and try things hands-on. I'm definitely always scanning for color, especially at IBE, because color is still a relatively small category in clean beauty. I'm always looking for what's next and what can fill some of the holes.
What are some of those holes, things that you still feel are missing in clean cosmetics?
We all know mascara can be challenging. There are some good ones, but I still feel like I haven't found the one that is the equivalent [of traditional brands]. Also, I want to see more skin tone ranges in foundations, powder and concealer. As a makeup artist that's something I've found particularly challenging because I've always worked with a lot of women of color. Not feeling confident that I can show up to any job and have the right foundation or concealer shade is a little nerve-racking. You have to get a little creative, mix things sometimes. You never want to be on set and not have makeup in someone's skin tone color. There are definitely brands that are doing it, but there are still some shades left to be made.
Tell me about partnering with Modern Minerals.
That was really fun. Diane [Read, founder of Modern Minerals] attended a Sacred Beauty Salon and loved it, so she offered me the opportunity to chose a color and name one of her emotive lip glosses, which are infused with Lotus Wei. The color of the lipgloss is a sheer red and I named it Goddess. Working with a brand like Modern Minerals was such a treat because we are totally aligned in our values and inspirations.
You have a beauty shop on your website. How did that come about?
That evolved out of being invited to have a Sacred Beauty Bar at Doing Living Space this summer, where I hosted my signature one-on-one makeup lessons and bridal trials. I wanted to create a way for my clients, as well as for people who come to my website, to see some of my favorite products. With projects like the Sacred Beauty events and the W.E.L.L. Summit, I've partnered with different brands and offered them the opportunity to be part of the events, and in exchange for helping them to promote their brands, introducing them to the W.E.L.L. Summit and helping them get their products into the hands of people who are looking for them. It's such a targeted audience. I'm excited about bringing the Sacred Beauty Bar to the W.E.L.L. Summit on November 4th.
Tell me more about that.
At the first W.E.L.L. Summit, I didn't bring any products at all. At the second one, last year, I did two breakout sessions, one was just inner-beauty based and the second was about using makeup as a tool for self-love, looking at what products we use and why. I found that people were so interested in the products they wanted to stay and play with them, and get their color matched. The talk was an hour-and-a-half, but even that wasn't even enough time. I thought, "Next year I want to try something new, to create a way to let people stop by at their leisure." We're going to be set up between 11 a.m. and 4 p.m. I'm going to have five or six different brands there from skincare to haircare to makeup. We will offer a special blend of Sacred Beauty-inspired services, including mini "Embrace Your Face" makeup lessons and "Glowing Goddess" makeup touch-ups with me and my team, hair styling and energy therapy with hair stylist Nicole Cichocki, "Sweet Talk Tats" gold flash tattoo applications with intuitive personal stylist Rebecca Santilli and facial rejuvenation using acupuncture and gua-sha with holistic healer Peggy Regis Robinson. It will be a fun way for guests of The W.E.L.L. Summit to have more time to play and interact with the products.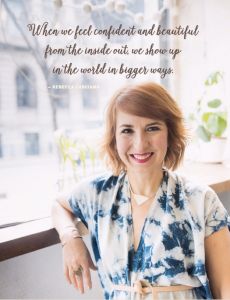 What are some makeup trends you're seeing?
Something I think is fun is the darker makeup looks: the blue lipstick, the dark vampy colors and the winged liner. I like that women are making some unconventional choices with beauty, kind of saying this makes me feel good so I 'm going to wear it, and not worrying about being aligned with beauty standards. I think that's very refreshing.
If you could do anyone's makeup, whose would it be?
I'd have to say Prince. He's my favorite musician of all time and I always wondered what it would be like to do his makeup. He was a legend and a thought leader in so many ways. He was really special.