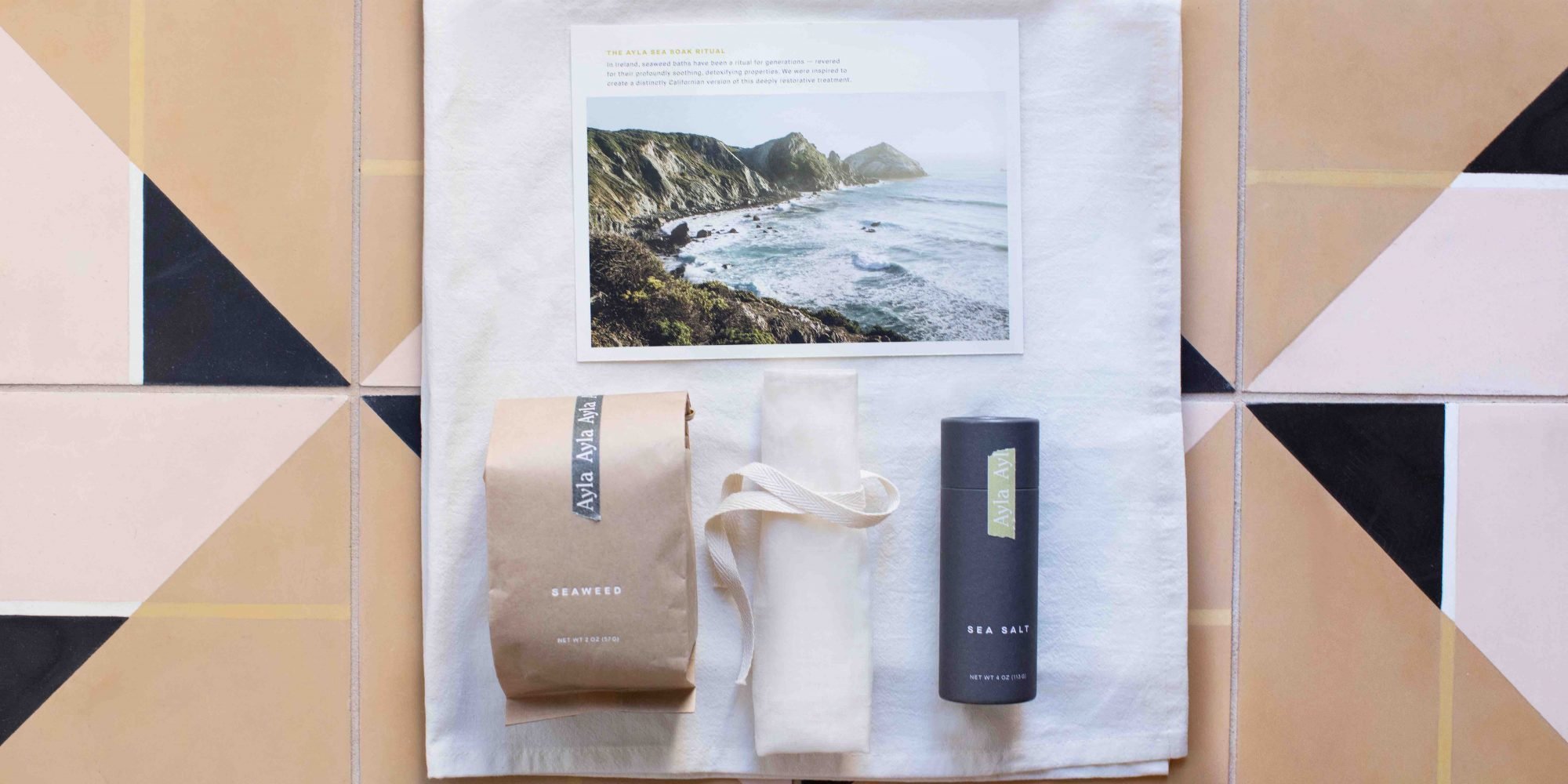 Retailer Ayla Beauty's First Standalone Product Is An Ode To California And Potent Natural Ingredients
At her Berkeley, Calif., restaurant Chez Panisse, Alice Waters turned simple, high-quality ingredients cultivated by local farmers into the stars of haute cuisine.
Now, 15 miles away across the bay, retailer Ayla Beauty is executing haute beauty by elevating natural resources to an honored place in bathing rituals with its debut product Sea Soak. The restorative bath soak consists of only Giant Kelp harvested in the Pacific Ocean off of Santa Cruz and sea salt from the coastline of Big Sur.
"One of my intentions with this product is to show how powerful the best natural ingredients can be in and of themselves," says Dara Kennedy, founder of Ayla. "It's not like putting an interesting mushroom into the mix in a moisturizer. It's actually using these raw ingredients—and a lot of them—in a really potent treatment."
The Sea Soak is the first product Ayla has made on its own, but the prestige niche beauty retailer collaborated with brands in its selection on two previous products. In 2017, it premiered Dara's Oil, a facial oil developed with Marie Veronique for sensitive skin. Later, it formulated exfoliating foot cream Foot Therapy with MyHavtorn. Kennedy is careful to introduce products filling gaps the 50 to 60 brands in Ayla's assortment aren't addressing.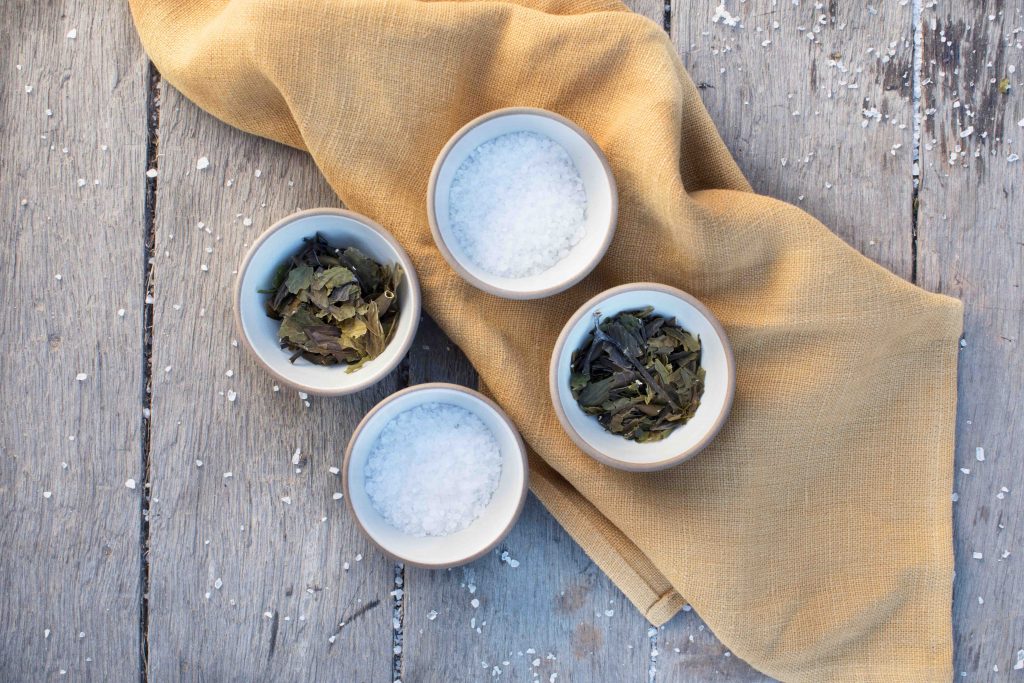 "We are creating products where we think there's a clear need, and we can tell a clear story," she says. "These are products that I truly believe in my heart do not prevent us from being supportive of all our brands as we always have been."
The idea for Sea Soak began to germinate two years ago when fires consumed at least 245,000 acres in Northern California's wine country, and smoke lingered in San Francisco. The purification capabilities of seaweed baths became immensely appealing to Kennedy as the intense wildfires raged. Seaweed baths also seemed to make sense for the demanding atmosphere of Silicon Valley, where decompression is a survival necessity.
"One of my intentions with this product is to show how powerful the best natural ingredients can be in and of themselves."
"In talking to customers in our San Francisco studio, we learn a lot of them are struggling with the stress of living in the city. There are those who come in to get a facial, but are really looking to relieve stress. There's a sense of feeling depleted and rundown that comes with modern life more than ever," says Kennedy. "I thought about the seaweed bath as a foundational, holistic product that can open the gateway to the vibrant health and beauty we all want. It pulls out what your body can let go of and replenishes it with vital nutrients."
Originally, Kennedy considered incorporating Irish seaweed in Ayla's sea soak. Seaweed baths have a long history in Ireland as remedies for rheumatism and arthritis, among several conditions. The environmental impact of shipping seaweed from Ireland, though, concerned Kennedy. Instead, she shifted her attention to California to search of seaweed that could be retrieved from the ocean without undue harm. Kennedy consulted with the California Environmental Protection Agency and the Ocean Protection Council to help her identify Giant Kelp as a sustainable seaweed variety. Ayla has committed to donating 5% of the proceeds from its soak to the Reef Check Foundation.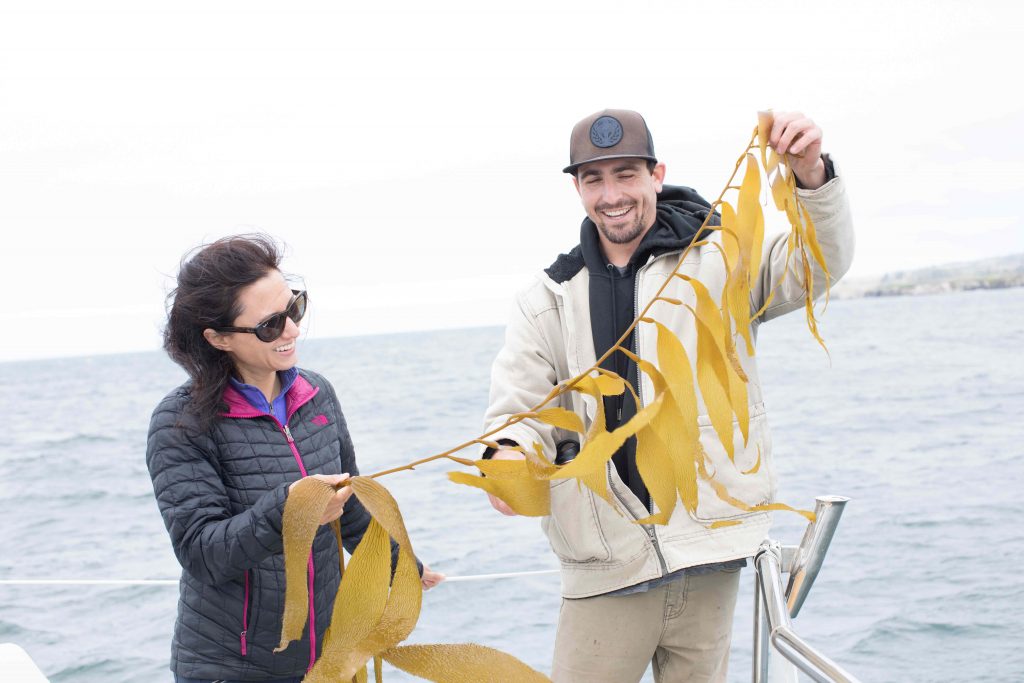 Giant Kelp grows as much as two feet per day, and seaweed foragers are permitted to snip the top four feet of it because the leaves replenish swiftly. Ian O'Hollaren, the seaweed forager responsible for the seaweed in Ayla's soak, scans seaweed forests for prime strands that he removes with a serrated knife. After they're removed, they're washed in the Santa Cruz mountains, cut into pieces and dried in the desert.
"I loved going deep into looking at the plant. I worked in product development and marketing at beauty companies for a while, and we always talked about the ingredient stories in our products and, today, we are hearing more about a focus on sustainability and product sourcing, but there's still not as much of a connection as there could be," says Kennedy, referring to former jobs at Elizabeth Arden, Soap & Glory and Living Proof. "This to me is became an opportunity to really explore that connection."
"We are creating products where we think there's a clear need, and we can tell a clear story."
The sea salt used in the soak is from Big Sur Salts, which filters the seawater it draws salt from nine times and evaporates it on a bed of bentonite clay over four months. Ayla packages the salt in a recycled cardboard cylinder that's meant to be emptied into a hot bath before the seaweed steeps for 10 to 15 minutes encased in a supplied biodegradable cotton bag.
The steeping releases chlorophyll, magnesium and sodium alginate, a silky gel beneficial for flaky scalp and dry patches on the body. Kennedy recommends people sit in the seaweed soak for 20 to 30 minutes. Ayla has produced a downloadable meditation with Andrea Ferretti and Erinn Leigh to guide them through the process. The bath is designed to combat inflammation and sore muscles.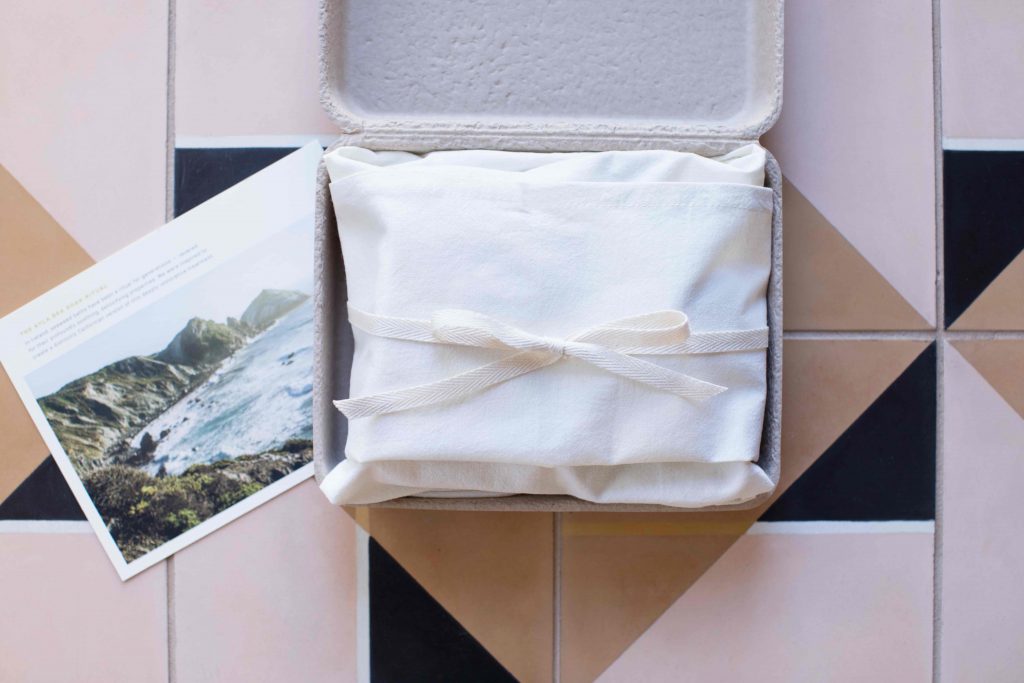 "We have had testers say it feels like an infrared sauna session, a deep tissue massage or the hardest workout they've ever done. You have to work a bit to brew this bath. It forces you to get off autopilot, and think about what you are doing and where the ingredients are from," says Kennedy. "Most people sweat a lot during this bath. At the same time, you are re-mineralizing with all the nutrients that are in your bath water. What's cool about it to me is it's doing for your body something similar to what it does for the ocean. In the ocean, it helps absorb carbon dioxide and provides nutrients for sea life."
The Ayla Sea Soak is $59 for a single bath. Asked about a sales projection for it, Kennedy responds, "I don't really have one." She's unveiling it for holiday shopping season for gifting purposes. With the soak, Ayla joins a growing list of retailers associated with clean beauty, including Follain, The Detox Market and Aillea, that have entered the branded product milieu. Kennedy reports Ayla could launch future products, but she stresses it won't churn out private-label me-too merchandise.
"It's about how do we add to the overall experience we offer," says Kennedy. "It's not intended to be something that fights with other brands on our shelves. It adds to the experience, and makes you think about products and taking care of yourself in a slightly different way."