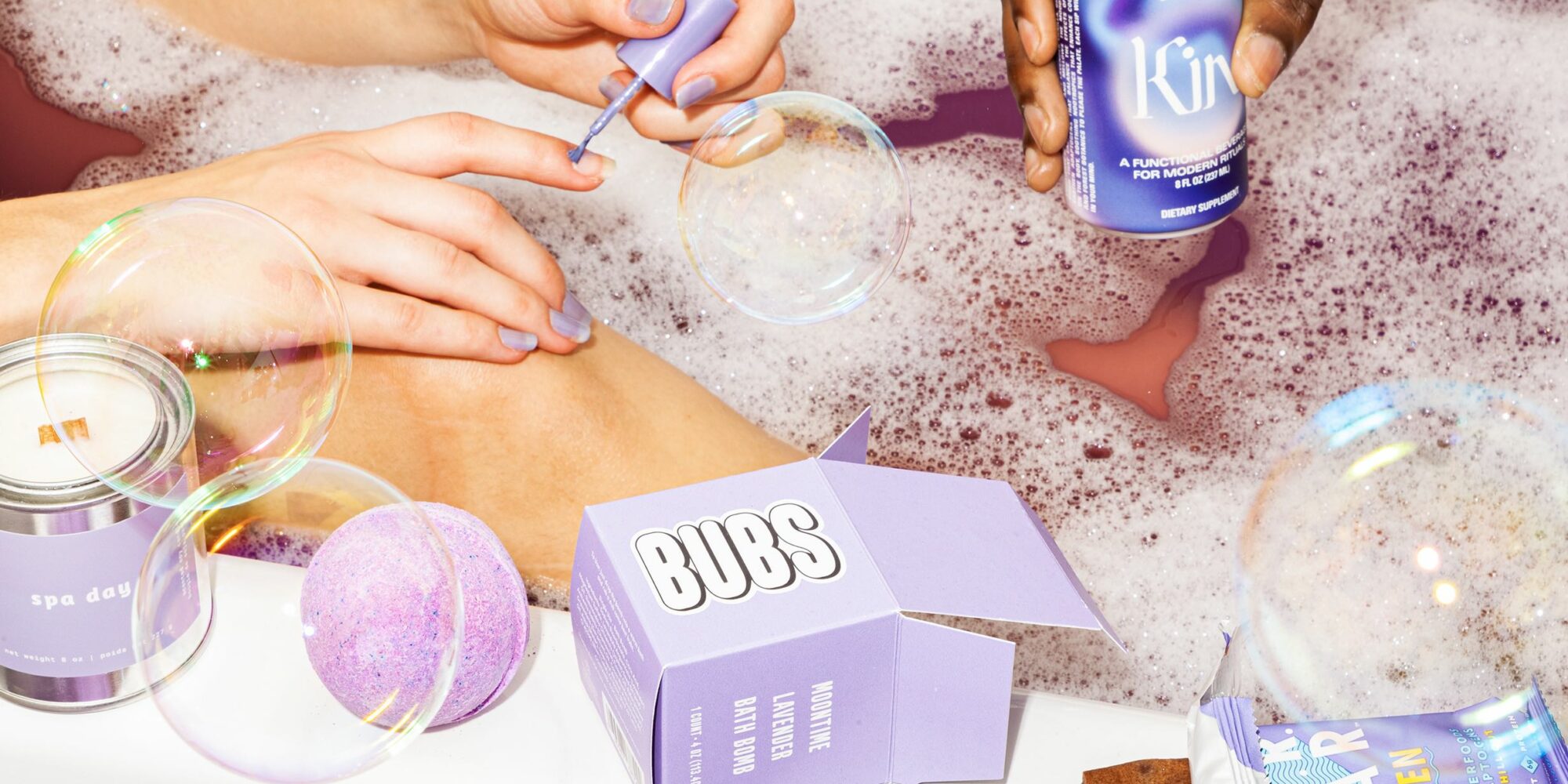 Do Self-Care And Convenience Stores Go Together? At Foxtrot, Which Is Launching Two Self-Care Brands, They Do.
As it remakes the convenience store with craft branded goods and private-label products cool enough to share on social media, Foxtrot is inviting its shoppers to slow down with two new private-label self-care lines: Best Bubs and Made by Definition.
Featuring a color palette bursting with saturated pastels and a fun alliterative name, Best Bubs is a gen Z-inspired line that doesn't take itself seriously. Its debut assortment contains three bath bombs—Rubber Ducky, Moontime and Splish Splash—priced at $12 each. Gift sets run from $35 to $60. Made by Definition is an elevated millennial-oriented counterpart to Best Bubs with $18 Bath Salts, $32 Body Scrub, $32 Coconut Bath Soak, $38 Hibiscus Clay Mask and Eucalyptus & Mint Shower Steamers priced at $15 for a pack of four. Besides the steamers, its products are encased in see-through glass packaging Foxtrot CMO Carla Dunham describes as signaling the "idea of transparency and clean that speaks to the overall positioning grounded in pure ingredients."
She continues, "We have a really strong track record in private label as an organization. Self-care is the latest of our private label activity that has extended from brownies and potato chips to wine, vodka and bourbon. We have really a strong internal design sensibility powered by consumer insights. We had intended to only launch one self-care brand, but we recognized the opportunity to talk to our customers in a manner that's more specific."
Many of the grocery, convenience and general merchandise retail concepts that have popped up online or offline in recent years are expanding their private-label repertoires. Private label is a margin play that's been a part of retailers' business models forever, but it's particularly timely now with shoppers conceivably hunting for cheaper alternatives to branded products as inflation pushes prices upward.
On Tuesday, Gopuff, the delivery company operating in 1,000-plus cities, announced its foray into private label with a line of bottled water, snacks and over-the-counter medications called Basically. Gopuff's private label is being guided by Jessica Glendenning, formerly of Brandless and Target, and Target veterans Sonia Eschenauer and Bri Waldoch.
E-commerce destinations Grove Collaborative and Thrive Market have hopped on the private-label train in big ways. Thrive Market informed the publication Modern Retail that a quarter of its monthly sales come from private-label products that generated $100 million in 2021 sales. Last year, Kirstin Ratcliffe, senior category manager for beauty and personal care at Thrive Market, told Beauty Independent that the role of private label in beauty and personal care is due to grow in 2022.
"Increasingly, private-label products act as a proxy for our brand, and they give us flexibility to pop up in channels where we have complete control."
Started online in 2014 by CEO Mike LaVitola and CTO Taylor Bloom, Foxtrot, which recently drew $100 million in series C funding to bring its total till to $160 million, jumped into private label about a year ago and expects some 200 private-label products to enter its assortment this year. Private-label products constitute around 30% of its selection, and fuel almost half of its e-commerce and retail sales. LaVitola doesn't anticipate private label goods accounting for greater than 40% of Foxtrot's selection. He emphasizes its private-label strategy isn't about undercutting pricing, but about picking spots where it detects an unmet need.
"The intention isn't to have a Trader Joe's approach where you walk in and everything is private label," says LaVitola. "Private label for us is an opportunity to either work with specific partners or with ingredients and flavors that we want to see out in the world and, oftentimes, that means we are coming in middle of the road on pricing. We are able to offer our customers what we haven't found in the market at high quality."
Dunham points out that product quality and design are especially important because Foxtrot views private label as a platform for reinforcing its proposition. "Increasingly, private-label products act as a proxy for our brand, and they give us flexibility to pop up in channels where we have complete control," she says, adding, "We've obsessed over things like the font being raised on the Bubs box so that the customer is intrigued, even if they don't know necessarily that we've created the product."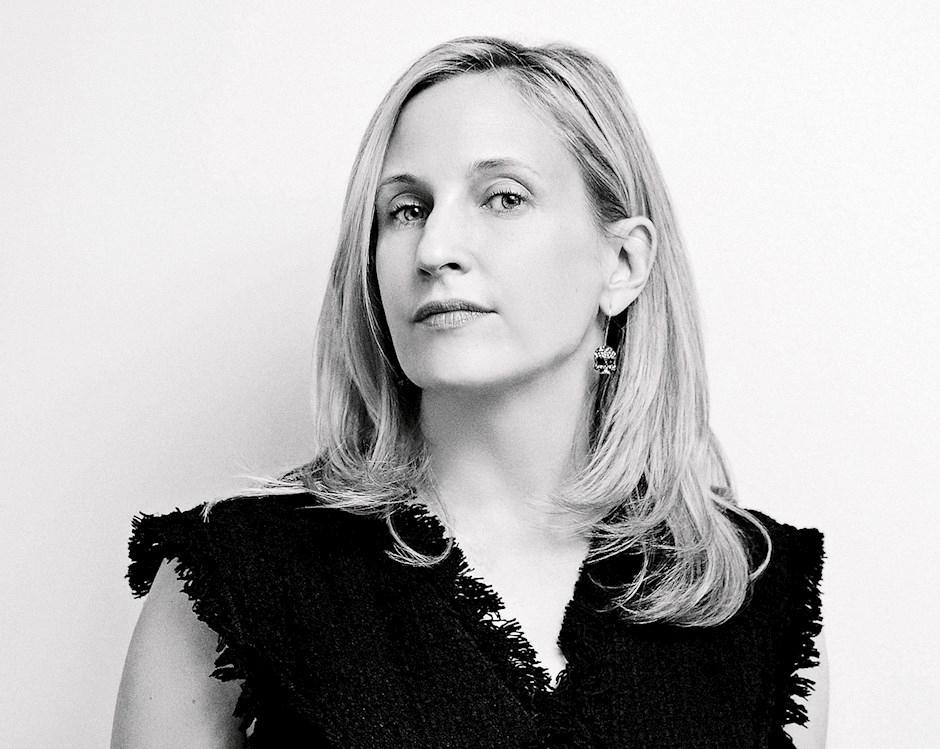 Convenience stores have been quick stops for snagging shampoo or maxi pads, but discretionary self-care and beauty hasn't been their modus operandi. In fact, when 7-Eleven introduced the beauty line Simply Me Beauty in 2017, it was an example of beauty overreach to critics. But Foxtrot, with a vision that Techcrunch posits is "changing the way we think about convenience stores," may be changing the way we think about convenience stores' relationship to beauty as well.
Self-care has been a surprise hit for Foxtrot. "If you think about how people use Foxtrot, of course, there's coffee and our café during the day, but then, at night, it's people putting together mini experiences," says LaVitola. "That might mean getting meat, cheese and a six-pack to go to their friend's house, but, for a lot of people, it means a great bottle of wine, ice cream and a self-care item."
Foxtrot tiptoed into the category with candles and ventured from there into face masks and bath salts. Finding success with those items, it stretched the selection with a range of beauty and personal care items from the likes of Glossier and Lesse with an eye toward highly giftable, beautifully packaged products. Currently, the selection includes the brands Patchology, Knours, Herbivore, Lapcos, Happy Dance and Prima. Foxtrot has also stocked sunscreen products from Poolsuite's brand Vacation.
"If you think about how people use Foxtrot, of course, there's coffee and our café during the day, but then, at night, it's people putting together mini experiences."
Still a small category at Foxtrot, self-care is responsible for 15% of gift sales. In general, the company's sales are split roughly equally between in-store and online sales, and self-care sales are no exception. Foxtrot's business doubled last year. It currently has 17 locations across Chicago, Dallas and Washington, D.C., and plans to open 25 locations this year. Face and eye masks have been the top self-care unit drivers, but gift boxes with one to two items have been hot tickets, too. Customers can choose products for the boxes and arrange for them to be sent to gift recipients. Foxtrot provides 30-minute local delivery in the cities with its locations and ships countrywide in the United States from its e-commerce hub.
For its private-label self-care and beauty products, Dunham anticipates shower steamers and bath bombs to be bestsellers. "Our customers are often shopping for us looking for something in the moment," says Dunham. "Unlike at Sephora, where you are building a full-on beauty ritual, you are shopping with us from a place of need like, 'I really need milk,' or an emotional moment like, 'Hey, I'm looking for a treat or an evening of indulgence.'"
To get the word out about Best Bubs and Made by Definition, Foxtrot is seeding influencers, and spotlighting the products in its emails, inserts and app. It's far from done in self-care, personal care and beauty, according to Dunham, who mentions gender-fluid merchandise, advent calendars and entire regimens as areas Foxtrot is exploring.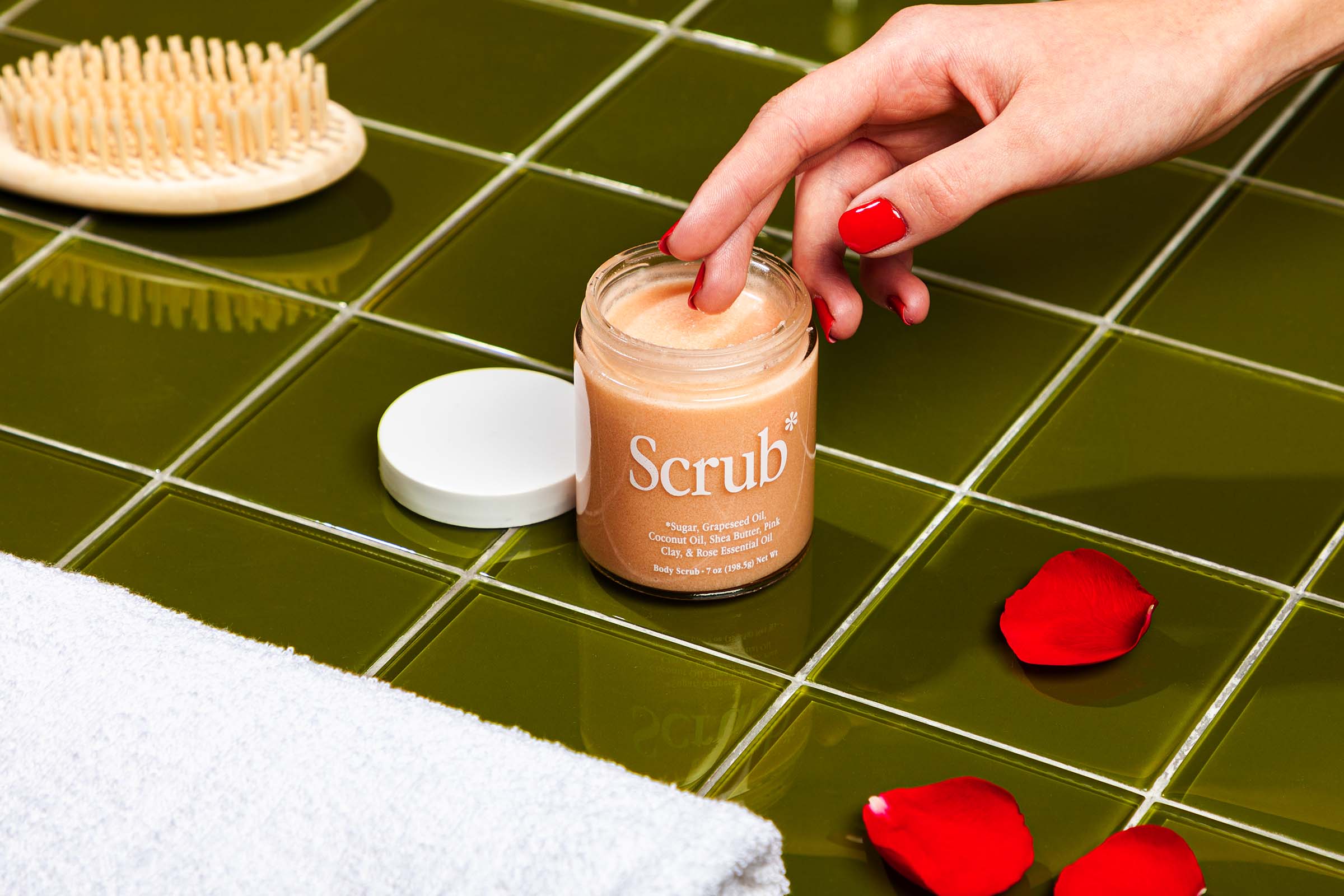 "The business that we're in selling cookies, brownies and bottles of wine that are reasonably priced has a really nice correlation with the cosmetics business, where there is interest in trial, discovery, newness and trend," she says. "That customer experience of shopping where you are often looking for a mood lift or you read about something and you want to try it—the idea of experimentation—has a lot of natural synergies for us at Foxtrot, and we are just beginning to understand where this could go."