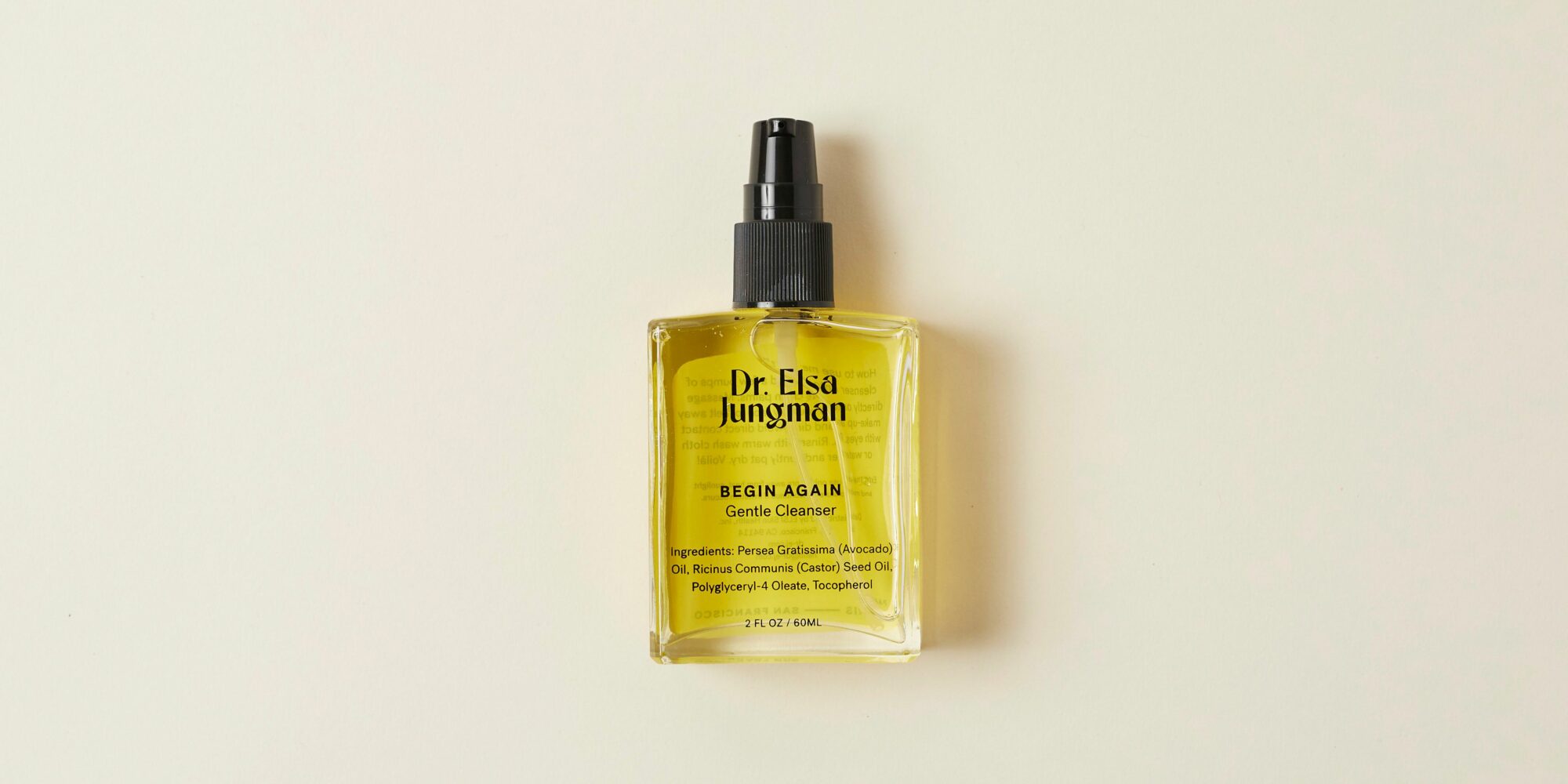 After A Revamp, Sensitive Skincare Brand Dr. Elsa Jungman Spotlights The Scientific Rigor At Its Core
Whether it's unwinding the mysteries of the pandemic, climate change, genetics, regular exercise or mental stability, the significance of science to our everyday lives has never been more tangible.
Against that backdrop, Elsa Jungman, who's been involved in skin research for over a decade, is stepping out from behind the beaker. She's rebranded her company from ELSI Beauty to Dr. Elsa Jungman—she achieved the title by receiving her doctorate from Paris-Sud University—to celebrate her chops as a developer of skincare for consumers with sensitive skin not willing to take a chance on products from just anyone.
"As a scientist, branding has never been my strong suit. I knew exactly what the message and the mission of the company were, but it's always been hard for me to explain it to the consumer," says Jungman. "What's interesting about our approach as a brand is to differentiate it from a medical brand to be a science-backed brand. I'm not a dermatologist. I'm a Ph.D. in skin science. My approach is very different from a doctor doing skincare in a clinic. I'm in a lab researching ingredients and their interactions with the skin."
About a year ago, Dr. Elsa Jungman, then named ELSI Beauty after Jungman and her grandmother Simone, raised roughly $1 million from Sekhmet Ventures, Founders Futures and The Refiners. A portion of the money was dedicated to hiring Kerri Moore, formerly director of marketing at Follain, Custom Ink and Rue La La, as CMO. Moore was integral in reshaping the brand to center Jungman's scientific pedigree in its story.
"For our rebrand and particularly our naming, we always knew we wanted to lead with science and establish ourselves as the trusted source for optimal skin health," she says. "There are many clean beauty brands and claims and lots of misguided information available to consumers these days. We felt it was important to differentiate in a way that brought science back into the conversation in an inspiring and relatable way."
In practice, Dr. Elsa Jungman's science occurs in a San Francisco lab, where she and consulting cosmetic chemist Angella Sprauve, formerly in product development at Yes To and Bare Escentuals, identify and analyze ingredients that sooth inflamed skin. All of the brand's products have five ingredients or less. Its new cleanser No Soap has only three ingredients (jojoba seed oil, castor seed oil and tocopherol), and was tinkered with in the lab for a year and a half before Jungman settled on its formula. "It was the most challenging product I ever developed," she says. "It's microbiome-friendly, but also removes dirt and makeup"
No Soap joins Begin Again, which contains avocado oil, castor seed oil, polyglycerol-4 oleate and tocopherol, in Dr. Elsa Jungman's cleansing lineup. The brand has three serums: Start Over with squalane, plukenetia volubilis seed oil and tocopherol for dry to normal skin; Bio Restore with sunflower seed oil, oat kernel extract and passion fruit seed oil for very dry skin; and Oat Power with squalane, oat kernel oil, plukenetia volubilis seed oil and tocopherol for combination to oily skin. An online quiz directs consumers to the products right for them. The cleansers are $40 for 2-oz. bottles and the serums are $70 for .5-oz. bottles.
"We always knew we wanted to lead with science and establish ourselves as the trusted source for optimal skin health."
"I don't want to do a routine with more than two or three products. I would love to go into sun care, but we aren't working on it yet," says Jungman. "For me, skincare is about a moisturizer and, if you have on makeup or skincare, you need to gently cleanse it off. Otherwise, you don't need to. And the next thing is protection against UV rays that's super gentle for the skin."
Her journey to launching a sensitive skincare brand is highly personal. At 18 years old, Jungman suffered from toxic shock syndrome, and the treatment she was given for it left her skin easily aggravated. Scanning the skincare market for solutions, she felt people with skin like hers were underserved, and she began creating Dr. Elsa Jungman in 2018. The market for sensitive skin products is large—and growing. Some 60% to 70% of women report a degree of skin sensitivity. Six years ago, a study by Mintel discovered ultra-gentle products appeal to 71% of facial skincare users.
A substantial proportion of Dr. Elsa Jungman's customers are going through major changes (e.g., pregnancy or menopause) that have caused hormonal fluctuations inducing sensitive skin. Jungman points out there's a dearth of studies on the relationship between hormones and the microbiome, an area her lab is exploring as part of its effort to prioritize women's health in skincare research. She says, "Your skin is an organ. It's not just about aesthetics, and we are trying to understand the big picture." Dr. Elsa Jungman partners with microbiologist Kelly Haas on its microbiome research.
The brand is certified microbiome-friendly through MyMicrobiome and, in August, it hosted a webinar series on the microbiome that was its most popular to date. Prior to the pandemic, Dr. Elsa Jungman relied on in-person events to drive brand awareness, and it often threw facial yoga events. Now, it's built an online library of facial yoga exercises and recommends e-commerce customers specific facial yoga exercises to pair with their skincare regimens. Additional shifts Dr. Elsa Jungman made amid the global health crisis were to move from paid to organic marketing tapping micro-influencers and conduct one-on-one skin consultations virtually.
Dealing with stressed skin, the consumers Jungman consulted "were really trying to listen to their skin during this time because they weren't using makeup," she says. "They really started to take the time to understand with what they were doing to their skin." She continues, "It's about trying to explain to them it's not just about the product that you put on, but how you feel. That's why we do facial yoga, and we encourage them to meditate or go out for a walk."
Coronavirus-related issues led to product testing delays and pushed back the reveal of Dr. Elsa Jungman's rebranding from the summer to the fall. Uncertainties surrounding the macro environment is making the brand's revenue goal uncertain, too. "We are not focusing so much on revenue, but on getting loyal customers and really understanding our target customers," says Jungman. Her brand is currently concentrating on direct-to-consumer distribution, but she's open to forging relationships with key retailers that reinforce its positioning.
"The brand is more than a brand," says Jungman. "It's a skin-kind movement to help you be at peace with your skin. We are trying to define the new code of clean beauty. We really want to bring the scientific piece of it forward to enable people to have the best products for their skin for the long-term."