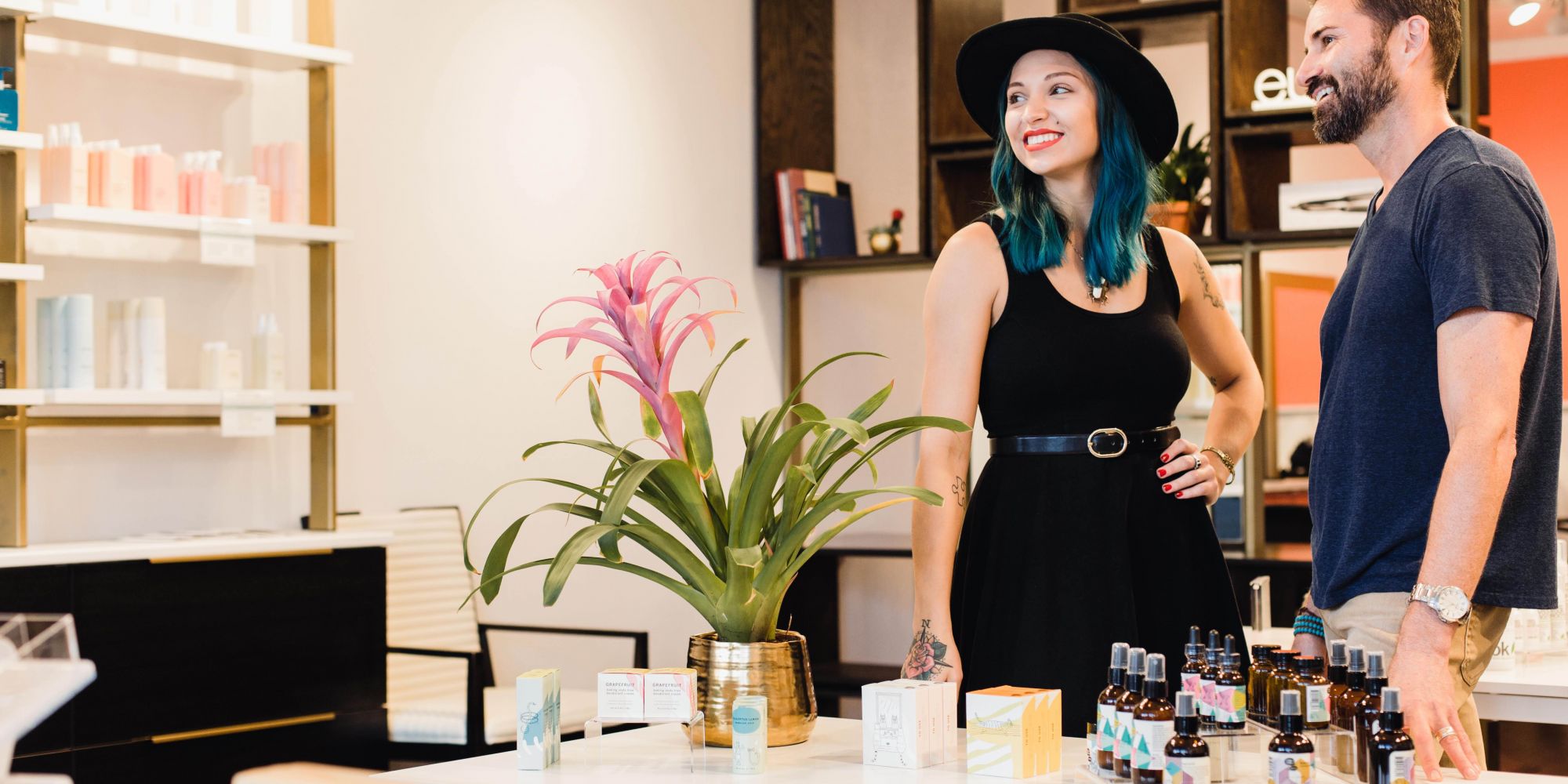 Sentrel Natural Beauty Is Austin's Newest Center For High-Performance Clean Beauty Products
Sarah Bensley has gone from hairstylist James Bryant's assistant to his partner in Austin's new beauty destination Sentrel Natural Beauty.
A year ago, Bensley and Bryant hatched the concept of a boutique-cum-salon showcasing clean hair and skin brands chosen by trained beauty professionals with a focus on effectiveness. Today, their 1,200-square-foot space guides shoppers through a handpicked selection that includes Meow Meow Tweet, Yarok, Eufora, Kevin Murphy and Sachajuan with testers, descriptive shelf talkers and on-site expertise.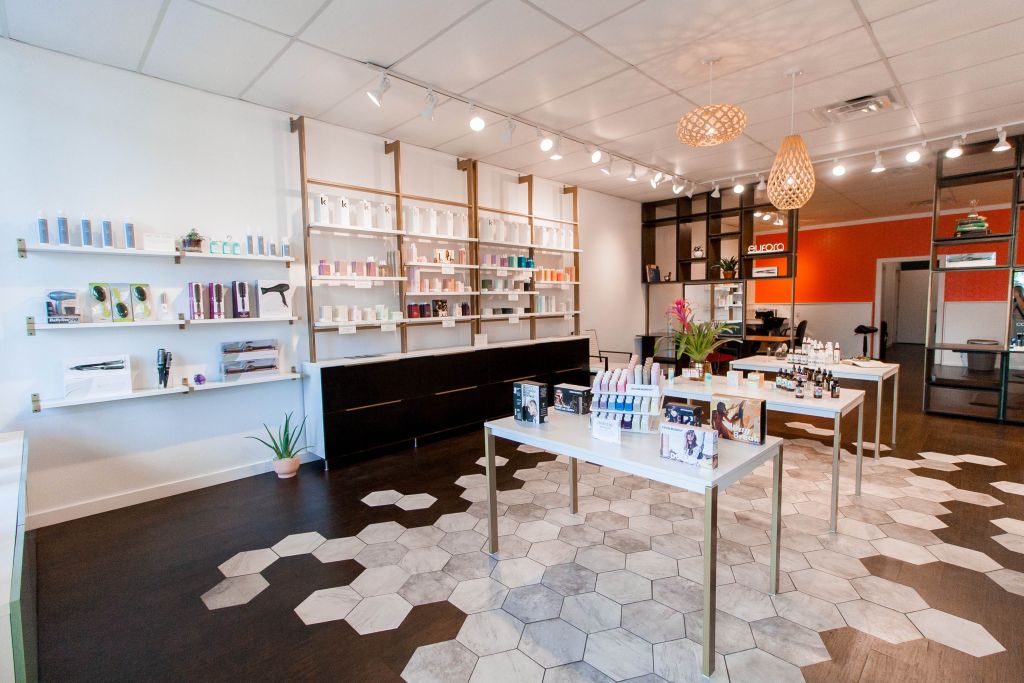 "You can walk into the store and find whatever suits your hair and skin type, but you don't have to read the backs of bottles. You can trust that we have vetted everything so it doesn't have harmful ingredients and fillers, and it's all going to work," says Bensley. "You can buy shampoo and conditioner at Whole Foods, but it isn't going to give you the volume or performance that you need. We don't want to sacrifice beauty standards to be natural and healthy."
Sentrel's interior design is crisp and bright, and relies on a color palette of white, brown and gold against which colorful beauty packaging pops. Large custom shelves house hair care merchandise, tables are filled with products to explore and the floor contains a geometric pattern made out of marble tiles that references beehives. The retail component dominates most of floor, but there are also four salon chairs where Bensley and Bryant handle their hairstyling clientele.
That clientele is influential in determining the brands Sentrel Natural Beauty picks up. "We look at social media and do online research for brands that check all of our boxes in terms of being natural, responsibly-sourced and cruelty-free, then we buy or request samples. We try them on ourselves and our clients while we do hair. We get a lot of feedback," explains Bensley. "We want to make sure that not only is it natural, but that it works well, and our clients like the way it smells. We want everything to be luxurious, and we want to know the full experience of what it's like to use the products."
At first, Sentrel Natural Beautypurchases a small amount of a brand's products. Bensley estimates the store ordered 50 Meow Meow Tweet units initially. Once a brand is a hit with customers, Sentrel delves deeper into its assortment. The store is broadening the Meow Meow Tweet selection, for example, following early success with the brand's products.
"Our apprentice [Teri Gonzales] used the Meow Meow Tweet deodorant, and she loved it. So, I tried it and loved it. I tested it in August, and it held up. If you've ever used a natural deodorant during August in Austin, you know a lot of them don't hold up. I was surprised how well it worked and how simple the products are," says Bensley. "People have been really drawn to the brand. As soon as we brought it in, we sold out quickly."
To develop Sentrel Natural Beauty, Bensley discloses it took $10,000 in personal funds and a $80,000 small business loan. She is hopeful the store will be generating good returns on that investment within two years. In addition to the physical location, Sentrel is driving revenues through an e-commerce portal that currently sells the six beauty brands and Usmooth hair tools available at the store.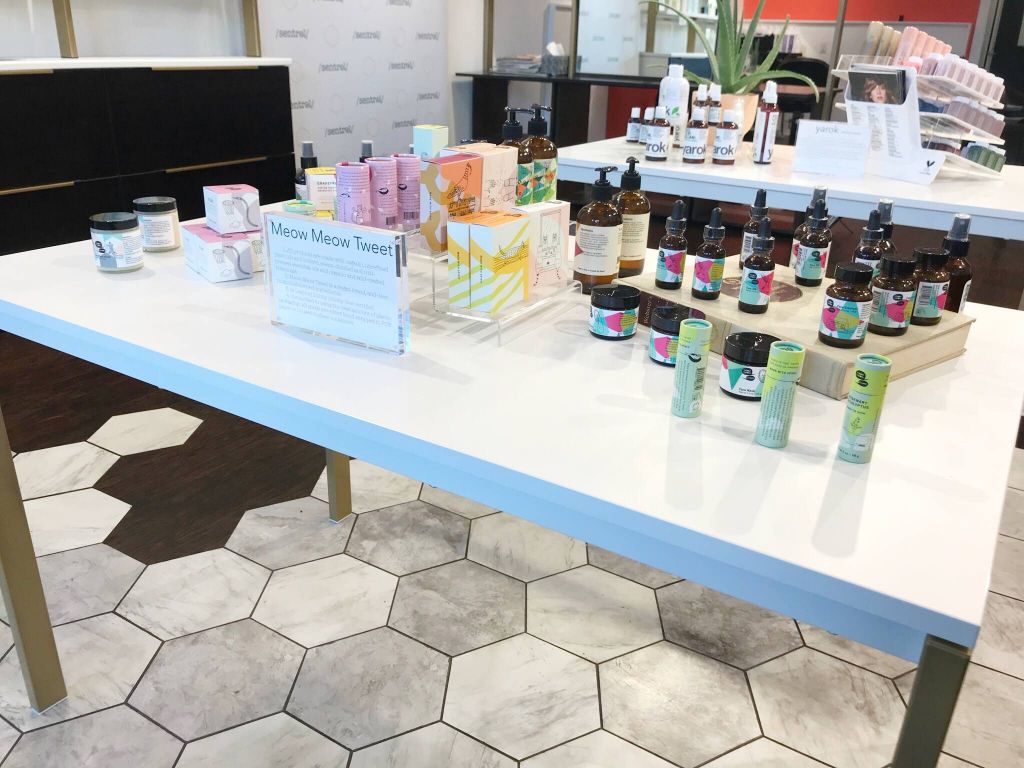 Bensley met Bryant when he helmed James Allan: The Salon, where she landed a job five years ago out of the beauty school Avenue Five Institute. Later, Bensley decided to set up shop in a suite Bryant occupied at Sola Salon Studios. Before Bensley became a hairstylist, Bryant had converted to clean beauty products after battling lymphoma, and he introduced Bensley to natural beauty remedies.
"He is my mentor in doing hair, and he's such a great leader in life," she effuses. "We realized that, if we could work in a tiny little room together, we could work together on something bigger. We decided to create a haven for beauty products that we are going to keep growing as a lifestyle brand."
Bensley describes Sentrel's core customers as 25- to 55-year-old women who exude casual elegance. They're interested in natural beauty offerings, but are bigger sticklers for products that deliver on their promises. "They want something really nice. It's not a bunch of hippies," laughs Bensley. She suggests eco-chic rather than granola is an apt adjective to typify the clientele.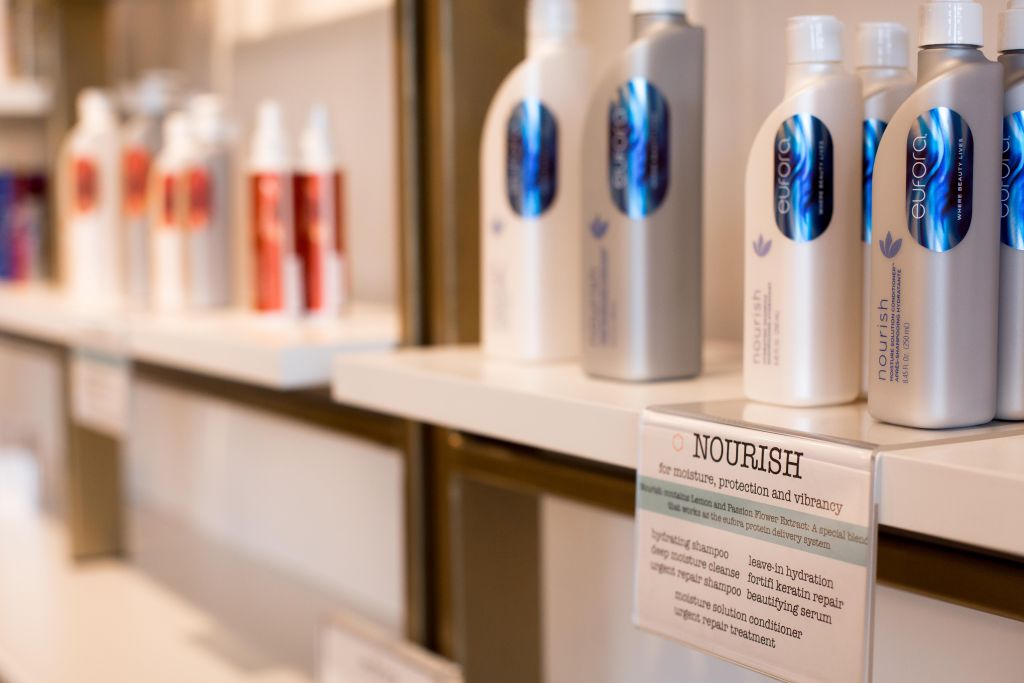 Bensley details Sentrel Natural Beauty is located in an area of Northwest Austin that's attracting young, affluent families. "It's not a sleepy neighborhood anymore. There are businesses coming in and, with that, retail is doing well," she says. "The demographic in this part of town has a lot of money. They will spend it on something they want to use everyday, that looks good and fits into their lifestyles."