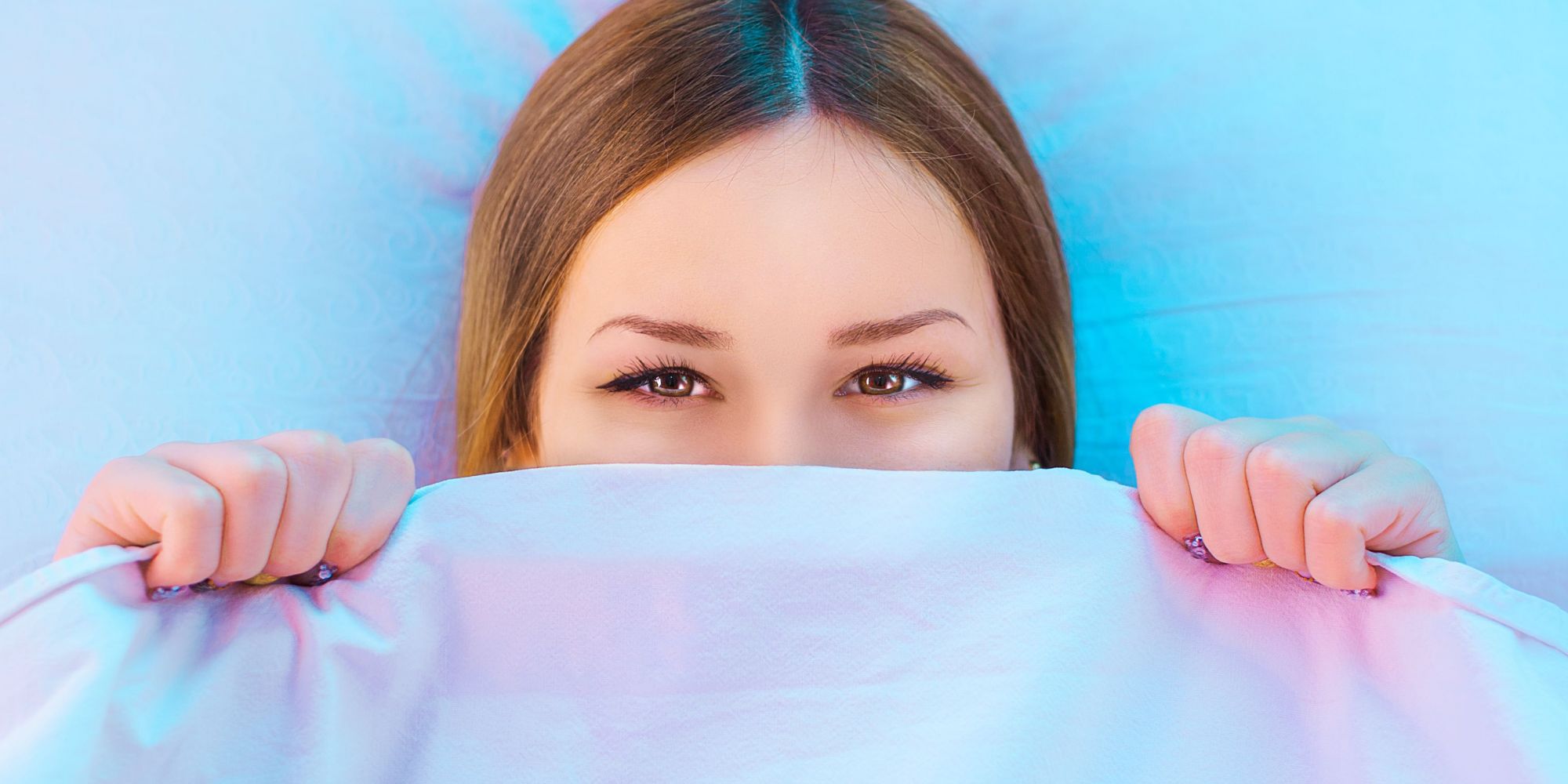 Sex Talk At The Point Of Sale
When Michelle Marcus, vice president of sales and marketing at natural intimate products brand Sliquid, chats about masturbation with a squeamish customer, the word masturbation doesn't cross her lips. Instead, she throws the term solo play into the exchange with the jujitsu skills of a mother sneaking kale into her kid's fruit smoothie.
"You don't want to offend anybody or make them feel uncomfortable, but you want to get to the nitty gritty," says Marcus. "People are so much more receptive to using solo play in place of masturbation because masturbation is such an uncomfortable word for people. Solo play is a lot easier on the ears."
Marcus is well practiced in the language subtleties of the sexual health business, and a growing group of beauty store salespeople, hairstylists, makeup artists and aestheticians are becoming accustomed to sex talk, too. As lubricants, libido remedies, aphrodisiacs and feminine washes make strong inroads into beauty distribution, retailers, spas and salons are sorting through how to sell the once-taboo sexual health products in settings not traditionally big on sex and avoid awkwardness that sends consumers out the door.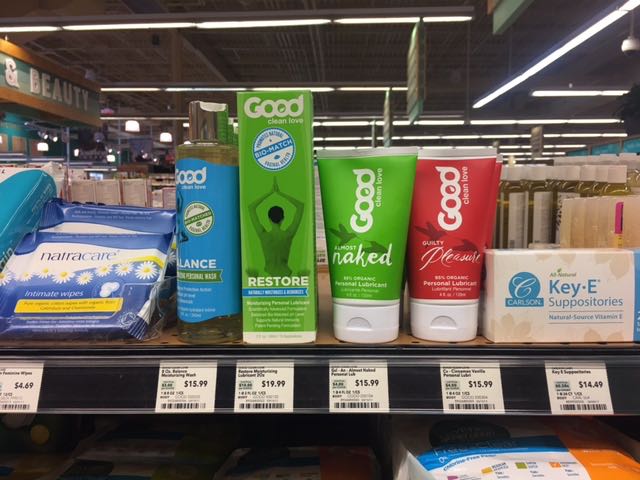 "I could sell anything else in the world and it would easier than what we sell, but it's such an important and vital part of who we are," says Wendy Strgar, CEO and founder of natural sexual and hygiene products brand Good Clean Love. "Young women are becoming bolder and asking for more, and they want to lead the way into a different relationship to this category."
Pioneering beauty stores and e-tailers have broken down the barriers between beauty and sexuality. Most famously, Goop has stirred controversy by spotlighting vaginal steaming, anal sex and jade eggs. Goop isn't the first to discover sex, though. Long before it, now defunct Studio BeautyMix at Fred Segal installed a large display of high-end Jimmyjane vibrators that were snapped up by cutting-edge Southern California customers.
"What Goop's done is great. They've brought it out into the open. They've made it chic and conversational," says Elena Severin, director of retail and a buyer at The Detox Market. "I think people have always been interested in it, and the embarrassment or shame of having to ask about it is quickly eroding."
With the wellness movement magnifying, clean beauty retailers like The Detox Market cultivate shame-free environments by placing sexual health merchandise in the context of wellness. If customers are seeking safe, high-quality products to improve the health of their faces and bodies at their stores, it isn't a huge leap for those customers to transition to safe, high-equality sexual health options to better their sex lives and feminine hygiene.
"It's wellness within, wellness without," says Severin. Strgar elaborates, "Sexuality starts with wellness. If we are not sexually and hygienically well, then we are just not well. It's the same thing as gut health."
Broaching the topic of wellness with customers veers discussions away from the particulars of sex. While there are products, notably Moon Juice's Sex Dust, that don't shy away from introducing the idea of sex into customer interactions, store clerks still have to cope with shoppers uneasy about delving into sex and genitals with strangers in a store. Wellness concepts are broadly accepted and understood, and sidestepping the word sex can be constructive.
"Sexuality starts with wellness. If we are not sexually and hygienically well, then we are just not well. It's the same thing as gut health," says Strgar of Good Clean Love.
"We do everything we can do to make it comfortable to talk about what it is to be healthy in a sexual way without even using the word sex," says Strgar. Marcus offers, "I have just found ways to be able to maybe not specifically use certain words, but to create the conversations so that it directs them there. It is like laying down the bricks for them to walk into it."
In spas and salons, where customers have close relationships with the people cutting their hair or injecting Botox into their faces, sex may be not as unusual a subject matter as it is in beauty stores. The regular banter between customers and hairstylists or aestheticians can provide opportunities to explain sexual health products.
"Salon environments are conducive to all kinds of conversations," says Roya Adjory, co-owner of Nori's Eco Salon in Los Angeles, which carries Good Clean Love items. For example, she details, "I have a client, an executive who suffers from severe dryness. She even had a procedure done to solve it, but it had not helped. She was sharing with me in a joking manner that it is her husband's birthday and maybe he will get lucky tonight. They sleep separately due to her lack of energy and the fact that sex hurts. I told her about one of the products, which is a daily moisture treatment for the vagina."
At Spa In The City in Dallas, owner Josanne Stephens suggests complaints from post-menopausal women about lower estrogen levels causing signs of aging on the skin spark chatter about consequences of estrogen depletion generally. "When you start having estrogen decline, it affects everything, and K-Y Jelly isn't always the answer," she says. "If there is a client that's been with me for 10 to 15 years, I know them and I'm just going to say, 'Is it affecting everything? Are you and Bob having issues at night?' I know husband's names. For other people, I might say it more gently."
Spa In The City is launching Sliquid in its retail area this week and Stephens believes its placement there could lead to questions that ultimately produce sales. Private treatment rooms can be venues for intimate products, too. In the rooms, Marcus says spa clients "browse without thinking someone might be judging them because it's very personal."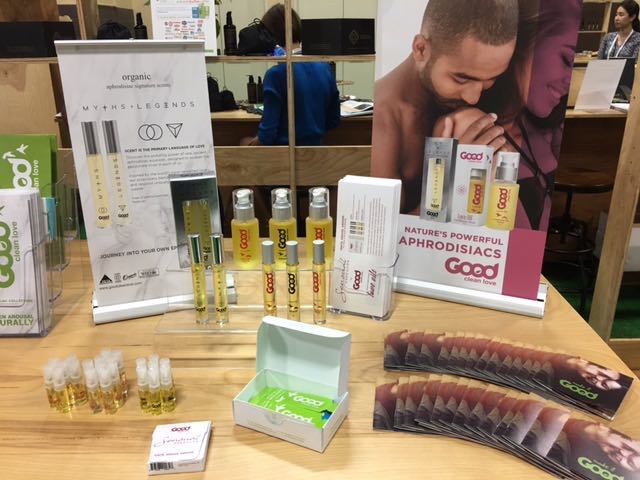 In stores, Strgar has found spots with a ton of exposure aren't the best for sexual health merchandise. Good Clean Love doesn't go after endcaps, typically coveted retail real estate. "People need a place where they don't feel people are watching them when they buy this product," she says. "You wouldn't normally request the back shelf, but we actually do well there."
Strgar estimates shoppers stand in front of shelves containing intimate products for 43 seconds. Since they aren't studying the products for a long time in the stores, Good Clean Love supplies samples and literature for customers to take home, where they are more apt to linger and reflect on sexual health solutions. Rebecca Cook, vice president of sales and marketing for Good Clean Love, emphasizes it's crucial for the brand to have excellent reviews online since customers often turn to web research on a product they've seen in stores.
"If a review pops up with five stores, the person feels comfortable getting the product," she says. "Digital is our sales person, even in the store. It speaks volumes to the customer."
The Internet continues to be a haven for customers hesitant to shop at brick-and-mortar locations for sexual health products. "Online definitely is the place to feel a little freer," says Severin. The Detox Market is considering a classification for sexual health products on its website. CAP Beauty assembles Apothecanna's Sexy Time Personal Intimacy Oil, Living Libation's Radiant Love Butter and Province Apothecary's Lover's Oil into a Sexy Time category under its Body + Bath tab online.
Intimacy product brands have created gateway products to ease customers into their selections. Feminine washes, shave creams and massage oils in a Balance Collection are common points of entry for Sliquid. In addition, the brand has released products, notably its Satin by Sliquid intimate moisturizers housed in cobalt blue bottles, designed to blend into spa assortments.
"For the individual carrying that product, she's not advertising to all the people around her that she might have issues. If somebody were to grab it and say, 'I'm so glad you have lotion, can I borrow it?,'" it makes for an easy fake out," says Marcus. In the retail sections of spas and salons, she notes, Satin by Sliquid has a "seamless relationship with other products in the beauty category. They can have it at front rather than keep it on the DL."
"If a review pops up with five stores, the person feels comfortable getting the product," says Good Clean Love's Cook. "Digital is our sales person, even in the store. It speaks volumes to the customer."
No matter how much merchandise is disguised, sexual health products don't sell if the people selling it aren't open to dialogues about sex. "We have tried gift shops and they never had a strong response for us. The gift shop owners, that's not a conversation they're comfortable having and that translates to their customers. Everyone is uncomfortable together," says Strgar. "It's really challenging."
TAKEAWAYS
Sexual health is a growing category at spas, salons and beauty stores, but it's difficult to sell sexual health products if employees within them aren't open to discussing sex.
Salespeople can use language that doesn't explicitly reference sex to make customers feel comfortable when they're checking out sexual health products. Explaining sexual health in wellness terms is also helpful.
Samples, literature and online reviews are effective ways of familiarizing customers with sexual health products that they often don't want to spend a long time studying at stores.
Sexual health items may sell better on the web or placed in spots inside stores that are a bit hidden.