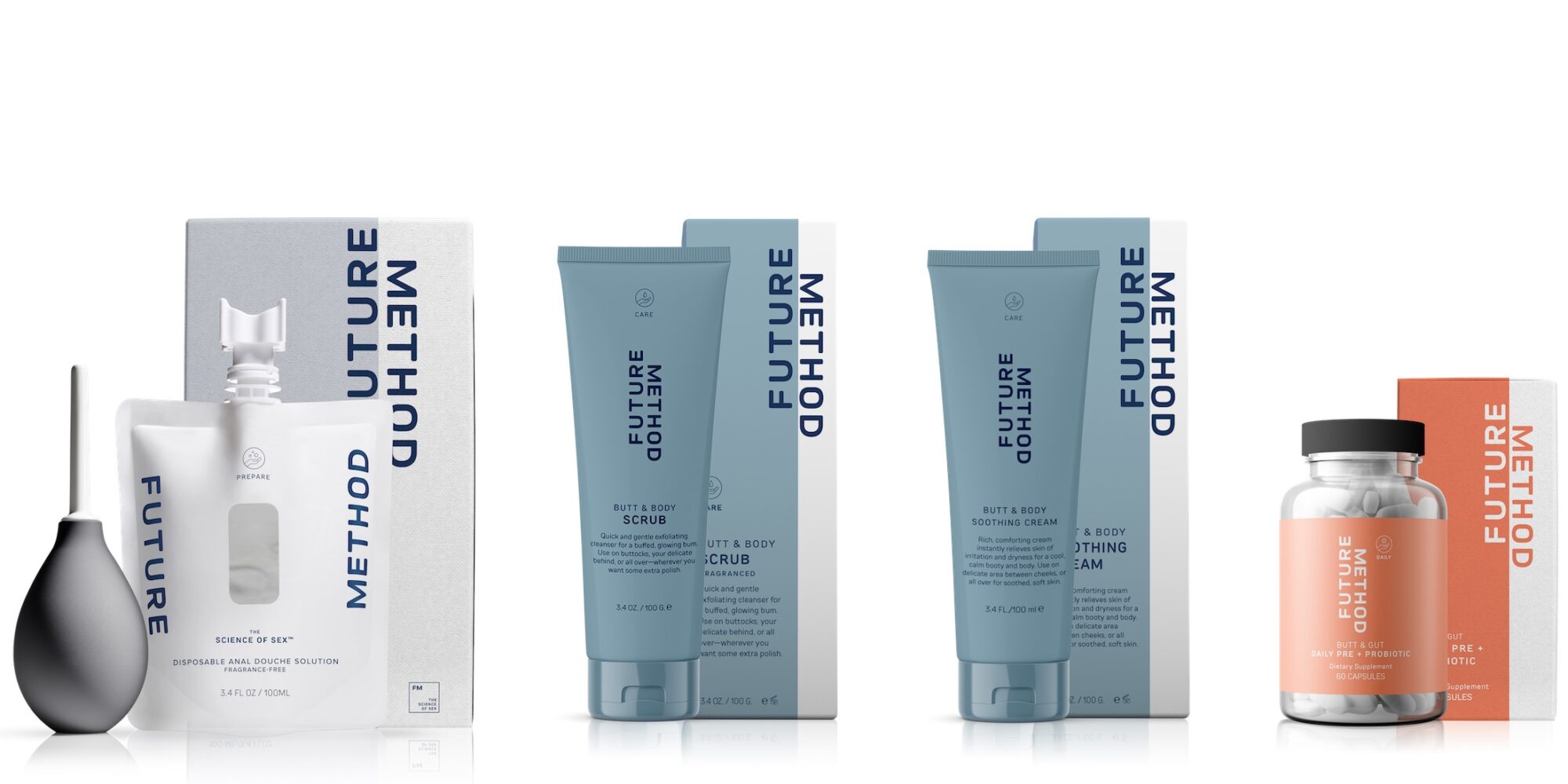 Is Sexual Wellness Ready For Butt Stuff? Future Method Thinks So
"What I do at Future Method and Bespoke Surgical is all about destigmatizing, taking out the taboo," says anal surgeon Evan Goldstein, discussing his sex care brand and New York City medical practice. 
Both of Goldstein's businesses are committed to combining scientific research with judgment-free education to revolutionize the way sexually active people prepare for and enjoy sex, especially anal sex, and tend to their bodies afterward. Two-year-old Future Method is operating at a time when Goldstein says he's seen "the stigma and taboo around anal engagement has lessened," leading to a jump in interest across genders and sexualities. He says, "Sexual practices in America are shifting, and consumers are expecting more throughout all categories of self-care, and sexual health is no exception." 
Future Method generated a splash when it debuted with its Anal Douche and Anal Solution, a scientifically formulated isotonic douche designed to support anal sex. It's since expanded to $35 Butt + Body Scrub and $40 Butt + Body Soothing Cream. The brand drew early fans from among gay males, who constitute the majority of Bespoke Surgical's clientele. However, Future Method has steadily attracted a broader audience with its pioneering approach to sexual wellness. It made Fast Company's list of World's Most Innovative Companies 2021.
Retailers are taking notice. Future Method has placed its Butt + Body Scrub and Disposable Anal Douche Solution Set at lifestyle chain Urban Outfitters, and it's entered sex retailer Hustler Hollywood. "We see a great deal of synergy between Future Method and Urban Outfitters, and are excited to be expanding our wellness category with a wider range of intimate care," said Lindsay Peacock, buyer at Urban Outfitters. "We're pleased to offer Future Method to our customers as an inclusive and innovative brand that aligns well with our values." The brand will be premiering a Amazon storefront later this month, and Goldstein has his sights set on international expansion in the next year.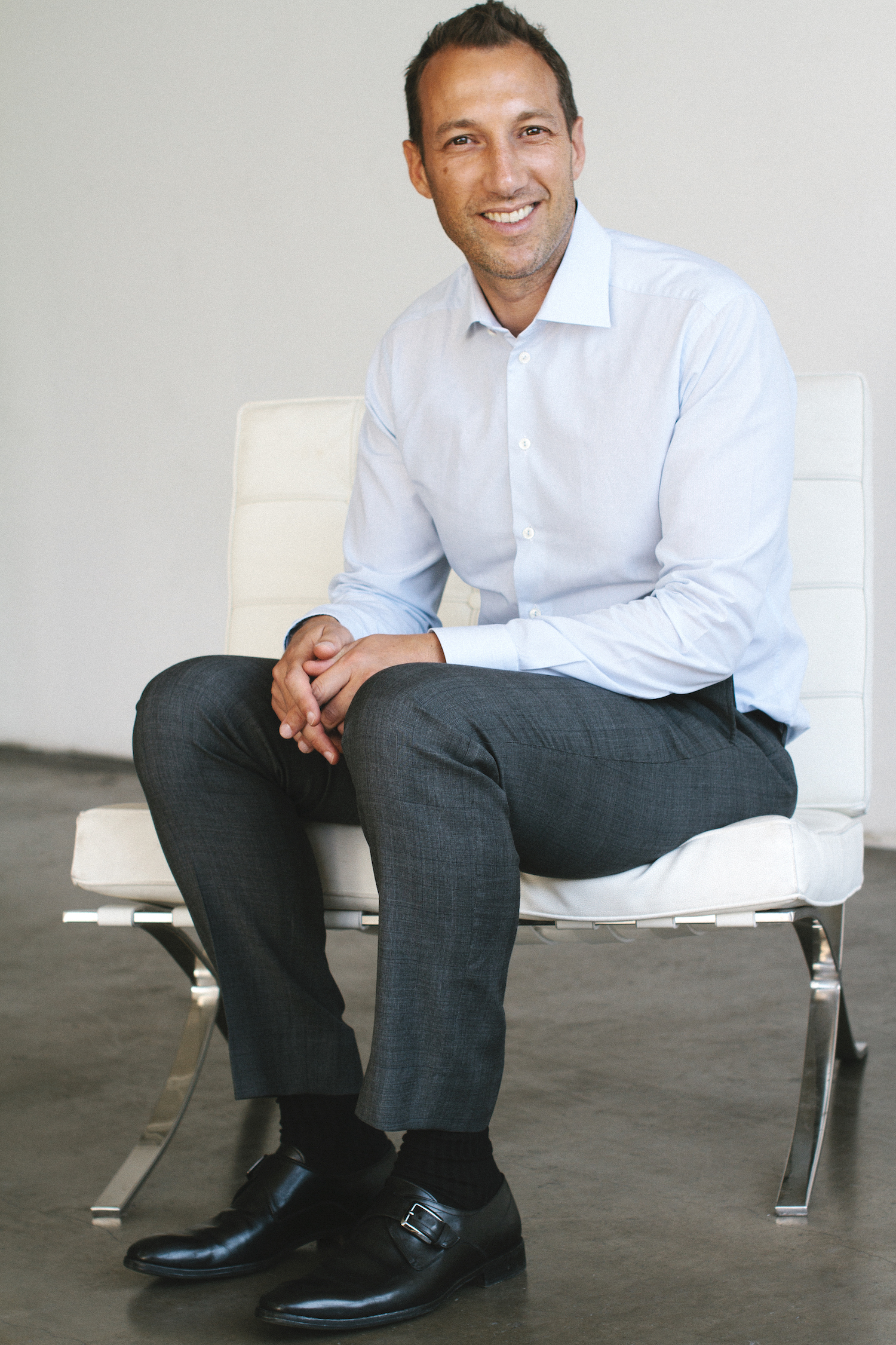 Future Method also recently released its newest offering, $60 Butt & Gut Daily Pre + Probiotic, which addresses the importance of digestive health and a regular gut health routine to fortify sexual wellness. A monthly subscription is available for $54. Goldstein says the product enables him to continue Future Method's mission of destigmatizing sex while easing into the subject. "If people don't want to talk about anal douching and lube because it's too gay, at least we could start talking about the microbiome in a way that starts the conversation of people realizing that this is not just anal health," he explains. "This is not just gut health. This isn't even just vaginal health. We see all the time the misuse of products or products that are not regulated that will cause microbiome issues."
Goldstein points out that microbiome issues can increase the transmission of sexually transmitted diseases, including HIV, and heighten the potential for anal injury. Butt & Gut Daily Pre + Probiotic is carefully designed to target what it needs to target in the body. Goldstein says, "You can imagine most pills get broken down in the stomach, absorbed in the small intestine. How do we get it all the way to the last cells in your body? We needed [lactobacillus] to get to a specific spot. And that was what we worked with. Not only appropriate ingredients, but also different types of capsules that would allow the repopulation of the area in question." He adds that his goal is to show improvement in STD risk and better anal health generally. 
To get Future Method off the ground, Goldstein raised about $3 million, mostly from family and friends. He shares Future Method has subsequently secured a smaller amount of funding, and it expects to raise a series A round in the near feature. "We go back and forth all the time on whether or not the VC world is really the best for us," says Goldstein. "Not at this point, though I think that, as we keep going further, it will be key to get us into those major distributions and international markets, for sure. As we start rolling out more and more and showing our true worth and what we're doing, I think it will gain even more traction."