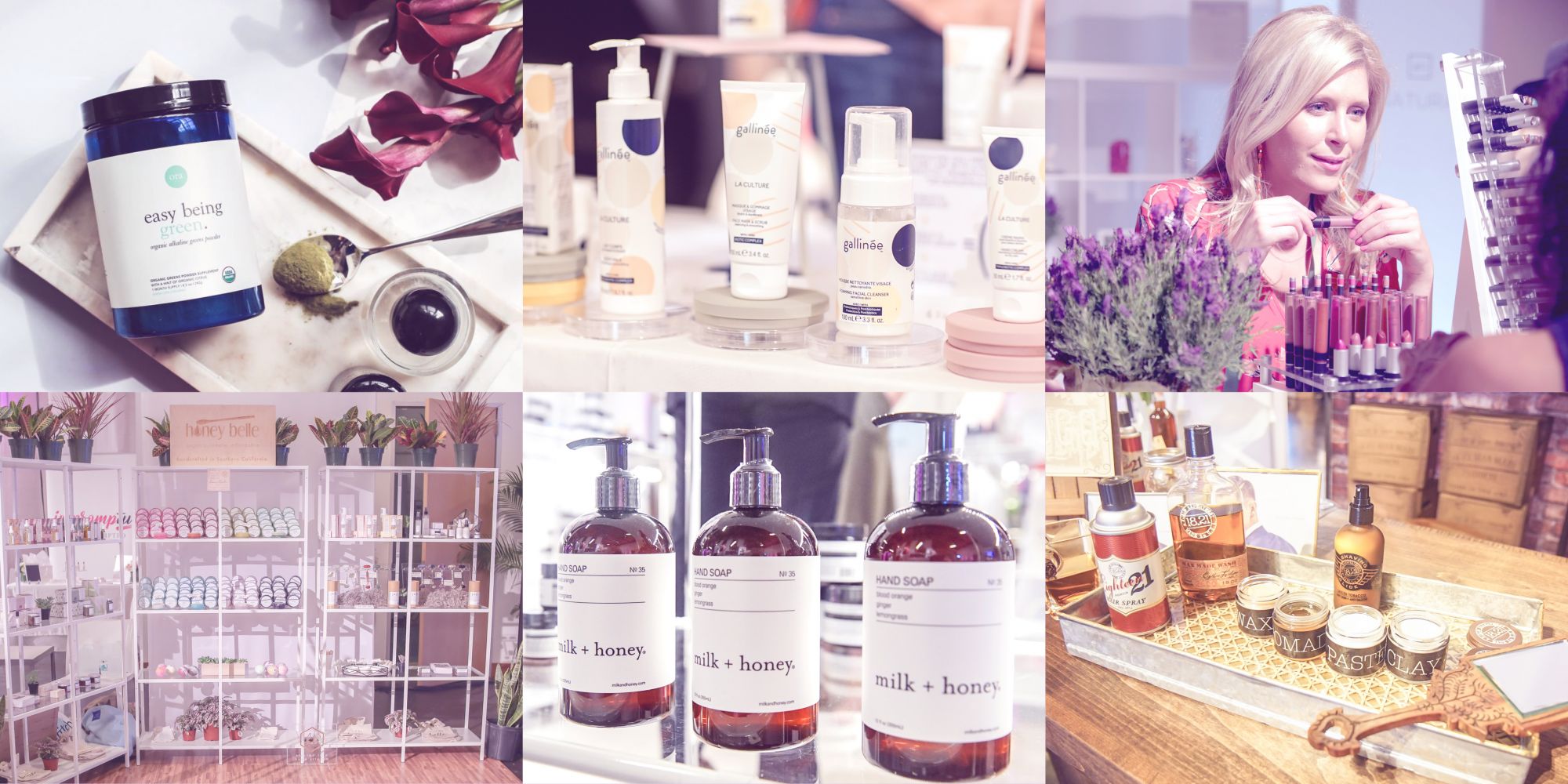 The Sizzling Six: How A Half-Dozen Exhibitors Created Heat For Their Brands At IBE Dallas 2018
Call them the Sizzling Six: the half-dozen leading brands at Indie Beauty Expo Dallas 2018 that rocketed to the top of post-show consumer and buyer surveys. To land high in the results of one such survey is a worthy achievement and no easy task. To rank high in the results of both is a sign of a brand that's firing on all cylinders. So, congratulations to Milk + Honey, Au Naturale, 18.21 Man Made, Honey Belle, Gallinée and Ora Organic—the Sizzling Six.
To find out how and why these particular brands performed well, Beauty Independent went beyond the numbers to gather qualitative information from attendees and founders of the Sizzling Six brands. Among the variables cited as exemplary features—formulations, pre-show public relations, presentation—some constants emerged: The passion, conviction and openness of the founders were, if not the most important elements, crucial determining factors in the overall appeal of the brands. In other words, by all accounts, the messages delivered by Milk and Honey, Au Naturale, 18.21 Man Made, Honey Belle, Gallinée and Ora Organic, were clear, concise and believable.
Related: Lena Rose Retail Buyers Reveal Product Favorites From IBE Dallas
For indie beauty brands and their founders, the work never stops. Each victory leads to another challenge. Interest from a buyer leads to decisions about production schedules and investment. We caught up with the Sizzling Six to talk about how they drive their brands to new heights, the elements of a successful trade show, and post-show follow-up with potential partners. (While brands often like to keep conversations with retailers close to the vest until a deal is signed, members of the Sizzling Six received significant overtures from one or more of the following retailers: Neiman Marcus, CVS, Revolve, Stanley Korshak, WTS, TJX, Varnish Lane, Francesca's, Sally Beauty, Talulah & Hess, Pax & Parker and Everyday Beaut.)
18.21 Man Made
Although it was a last-minute addition to IBE in New York lat year, hair and skin specialist 18.21 Man Made drew much welcome attention at its first Indie Beauty Expo. The brand upped its game with bigger and better presentations at successive shows and, by Dallas this year, it went all out with a premium space and inviting presentation. The brand's setup was the perfect backdrop for ultra-cool founders Angel and David del Solar, and Aston LaFon. "One of the key benefits of the Indie Beauty Expo is that the entire IBE team seems to understand the goals, strengths and challenges of an independent manufacturer and is facilitating a supportive platform for niche businesses to shine," says LaFon. "Today, a person might feel that they've seen just about everything, but that complacency inspires us to bring a special exposition for people to experience and hopefully increases our chances of being discovered by that next great relationship."
By analyzing its past experiences and building on them, 18.21 Man Made made informed decisions about how to put the company in the best position. Like many indie brands, an intense focus on its premium grooming goods and consumer supplied the foundation for its brand message. "Our goods are centered around an uncommon, high performance grooming experience so we might have the best chance to earn our consumer's attention, business and loyalty," says LaFon. "IBE has directly connected 18.21 with media and retailers, which are helping us connect directly to the consumers that we are so passionate to support. And, for that, we will always be grateful." As An Insider's Guide to Dallas' Beauty Extravaganza in PaperCitymag.com put it, "[18.21 Man Made's] Sweet Tobacco cologne is so intoxicating, you will be swiping it from your significant other for yourself."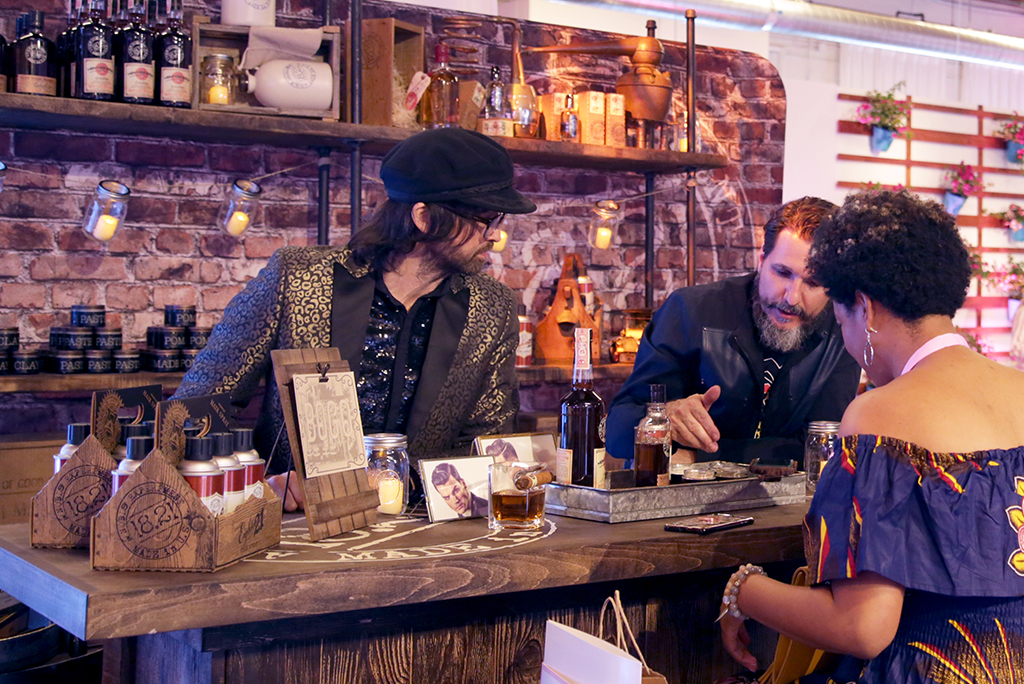 Au Naturale
Organic cosmetics line Au Naturale is an IBE staple. Its striking, colorful booth was present at the very first IBE show in 2015 and has been a popular fixture ever since. Still, founder Ashley Prange is not one to rest on her flower crown. At Dallas, she wowed attendees by making product at the show. Given her multiple experiences, Prange is attuned to the different characteristics of the various event, and is a sounding board for the IBE team and other exhibitors.
"We had deeper conversations with buyers at Dallas than IBE New York," says Prange. "Given that it was a smaller show, we had more time to talk about what they were looking for and what we could offer." For Prange, the show is not just about creating buyer relationships. She sees opportunity in every encounter.  "Meeting with tastemakers—our fans and bloggers—and networking is just as important in the long run as buyers. IBE really brings that together well."
The pre-show questions for Au Naturale hinged on how much of a presence it would have at the BeautyX Retail Summit in Dallas, which took place during the two days prior to the expo. "To be honest, I wasn't sure about BeautyX because I didn't know what the level of information there would be," says Prange. "We're pretty developed, so we don't need 101s, but Jillian [Wright, co-founder of IBE] filled me in on the curriculum and who'd be attending, so we went. The breakout sessions moved beyond basics, and I got to know [retail expert] Kelly St. John so much better because of that. So, we had all these contacts in hand from BeautyX and that worked in tandem the following days at the expo."
Au Naturale received press attention from leading local outlet D magazine for its cosmetics that "feel as good as going make-up free" and was a favorite of GreenPassionBeauty.com and AbeautifulPursuit.com. Retail interest was strong as well. "We met with Amazon during BeautyX Summit and, then, at IBE, so we're joining forces and will be on Amazon's Indie Beauty Shop in October. We'll see what happens," says Prange. "We also started talking to HSN there and, while there is not yet a contract, we continue to meet."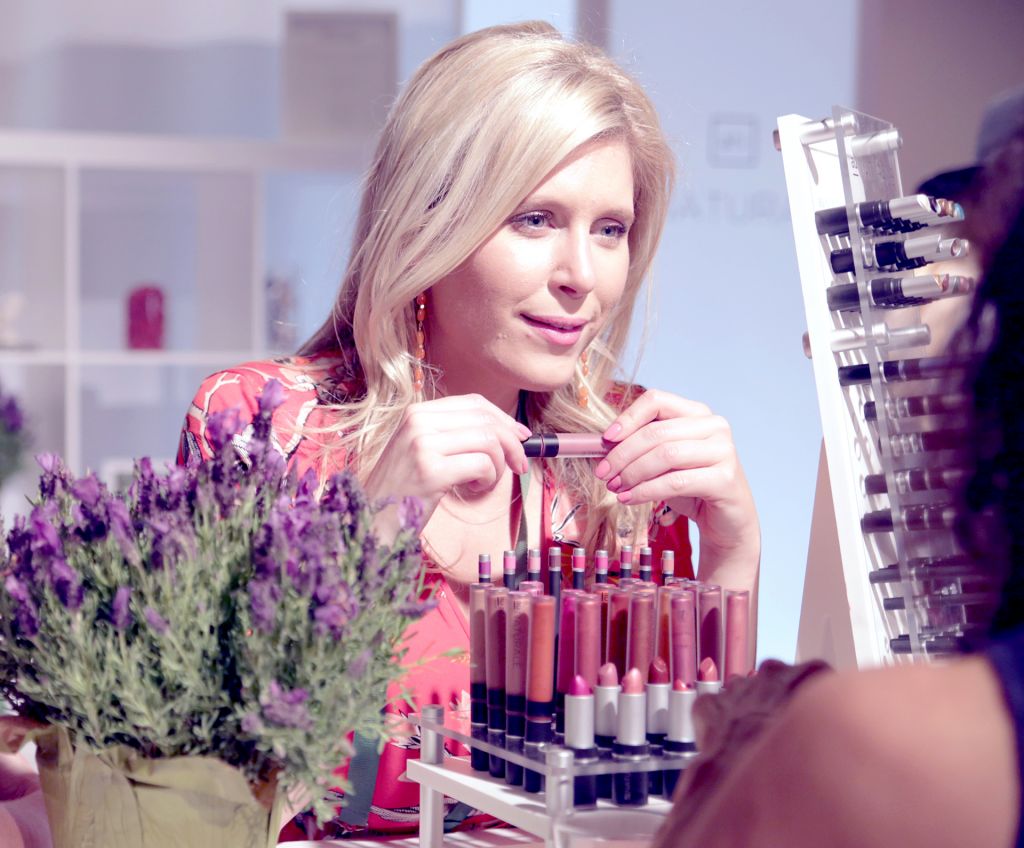 Milk + Honey
Buyers and consumers alike flocked to the display of Milk + Honey, one of two regional favorites in the Sizzling Six to generate crowds and accolades at the show. (18.21 Man Made is the other Texas brand to make the list). Alissa Bayer, founder of the Austin-based spa chain and skincare product line, built pre-show buzz with her organic products and inclusive approach. 
Milk + Honey locations have set the same prices for women's and men's haircuts, and welcome customers to use whatever locker room they might identify with, regardless of the sex they were labelled with at birth. "We are all about making people feel comfortable and appreciated," Bayer told Beauty Independent at IBE New York last year. "It could be coming from a reaction to politics, but our goal is really to make people feel fairly treated." 
Bayer's hospitable personality and the apothecary feel of her line won her many fans at IBE. SMUStyle.com hailed its "line of luxurious, organic products" at the show, specifically its Cream Deodorant No. 33, Arnica Balm and Lip Butter No. 58., and WhereTraveler.com drew attention to Milk + Honey's availability the Neiman Marcus.
"From merchandising to product education, our strategy going into our first IBE show [in Dallas] last year was to stay true to our brand, to our minimalist aesthetic, and to our commitment to democratizing clean beauty," says Bayer. "No over-the-top displays or overwhelming amounts of printed materials. We also couldn't have succeeded without the support of IBE's Jillian Wright. Without her, we wouldn't have met the buyers at Neiman Marcus, which has lead to a great and exciting partnership."
Honey Belle
Honey Belle is another brand that has built on previous IBE experiences to develop what was hailed as an open, inviting premium space. Its clear brand messages and the packaging for its detox mask, foaming cleanser and other skincare products helped inform its physical space—an emphasis that quickly communicated what the Honey Belle line is and does.
"We've been with Indie Beauty Expo for five seasons," explains Iris Cherng, CEO and founder of Honey Belle. "It's been one of the best business investments, resulting with such amazing turnouts for our growing company. After each expo, we've taken on what worked and what didn't work for us. We've gained feedback from customers and buyers, and made adjustments (packaging, display, branding) each and every show." Again, though, the meticulous work is dependent on telling the brand story. Cherng stresses, "Building the passionate excitement within our team at the show has been key for our success."
"Because of the show, we've worked with larger doors such as Francesca's, Riley Rose, Forever 21, Costco.com, TJX & Company. We have also made key contacts at Sephora, Whole Foods, Urban Outfitters, Neiman Marcus, Sally Beauty, Anthropologie and so much more." — Honey Belle
Honey Belle's commitment to making the most of each Indie Beauty Expo has paid off and not just with survey results. "Because of the show, we've worked with larger doors such as Francesca's, Riley Rose, Forever 21, Costco.com, TJX," says Cherng. "We have also made key contacts at Sephora, Whole Foods, Urban Outfitters, Neiman Marcus, Sally Beauty, Anthropologie and so much more. We definitely love the whole IBE experience and their event production capabilities as well as their ability to build hype to all the attendees and buyers." It goes both ways. Brands such as Honey Belle help IBE build the hype that draws the crowds.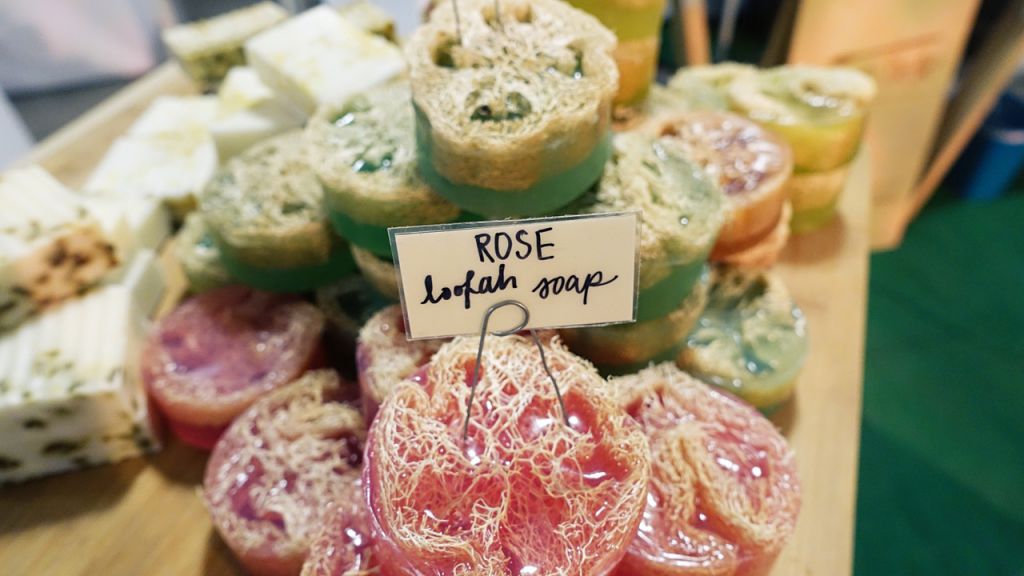 Gallinée
Gallinée rode into Dallas on a wave of anticipation for the relaunch of its popular Cleansing Bar. At one point, prior to the June distribution and production of the bar on a large scale, the brand had a waiting list of more than 500 eager customers for the product. In a post on its website entitled Blood, Tears and Soap Bubbles, Gallinée presented a narrative about why the manufacturing process for its pH balanced bar was difficult to scale up. Thanks to a frank exploration of challenges and heartbreak, founder Marie Drago shares how she managed to turn what would otherwise be seen as devastating event into an educational opportunity for conscious consumers. The how-to's behind the production of soap, it turns out, are equal parts intricate and fascinating. Gallinée's blog post is an example of transparency becoming the order of the day for indie brands.
"We were really excited to present our soap-without-soap at IBE because the product had been so long in the making," says Drago. "It was the first time that consumers could actually touch it (but not buy it, we only had one unit in the world!). I find it so amazing, after you work in secret for months and months (and months—this product has been tricky to manufacture, to say the least), to be able to get direct consumer, buyer and influencer feedback."
"It has not been an easy journey," adds Esther de La Roque, business manager at Gallinée. "Indeed, the first production of the soap was scheduled for October 2017, and we only just relaunched it [after IBE]." The consequence of such scarcity—a crowded booth—couldn't be attributed solely to the rare appearance of a hot product, but the in-show attention was also the result of the effective and widespread public relations operation by Gallinée. Stories about its efforts appeared in media outlets such as Beauty Independent to bloggers and influencers with massive followings.
"The brand always needs a bit of explaining: the bacteria, the microbiome, the pH, the skin barrier," says Drago. "Everyone got it and understood why this soap is so special. It was also very interesting for us to realize that people love to hear about the difficulties, the production problems, and all the less-shiny aspects of having a brand. I was not expecting this, and it was a good learning for us about not hiding anything."
Gallinée also scored big with its lightweight Hand Cream, which can help alleviate symptoms of eczema. Its formula contains probiotics derived from deactivated lactobacillus bacteria in addition to a prebiotic blend. "We have a lot of feedback from people with eczema using Gallinée, so we retested most of our range on atopy-prone skin, and we got excellent results," Drago told BI after IBE Dallas. "Up until now, most products were simple barrier creams that could be greasy, sticky and were only helping with the consequence of the disease. The research around the skin microbiome and probiotics is addressing the cause of eczema, and I think this is going to totally change the way it is treated."
Related: Indie Beauty Expo Dallas 2018: Exclusive Trend Report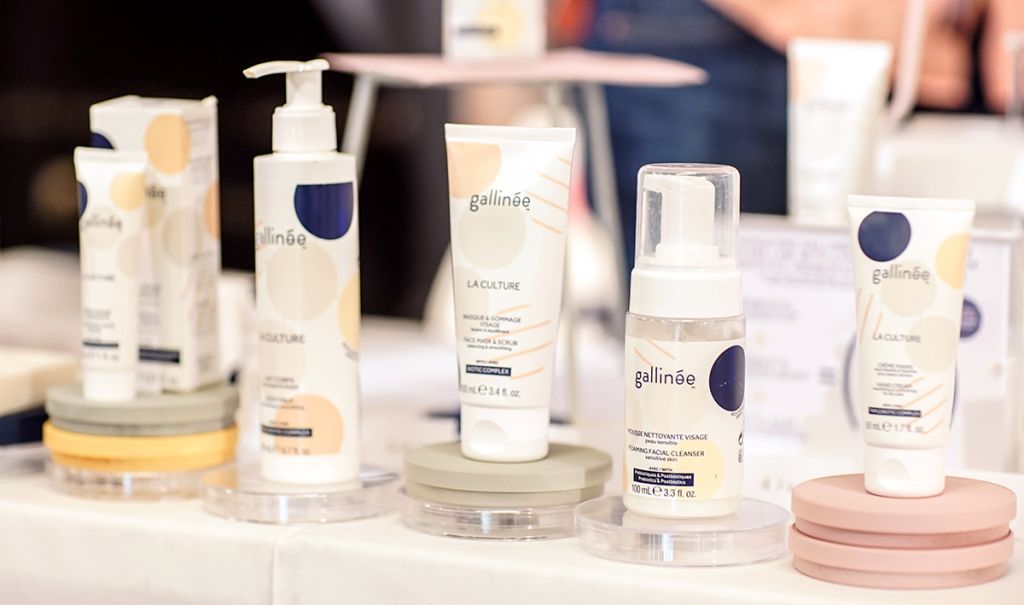 Ora Organic
With an expanding distribution in Southern California, Ora Organic is poised to exploit the growing interest in building beauty from the inside out with its line of ingestibles. Clear labels, easy-to-understand descriptions and presentations in-booth and, perhaps most of all, an array of samples of its delicious blends drew a steady stream of foot traffic to Ora's display.
"IBE Dallas was our first foray into the beauty category as an ingestible beauty brand and, so far, we've had a wonderful experience," says CMO Erica Bryers. "We received great feedback on our packaging (as a supplement brand, we have a different look than most other brands in our space)—but even more on our product quality. A core component of our brand is ingredient quality and clean formulations (no GMOs, only plant-based ingredients and sourcing from organic farms) and that's reinforced by a clean-looking label that helps in communicating that to consumers."
Even then, only half the battle was won. There are quite a few ingestibles loaded with powerful active ingredients that don't gain a following because they taste terrible. Not so with Ora Organic products. Comments about how great the ingestibles tasted were extensive after the show, and a pre-show nod from SMUStyle.com didn't hurt either.
Follow-up has been brisk for Ora Organics. "We met some awesome buyers at the Dallas show, including a very cool fashion chain with a similar demographic to ours," says Bryers. "We've followed up with samples, and they've told us they'd be interested in bringing the brand on this year. There's also another big retailer we met at the show that received samples and is interested in the brand. We're talking with them next week. I can't confirm names yet, but I should be able to do so in the next few months when it all pans out."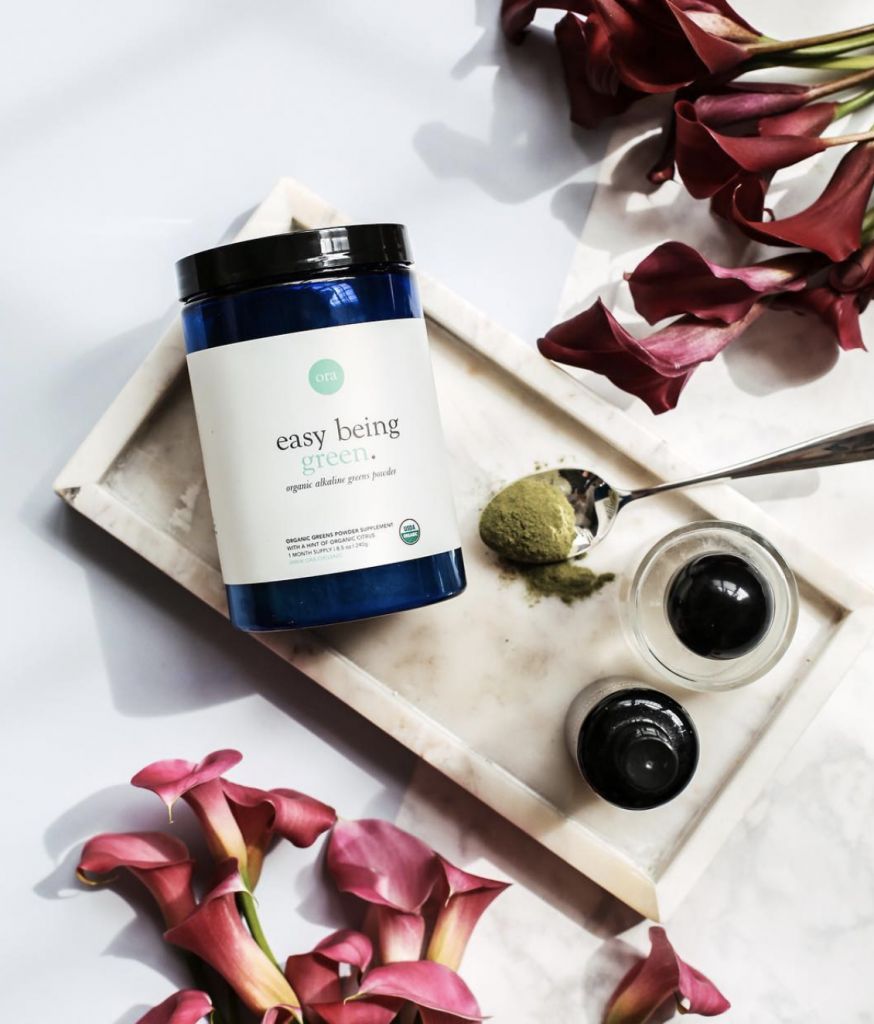 Beauty Independent and Indie Beauty Expo are owned by the Indie Beauty Media Group.