Pass The Bubbly: SkinTe Pops Into The Beauty Market With Carbonated Collagen Teas
A little sizzle never hurt. SkinTe is launching with collagen beauty beverages that add carbonation to a market largely dominated by flat formulas.
The ingestible brand's atypical recipe isn't only due to the bubbles, though. SkinTe also boasts organic herbs, flavonoid-packed teas, a trio of women–naturopathic doctor Amy Bader, chef Elizabeth Zieg and Bassima Mroue, a veteran strategist with experience at Spanx and Nike–who harnessed a mix of health, culinary and business expertise to create it and the backing of beauty industry icon Leslie Blodgett, founder of BareMinerals.
"The formula is all about wellness, and it's a way to get collagen into your life that's super refreshing and fun," says Mroue. Zieg chimes in, "What's so great about our ingredients is they tick all the boxes as far as function and flavor, and they give us beautiful color and aroma. Our sparkling formula helps the flavors sing even more."
Collagen is one of the main ties that bind Bader, Zieg and Mroue. In her practice, Bader lamented patients weren't supplementing their diets with collagen, a protein abundant in the human body that people used to consume extensively through chicken skin, bone broth and other foods. To enhance their diets, she'd recommend sources of collagen to her patients, including long-timer Mroue, to pair with various herbs.
"She said get this collagen and buy these herbs. I kept saying, 'There's no way I'm going to do that. I'm too busy. I need something easy. Can't you create it? I will buy it from you,'" recalls Mroue. "She said, 'I thought about it, but I need someone with a business mindset.' I said, 'I will help you,' and the three of us got together to start a company."
"The formula is all about wellness, and it's a way to get collagen into your life that's super refreshing and fun."
Mroue and Bader turned to Zieg, a fast friend of Bader's from well before SkinTe, to combine bovine collagen with beauty- and wellbeing-boosting herbs chosen by Bader, specifically horsetail, passion flower, hawthorn berry and nettle root, in a scrumptious concoction. A pastry specialist, Zieg carefully tinkered with the blend to hone tastes led by tea for SkinTe's two debut drinks: Green Tea Grapefruit and White Tea Ginger.
"For the White Tea Ginger, it took a lot of iteration to get the ginger threshold just right. It's enough ginger heat to scratch the itch of ginger lovers, but not too much for someone who isn't a big fan of ginger heat," says Zieg. "For the Green Tea Grapefruit, we use a jasmine green tea that has a bit of a floral aroma, and the flavor has a hint of grapefruit, but it's definitely not a grapefruit soda."
The Green Tea Grapefruit has 20 calories and is sweetened with erythritol, while the White Tea Ginger has 40 calories and is sweetened with organic grape juice concentrate. The drinks contain three grams of collagen and 30 milligrams of caffeine. Customers will be able to pre-order them soon.
Bader estimates SkinTe sent around 300 emails to doctors and consumers to field their opinions on caffeine levels and sweeteners as the beverages were being developed. Supported by those opinions, the brand settled on a dose of caffeine that's about a third of the amount found in a cup of coffee and sweetener options. "Our target consumers were segmented between those that were pro-natural sweeteners, and those that weren't. Everybody's different," says Mroue.
"I love the powerhouse trifecta founders. Women who understand what all of us want. This is going to be big."
Mroue elaborates that SkinTe's target consumers are on-the-go women disappointed with the collagen choices they've tried. "They are sick and tired of collagen powder and pills. They want products to be integrated into their lifestyles," she says. "SkinTe is distruptive in the sense that it has the benefits of collagen and tea, but it has sparkle, too. It's easy and stylish. Everything we did from the packaging to the ingredients was intentional."
A box of four 12-oz. SkinTe cans, which are colorfully striped to represent the layers of healthful ingredients in the formulas, is priced at $26.99. Mroue explains the price is driven by the high cost of the brand's contents and the beauty results it provides generally after three to 12 weeks of consistent imbibing. "We want to reinvent collagen and the art of skincare. It's based on the idea of drinking your skincare," she says. "People are buying $400 and $500 creams to put on their faces, but collagen can work from the inside out for only a few dollars a day."
At first, SkinTe will be heavily focused on digital distribution. The brand is considering a subscription service through its website and an Amazon presence. Mroue forecasts 10% of sales this year could come from brick-and-mortar outlets such as spas, stores, fitness locations and restaurants. The brand has raised $300,000 to get off the ground and is now in the process of raising $4 million in convertible notes over two phases. The money is expected to be put toward production and fortifying e-commerce systems.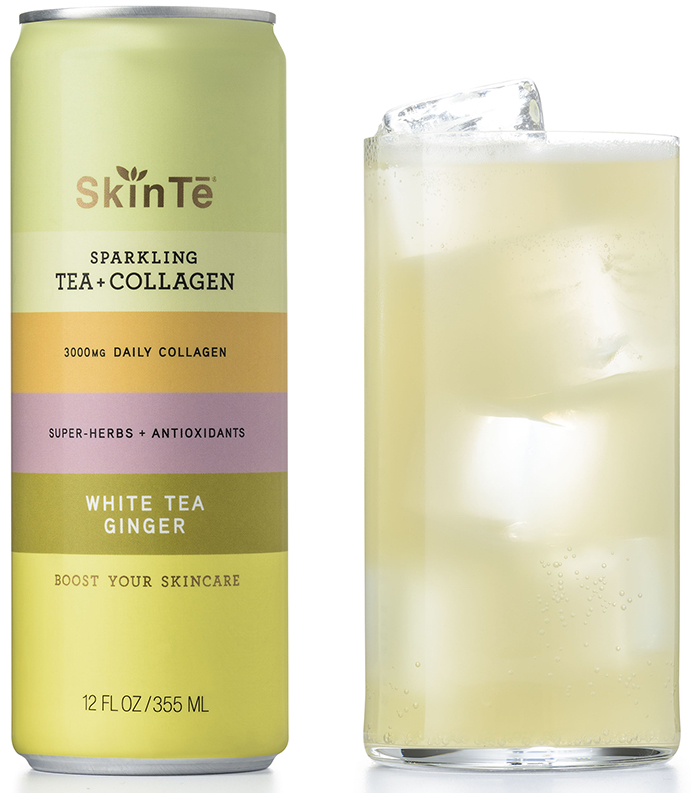 SkinTe has already lined up big-name supporters. Mroue reveals Candace Crawford, a leading executive in the beverage sector instrumental in selling Zico Beverages to The Coca-Cola Co., and Coco Libre to New Age Beverages, is offering the brand guidance. She continues that Dallas Hartwig, co-founder of Whole30, and Blodgett have taken minority stakes in SkinTe. The terms of the deals for their stakes weren't disclosed.
"SkinTe collagen-based sparkling beverages are a breakthrough. Drink your skincare, deliciously addictive. It's that simple," says Blodgett. "And I love the powerhouse trifecta founders. Women who understand what all of us want. This is going to be big."