Source Vitál Apothecary Lives Up To Its Name With The Opening Of Source Vitál Apothecary + Beauty Market
It's easier to serve a cocktail in person than online – and Source Vitál Apothecary is doing just that with a new 1,800-square-foot Houston store where it whips up customized facial cocktails and sells products from a select assortment of its fellow clean beauty brands.
The retail space, which joins an earlier showroom-cum-manfuacturing facility, even includes a bar shoppers can cozy up to while designing bath salt soaks, masks and serums suiting their unique skin types and issues. Introduced by Source Vitál last year, the personalized products infuse the brand with an interactive element that's they plan on expanding further in the new brick-and-mortar addition.
"We wanted to expand our offerings, and we needed more room to continue to expand into customized products," says Paul Colgin, CEO of 29-year-old Source Vitál and nephew of its founder Jerry Pope, about the decision to extend the brand physically. "Our goal is to create a market of like-minded, independently-owned brands whose products complement and share the same clean ingredient philosophy that we have."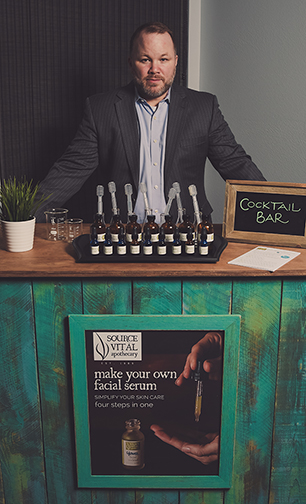 Colgin chose brands and products with prices corresponding to those of Source Vitál's. "We're not a discount brand, but we're also not what I would call a high-end luxury brand where you've got to pay $200 for a face cream," he says. "We wanted to bring in brands that were in that same ballpark."
The brands picked for Source Vitál's retail outpost so far are MyMagicMud, Beauty by Earth, New Heights Naturals, Makana, San Saba Soap Company, Beridan Naturals and Rare El'ements. Merchandise covers the categories skincare, sun care, hair care, lip care, body care and lifestyle. When determining the specific products to stock from brands, Source Vitál considered overlap between the products and Source Vitál's product catalog.
"We don't do any oral care, so we brought in pretty much MyMagicMud's whole [collection]," says Colgin. "Somebody like Beridan Naturals, they do some very similar products to what we already make, so we cherry-picked some of the things out of their line that we really liked."
Colgin is keen on injecting the product mix with ingestibles. He recently placed an order with supplement specialist Ora Organic, a brand he encountered when he attended IBE Dallas as a buyer in May. "With us being an apothecary, our goal is to bring in products that will serve overall wellness," says Colgin. "Bringing in more nutrition and wellness is our next focus."
Source Vitál, which is responsible for one of the first natural spa product lines in the US, has more brick-and-mortar openings planned as soon as spring or summer of 2019. It views the maiden location as an opportunity to learn firsthand what Source Vitál Apothecary + Beauty Market shoppers want.
"Through Q1 of next year, [the goal] is going to be information gathering, talking to our customers," says Colgin, sharing that Source Vitál spent close to $20,000 and he gave up his office to make the store possible. "Then, we'll get serious about taking that next step."