Collagen Sparkling Tea Brand SkinTe Pulls In $3M From Sara Blakely, Karlie Kloss, Diane Von Furstenberg And More
SkinTe is popping in more ways than one.
The collagen sparkling tea brand has drawn $3 million from an array of investors, including Spanx founder Sara Blakely, The Honest Co. and ShoeDazzle co-founder Brian Lee, supermodel and Kode With Klossy founder Karlie Kloss, fashion designer Diane von Furstenberg and Leslie Blodgett, founder of BareMinerals. The capital will be used to fuel the next phase of growth at SkinTe, which is expected to enlarge its retail presence and beverage lineup.
"In the beginning, we were struggling to raise money like every entrepreneur and to see the level of support we have now has been game-changing," says Bassima Mroue, CEO and co-founder of SkinTe. "These women and men are tried-and-true entrepreneurs that have been through it all, and that's really special for us."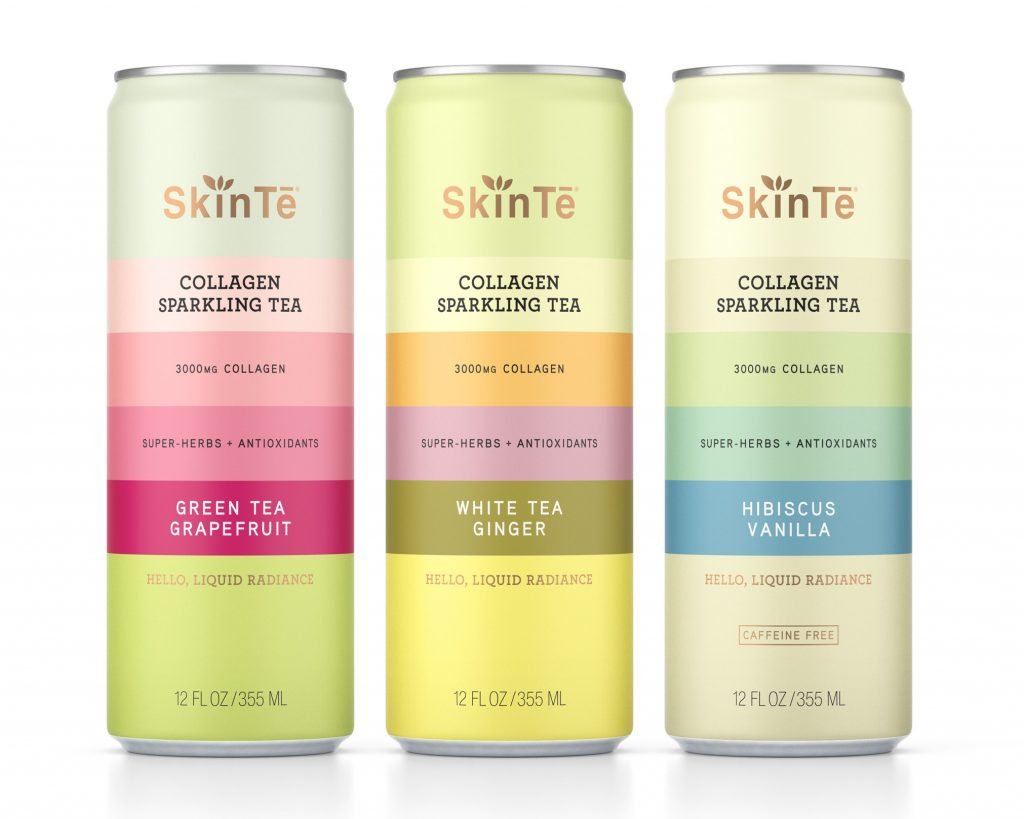 Mroue, a veteran brand strategist who previously held posts at Spanx and Nike, developed SkinTe with chef Elizabeth Zieg and naturopathic doctor Amy Bader. Prior to the ingestible beauty and wellness startup, Mroue had been a patient of Bader's, and she trusted Bader to help restore her health after enduring back surgery and facing stage 4 endometriosis. Bader recommended collagen paired with herbs to Mroue, and the remedy was beneficial, but wasn't in an easy-to-take tasty format that would be welcomed by people outside of Bader's practice.
"Our product stands above collagen and above tea. When we think about SkinTē, we think about it as a true wellness and beauty brand."
Mroue and Bader joined forces to bring an easy-to-take tasty collagen format to market. They enlisted Zieg, a longtime friend of Bader's, in their endeavor to deliver on the flavor component. SkinTe launched last year with Green Tea Grapefruit and White Tea Ginger. The brand has since added caffeine-free variety Hibiscus Vanilla. The teas contain 3,000 milligrams of collagen, and the herbs horsetail, hawthorn berry, passion flower and nettle root. Bader selected the herbs to calm stress, and enhance hair, skin and nails.
Von Furstenberg is impressed by the trio's entrepreneurial journey to SkinTe. "Own your weakness, it [can] become your asset," she exclaims. "It is Bassima's health issues that turned her into a successful entrepreneur and the creator of a wonderful healthy drink." Blodgett and Dallas Hartwig, founder of Whole30, were early backers of SkinTe. Hartwig sits with the naturopathic doctors Corina Dunlap and Thalia Farshchian on the brand's wellness advisory board.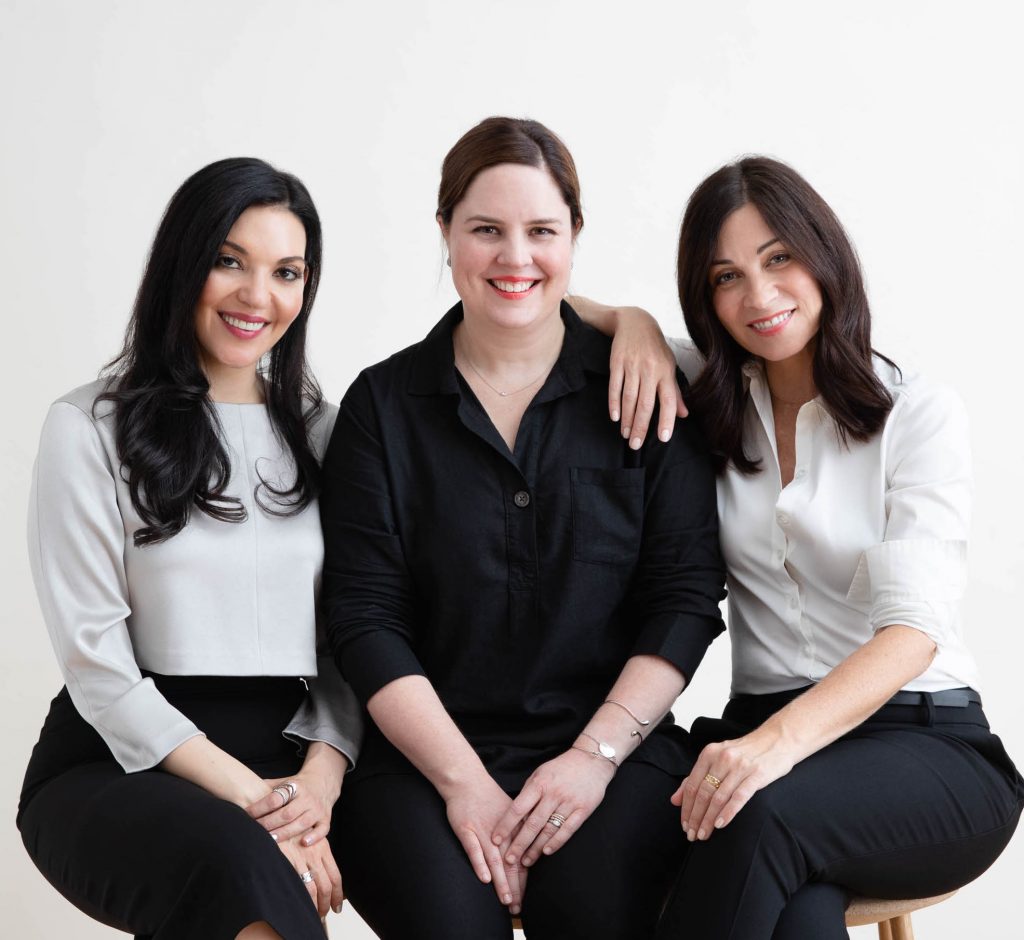 Mroue underscores her personal experience and the professional backgrounds of the triumvirate atop SkinTe were important in investor pitches. However, she shares it was difficult to persuade venture capitalists in particular to fund SkinTe. They warned her that it's tough to rise above the crowds in the competitive beverage segment, but she hammered home the brand's unique proposition. Once investors started to sign on, connections mushroomed the investor pool.
"We have ambitious goals to scale, and we are working through getting ready and geared up for next year."
"The last few million was far different than the first $500,000," says Mroue. She emphasizes, "Our product stands above collagen and above tea. When we think about SkinTe, we think about it as a true wellness and beauty brand. When we formulated the product, we made sure collagen was a part of the formula, but not the only piece of it. That's how we are different from the other collagen products out there." Mroue also points out SkinTe's colorful striped cans are designed with a fashion and beauty consumer in mind.
SkinTe isn't necessarily pursuing the typical beverage distribution route, bombarding every supermarket under the sun. While it's sold at high-end natural grocer Erewhon, the brand has been careful to enter a diverse group of hotels, spas, fashion stores and eateries to boost its premium wellness and beauty positioning. SkinTe is available at Earthbar, C'est Beau1872, Ojai Valley Inn, The Peninsula Beverly Hills, Shen Beauty and Goop pop-ups. In-person events are crucial elements of SkinTe's awareness efforts. It's hosted two sip and shop experiences at Diane von Furstenberg stores. Mroue says, "We are more than a collagen product. We are a beauty product and a fashion accessory."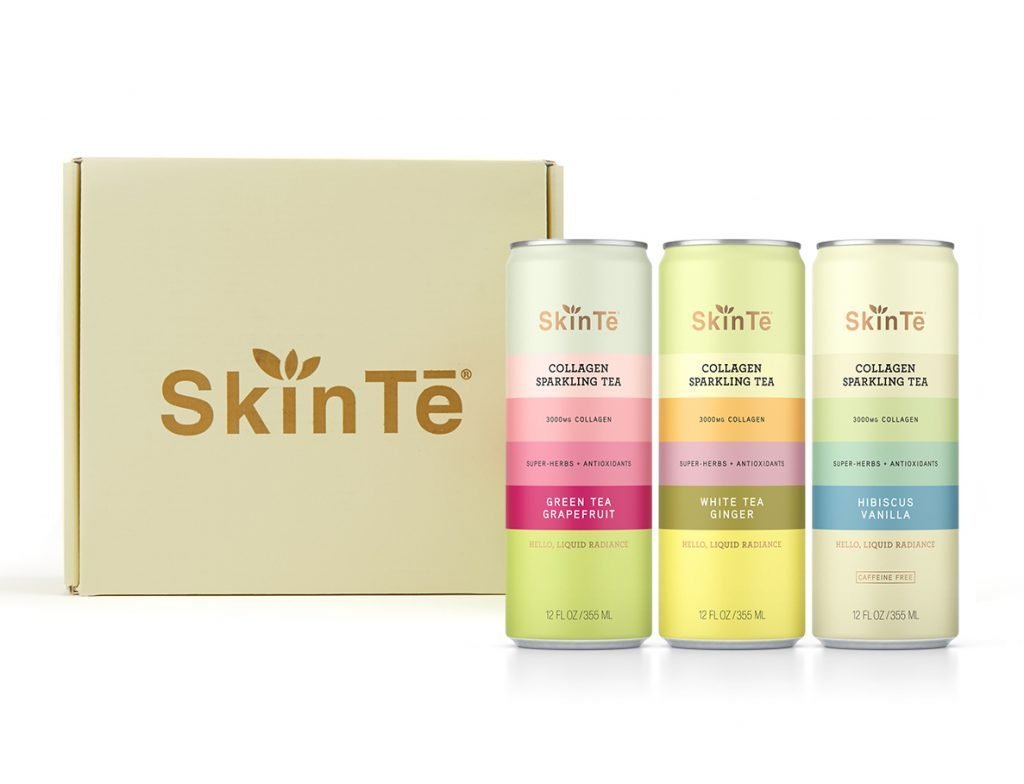 SkinTe wants to extend its distribution to touch the various places its consumers touch. The brand is a fit for upscale gyms and exercise studios, for example, where its consumers get in a workout as well as beauty and fashion boutiques they patronize, snack joints they pop into for sustenance and hotels they travel to. Of course, SkinTe's customers shop online. At the moment, around 40% of the brand's sales are driven by its direct-to-consumer channel. SkinTe has two digital subscription plans: Customers can get two 12 packs of 12-oz. cans for $96 monthly or a single 12 pack of 12-oz. cans for $60 monthly. Cans are priced individually at $6, and a pack of three is $15. SkinTe declined to disclose a revenue projection for this year.
The brand is in talks with major retailers to possibly roll out to them in 2020. The same year, SkinTe will release its fourth product. Mroue hints it will be a second caffeine-free option. To bolster expansion, the brand is building its team that currently has five members and could fundraise again in 2020. SkinTe recently hired Alison Reid Mackay, former global vice president of public relations and social marketing at Bare Escentuals, as CMO. Mroue says, "We have ambitious goals to scale, and we are working through getting ready and geared up for next year."