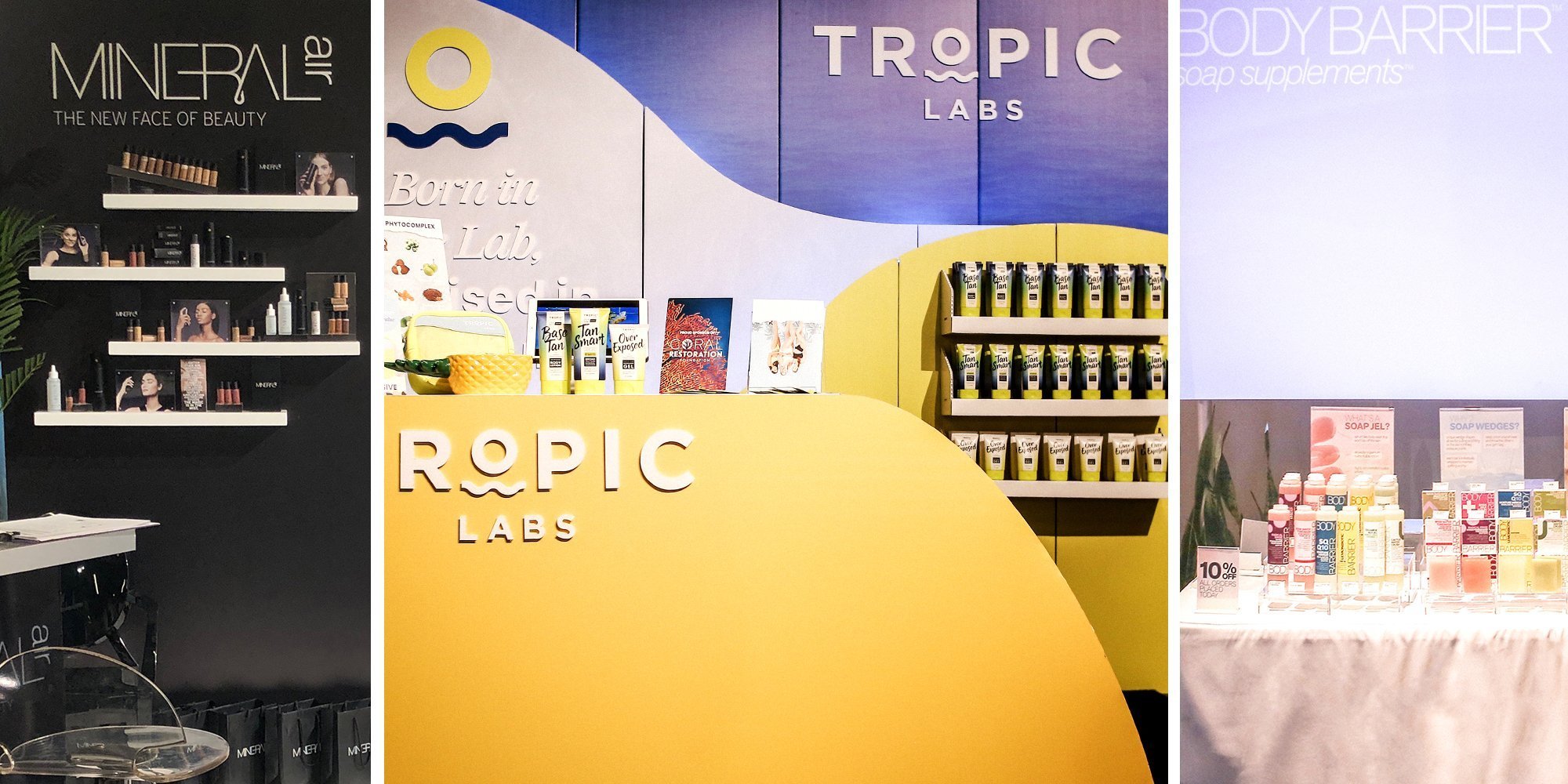 How Standout Exhibition Spaces At IBE Dallas Incorporated Technology, Collaboration And Sustainability
Sometimes taking a chance is all about timing. The most intimate of Indie Beauty Expo's three American trade shows, IBE Dallas is a great stage for being daring with a well-designed space that elevates your brand to the next level. IBE New York has more than double the number of exhibitors, and it's riskier to miss the mark on aesthetics and logistics at the bigger event. Dallas is also a market that rewards bold choices. The standout brands at IBE Dallas 2019 last month were not afraid to make them.
Of course, approaching a custom exhibition space design for a trade show can be quite daunting for a newbie. There are multiple criteria to consider, among them staying on budget, making an impression and being sustainable. Begin with the basics. The first steps are getting a sense of your exhibition space and anticipating how you will execute your vision in it.   
Start the process of setting up a brand display by measuring and taping out the size of your exhibition space on the floor. The exercise helps you gauge the real estate you'll be working with. The square footage isn't the only aspect to keep in mind. Consider the air above the installation and the actual flooring below it. Creating dimension and height from the ground up is key for a comprehensive physical concept.
While nailing a comprehensive physical concept is important, having a unique perspective on your concept is crucial, too. Home in on what can make your exhibition space distinct in order to maximize your presence. At the recent IBE Dallas, which I've helped organize for three years as director of operations, I spotted four brands—Body Barrier, Tropic Labs, LaFlore Probiotic Skincare and Mineral Air—that communicated their points of view effectively by tailoring exhibition spaces with cool technology, impactful partnering and green thinking. 
Related: Create The Perfect Trade Show Exhibition Space, IBE Style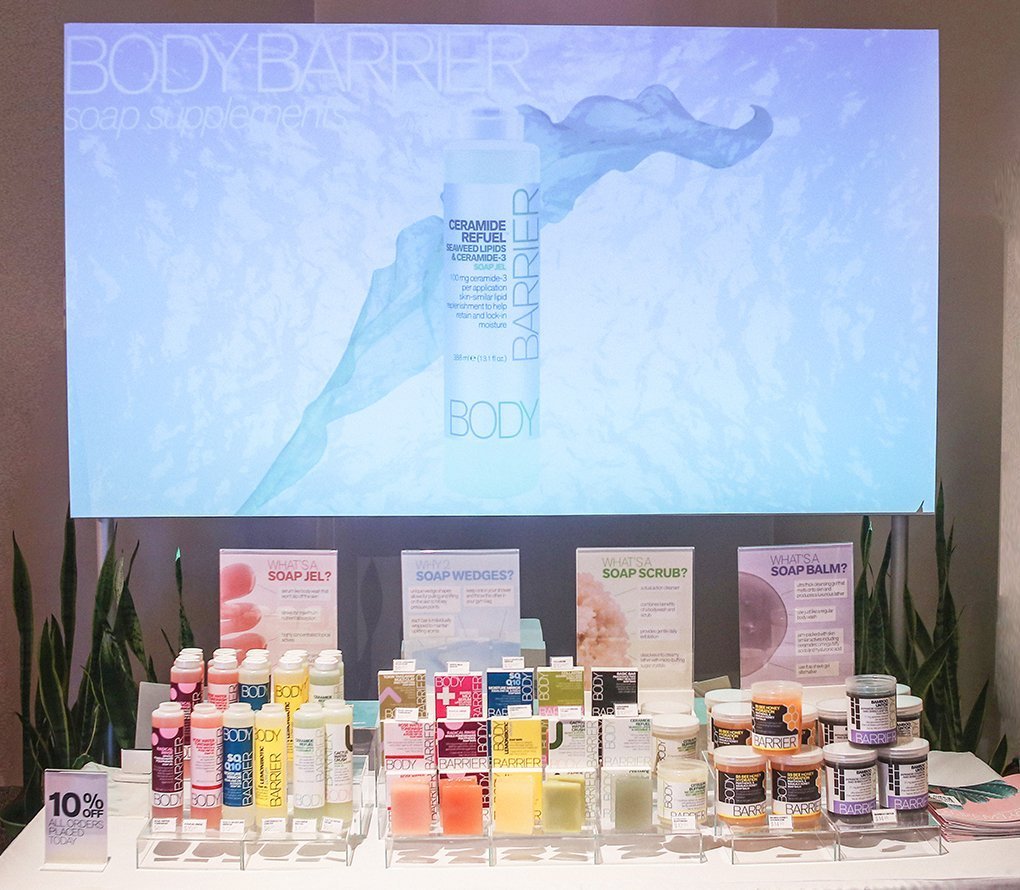 Technology Integration: Body Barrier, a first-time IBE exhibitor, wanted a backdrop that was more elevated than a standard banner. The brand was initially drawn to an illuminated back wall, but then came across a short-throw distance projector that only required a few feet to project upwards and was a total game-changer. I have seen more than two thousand exhibition spaces at IBE, and Body Barrier is the only one that's used a projector. The clean setup and mobile display can be reused at other events and the content can be changed to focus on what they seek to convey at a given moment. Elyse Kantrowitz, vice president at Body Barrier parent company Fresh Formulations, says, "We opted not to use a padded floor for this show. An uneven floor can throw a real wrench in your display setup. But, after working with the screen and making sure the base plates were sturdy, we will definitely have padded flooring in New York."
IBE Pro Tip: When incorporating technology such as a projector, make sure your content is highly saturated with color. If a trade show venue is filled with bright lighting, the content can look washed out and unclear unless you use a high-lumen projector.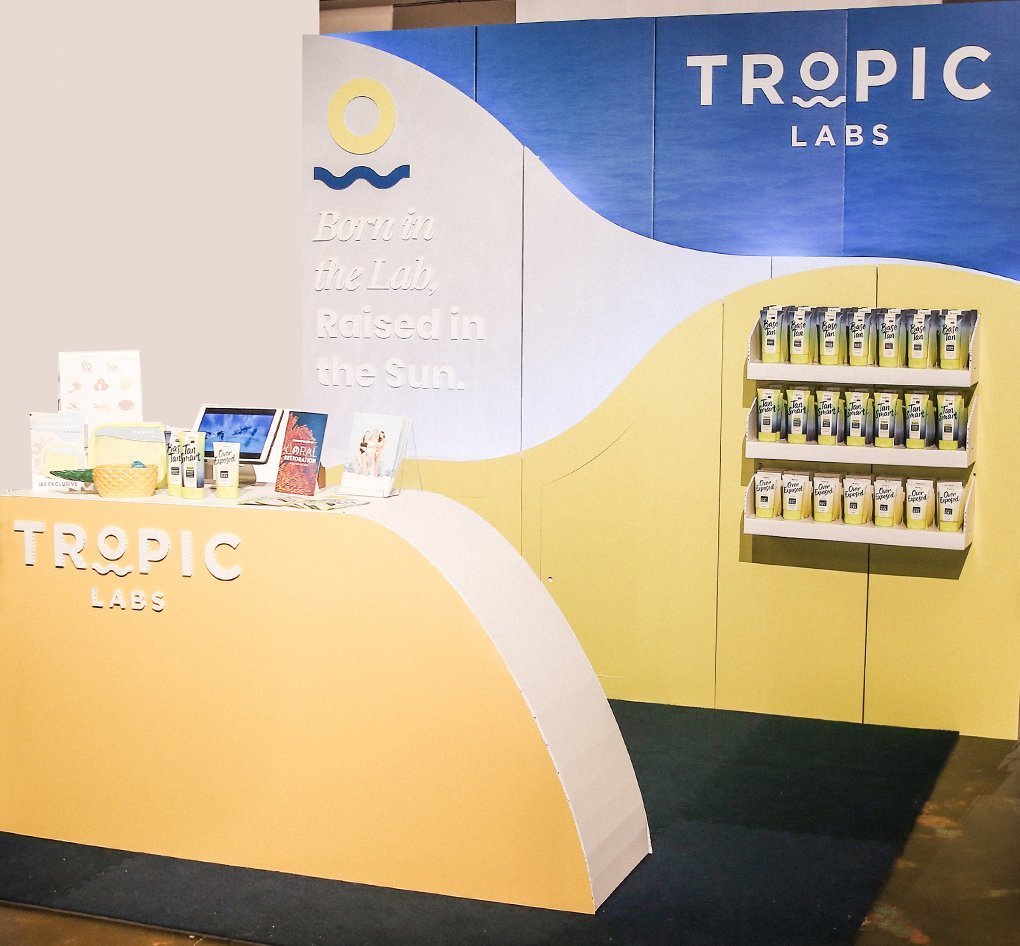 Sustainability: Although I've put on countless large-scale events, it never gets easy to watch the enormous volume of waste produced by them. While some waste is impossible to avoid, brands have opportunities to invest in environmentally-friendly materials and reusable systems. At IBE Dallas, Tropic Labs took sustainability seriously by making its exhibition space activation completely from cardboard. While I've run across cardboard before, I had never seen it dyed and precisely cut the way Tropic Labs did. The angled display table and back wall were certainly trade show standouts. What's more, the sustainable design matched the brand's packaging to perfection. Morgan Ioffe, founder of Tropics Labs, says, "The great thing about working with paper is that you're literally only limited by your imagination. We were able to create shapes and designs that would never have been possible if we went with a less flexible and sustainable solution. We'll get about three uses out of the exhibit. Then, the whole thing gets recycled."
IBE Pro Tip: If your sustainable system is modular, have the structure contain as few seams as possible. Seams can cheapen the modular aesthetic.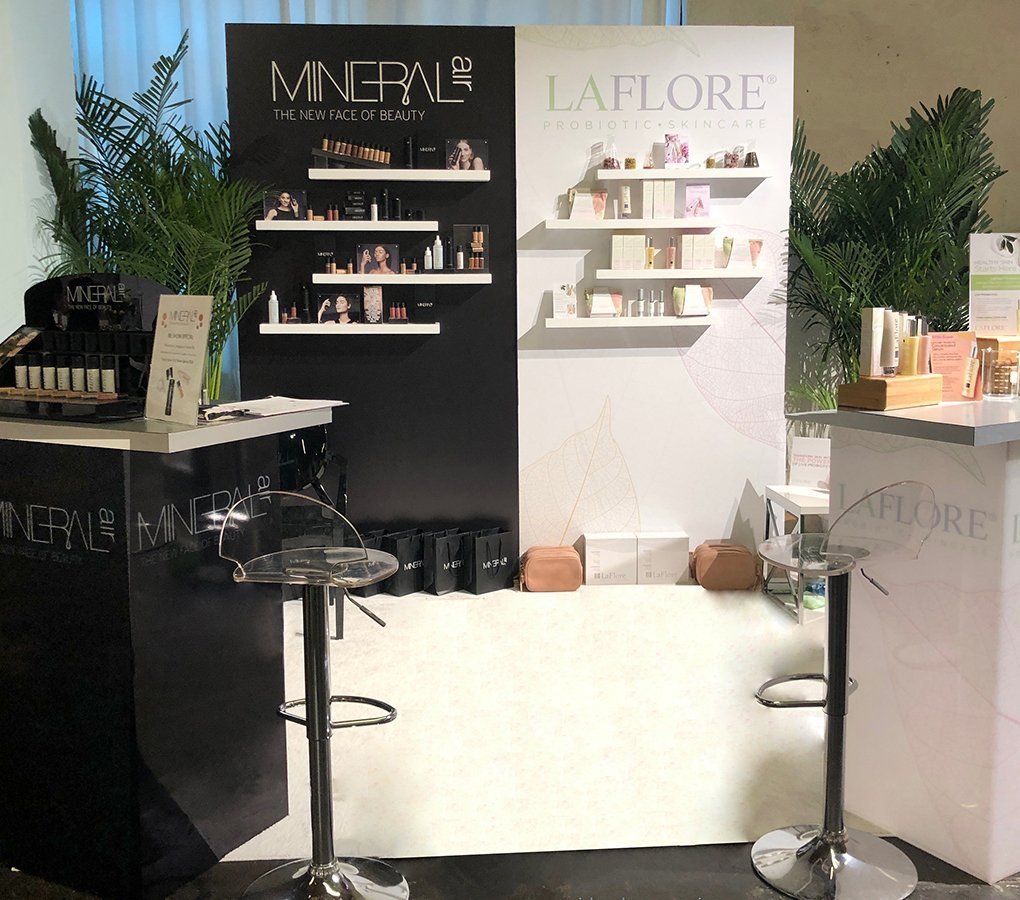 Clever Cohabitation: If a brand forgoes a dedicated space to share real estate with another brand, the possible downside is an unclear presentation of its brand message. It's essential that a collaborating brand communicate with its partner to understand preferences. At IBE Dallas, Mineral Air and LaFlore showcased two very different ideas in one space flawlessly. While the brands have dissimilar packaging and product offerings, they fashioned a symmetrical space to use the same furniture framework, right down to the shelving unit. However, each piece was branded in the colors of their packaging. The brands opted out of a shared long table that would have taken up the whole space and, instead, relied on two sleek high-top pedestals on opposite corners. The setup left the middle and majority of the space open to highlight the back walls and respective logos. 
IBE Pro Tip: If you opt for the minimalist aesthetic and avoid large furniture, definitely account for storage. Sleek furniture like a pedestal will not conceal all the products needed at the exhibition space.  
Five Bonus IBE Pro Tips  
1. Install soft, padded flooring or carpet for your space if the venue is concrete. You will be standing for many hours and don't want to limit your shoe choices. A carpet will permit you to wear anything from stilettos to sneakers.
2. Bring a small tool kit. Every single trade show, the event operations team gets asked for a screwdriver.
3. Don't forget moving and packing materials such as hand trucks, boxes and packing tape. Label those materials if you'd like to bring them home with you. 
4. If the venue requires you to use their staff to assemble or you hire an outside company for assembly, be present during setup to oversee. You don't want your exhibition space fail to comply with your expectations. 
5. Don't wait until the last day of your trade show to finalize shipping logistics for getting your product out of the venue. You can never assume that two venues will have the same process or same vendors, and it's imperative to coordinate beforehand.