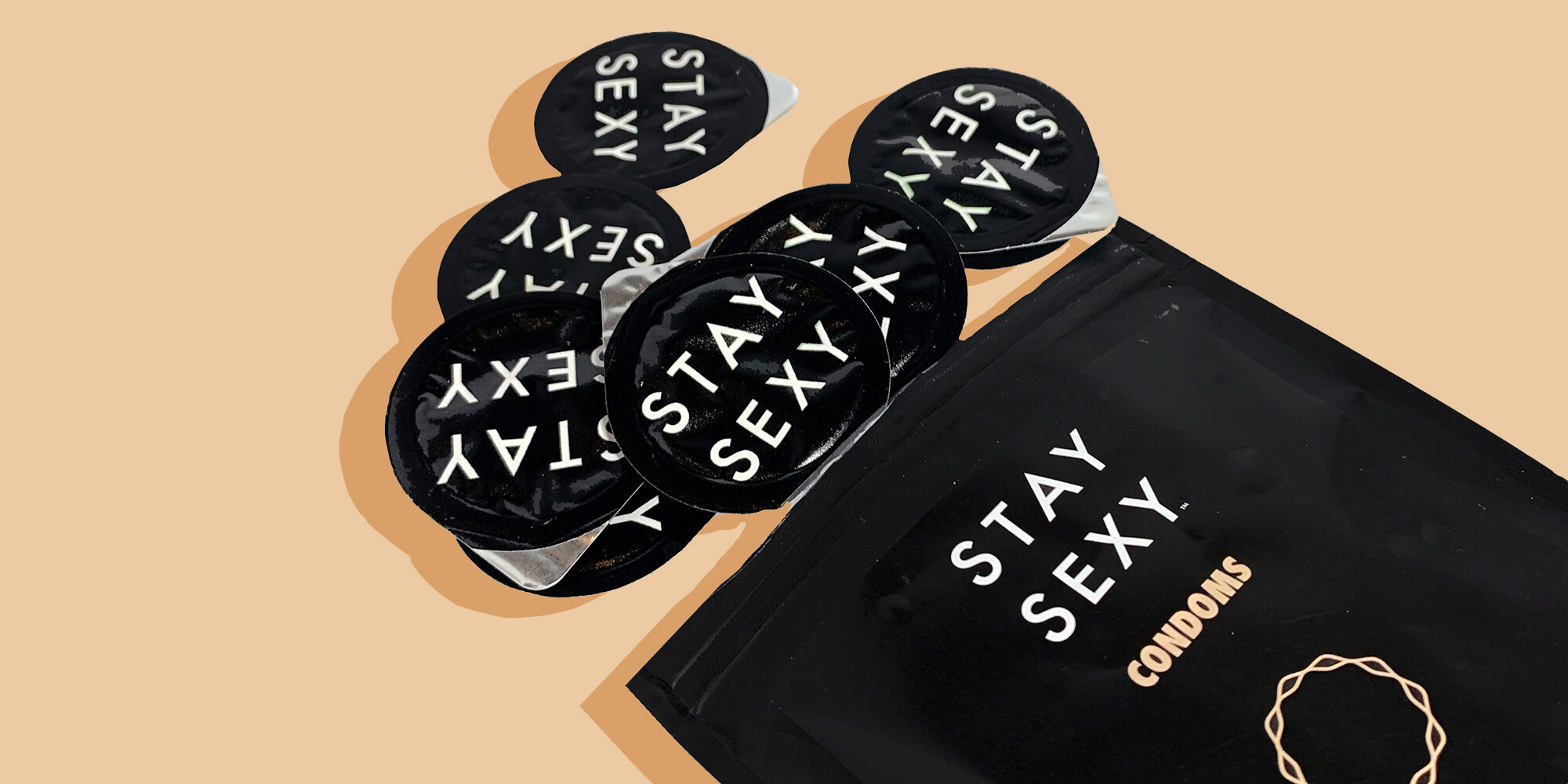 Stay Sexy Makes Sex Products Stylish And Fun For Women Who Own Their Sexual Power
On a road trip two years ago, best friends Alyssa Crockett and Megan Bianchi commiserated about a lack of sexual health items suiting their style.
"You go into Walgreens, and you can't find anything that's attractive [or looks like it's made] for you," says Crockett. "What if condoms, lube and other things related to sexual health were packaged like face serums and other things we find beautiful and fit our lifestyle?"
The question prompted Crockett and Bianchi to create Stay Sexy, a brand with sleek sexual wellness and self-care items launched in December. Its assortment goes beyond sexual wellness staples like condoms and vibrators to a lace blindfold and wrist cuff set, an amber- and teakwood-scented soy candle and a black bathing suit. Retail prices range from $9.50 for a 10-pack of condoms to $125 for a rose quartz eye mask designed to depuff the eye area and open the heart chakra. 
Of course, there's lube, too. Stay Sexy's Lip Gloss, a water-based lubricant for lips below the belt, is $25 for a 4-oz. bottle. The punny name is characteristic of Stay Sexy's cheekiness. The packaging of the brand's condoms is refined, yet playful. Each condom is encased in black buttercup discs to provide customers with the sensation of peeling open deluxe skincare samples.
"Condoms are packaged so manly, [often with] black and red and gold," says Bianchi. "We wanted something pretty. The first couple of friends I gave them to were like, 'Is this an eye serum sample?' That's what we want people to feel. It's supposed to be pretty."
"What if condoms, lube and other things related to sexual health were packaged like face serums?"
Stay Sexy's products are currently available on the brand's e-commerce website. Prior to the pandemic, the brand was in conversations with hotels in Phoenix, Ariz., where it's based, to stock its Let's Play Fun Kit in minibars. Priced at $12, the kit contains two latex condoms and a 1-oz Lip Gloss. Beyond hotels, Stay Sexy aims for distribution in major department stores, boutiques, fitness studios and spas. The brand's next product launch will likely be a smaller, travel-friendly vibrator than its existing $112 Claudio Ultimate Italian Lover. Bianchi shares, "We figure you don't just get one vibrator, and you're done. You have a couple. It's always a fun thing to get."
Crockett and Bianchi are in Stay Sexy's target demographic, which Bianchi identifies as women "in their mid-30s and up who have some life experience, are confident in who they are, know what they want and own their pleasure." Both co-founders are also mothers of adolescent girls, and developing Stay Sexy has informed the way they talk to their kids about sex, and vice versa.
"We don't want them to feel ashamed about their sexuality. We really want them to feel empowered," says Crockett. "We wanted them to be able to put condoms in their purse or their overnight bag, and for women to be able to throw that little play kit in their going-away bag and to feel confident about that. That was also part of our mission founding Stay Sexy." 
Crockett and Bianchi are fans of condoms as a birth control option because it doesn't disrupt women's hormones. Crockett doesn't believe women should ingest birth control. "I went on birth control pills when I was 16 or 17. I never thought anything about it," she shares. "Now, I'm like, 'How many chemicals did I just pump into my body all those years?'"
Bianchi and Crockett offer live sexual wellness coaching sessions for $100 an hour. They're bookable via the Stay Sexy website. "People are asking us questions all the time," says Bianchi. "We're giving advice. Pre-COVID, we were speaking at events about feminine energy or ways to tap into your desires and be a confident, sexy woman. This is our favorite thing to talk about."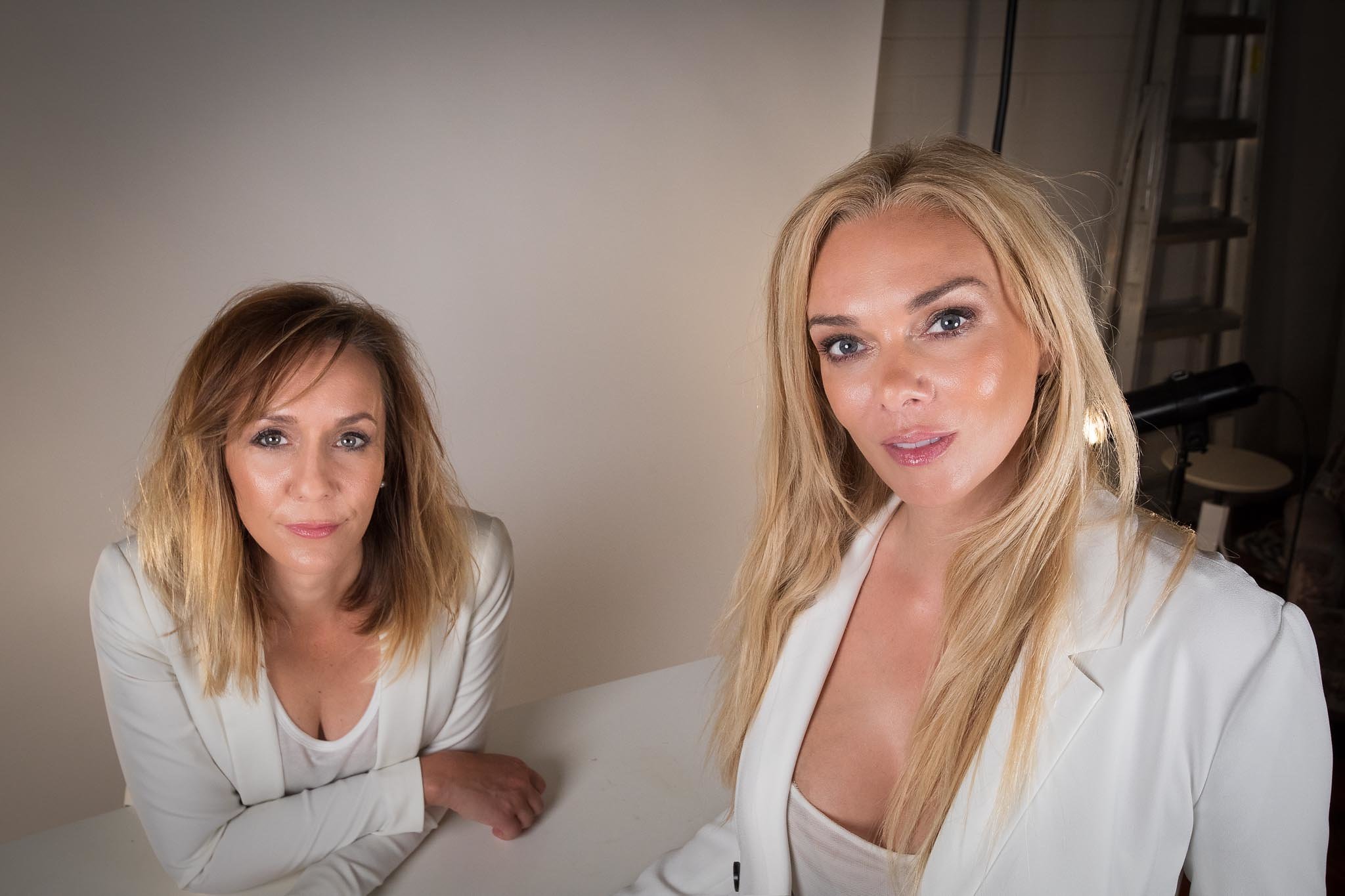 The pair request clients to send in them their main goals before sessions. Bianchi says the sessions kick off with "what they are struggling with, what they're looking to come out [of the session] with and, then, we take it from there. What are some day-to-day things they could do to improve their sex lives? And [it's not about] just their sex life, but how they can feel sexier." Bianchi and Crockett are in the process of putting together packages of multiple sessions for a reduced fee per session.
The first-time entrepreneurs, who formerly worked in healthcare, retail and education, disclose they spent $25,000 to get Stay Sexy off the ground, an amount that was partially from their personal savings, and partially from friends and family members. Although the brand has only been on the market for nine months, Bianchi and Crockett have already been approached by venture capital firms interested in investing. They declined for now as they don't feel Stay Sexy is ready for outside funding yet.
"We want more brand exposure and perhaps one big contract either with a hotel chain or department store," says Crockett. "We're new entrepreneurs, new business people in this industry. We're learning, too. We want a more solid understanding of the industry."
The pair are wary of Stay Sexy taking on outside investment early and losing control, especially creative control. "Part of what's fun about this company for us is the creativity," says Bianchi. "What we put into it and the voice of the brand, too, is really important to us. As we're making relationships with other people in the space, from vibrator designers to sex therapists and fitness gurus, our brand is about giving other women empowerment around their own sexual health. That's something that we're trying to safeguard. Once we feel that's really strong, I think we'll be more open to VC."