The Steps Five Indie Beauty And Wellness Entrepreneurs Are Taking To Persist And Prosper Today
Indie beauty and wellness brands are anything but idle amid the pandemic.
The United States federal government hasn't lent them much of a hand. About 5% of American businesses have so far received loans under the Small Business Administration's $349 billion Paycheck Protection Program, which was rapidly drained by distressed companies and is expected to receive an additional windfall of $250 billion. With scant public support, five entrepreneurs who participated in the second edition of Indie Beauty Media Group's webinar series #BeautyUnites In Conversation—Kreyol Essence co-founder and CEO Yve-Car Momperousse, Innersense co-founder and CEO Greg Starkman, Indie Lee founder and CEO Indie Lee, DpHue founder and CEO Donna Pohlad, and R3set co-founder and CCO Harris Rabin—outlined a range of strategies they're pursuing, including ramping up social media content and focusing on resonant products, to persist and even prosper in a tough environment.
Momperousse, for example, has picked up the digital megaphone. She's participating in regular live talks and demonstrations—the webinar by Beauty Independent's owner IBMG was one of several Zoom sessions she partook in over the course of five hours Wednesday—and is increasing natural hair and skin product specialist Kreyol Essence's ads on Instagram and Facebook. Momperousse estimates ad rates on Facebook have dropped 50% to 60% as the universe of advertisers has shrunk. Prior to the coronavirus, Kreyol Essence's acquisition cost per customer was hovering between $5 and $7, and it's currently $4 per customer.
Tracking inventory and having transparent, continual conversations with retail partners are high priorities for Momperousse. She emphasizes it's important to maintain momentum and show retail buyers her brand is committed. Kreyol Essence's rollout to 1,200 Ulta Beauty stores that was slated for April 12 has been delayed, but the brand hasn't given up on driving sales at the retailer. It's directed stock from its website to sustain a healthy presence in Ulta Beauty's e-commerce channel. Kreyol Essence's Original Haitian Black Castor Oil sold out within days on Ulta's site, proving to the chain the brand could propel sell-through no matter the circumstances.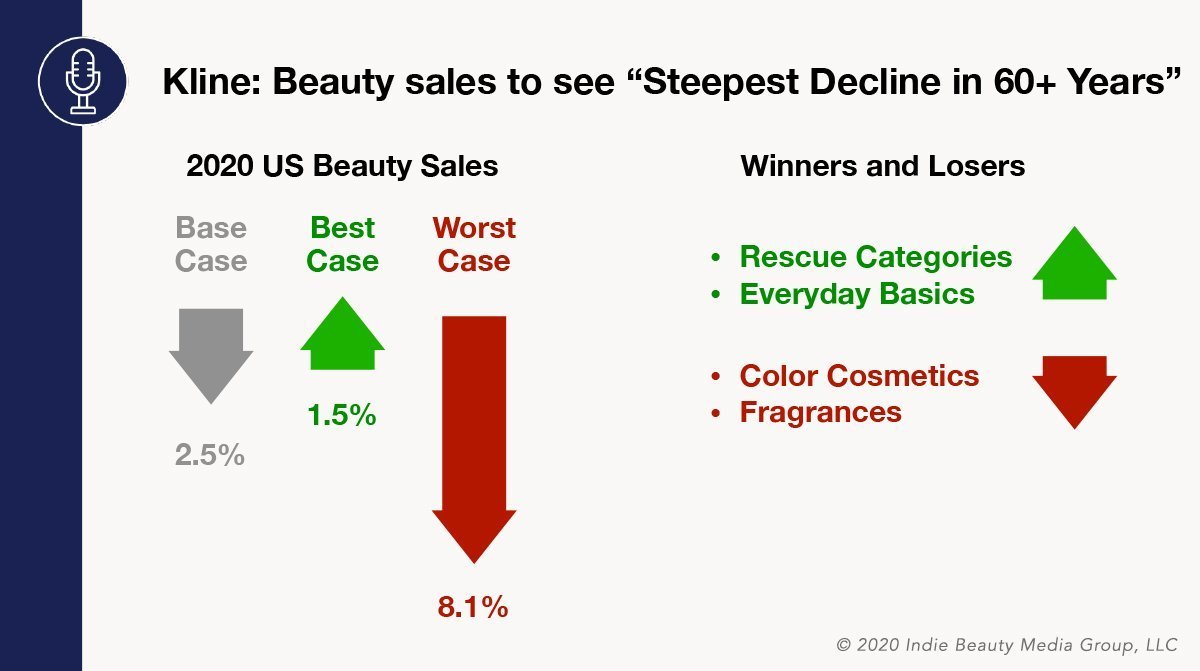 A key to Kreyol Essence's roadmap has been forecasting up to six months ahead. The forecasting has been crucial to ensure the brand obtains the proper ingredient quantities it needs from its suppliers in Haiti promptly. Domestically, Kreyol Essence has been checking in with its manufacturer and third-party logistics partner to be certain they can keep up with a 3,500% year-over-year sales jump the brand experienced due to recently appearing on "Shark Tank." To respond to the sales surge, Momperousse has been sending products out of her office, now a satellite fulfillment center, as well as her brand's logistics partner. Kreyol Essence is also teaming up with Uber on a pilot program hiring the jobless for deliveries. Momperousse suggests, "If it's hard to move things through your supply chain right now, focus on your money makers and your winners."
Clean skincare brand Indie Lee has slashed paid marketing in favor of educational pieces and placed a hold on other discretionary spending such as packaging upgrades to avoid major layoffs. The brand has made the moves in lockstep with its investor Ancora Holdings, the venture capital firm established by beauty industry veterans Space NK founder Nicky Kinnaird and Lori Perella Krebs, formerly president of Frederic Fekkai and VP of international at Liz Claiborne. "I sleep at night because of this agreement," says Lee of her decision to partner with Ancora.
In the last six weeks, Innersense has forged ahead by sidestepping transactional messaging and doubling down on communicating about self-care. Starkman notes the organic haircare brand hasn't pulled back on public relations, advertising or digital initiatives. In addition to a heavy social media push, Innersense has introduced a live chat function on its website to enable its educators to interact with its customers in real time. "I've not allowed panic to set in," says Starkman.
"If it's hard to move things through your supply chain right now, focus on your money makers and your winners."
Kline predicts the beauty industry will see the biggest decline in more than 60 years as a result of the pandemic, but sales aren't tanking at every brand. Hair care and color brand DpHue is enjoying a significant leap in online sales and traffic as customers switch from salon services to at-home hair maintenance. Its current bestseller is its Root Touch Up Kit, and the brand has been scrambling to handle demand for it. Many of DpHue's products come from Northern Italy, one of the regions hardest hit by COVID-19, and the brand has begun air shipping merchandise into U.S., a practice it typically circumvents. Pohlad says, "We are in a position where we need it and need it right now."
Stress management supplement brand R3set is in the unusual position of launching during a public health crisis—and it's off to a hot start. The Emerson Group, a distributor and logistics firm, helped R3set's products land in 50 Target stores. By May 15, the brand will grow its retail footprint by 3,000 CVS doors. Following an initial round of funding from angel investors, R3set is open to a seed extension round to bolster expansion. "There's tailwind in this category," says Rabin, noting he's having promising investor conversations in light of seed investment largely drying up. The relevance of supplements in the pandemic era is a compelling element of R3set's pitch. Rabin stresses, "We have absolute clarity of what our purpose is, and we are going to get through this pandemic."
For indie beauty and wellness brands, there's no easy path to success at the moment. "Continue to dig deep," advises Starkman. When he launched Innersense in 2006 it was just ahead of the Great Recession, and the economic devastation back then left it sitting on inventory worth more than $350,000. After achieving strong growth in the first quarter, Starkman describes facing the current economic collapse as "hitting a brick wall at 110 miles an hour." Still, he remains positive about Innersense's long-term prospects and believes the beauty industry will rebound quickly from the downturn. Starkman says, "Beauty is really resilient."
To view the webinar in full, click here, and sign up for future #BeautyUnites In Conversation webinars here.