Streaming Shopping Platform Talkshoplive Seizes The At-Home Moment To Showcase Small Businesses
With stores closed, at-home shopping concepts are drawing consumers who've never considered buying from them before.
At streaming e-commerce startup Talkshoplive, usage was up 50% last week, and it's anticipated to double this month. In addition, the number of shows the platform facilitates is on pace to quadruple to soon reach 250 a day. With the eyeballs on it increasing, Talkshoplive has tapped comedian and "America's Got Talent" host Howie Mandel to introduce its Save Small Business campaign and present two shows in both April and May featuring small businesses. The debut show Wednesday spotlighted Hungry Monkey Baking Company, and the bakery's handmade treats sold out.
"When this first happened, it was such a shock, but, no matter what business you are in, we are all confronted with this," says Talkshoplive co-founder Bryan Moore of the coronavirus crisis. "Now, people are like, 'OK, this is not something that's going to change overnight, and I have to make a plan for my business.' Talkshoplive can be a solution for them. It was headed that way anyway due to the overhead costs of storefronts, but this is pushing us a lot faster. I believe we are a vehicle that can help small businesses get through this."
Unlike traditional at-home shopping channels such as QVC, HSN and ShopHQ, Talkshoplive doesn't have layers of approval brands have to pass through to go live. Instead, its shows are in the hands of brands. They download its seller app and set up an account in about 10 minutes. Moore compares starting on the app to signing up for a social media network, but points out a main difference is that sellers provide banking information to authorize payments for the sales they make from their shows. Talkshoplive commands a 10% cut of the sales. Brands are responsible for fulfillment.
Brand founders or spokespeople can put on shows from anywhere they tote their devices. Their shoppable videos are able to be viewed through Talkshoplive's platform, and on brands' websites and social media accounts. They can remain there long after they've been shot. "Talkshoplive is a sales tool, but it's also a distribution vehicle," says Moore. "None of the buyers have to download the app to shop. Our shows exist everywhere."
"We are a vehicle that can help small businesses get through this."
The startup's profile has been rising along with the profiles of its show participants. Alicia Keys, Julie Andrews, Jenna Dewan and Garth Brooks, who recently racked up 420,000 pre-orders in 18 hours for the limited-edition box set Legacy Collection he showcased on Talkshoplive, have been involved in shows. Book and music releases are popular fodder for Talkshoplive shows, but Moore is aiming for beauty to become a larger portion of its programming.
"Beauty is a focus of ours because it's so visual and demonstrable. It isn't our biggest vertical, but it's the vertical with the biggest potential," he says, mentioning Talkshoplive can be harnessed by influencers as well as brands to monetize beauty tutorials. Makeup artist Julie Morgan will be spearheading a series of shows to support indie beauty brands. Masami, Lauren B. Beauty, Ethica Beauty and NassifMD Dermaceuticals are among the beauty brands that have experimented with Talkshoplive.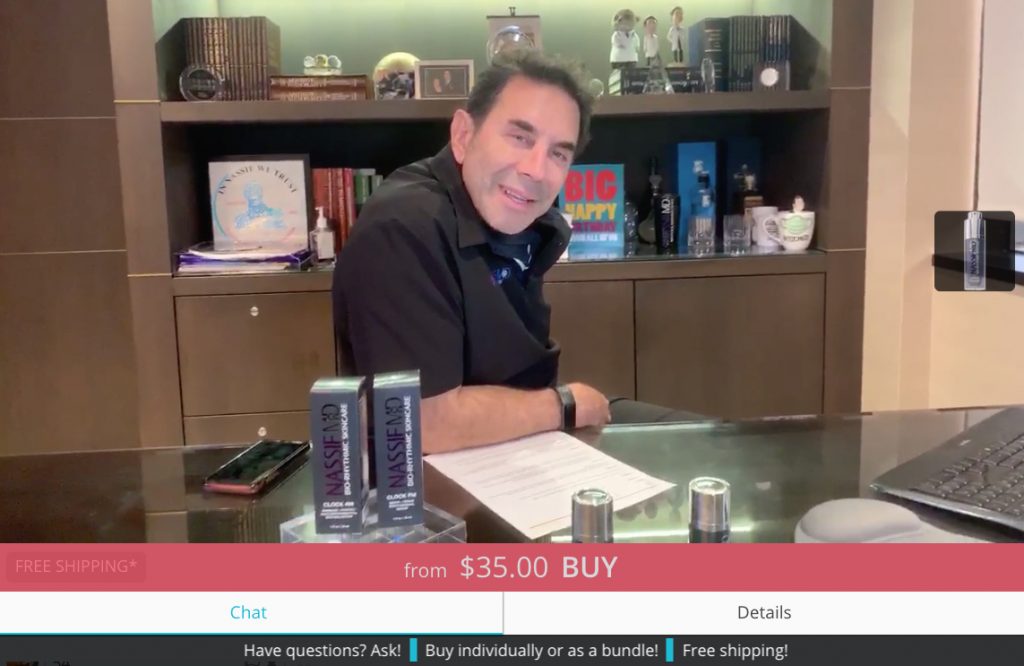 Masami, a haircare brand that recently launched on Talkshoplive, hasn't done sales through it yet. CEO Lynn Power says Masami decided to try it because the brand is "leaning into digital platforms that will enhance our user experience. Talkshoplive is great because it allows us to actually pitch our product: explain the ingredients, the benefits, the story and how to use it. It's a small channel today, but we like being part of a growing trend and can hopefully grow with them." She continues, "It seems like people will be more interested in education and information, especially when it comes to clean beauty. And now that people are sitting at home, this will provide a bit of a distraction, and we all know how important self-care is right now."
With many of Paul Nassif's commitments cancelled because of the coronavirus, Alyce Cucurullo, CEO of the plastic surgeon's skincare brand NassifMD Dermaceuticals, suggests Talkshoplive is a valuable mechanism to stay connected to consumers. "We want to keep his business moving forward," she says. "He's the kind of guy who loves constructive feedback. He wants to hear from you." Discussing the sales impact of NassifMD Dermaceuticals' shows on Talkshoplive, she shares, "I'm not going to say it's a massive impact, but it's also a startup, and this is an opportunity to get in front of it."