Street Art-Inspired Brand Graffiti Collective Transforms Skincare Into Creative Self-Expression
Graffiti Collective is inviting beauty consumers to unleash their inner artists.
The new skincare concept from beauty industry veteran Sheila Patel, who spent 11 years largely in brand and product development and management roles at Bath & Body Works, is combining performance-driven skincare for adults with the exuberance of finger-painting, the favorite children's pastime. Its vivid debut masks—pink smoothing specialist Street Rose, bright blue exfoliator Pure Grit, green purifier Clean Slate and gold glow booster Hustle & Glow—can be slathered in stripes, circles, squares and more on the canvas that is the human face.
"It serves a new space in skincare that doesn't exist today that pairs high-quality product with really expressive content. We are disruptive. We don't think about the traditional rules of skincare, but we still deliver great results," says Patel. "I think it stops a person in their tracks. The packaging is beautiful and thoughtful and, if you see it at a tester bar, people will come to the jars without you having to ask. There's not a lot out there that has that natural pull."

Over a year and a half, Patel visited the Graffiti Collective's cosmetics lab some 200 times to perfect its masks' custom hyper-pigmented vegan formulas blending plant-derived ingredients with synthetic compounds deemed to be safe. Key ingredients include bentonite and kaolin clays, oat protein, squalene, aloe, sodium hyaluronate, shea butter and vitamin E. The masks hold their color on the skin and are designed to be effective in as little as five minutes.
"It serves a new space in skincare that doesn't exist today that pairs high-quality product with really expressive content. We are disruptive. We don't think about the traditional rules of skincare, but we still deliver great results."
"When you paint your face blue, you're not thinking about what you're trying to fix, you're thinking about how amazing you look and how fun it is," says Patel. "We wanted to create products that people could have fun with while delivering a great result. It didn't hurt that masks were trending."
The collective part of Graffiti Collective comes from the relationships it's cultivating with artists. For its exterior packaging, the brand drew upon a temporary mural created in an abandoned church of a woman with flowers in her hair by the artist known as Kitsune Jolene, who mainly operates in the Belgian city Ghent and marked her first brand collaboration with Graffiti Collective. The brand has also carved out a section of its website called Gift Game, where customers can buy a mask with a limited-edition print by the New York artists Lexi Bella and Marthalicia Matarrita for $50 to $75.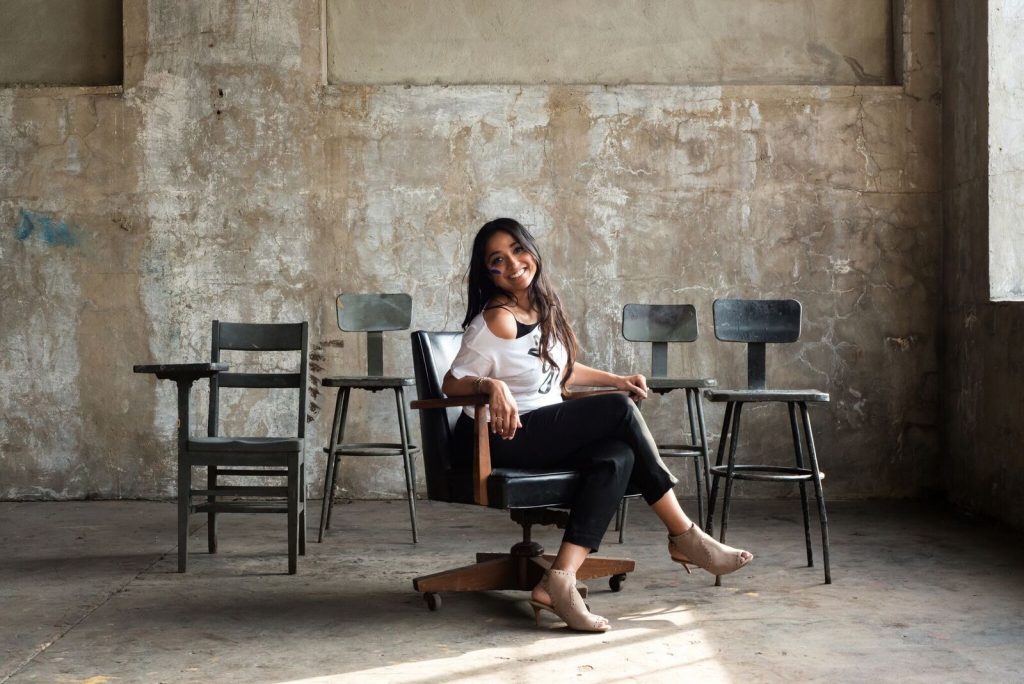 "I want a consumer to be able to take home what has inspired me," says Patel. Asked about Graffiti Collective's financial arrangements with artists, she continues, "Anything I do that connects to the art world, I'm not keeping it to myself. In the case of Kitsune, I'm telling her story and giving a piece of her art with every box…I believe in paying for the artists' talent. I commission a piece based upon an agreed-upon price and make sure they get paid for their work. I have enormous respect for the work that they do. At the end of the day, I want to make sure they feel comfortable with what they produce for us, and it's up to me to tell the story."
"I would love to go after any traditional skincare category and think about it through the Graffiti Collective lens. It turns the whole thing upside down."
Telling the playful-yet-powerful story of Graffiti Collective's selection isn't easy. To reinforce its serious skincare positioning, the brand aims to place its products in retail destinations that beauty junkies flock to for sophisticated and fresh merchandise. It's entered C.O. Bigelow, for example. Simultaneously, Graffiti Collective is brandishing its cool bonafides with distribution at boutique hotels, galleries and edgy stores. It's launched at 3rd Ethos Gallery, Canvas Hotel Dallas and The George Inn, the boutique hotel from beauty mogul Bobbi Brown and her realtor husband Steve Plofker. Events are critical to build brand awareness. Graffiti Collective has been involved in a facials and flow event at the Canvas Hotel Dallas, a pop-up at The Phluid Project and flash facials at C.O. Bigelow.
Early on, Patel considers Graffiti Collective's retail exposure as a prime learning opportunity. She jumped at the chance to interact with customers and staff at C.O. Bigelow during events. The staff informed Patel that customers would welcome testing Graffiti Collective mini products before picking up full-size options. To satisfy the demand for minis, the brand released The Mixtape kit with four mask samples for $25. Full-size masks are $45 for 3-oz. jars, a price Patel figures is accessible enough that customers don't feel they have to save Graffiti Collective products for special occasions.
In the second half of the year, the brand plans to introduce a leave-on skincare item to complement its masks. Further into the future, Patel says, "I would love to go after any traditional skincare category and think about it through the Graffiti Collective lens. It turns the whole thing upside down. I don't think people thought of putting bright blue on their face and have it be an exfoliating mask. I would love to inject that kind of innovation into all of the skincare categories."