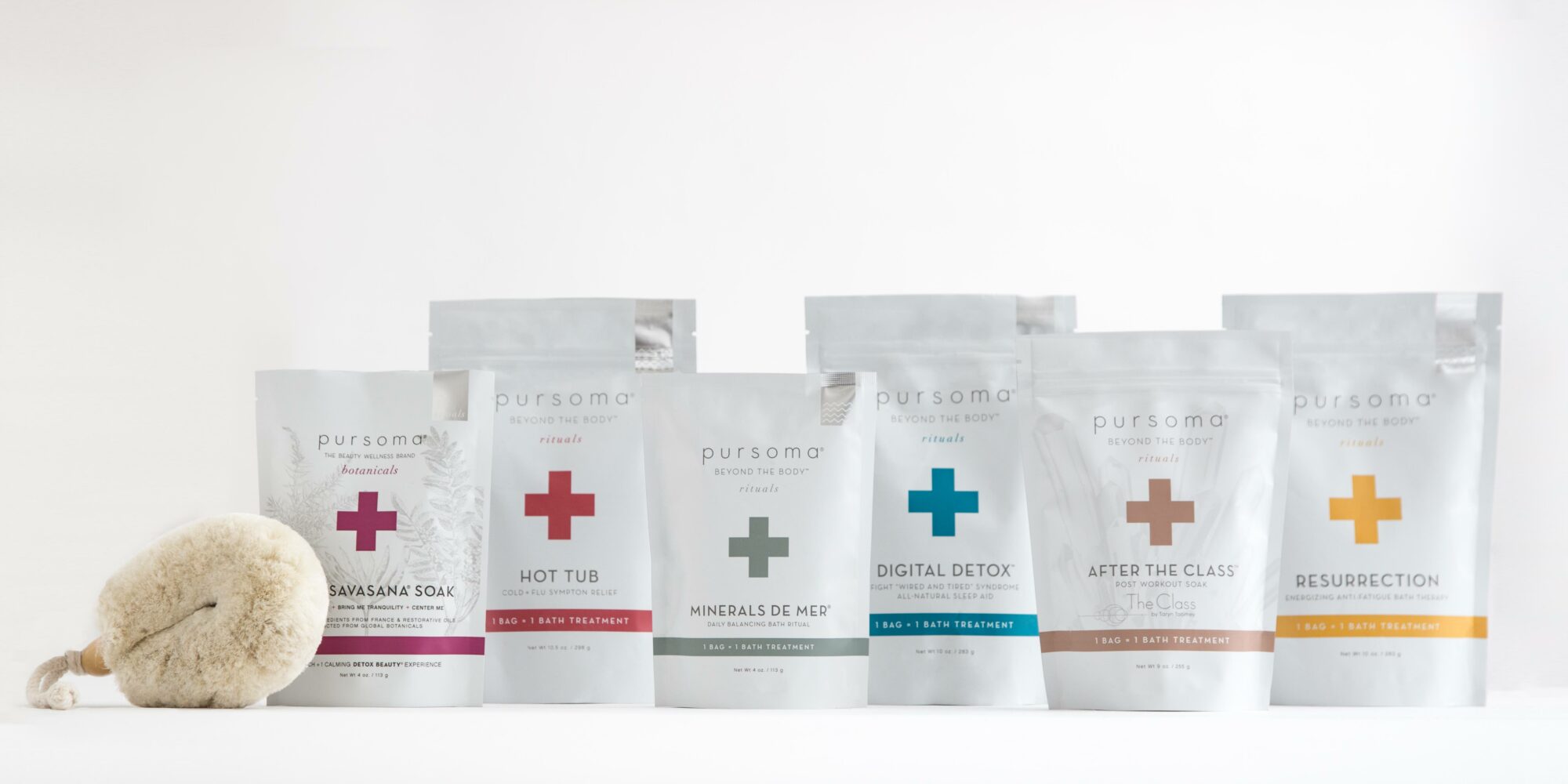 Stressed Out? Pursoma Will Help You Disconnect, Decompress And Detox
Before the pandemic, people were stressed out and glued to their devices. Since it, stress and technology dependence has only increased. The natural bath and body care brand Pursoma is particularly well-suited to address the anxiety pervading contemporary existence. Early on the wellness scene, its bestselling Digital Detox bath soak is designed to calm frayed nerves and aid with sleep. "My mission will be complete if Pursoma becomes synonymous with self-care," says founder Shannon Vaughn, sharing the brand doubled its revenues every year in its six years on the market. Beauty Independent chatted with her about launching at Ulta Beauty, controlling the supply chain, the realities of doing business with retailers, and Pursoma's future.
What led to the creation of Pursoma?
I grew up in a really bucolic area called the Chesapeake Bay, three hours south of New York City and about an hour from Washington, D.C. At 16, I started as a Ford model after being scouted on the street in New York City, and did the circuit between New York and Europe. When I was 22 years old, I was living in New York City really close to the World Trade Center during 9/11. I had recently gotten married to my husband at the time. My husband was from Saudi Arabia. After 9/11 happened, a lot of Saudis went back to their home country. We moved from New York City to Jeddah, Saudi Arabia.
I spent nearly a decade in the Middle East. My mother-in-law had a design company, so I worked at the atelier, and designed caftans, meditation mats and bohemian lifestyle clothing. I also had a digital navigation company. This was pre-Google with very slow dial-up internet. I created maps and travel systems, and turned them into a digital travel guide for 13 cities in the Middle East. I was an American going into local businesses and asking lots of questions to learn about what people did for recreation in that part of the world. I learned a lot about the region in a way that you couldn't from books or school.
I spent a lot of time in traditional markets filled with spices, herbs and oils. I was always focused on good, clean skincare. Every time I would ship my products from the States to there, they would sit in hot trucks and be garbage when I got them. That's when I started mixing my own skincare using raw ingredients.
We had taken a second home in Lebanon, and I was there in 2005 when the Prime Minister [Rafic Hariri] was assassinated. I used to jog around the area where they were constructing a Four Seasons, and that's where explosives were planted. When the explosion happened, the front of the building I was in exploded. It was really traumatic for me to be exposed to the explosion and the aftermath of what it looked like up close. Not long after, I moved back to the United States in 2006 and got a divorce.
When I moved back, I really didn't know what to do. I had no college education, and I was almost 30. The idea of sitting in a classroom studying algebra 101 was horrifying. I came across a college called St. John's College. They don't accept SAT scores and take the original texts as authorities. If you are studying religion, you are going to read the bible, for example. It's a great education, but very intense.
In 2010, when I was in the middle of the program, I had ovarian cysts and got really ill. I decided to look into alternatives to traditional methods and went on a 45-day cleanse. I consumed liquid food and a pill every 30 minutes, and part of the program was detox baths to pull toxicities out through the skin. After 45 days, I had a clean ultrasound with no cysts. My skin was amazing. The whites of my eyes were really bright, and my brain was so clear. I was like, "This is amazing! I need to give people the tools to heal themselves and go to medical school."
Half way through the first semester of medical school at Georgetown, I withdrew from the program. I didn't want to complete medical school. I wanted to start a wellness company. A lot of my healing had been through changing my diet and juicing. So, I went and worked at a raw food and juice bar in Washington, D.C. At the same time, I started sourcing the ingredients I had used in my detox soaks. I realized that would be complicated for consumers to do. I needed to package them up, and offer information to make them easy. I moved to New York and started Pursoma. That was in 2014.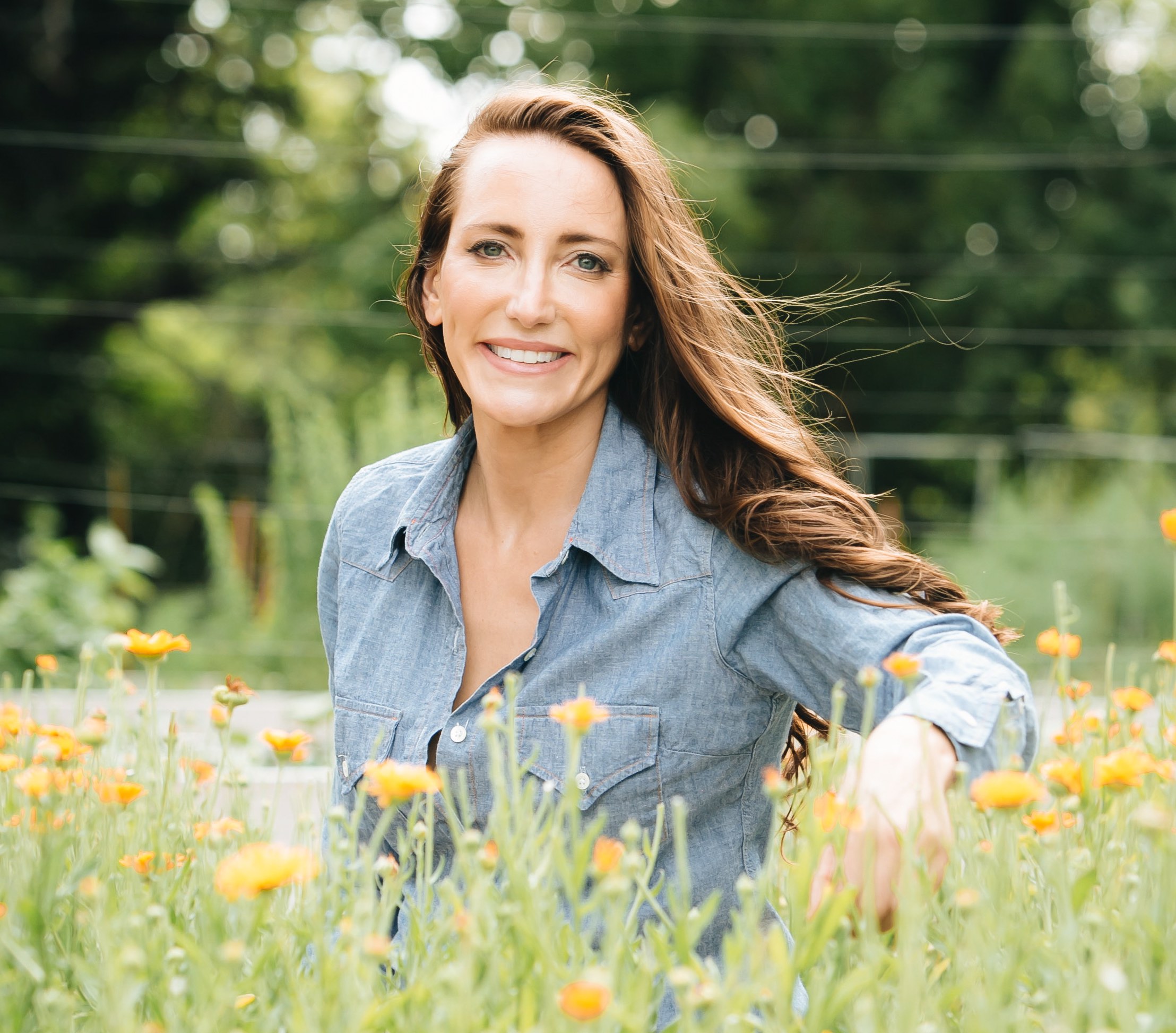 What products did the brand start with?
I had six products that were single-serve detox treatments. There was nasal rinse for a neti pot, a full-body clay mask and four soaks. I did all the testing myself in my apartment. There was a certain amount of product you needed per serving for detoxing, and the water needed to be a certain temperature. The heat and ingredients raise your heart rate almost like exercise. You sweat for 20 minutes after the bath. It was very technical, but I didn't want the customer to feel that. I wrote a protocol on the back of the bag about disconnecting, soaking, sweating and resting that made it feel more spa-like.
What was it like to launch the brand?
We started the business growing organically. I had one person who helped me with sales and another one for PR. Both of them had worked for Tata Harper, so they understood green beauty. In 2014, there was no such thing as wellness in the beauty industry. We kept saying, "We are not beauty, we are wellness, but we look like a beauty company." We were a little early, and retailers weren't biting until Shen Beauty in Brooklyn. [Shen founder Jessica Richards] got it. That was the very beginning. Once Shen took us, people started to understand wellness.
In 2015, Goop launched us. Anthropologie started a wellness section, and Nordstrom did a wellness pop-up. Everybody started to do wellness, and there was an influx of clean beauty brands. People had more access to natural ingredients and were making things themselves. Also, the whole wellness industry evolved with yoga, meditation and meal delivery. The daily practices of people became more and more wellness-aligned.
You source Pursoma's ingredients. Tell us about the process.
I had a responsibility to my customers to ensure ingredients were clean, and I had a responsibility to myself to make sure the business was scalable. How was I going to do that with contract manufacturers that don't let you use your own ingredients or even see the facilities? The only way is to do it yourself. We decided to open our own manufacturing operation in Maryland last year 12 miles away from a farm that I purchased in 2015 on almost 100 acres off of a river off of the Chesapeake Bay. In 2018, we started to grow flowers that we dry, distill and put in our body oil. For other ingredients, I travel to farms and meet the farmers, see how the ingredients are farmed, harvested and handled. They come to our facility in raw form. They don't get treated or processed. They are natural, traceable and sustainable. They get hand-batched and put into bottles or bags. I control the supply chain and make sure the business is scalable.
Is there something in particular that convinced you to manufacture Pursoma yourself?
Most contract manufacturers don't want you to import your own ingredients because they make money on them. If you are not super big, you are not going to call the shots. You have to be a large company to say, "These are the standards we operate by." I also get to employ women that have families, and I can give them work flexibility. We have a wellness-oriented culture. I know we have a customer that appreciates that because that's important to them. Hopefully, as Pursoma's visibility expands, more customers will be able to see that and will want to have detox treatments that don't have middlemen touching the ingredients. They come from the farmer and are put in the bag.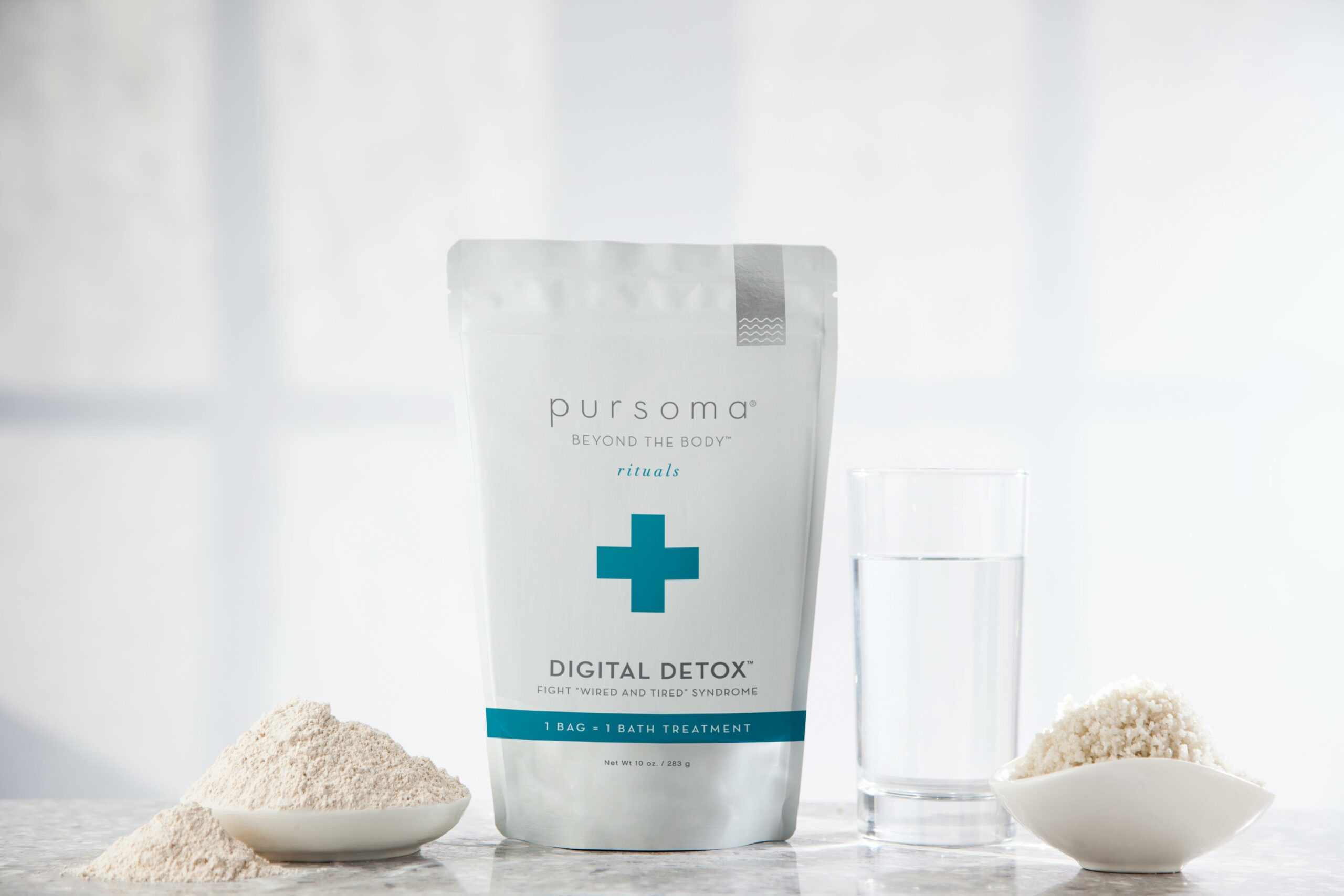 You created an initiative called Founder-Sourced Ingredients or FSI to encapsulate your sourcing process. Explain that to us.
I wanted the customer to understand that things aren't regulated in beauty. Brands can pretty much say whatever they want to say as long as they are not making claims that their products cure or heal something. Because this came out of a personal health crisis and a way to heal myself mentally and physically, I decided I wanted to be accessible as a founder. People can ask me questions at any time.
Because FSI is not a verification process, it's just something we do internally, we needed somebody else to verify us that's bigger than we are. I looked at all the verifiers and, to me, EWG had the highest standards. They look at every single ingredient. The customer doesn't have to be a cosmetic chemist and understand ingredient lists. They can look at the seal and feel good about the product.
What have you learned from working with retailers?
Retailers have had an unprecedented challenge with the switch to online shopping. Their models weren't built for online, although they are selling online. As a brand, the challenge is, how do you convey your message if you want to have brick-and-mortar stores? At some point, retailers expected the brands to do that. Brands have to communicate with their customers through marketing efforts, whether they are in digital or in-person distribution, so there is brand recognition and visibility. So, when a customer walks into a store, they already have some knowledge of the brand.
When we first got into retailers, there wasn't as big of a demand as there is today, but it was also easier because retailers were really focused on educating consumers. Now, the market is very saturated. There's very little barrier to entry to start a brand. You don't have to go through a regulatory process or have a bunch of money. You can get retailer interest and get placed there, but there are a lot of brands there. The brand is responsible for educating the customer—and not everyone is going to be your customer. I think it's important to understand that. It's just like with food. Not everybody wants to be a vegan, and not everybody wants to eat meat. It's important to go to a retailer with knowledge of your customer and say, "This is a good space for us. We will sit well there." It's extremely competitive, so stick to your message, build your community and don't get distracted by the fact that there are so many other brands popping up.
Who is the Pursoma customer?
A lot of brands specifically target millennials or gen Z or someone that wants anti-aging or has sensitive skin or a specific type of hair. The reason we went into the wellness selection at Ulta is because Ulta has a really broad reach. I don't think wellness should be exclusive. I think that's because of my personal story. I was a student. I didn't have a lot of money. I wasn't feeling well. At Pursoma, I wanted to make wellness accessible and affordable. I didn't want it to feel intimidating. I'm intimidated sometimes when I go and look at supplements. I am like, "I don't know what I need and how to take it." It's confusing, and I don't want Pursoma to feel confusing. If you are overwhelmed and anxious, then these products will work for you, and we have products in all price ranges. We have products that are $14 and products that are $34.
What did you want the brand to look like?
I put the cross on the products because I thought of the Red Cross and medical. It's homeopathic, alternative medicine. I wanted everything to be clean and crisp. That's why I have white packaging. The thing we spent the most time on is the copy. I don't want there to be any confusion about how you use the treatment. Everybody is going to feel different using them, but you are going to feel something. Then, when we developed products for Ulta, we put a beautiful image of botanicals on the front of each bag.
Why did you develop products specifically for Ulta Beauty last year?
A lot of Ulta stores are focused around fragrance and, before, only one of our soaks had essential oils. There was also no visible color to them. So, we added natural scents to the products, and we added flower petal powder to color them. We have a single-serve treatment called Digital Detox for $34 that we don't sell at Ulta, but we sell a $19.99 soak called Unplug. It has the same therapeutic benefits, but it's not as strong as Digital Detox. For someone who wants to enter the brand, is new to wellness and wants to explore the category, this is a great line for them. If they want to start doing a detox treatment once per week, they can go to our website or to our other retailers and get more intense treatments. We expanded from 150 stores at Ulta to 300 and then 500.
What stores are you in outside of Ulta Beauty?
We are in clean beauty stores and other retailers. That includes The Detox Market, Violet Grey and Anthropologie. There are 200 doors outside of Ulta. We also work in the spa space. We are in some Four Seasons. There's a Pursoma soaking treatment in the Japanese soaking room at The Greenwich Hotel. We have a customized collection of products for The Standard in Miami. We launched in The Bahamas in a couple of spas and in Korea with the Samsung Group. We are going to start selling in the EU.
What's your strategy for new releases?
I will tell you my strategy. In "The Martha Rules" by Martha Stewart, one of her rules is to be your own customer. I was a very different customer when I started this company. I was single and taking care of health issues. Then, I had a family and had to spend my budget differently. I think of myself as the customer, and what I would want as a 20 year old, 30 year old and 40 year old, what I wanted when I wasn't a mom and what I want as a mom. Everything for us is an extension of what you would need in your self-care routine. It's about focusing on disconnecting from technology, and relaxation in and after the bath.
What was the hardest day running your business?
There were two days. One was eight days after I had my daughter, when I was sitting on a panel at a wellness event. I felt it was important that I was there, and I brought my own pillow and sat on another cushion. I had just had a 9-pound child. That was really hard. I was very tired. Building a business and being a working mother, there are just things you have to do and should do, but they're not always comfortable, and that was one of them. To leave my child at 8 days old was very difficult. Every day, I have mom guilt, but it's also really rewarding to share with my daughter the opportunity women have to run companies.
Another really hard day was getting out of business with a previous manufacturer. No one tells you that you need a lawyer for everything or you really need to understand everything. You make a lot of mistakes. The mission is to make clean, beautiful products that make people feel better, but there's a business side to things, and you are going to come across people who may or may not agree with you. It's really important to define what kind of culture you want at your company and find people that are likeminded.
What's business been like in the pandemic, and have you made a key adjustment during it that's been helpful?
Business during the pandemic has been a constant reminder to me to remind myself daily to focus on what's thriving. There is always opportunity in an upside-down market, and the pandemic has reminded me more than ever to return to positive thinking and creative next moves. The key adjustment was moving my business and myself out of New York City. Prior to the pandemic, I had one foot in and one foot out of our Easton, Md., home base and, as much as the rest of the world is moving towards remote and distanced workplace communication , that did not work for me. Now, I am here full time with my team. I am a feeling focused.
Pursoma is a company focused on creating products for people who want to relax, take a break from modern life, and connect to nature. Urban environments are taxing on the body. I have found that I need to be closer to plants, fresh air and other people. This is not a dig or meant to demean the importance of human energy that is built in cities—I have been a New Yorker for many years—but a large city can wear on the soul. Finding quiet is crucial to me.
There is a quote from one of my favorite philosophers Blaise Pascal [that says], "All men's miseries derive from not being able to sit alone in a quiet room." In a city, this feels devastating because we are there to connect to others, whereas in remote areas in the country, everyone is given alone time. I feel this is the balance we all need in our lives, to have some alone time or as we like to say at pursoma, me time.
Where do you see Pursoma headed?
Whether you are at the Four Seasons on Paradise Island in The Bahamas or seeing our products on a store shelf, you know that, if you buy that treatment, your skin is going to feel good, and you are going to sweat and glow. I would like to see Pursoma cross channels. So, i would love to be at retailers like your local drugstore or Target, where you can be going down the aisle with your cart and, if you need self-care, you can pick up quality products from us. When you think of Walt Disney, you think of kids, happiness, fun and magic. When you think of Pursoma, I want you to think of self-care, resting recovery, detox and sleep. I want to be recognizable on those terms to different audiences.