This New Beauty And Wellness Vitamin Brand Wants You To Think Of Supplementation As Self-Care
Skincare companies have reimagined cleansing and moisturizing as reflective self-care rituals. Now, Stunn Collective is out to elevate supplementation to a similarly profound practice.
The new beauty and wellness brand has arrived with morning and evening vitamins it suggests can be ingested as customers set intentions to stay positive. Promoted with the motto, "Harness your beauty and your potential," the vitamins' natural vegan formulas are designed to boost internal health, mood, focus and external appearance.
Before Ashleigh DePass, who founded Stunn Collective with her husband Jordan, swallows her a.m. pill, she utters the mantra, "I am beautiful." She suggests, "In the p.m., you can say, 'I'm grateful for the day' or 'I can take on tomorrow's tasks.' We want to build people's confidence as they take the products. We think of our capsules as seeds that impact your entire life from the inside out."
Prior to Stunn Collective, Jordan was working at an energy company and fantasizing about pursuing his passion for plant-based nutrition. Growing up in Calgary, he'd foraged for mushrooms and picked berries with his father and, later, as a hockey player, he tuned in to how his intake influenced his performance. About two and a half years ago, he began to research methods to maximize natural ingredients in supplements. Traveling a lot at the time, he figured he'd make a supplement to address jet lag.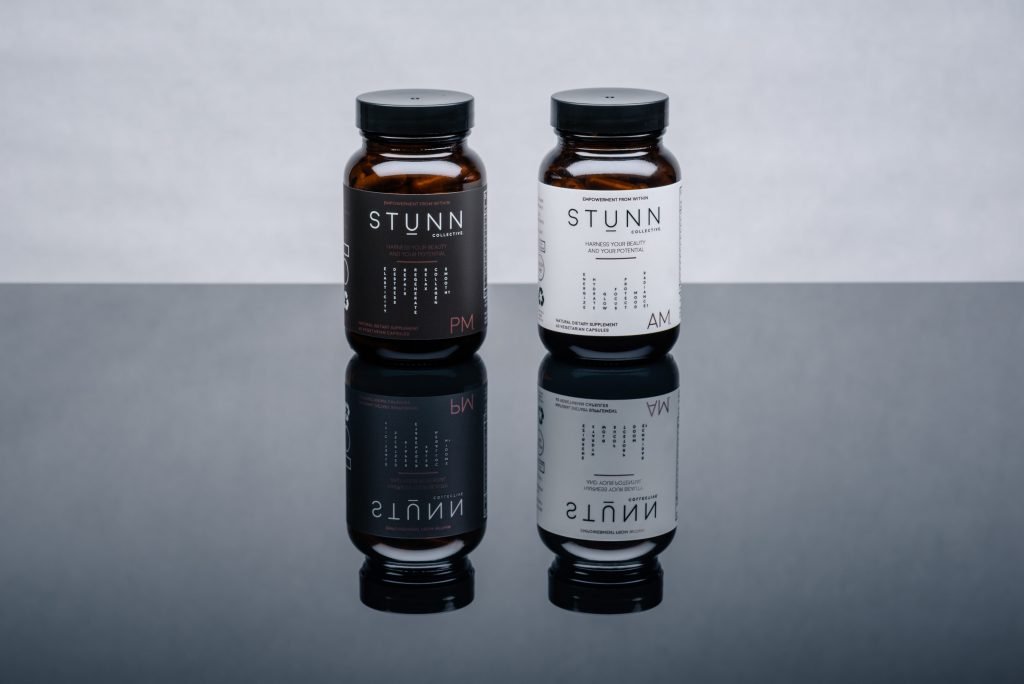 The jet lag idea, however, wasn't exciting him too much. Searching for inspiration, Jordan talked to his then wife-to-be about solutions to problems people could use supplements for that weren't being resolved by the copious pills, powders and drops available. She imparted that she'd like a comprehensive supplement that improved her skin, cognition and energy during the day, and stimulated collagen while aiding with sleep at night. As an actress who's often confronted the cruel superficiality of entertainment, she was also adamant any supplement line they team up on be uplifting.
"From there, we started building Stunn Collective," says Ashleigh. "What was really important to me was to create a product to empower women to harness their unique beauty and not feel ashamed to believe that they are beautiful and, on top of that, give them the support they need to be able to live the productive, vivacious lives they want to live."
"We think of our capsules as seeds that impact your entire life from the inside out."
The DePasses sought to fashion a supplement Jordan describes as a "high-end, high-performing product" with a wide array of benefits. The morning supplement has 10 ingredients, including amla, green tea, boswellia serrata, lycopene, gotu kola and ashwaghanda, and the evening supplement has nine ingredients, including horsetail, marigold and Japanese knotweed extracts, and passion, lavender and hops flowers. Packaged in glass bottles, the a.m. vitamin has an earthy aroma, and Ashleigh thinks the p.m. vitamin smells almost like a chocolate cookie.
"There are no fillers, and the extracts are in proven percentages. We wanted to create a premium product that would work for everyone, and really would be the one skin and lifestyle supplement that you would need every day," says Jordan. "If you are looking at the beauty supplement market, there's a lot of providers out there offering one-ingredient products. We have multiple ingredients in high dosages that are effective."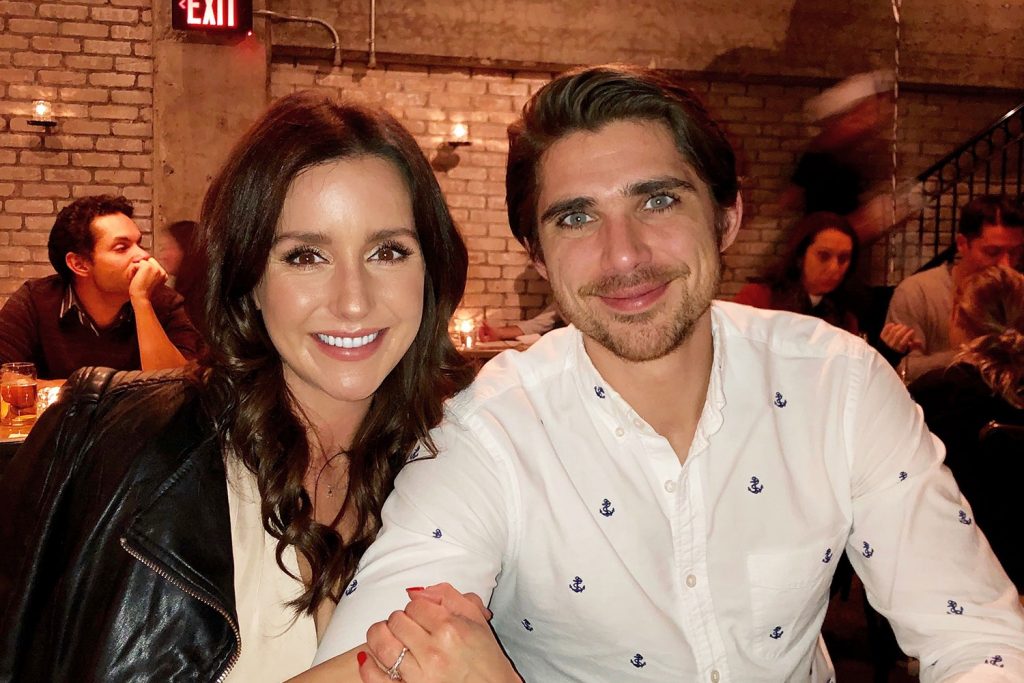 Befitting the brand's prestige positioning, Stunn Collective's supplements aren't cheap. Individually, the morning and evening supplements are priced at $92 or $74 a month via subscription. An a.m.-p.m. combo can be purchased for $167 or $137 a month via subscription. Stunn Collective's target audience is older millennials.
"We were looking at competitors at the lower end, and they have something [separately] for hydration, mood and sleep. In order to get all those benefits, you add them up, and they are more expensive than our product because you have to get so many," says Ashleigh. Jordan chimes in, "We are coming into a market with other companies selling products for around $30, but we didn't want to enter that exact market. We wanted to come up with something new and different, and be able to provide more to give-back than other companies. It's a premium product and, with a premium product, we understand that our market is smaller, but, to us, that's OK."
"There's a lot of providers out there offering one-ingredient products. We have multiple ingredients in high dosages that are effective."
Stunn Collective calls its give-back program "Empowerment Collective," and it dedicates 10% of its gross profits to the program. Half of the amount will go to a nonprofit organization that hasn't been determined yet, and half will go to a recipient gaining a year of mentorship. Jordan explains the recipient could be someone hoping to establish a business or return to school.
"We wanted to create a brand and a community where people could come together to share their hopes and dreams, share their insecurities and really feel like this is a safe place where they feel empowered," says Ashleigh. "We think that's why people will choose us over a competitor. We are open and honest, and our overarching mission is to redefine the definition of beautiful. That sets us apart."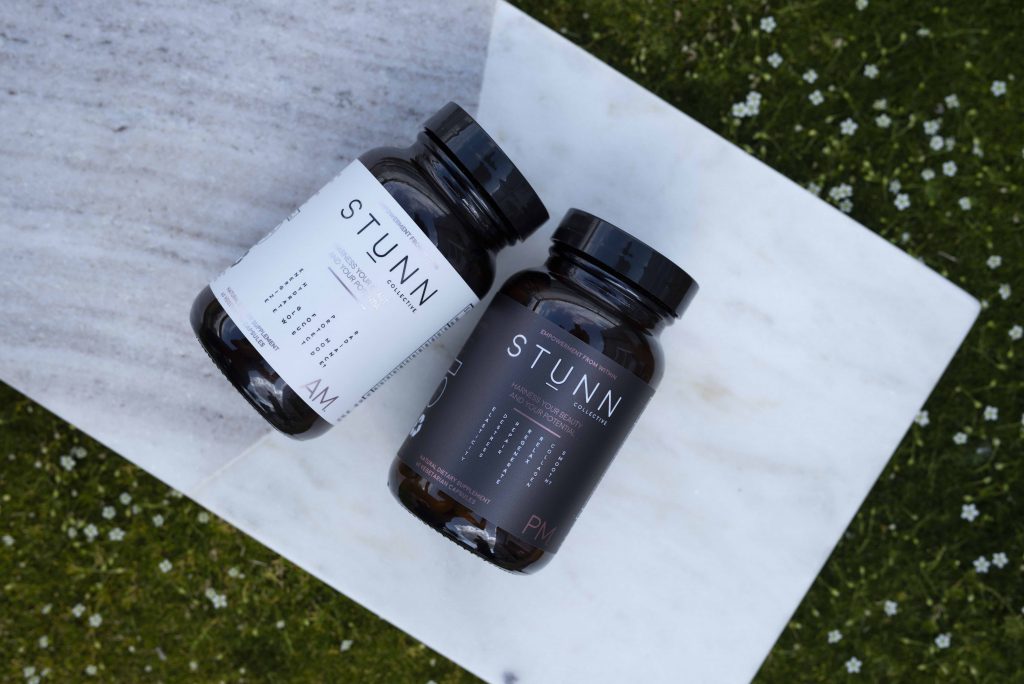 To save as they realize their entrepreneurial dream, the DePasses are camping out at their parents' houses. They've poured $40,000 of their own money into Stunn Collective, and accumulated $100,000 from friends and family members to help develop and launch the brand. The goal for first-year sales is $220,000.
Stunn Collective is concentrating on a direct-to-consumer distribution model at the outset, and Jordan and Ashleigh predict it will stick to DTC for a while. Offline, they're planning a series of pop-ups to complement the brand's online business. Although Stunn Collective will consider luxury retail, Jordan and Ashleigh worry it will get lost on shelves as it finds its footing. Jordan says, "We are open to it, but we want to make sure our brand is solid before we take that step."