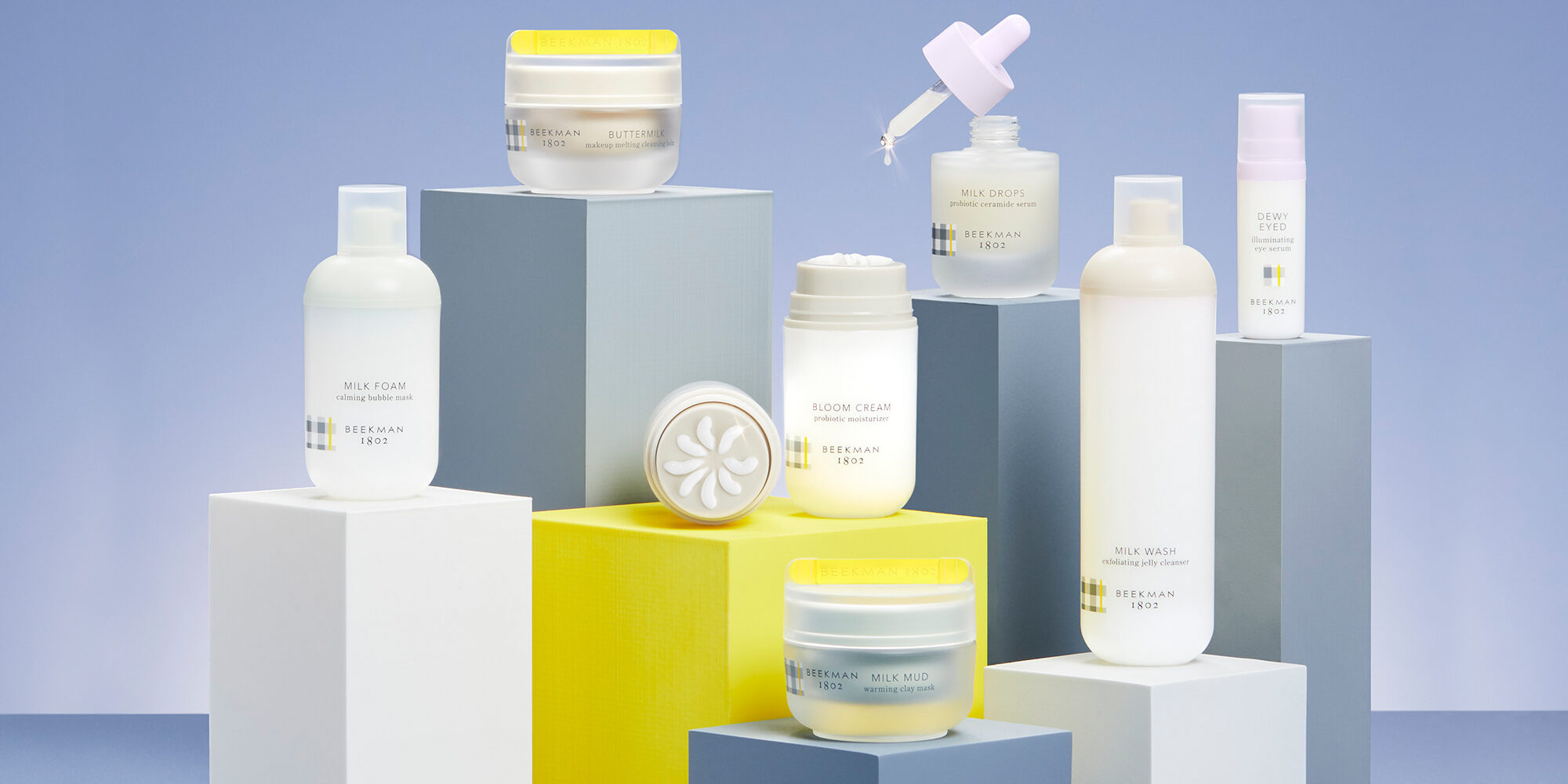 The Secrets Of A Successful Bootstrapped Brand: Beekman 1802's Controlled Growth, Baby Goats And Kindness
Today, the beauty industry is abuzz with big capital raises and valuations. When married couple Brent Ridge and Josh Kilmer-Purcell started Beekman 1802 a dozen years ago during the Great Recession, they had a 60-acre farm, 80 goats, soap from their milk, and a "Green Acres"-esque story of two city slickers moving to small-town America (specifically, the under 530-person Sharon Springs, N.Y.) and Googling their way through agriculture. The story was so made-for-television that it was actually made into a reality television show. "The Fabulous Beekman Boys" ran for two seasons from 2010 to 2011.
For Ridge and Kilmer-Purcell, the boys at the center of the show who also won "The Amazing Race" in 2012, reality television fame was fleeting. Instead, they found lasting fame as television shopping stars. In 2013, Beekman 1802 arrived on Evine and promptly became the television shopping network's No. 1 brand. In 2016, it ranked 1,112 on Inc. magazine's list of 5,000 fastest-growing companies with sales that soared 387% to $5.2 million. Beekman 1802's HSN launch in 2018 and QVC launch in 2019 were among the most successful launches in the channels' histories. In this first half of this year, the brand's sales jumped 85% over the same period a year ago and, in August, it entered 400 Ulta Beauty stores, where sales have beat expectations.
Recounting Beekman 1802's major expansion milestones misses an important element of its progress: restraint. Ridge and Kilmer-Purcell have rejected investors, retailers and even "The Oprah Winfrey Show." "Because we are a self-financed company, we have always had more of a long-term vision," says Ridge. "We don't have investors that we are trying to make a quick buck for, so we like to be very deliberate." Beauty Independent asked him and Kilmer-Purcell to elaborate on the background of Beekman 1802, holding back on distribution, being pooped on by livestock, and whether they'd consider selling their brand.
You've told Beekman 1802's origin story hundreds of times, but would you humor us by telling it again?
Kilmer-Purcell: Brent was a physician, and I was in advertising, and we were living in New York City. In October 2006, we were going apple picking and came across a little town called Sharon Springs and a farm on the outskirts of town. We bought it for weekend getaways. Then, in 2008, we both lost our jobs, and we had to make something out of it. We took in a neighboring farmer called Farmer John [Hall] who had 80 goats and was losing the place where he was farming. We started making goat milk products, including beauty products like soaps and lotions. We call all of our customers neighbors because our neighbors were our first volunteers and customers. We always say we grew neighbor by neighbor.
What did Beekman 1802 launch with?
Ridge: We launched with the original goat milk soap. We launched the company on "The Martha Stewart Show" because I had been a physician and a healthcare correspondent on the show, and had worked with Martha to found The Martha Stewart Center for Living, which is a center in New York City devoted to aging. After we started making the soap, we gave her some as a Christmas present, and she loved it. We said, "We are going to start a company with them." We hastily figured out how to code our website, get the product up on it, and launched the business on "The Martha Stewart Show" talking about the goat milk soap. People fell in love with what it did for their skin.
Shortly after the appearance, I was cold-calling stores in New York City to get the product on the shelf. Someone at Henri Bendel said we couldn't just put it on the shelf, but, on their beauty floor, they had new brands and small companies inter-aisle. They said, "You can have this little 2-by-2 table, and you can come here during the holiday season and talk about your soaps." I would get up at 3 a.m., pack up the truck with soaps, stand there between 10 a.m. and 3 p.m., and drive three and a half hours back. I did that every day for eight weeks, and that's how we started to get the word out.
What happened after that?
Ridge: While I was at Bendel's, a beauty editor from Vanity Fair came through on a scouting visit and picked up the soap. She said, "Oh, I'm going to give it to my friend who's the buyer at Anthropologie." This was Christmas 2009 and, that spring, they placed a big order for holiday 2010. It was like 25,000 bars of soap. There was still just the two of us and soap maker Deb [McGillicuddy]. As a small business, you don't really understand what it's like to ship to a big retailer. We hadn't calculated the timing correctly. We got down to that final week before we had to ship everything out, and I realized there was no way we were going to make it by the deadline. We did a phone tree around the area. Literally, every housewife, church group member and person that didn't have a job helped. That's what happened. We had soap sitting in our dining room, kitchen and hallway. People came and, for about six days, they worked on those bars of soap for 24 hours a day.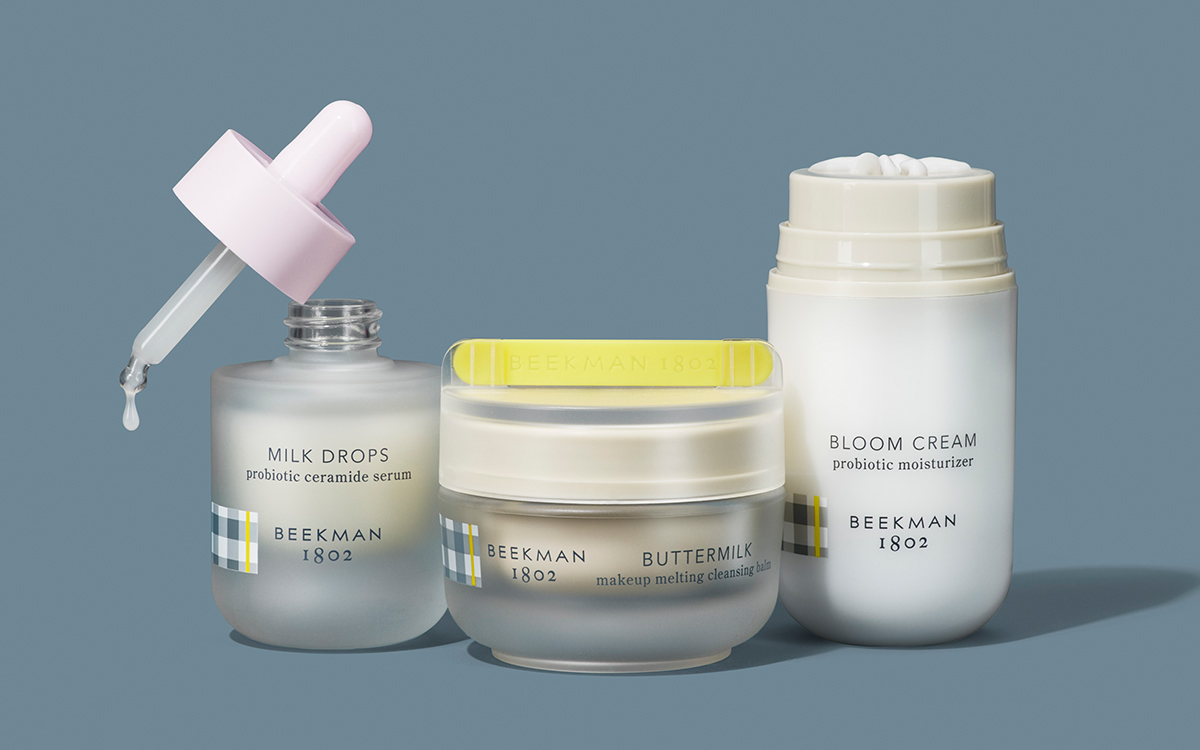 How did you get the money to fill the order?
Kilmer-Purcell: We used our savings. We never took on debt or investors. Quite honestly, we didn't even realize that was an avenue open to us. This was pre-"Shark Tank" days. We did it the old-fashioned way. If we made $2, we invested $2. That's how we grew. Even those original big orders, if they were too big, we would have to negotiate them down. Completely inadvertently, that made us exclusive.
What was the process to get on television shopping?
Ridge: We always seem to bump into the fans of the product. We were in Minnesota at Williams Sonoma doing a book signing for one of our cookbooks. This person came up and handed us her business card. She said, "My name is Michelle [Tacconelli], and I'm a beauty buyer at Evine." [Tacconelli is now a VP at Beekman 1802.] We had heard of QVC, but we hadn't heard of Evine. She said, "I've used your product, and we would like to have you come on the channel." We were like, "OK," so we showed up there with two goats.
Kilmer-Purcell: In our mind, we were like, "What can we do to keep people from changing the channel?" So, we thought, "We will carry baby goats with us." Everybody at the channel thought it was weird, crazy and silly, but we sold out. Had we been approached by HSN or QVC in those days, they would have been too big to handle, but being approached by the third-place network allowed us to figure out inventory needs and how fast things would turn. It was really the right size at the right time. Then, we transitioned to HSN and QVC.
Are goats good actors?
Ridge: They are not good, which is what makes it entertaining.
Kilmer-Purcell: We have been pooped on. We have been peed on. We have been humped. That's what makes interesting live TV. Taped always does worse. It shouldn't make any difference to the customer. The price is the same. The product is the same. But there's something about being live that is magic. It makes a more intimate shopping experience.
We always felt there are two key ingredients in our products: goat milk and kindness. It's easy to talk about goat milk. It's there on the front of the package. It's hard to tell people you are about kindness. When you're on TV and spend hours a day in front of the customer, they are going to see the true person you are, and that's really why we became so successful on TV retail. Finally, people could understand kindness and how we felt about our neighbors. People see that as they watch. It helped us show kindness in a way we couldn't on the shelf.
Beekman 1802 has built a strong following on social media. What's been the approach?
Ridge: Up until two years ago, the brand itself didn't have any social media. It was just our personal account. What made our community so strong and tight-knit was that people did and still do have almost direct access to us. They know bits and pieces of our private lives, and we know bits and pieces of their private lives. It's not a huge community if you compare it to a brand like Glossier, but it's such an engaged community. We can have a harvest festival in our little town of Sharon Springs and 20,000 people will come. It's because they've grown with the brand. They've seen our struggles. I think being our authentic selves from the very beginning made us very sticky and helped build that community.
In Ulta, the people who have followed us on social media all these years will take their friends to a store and say, "Look at this display. This is the brand I've been telling you about." They are so hardcore about educating on the brand that we have had district managers call us thinking they are Beekman employees, but, no, they are just people who love the brand and want to tell other people how excited they are that we are in Ulta.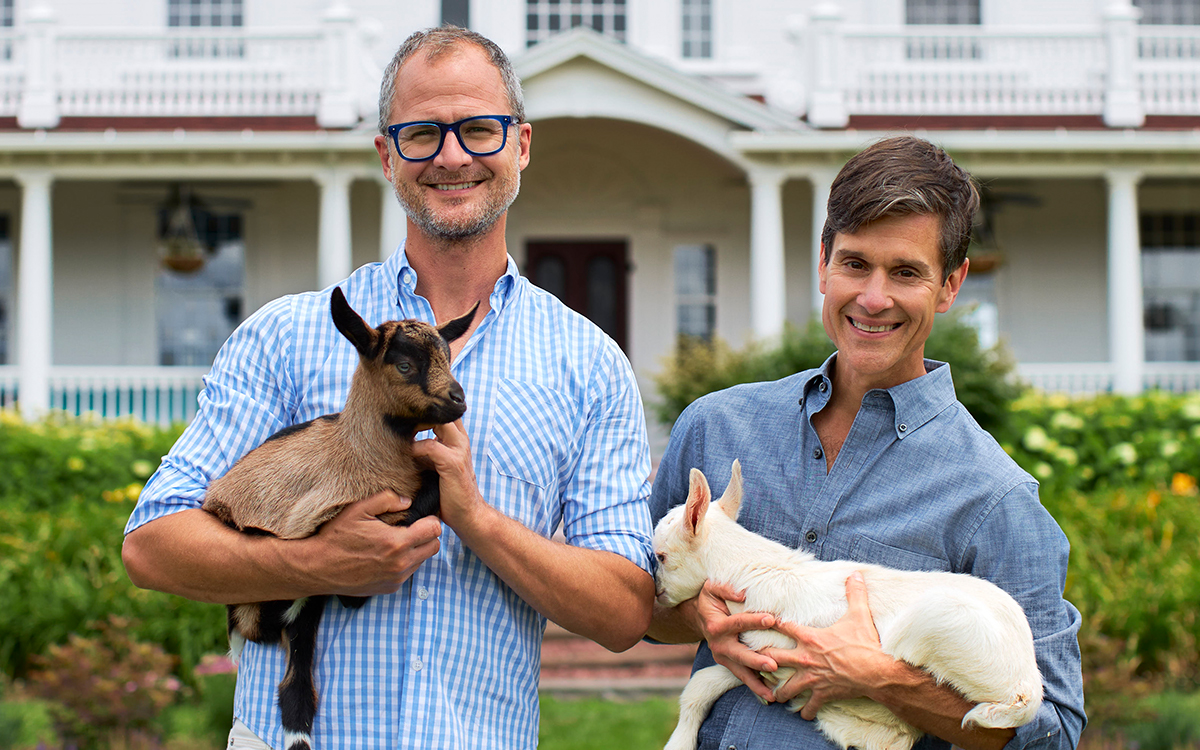 Speaking of Ulta Beauty, why did you want to launch the brand's skincare there?
Ridge: We graduated from bath and body about five years ago when we were still on Evine and started doing skincare as well as bath and body. That ramped up even more when we transitioned to HSN and QVC. As we continued to learn about what it was about goat milk that was powerful for the skin, we started looking at the microbiome. For the past two years, we were working on a collection of skincare focused on probiotics and the microbiome. Originally, it was just going to launch on QVC and HSN, but, around the same time, someone from Ulta reached to us. They had seen us on QVC and HSN, and were big fans of the brand. They asked us to chat. They probably assumed we would bring our bath and body products, but, when we went into the first meeting, we laid out research we had been doing with the probiotics line, and they said, "That's what we need to launch with."
Are there any surprises with the Ulta Beauty launch?
Ridge: Our hero product in the line is the called Bloom Cream. It's not just a moisturizer. It really feeds your skin's natural microbiome using the goat milk. In Ulta, it's the No. 2 product in the line. The No. 1 product turns out to be our Starter Kit, which has the four key products in mini versions. Ulta is over the moon about that, and we are excited about it, too, because there are so many new people experiencing the brand at Ulta. When they buy the Kit, some percentage of them are going to buy at least one full-sized version of the four products they are getting.
What's the explanation for launching at 400 Ulta Beauty stores?
Ridge: They were interested in having us go into all of the stores, but it's very expensive to go into a big retailer like that in terms of our inventory buildup and endcap displays. We just didn't think we were ready financially to do that. Also, we are always learning, and we want to make sure that we get it right. What we asked them to do was to look at customer data from our e-commerce and marry it with their stores in geographic regions that are very strong in prestige skincare, and that's how we came up with the initial 400 doors.
Who are the Beekman 1802 customers?
Kilmer-Purcell: The neighbors are truly a psychographic rather than a demographic. Of course, we do skew to a certain age group based on our TV retail presence, but our e-commerce data has the most amazing range of demographics. It's not an age group. It's not urban versus suburban versus rural. They are incredibly brand loyal, and they are nice. They are not super trendy. They don't choose a brand based on badge value. They choose it based on how they feel about it and their connection to it.
Ridge: We tend to appeal to a lot of customers who have never used skincare before, whether they are an older customer now getting into wanting to do something for their skin or they are a younger customer looking for their first skincare product. There is simplicity to the brand. We aren't about multistep products. Over the past few years, when K-Beauty exploded, and there were 14-step routines, you started feeling the pressure, are we going to be left behind? But we always kept it simple and, hopefully, the pendulum is swinging back to that.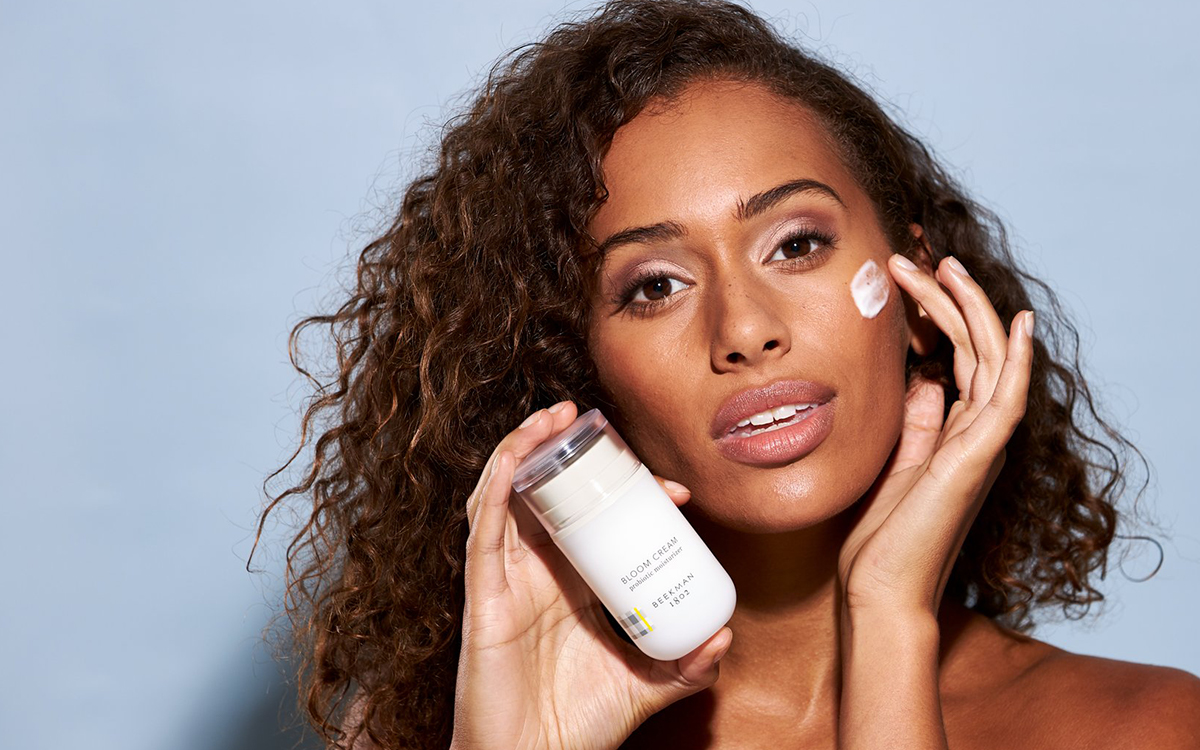 Earlier this year, you temporarily turned your store Beekman 1802 Mercantile into Rose Apothecary, the fictional business owned by the characters David Rose and Patrick Brewer on the television show "Schitt's Creek," and reenacted the scene where Rose serenades Brewer to the Tina Turner song "The Best." What was that like?
Ridge: We did that in one take. We are super huge fans of the show. The videographer we had hadn't seen the show. We said, "You have to watch this because we are going to do it." It's our favorite scene of the show, and I got to lip-sync to Tina Turner. Sharon Springs is as close as you will come to the actual Schitt's Creek in terms of the size of the town and the eccentricities of it. When we did the Rose Apothecary pop-up, people came from all over the world to see it. It lifted revenue for every small business on the street. For January and February, it was just pure joy in Sharon Springs. I think that's going to be an indelible memory. It was the last moment before the world changed.
The country can be so mean these days. It's a relief that your brand isn't.
Ridge: That's one of the really lovely things about the Beekman neighbors. People post that they check our Facebook every single day because there's nothing political about it. People don't argue. Even though there are obviously people on both sides of the political spectrum, when they are a part of our community, they are so respectful of each other. Even if they are posting something negative on their own page, they almost never bring it into the world of Beekman.
Kilmer-Purcell: That's not to say we don't take strong stances as a company. We are pro-LGBTQ and pro-BLM. If you put everything through a filter of kindness, it becomes inarguable. It has become second nature to people to be contrarian with everything, but you can still take a stand through the filter of kindness.
How do you make a bootstrapped company work?
Ridge: We started the company in the midst of the last recession. We almost had a stress response to spending money because we lost pretty much everything. We were always very conscious of not spending money we didn't have and growing at the right rate. When we started, like a lot of small companies do, we had to tighten our belt buckle. We didn't pay ourselves a salary for eight years. We were growing food on our farm, so we had very little living expenses. Now, what we did is much harder to do. The expectations in the beauty industry have become so outsized and the cost to acquire customers is much greater than it was when we started. Just having a strong social presence to break through now requires a lot of money, and it's really challenging because of the competition.
Kilmer-Purcell: The way we started, we learned how to do every single thing ourselves. We learned photography. We learned how to code the website. We learned e-commerce. We learned real estate to open our store. Then, the next thing we learned was how to pass things off to other people to do them.
Is a big exit your ultimate goal?
Ridge: We would exit for two primary reasons. One would be to find a strategic partner who could help us expand beyond North America. Right now, we are focused on North America. The other reason would be to find a partner that could help us with sustainable packaging. It's really expensive to invest in sustainable packaging technology and innovation. I don't think we would ever just sell to a private equity group. If we would ever do it, it would be to a strategic partner that would help grow the mission of the brand.
You are the faces of your brand. Does that ever get tiring? It seems like a lot of pressure.
Ridge: The only time we ever get a little bit like that is at the end of a marathon session of QVC or HSN. When you are doing hour 10, you feel we are getting too old to do this. Otherwise, we are so energized by our neighbors and the joy of the brand. It's really inspiring to know you are creating something that brings contentment to people, particularly in this time.
Kilmer-Purcell: The whole founder-driven marketing culture is a challenge. We appreciate our team and feel that they are under-appreciated sometimes, and I feel that a lot of founder-led companies have that problem. I want to create a company and brand that lives beyond us. I don't want it to be attached to the two of us forever. Having worked for Martha Stewart, Brent understood the pitfalls of naming a company after yourself. That's why we named the company after the farm. This place has been around for 218 years. We want our brand to be around for that long, too.