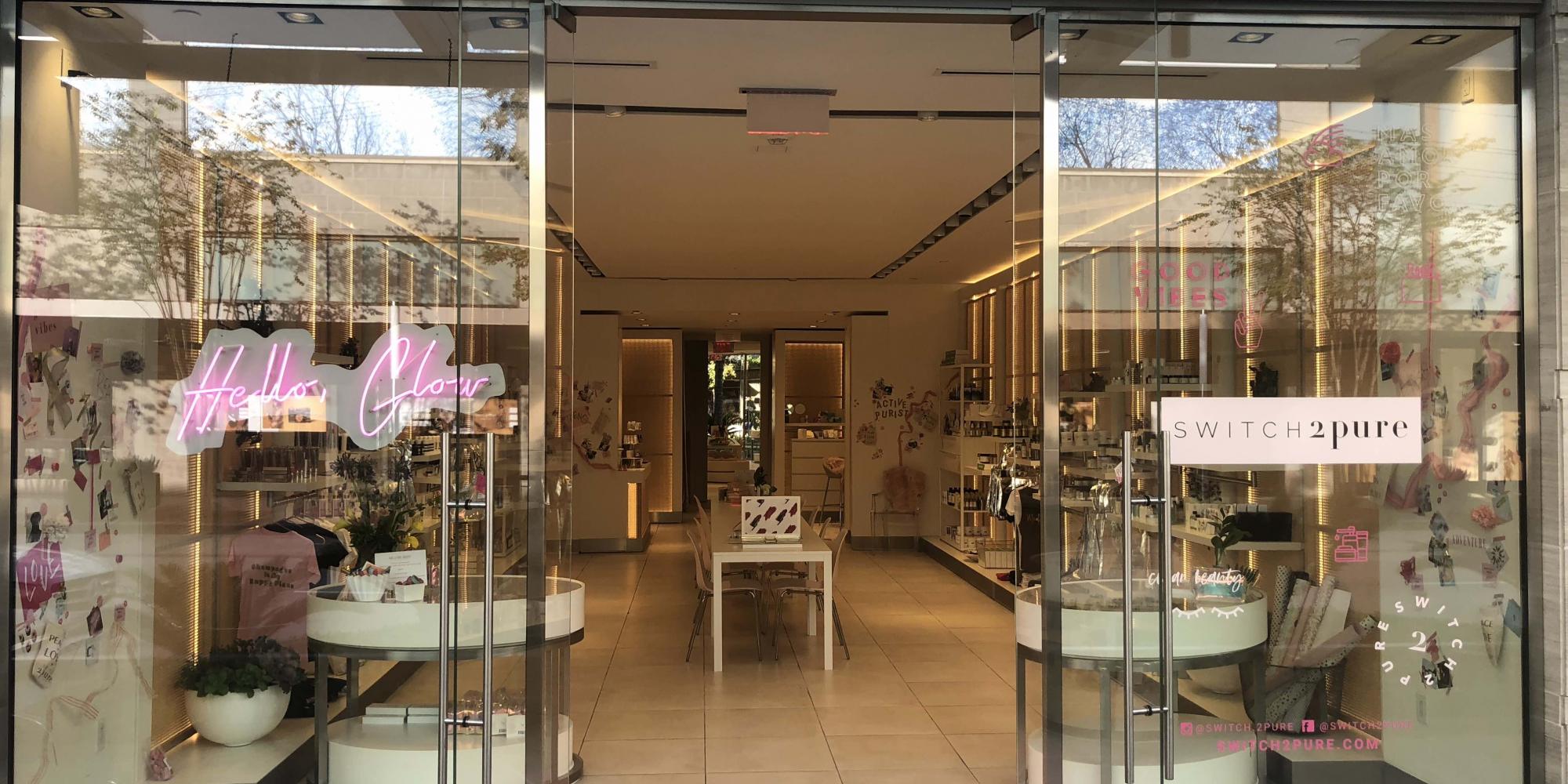 E-tailer Switch2Pure's Pop-up Enters An Elite Retail Lineup At Houston's River Oaks District
E-tailer Switch2Pure has joined Cartier, Dior, Tom Ford, Stella McCartney, Harry Winston and Hermès at the luxury outdoor shopping complex River Oaks District in Houston with a temporary store that's a prelude to a permanent location.
The 1,200-square-foot space marrying Palm Beach chic with Hollywood glamour houses some 75 clean beauty brands across the skincare, makeup, bath and body, and wellness categories, including bestsellers Uma, From Molly With Love, Cannabliss and Suntegrity. It also marks the arrival of Switch2Pure's Wellness NOW program providing personal food sensitivity and vitamin absorption assessments.
"Houston is such an international city and a pull for people from all over. I had done a pop-up with Purist magazine at Westfield Century City next to Tesla, and ones in the Hamptons, Aspen and Orange County, but I thought I needed to come back to where I'm from to open retail," says Estela Cockrell, founder of Houston-based Switch2Pure. "I feel Houston and Texas in general are often overlooked from a natural and health perspective."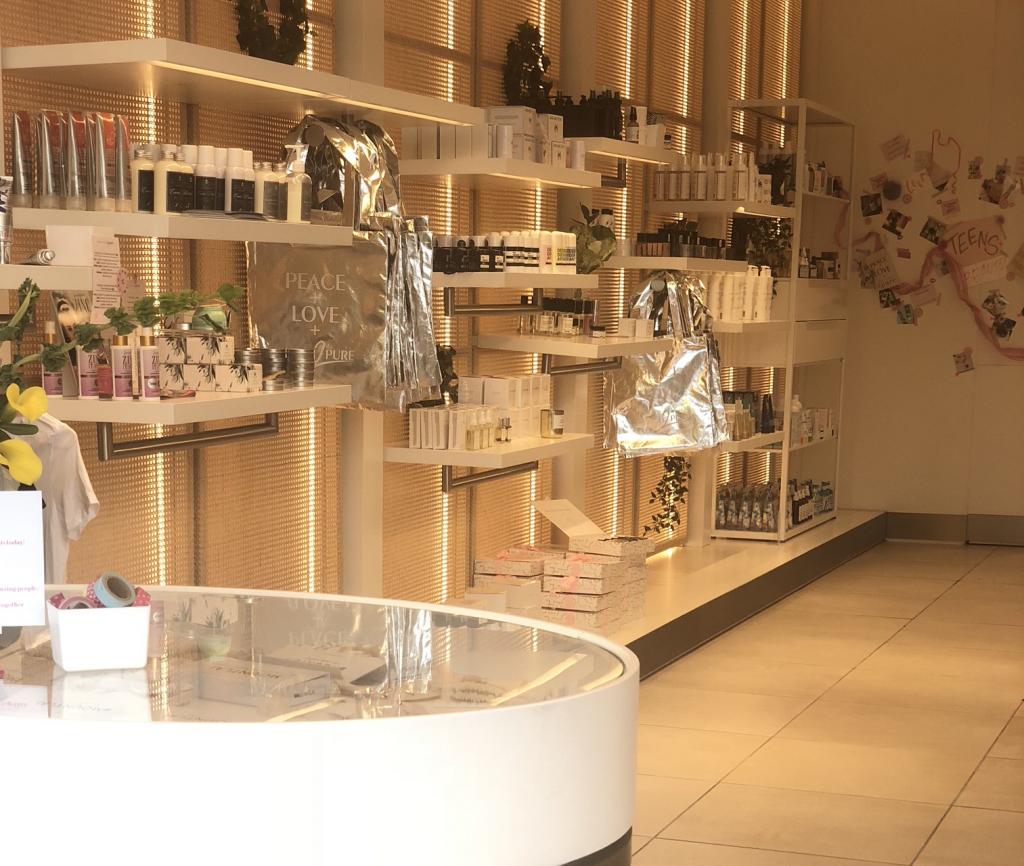 Switch2Pure has had plenty of prior experience with pop-ups. It's done three extended pop-ups and pushing 30 that ran from one to three days. The offline setups allow customers to examine products up close, and give them a chance learn from Cockrell about her switch to purer offerings and product preferences. She's lived with Lyme and celiac diseases for 22 years, and her health struggles lessened after transitioning to clean beauty products.
"People love to connect with people who've been there and done that. That's why our pop-ups were so successful and why people attended them," says Cockrell. "I am completely self-funded, and I have put my passion and my pocket book where my mouth is. This is more than riding a wave of natural beauty. This is about me really curating products in a location where people can feel seen and heard."
"I am completely self-funded, and I have put my passion and my pocket book where my mouth is. This is more than riding a wave of natural beauty. This is about me really curating products in a location where people can feel seen and heard."
In the cheery Switch2Pure store, walls are decorated with bamboo cane wallpaper, plants add splashes of green to white shelves and floors, and customers can take a seat at an illuminated makeup station in chairs topped with plush pink covers to try products from Lily Lolo, Saint Cosmetics, Au Naturale, Fitglow and Alima Pure. At the back of the store, a dressing room has been converted to a photo booth that's an Instagram post engine. In the window, a neon "Hello Glow" sign greets shoppers.
The products in the store and on Switch2Pure's website have been vetted to verify they don't contain over 30 ingredients on the so-called The Purist List. Among the prohibited ingredients are ethoxylates, synthetic fragrances and dyes, oxybenzone, glycols, parabens and phthalates. The Purist List is grounded in analyses by University of Texas professors tapped by Cockrell to identify ingredients banned abroad, and shown in studies to have links to cancer, hormone disruption and other deleterious health effects.
Beyond careful ingredient screening, Cockrell communicates with brand founders to understand their approaches to formulation. "I'm looking for sophisticated founders who really know what they're formulating," she says. "I want the assurance that they're doing at least as much due diligence as I'm doing. When I'm selling their brand, I'm all in. When I sell, I sell products like they're my own."
Switch2Pure has had its own products since it launched in September of last year. A star of its product lineup is the $16 Natural Probiotic Deodorant, which is being revamped. Cockrell is removing arrowroot powder from its ingredient deck to make customers prone to underarm irritation from aluminum-free deodorants confident they can use the product and underscore Switch2Pure's attention to sensitivities. At the moment, the in-house brand contributes around 10% of Switch2Pure's sales.
"I'm creating a wellness destination in this city that will have oxygen facials, a matcha bar and more. I don't want to call it a spa because it's more than a spa. Anything you can think of to cleanse and optimize your health, that's what will be at this location."
In the upcoming year, Cockrell predicts brick-and-mortar retail could account for as much as 60% of Switch2Pure's sales. Currently, skincare is the e-commerce concept's largest sales category followed by CBD merchandise and makeup. Cockrell points to CBD items, eye products and facial rollers as increasingly in demand from Switch2Pure's customer base. Its primary demographic is women aged 32- to 45-years-old, although Cockrell notes there's a strong contingent of male customers buying masks, deodorants and a Man Up Kit of men's skincare products.
The River Oaks District pop-up is a mere glimpse at Switch2Pure's physical retail future. Cockrell foresees her business extending into multiple locations, establishing a prominent health consultation arm to keep visitation humming and planting a flag for powerhouse wellness locations.
"I'm creating a wellness destination in this city that will have oxygen facials, a matcha bar and more. I don't want to call it a spa because it's more than a spa," says Cockrell. "Anything you can think of to cleanse and optimize your health, that's what will be at this location."