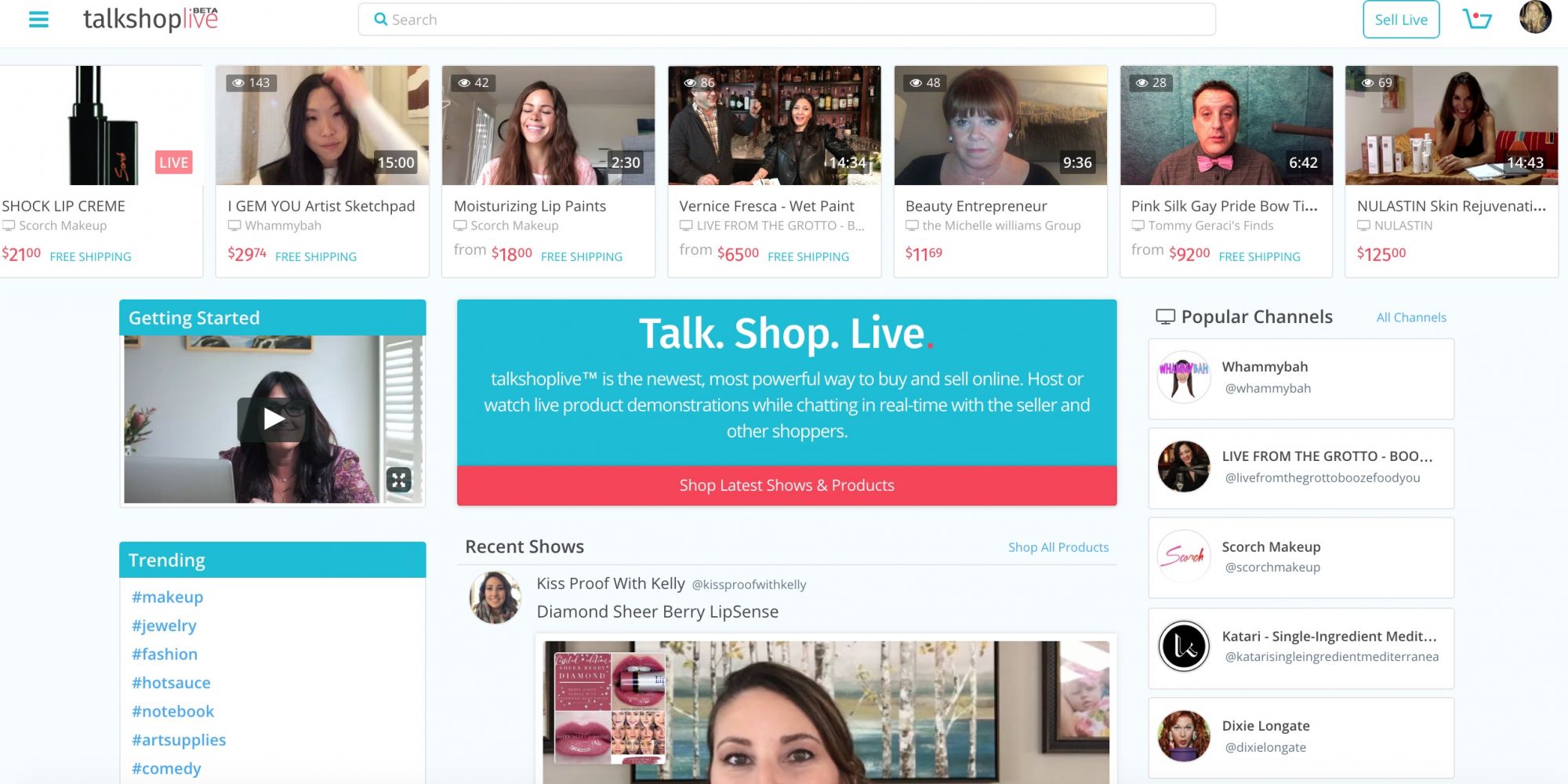 Talkshoplive Levels The Video Commerce Playing Field For Small Brands
Talkshoplive enables brand founders to sell products on home shopping from the comfort of their homes.
Currently in beta mode, the new digital platform is bringing the concept of user-generated content to video commerce by allowing anyone (drug and gun dealers excluded) to create videos of up to 15 minutes featuring new products. While the array of merchandise on Talkshoplive ranges widely from keychains to cummerbunds, beauty is expected to be a strong category with its core demographic of 18- to 45-year-old women.
"A lot of people are trying to sell things online, but what is missing is the story behind what they are selling, and we find the story often seals the deal. Consumers want to feel personal connections with the people they're buying from, and that's really hard to find on existing social platforms," says Tina Moore, a digital marketing strategist who founded Talkshoplive with her brother Bryan Moore. "That's why we included the live part. You can see when your favorite people are going live and, if you want to ask them a question, they can answer it live for you."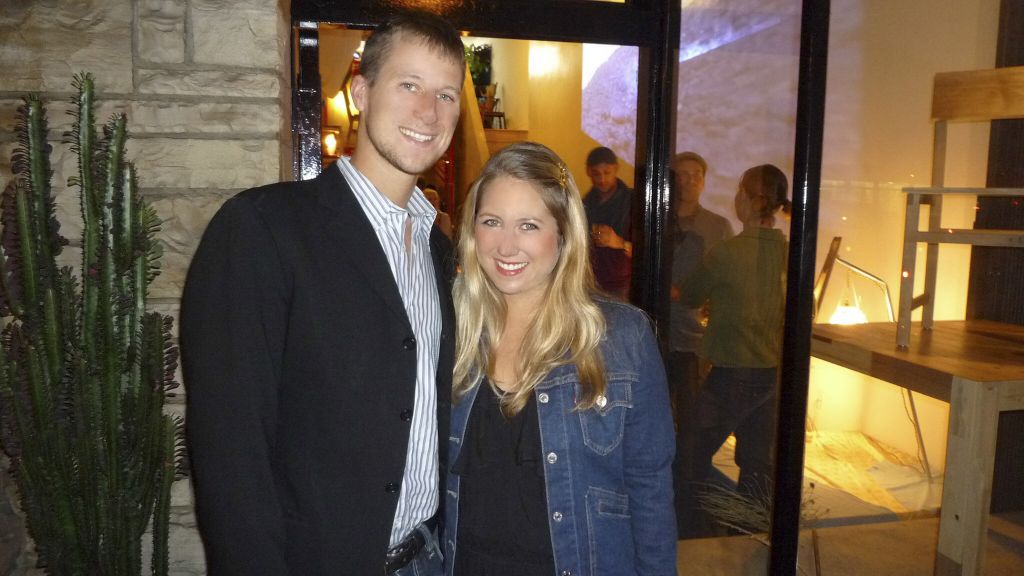 Videos on Talkshoplive focus on a single product or bundle for a single price. They run live and for 30 days unless brands choose for them to end earlier or product inventory sells out. Brands determine inventory amounts and product prices for each video. They can shoot videos using Talkshoplive's iOS app on mobile phones or on their computers.
Brands can permit influencers or representatives to sell their products on videos, and give them commissions based on sales. Regardless of the person doing the selling, brands are encouraged to share Talkshoplive videos across social media channels. The platform is also promoting videos on different channels as it attempts to build its customer base. "We are putting money behind the shows and targeting specific audiences for the sellers and their products," says Moore.
Brands handle fulfillment for items sold during Talkshoplive videos. When an item is ordered, Moore details the platform will send them a message with order information, the customer's name, address and email address, and a shipping label. Talkshoplive will track shipping if a brand opts for it to. It takes a 10% fee on purchases that brands can cover or have customers cover. Money from purchases is doled out to brands three days after customers obtain products they bought.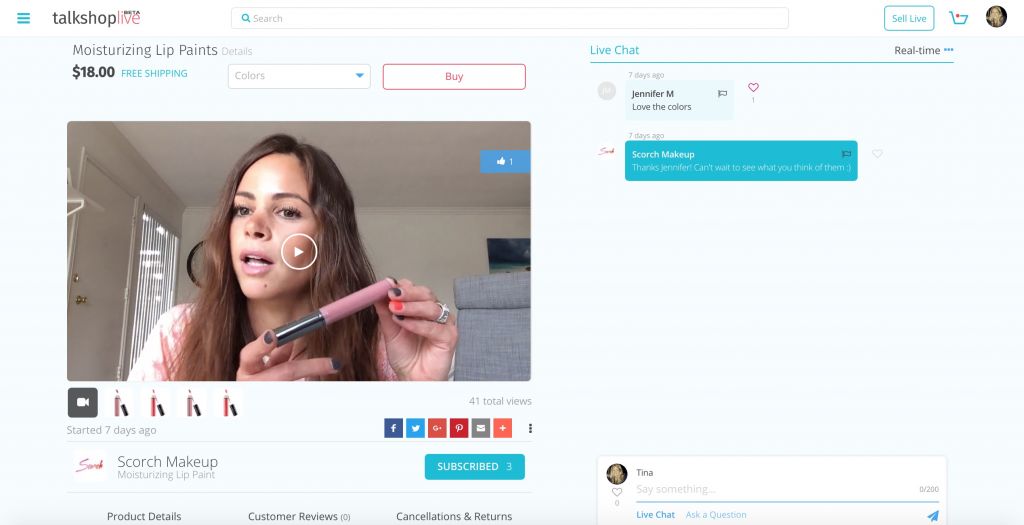 With the traditional retail environment challenging, Moore asserts Talkshoplive offers brands a venue for courting customers that they can control. "We have a lot of friends, and some of them have brick-and-mortar stores. They haven't been getting the foot traffic they'd hoped to get, and they're were trying to get their products out there by placing Facebook and Instagram ads," she says. "We thought, 'There has to be a better way to tell your story.'"
Michelle Williams, owner and CEO of beauty consultancy Michelle Williams Group LLC, lauds Talkshoplive's low barriers to entry. "I love the ease of setting up an account to sell and the modest percentage fee of 10%," she says. "When I think of the hundreds of brands and ideas that the beauty community has out there and not much opportunity to see their brand on QVC or HSN – those efforts are big commitments – this is an amazing opportunity for so many beauty brands with no downsides."
Moore emphasizes return on investment from Talkshoplive participation is easily quantifiable. Brands are informed about exactly how many items they sell per video. "We have done a lot of work in the influencer world, and we see how much money brands have paid to influencers to promote their products, and we've also been on the side where it was difficult to know what the return on investment was," says Moore. "You definitely see what your return on investment is through this model."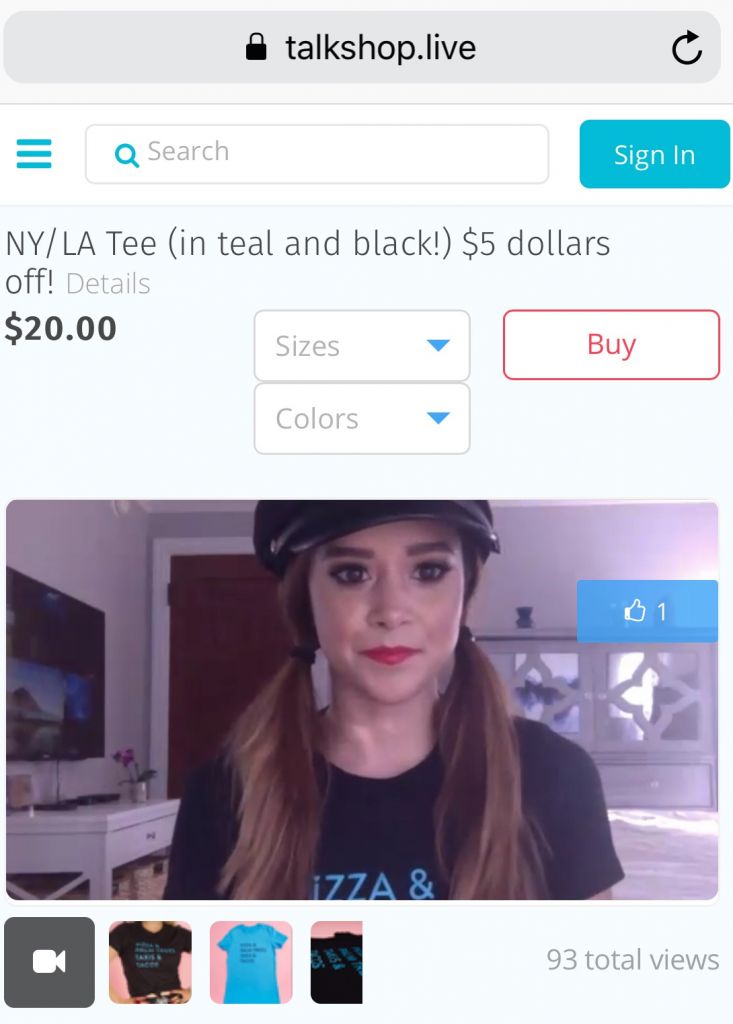 As Talkshoplive gets rolling, Moore reveals the biggest obstacle it's facing is brand founders' temerity. They're nervous to be on camera. Talkshoplive advises them to establish good lighting and incentivize customer purchases with compelling values. Other than those tips, Moore stresses founders should be themselves in videos. "We've had people on with a baby crying in the background, and they're concerned about stopping the baby, but they shouldn't. That's real life," she says. "You don't have to follow a whole script. Tell your story, be confident in your brand, and people will come."
Kate Fish, founder of the skincare brand Katari, which has done four Talkshoplive shows so far, admits videos aren't her forte, and there's a learning curve involved. "I've had to figure out what looks best. I'm not a blogger or YouTuber, and I didn't know how to put my face in front of the camera and turn the bottle [to the audience] so it doesn't look awkward," she says, "but I really love the platform, and I'm going to do it weekly to grow the audience and blast videos across various platforms. Video is the future, and live videos are becoming a more prominent way to reach customers."