Texas Beauty Labs Founder Mary Berry Harnesses The Power Of Astrology For New Launch Cosmos Vita
Today, about one week into the sun transiting Taurus, an astrological sign ruled by Venus and known for its passion for art, beauty and other sensory pleasures, there's a full moon in Scorpio, a sign noted for ambition, bravery and transformation. While the celestial significance of the day may be lost on many,
to Mary Berry, it marked the ideal moment to launch her astrology-informed supplement brand
Cosmos Vita
. 
"I think this launch date picked me," says the founder and former CEO of clean beauty manufacturer Texas Beauty Labs, now The Goodkind Co. "I believe in timing and, if you leave yourself open, the timing will be perfect. Scorpio is super transformational, super focused, so that goes for me for two levels. Personally, transforming into direct-to-consumer from the B2B business. Then, also for wellness, [Cosmos Vita] can be super transformational like the full moon for people. Then, we're in Taurus season, which is all about self-love."
Cosmos Vita premieres with three vegan and gluten-free gummy vitamin offerings—Beaming, Supportive and Gutsy—priced each at $19 for 60-count bottles. Beaming is formulated with 50 milligrams of vitamin D3; Supportive provides 100% of the recommended daily vitamin C dosage along with elderberry, zinc and antioxidants to boost the immune system; and a serving of Gutsy contains 500 milligrams of apple cider vinegar. The astrological influence extends beyond Cosmos Vita's launch date to the brand fostering an astrology-focused community to help guide consumers' health-conscious choices and educate them on the impact that universal events like full moons have on their personal lives. Berry has partnered with astrologer and spiritual advisor Lauren DeGolia to write monthly horoscopes for the community.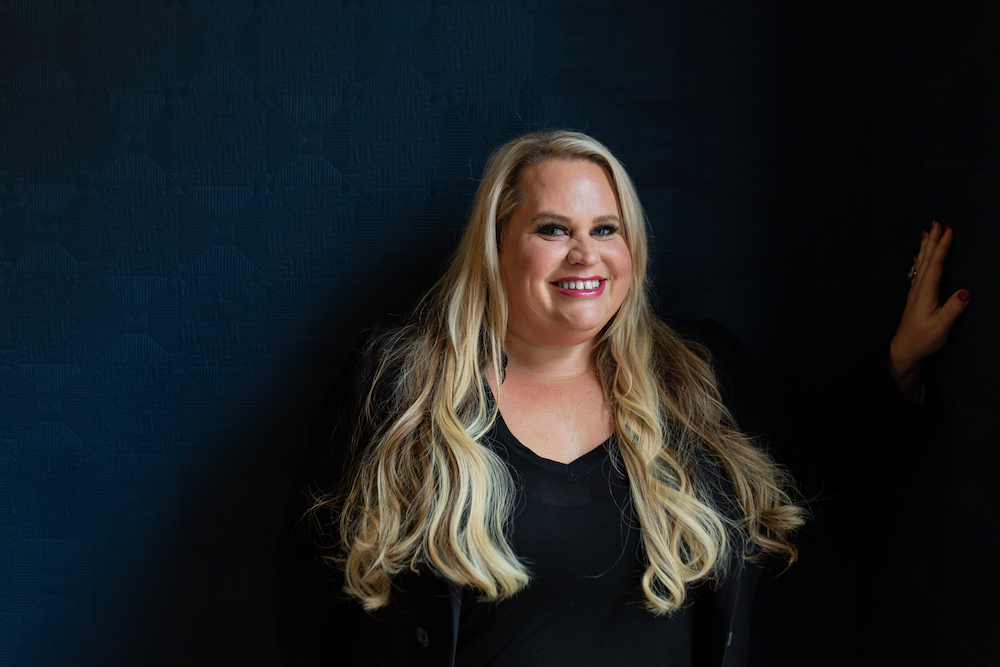 Berry was motivated to created the brand after she suffered from supplement fatigue that set in during the pandemic. A functional medicine doctor put the entrepreneur on a rigorous protocol of several supplements that felt overwhelming. "I was taking fistfuls of them, and my stomach kind of hurt," she recalls. "I was looking at my kids and they'd be so excited about vitamin time in the morning, and they'd be eating their gummies. Why can't I have that kind of situation?"
Berry realized a more pleasant experience would encourage her to have better supplement regimen compliance—and knew she wasn't alone. She wanted the other adults in her life to be proactive about their wellness and willing to get on the supplement train, too. "If I made it super delicious and fun, I think that could really work," says Berry. "That was really my inspiration behind the brand." 
It took Berry five months to develop Cosmos Vita's debut trio of products. Of course, Berry is no regular first-time DTC brand founder. She helmed Texas Beauty Labs for a dozen years, and was instrumental in readying 500-plus beauty, wellness and personal care products for the market. She was responsible for the formulation of Native's bestselling deodorant, for example. Native was acquired by Procter & Gamble in 2017. "Product development is super easy for me," says Berry. "I love it."  
Berry left Texas Beauty Labs a little over a year after it was acquired in 2019 by fellow Austin beauty company and clean fragrance specialist Phlur following Phlur securing a $7 million series A round led by fragrance and flavor giant Symrise. Following the acquisition, Texas Beauty Labs rebranded as The Goodkind Co., with Berry remaining on as founder while then Phlur CEO Eric Korman became CEO. Earlier this year, incubator and investor The Center revealed it purchased Phlur. 
"It was time for me to start a new adventure," says Berry. "I love the challenges of early-stage business and, since I sold Goodkind, the business was left in good hands to bring it to the next level, which made me feel good about closing that door and opening the door to new adventures." She shares she's self-funded Cosmos Vita, but declines to divulge how much she's spent on it so far. 
Cosmos Vita will initially only be available on the its e-commerce website. Berry anticipates strong adoption of the brand's subscription service providing customer 10% discounts on the products. Cosmos Vita is tapping a digital subscription tool called Smartrr to optimize recurring revenue. "Subscription services for consumer websites can be difficult. You have to be able to be approved and, sometimes, they won't approve supplements for some reason," says Berry. "We do expect subscriptions to be a huge cornerstone of our business because [our products] are consumable, and it's something that hopefully everybody's taking every day for their wellness."
In the near future, Berry's goal is to place Cosmos Vita in select retailers such as Anthropologie focused on younger millennial and gen Z shoppers, two groups highly interested in astrology. "I might start with someone small like a spa, try that and, then, go into something bigger," figures Berry. Made popular with younger consumers by beauty brands like Glossier, merch, including a baseball hat and journal, is available now at Cosmos Vita's site. 
Cosmos Vita plans to introduce three additional stockkeeping units this year and three more in the first quarter of 2022. "It's really important to stay current, so product release is extremely important," says Berry. "On the other hand, it's also important to make sure you don't have so many SKUs that they're overwhelming the consumer. We'll release another three supplements the end of summer, beginning of fall, and we'll see how they're doing. If we have one that's a low-hanging fruit that nobody wants, we'll just discontinue it. I'm really big on being agile."
Cosmos Vita enters a bullish supplement market that's been bolstered by the pandemic. According to Research and Markets, the global dietary supplements market is forecast to advance at an compound annual growth rate of 8.6% to reach over $272 billion by 2028. Feverish dealmaking reflects optimism about the state of the segment. On Monday, Unilever announced its acquisition of another Austin operation, holistic wellness and lifestyle company Onnit. In November of last year, the personal care behemoth scooped up gummy vitamin maker SmartyPants. Nestlé is said to be in talks to acquire The Bountiful Co., maker of drugstore staple Nature's Bounty.