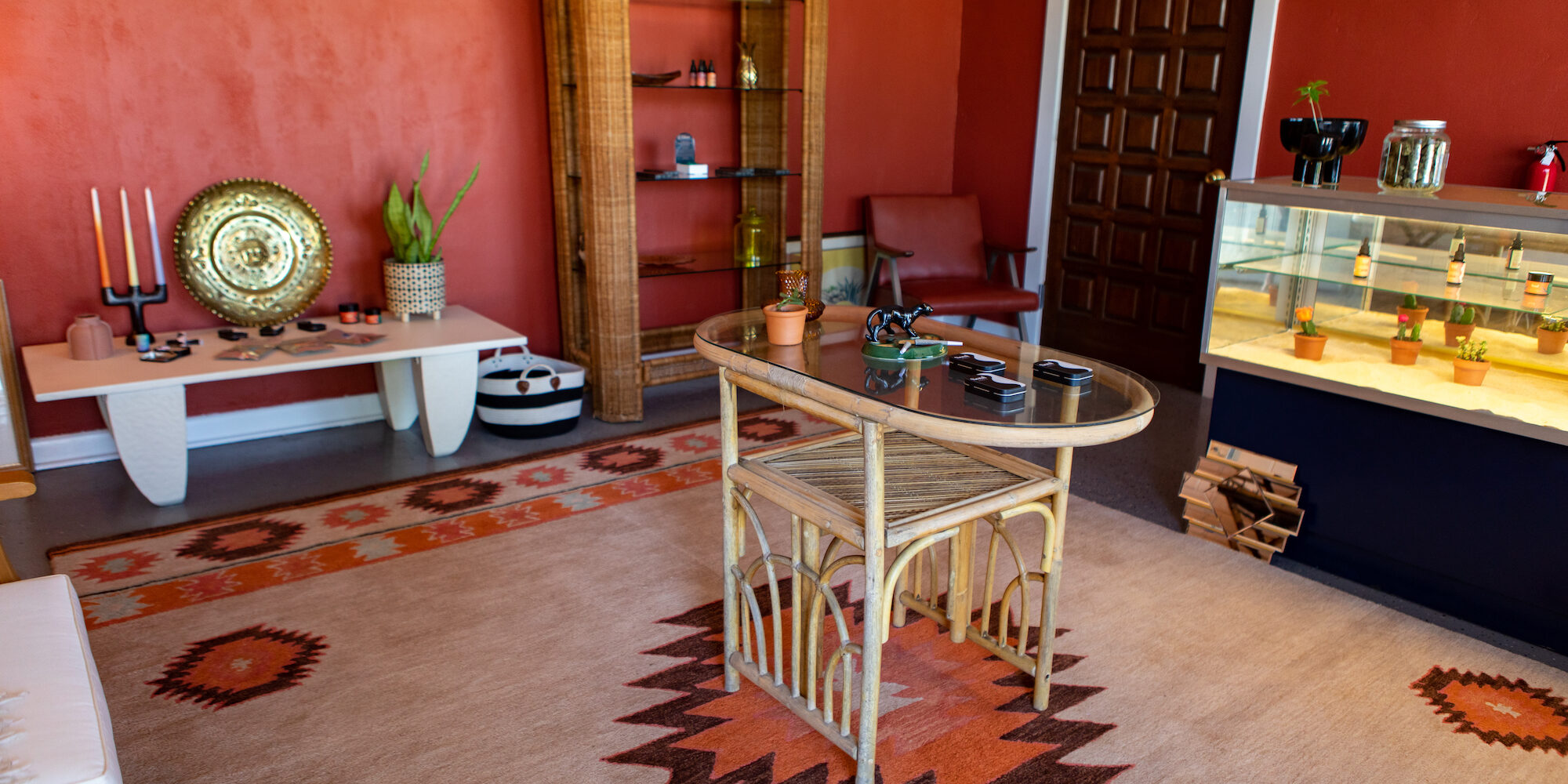 The Branded Beauty Store Is Back
In December 2020, Laura White, co-founder of cannabis beauty and wellness brand Soul Addict, felt like she was finally coming up for air for the first time since the pandemic hit the United States. When nationwide lockdowns went into effect, her brand lost almost all of stockists—
60 retailers across the country
—
overnight. 
Early in 2020, White had moved Soul Addict's business operations from a small space on her family's farm where she grows the hemp for its products—Soul Addict has been fully vertically integrated since 2019—to a 4,500-square-foot production facility a 10-minute drive from the farm with the intention of using part of it for a retail store. "Then, my dad got sick, and we all started to really grasp the situation of what was actually happening with COVID," she says. "So, we just took a step back and put all of our effort into our website, making sure our customers felt cared for, going above and beyond on that experience cause that was our bread and butter." 
At the end of 2020, White and Max Gaudin, her Soul Addict co-founder and partner, were asked why they didn't have a retail space. Without a good answer, the pair decided to unpause their brand's retail project. "It was just time," says White. "We realized we're not traveling anymore, we're not doing pop-ups like we used to, not getting that community feel. For me, personally, it's hard to see what you're building when you're not having that interaction anymore."
After a $10,000 investment, an amount that includes rent, Soul Addict's retail concept, The IRL Shop, will open its doors in Connelly Springs, N.C., in June. White is a member of a growing group of independent brand founders eager to transition from the last year's virtual reality to an in-person post-pandemic world where they can build community and revenue-generating opportunities on their own turf. From coast to coast, the branded beauty shop is back.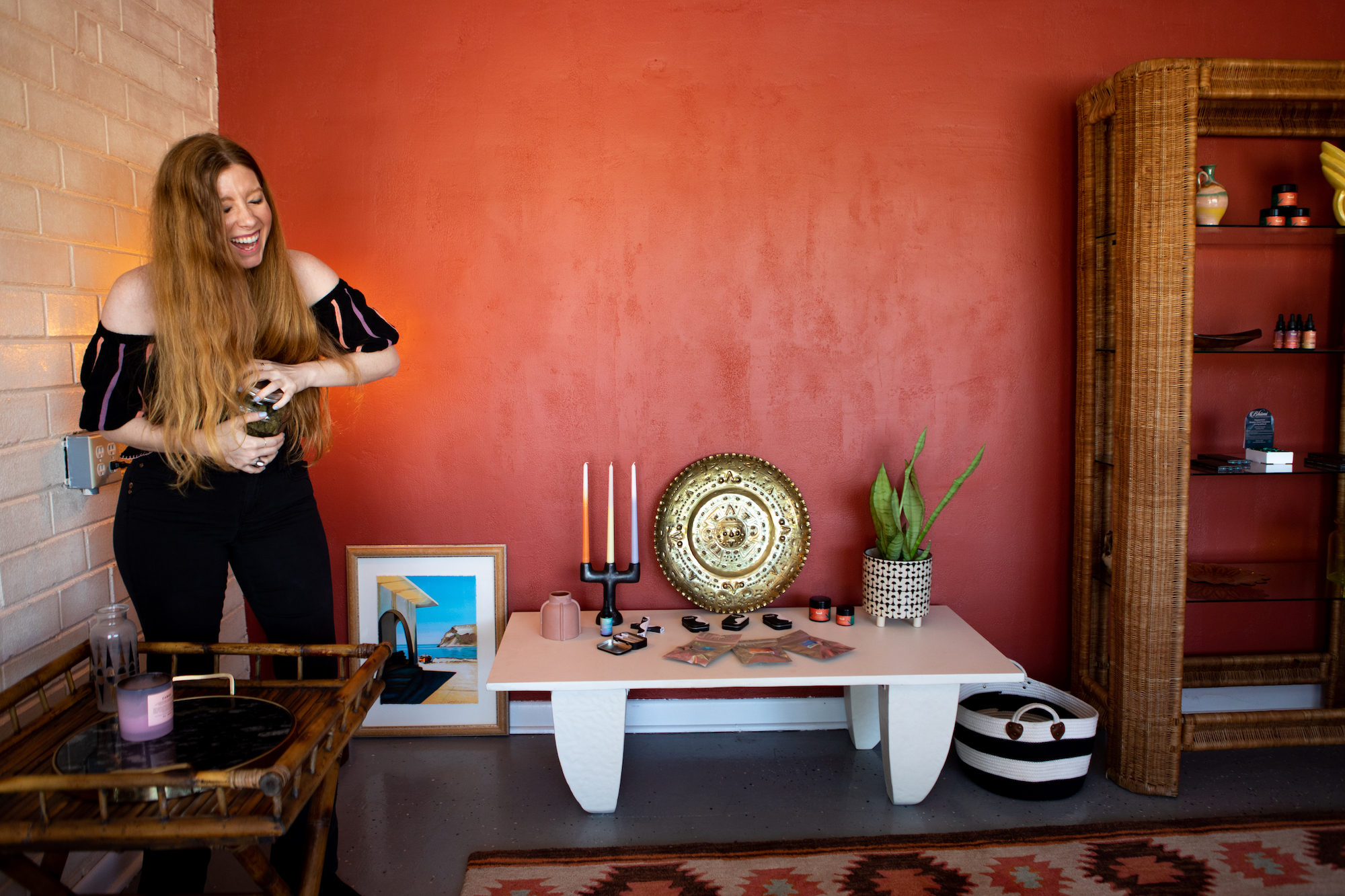 Beauty shops such as ones by Soul Addict, SkinOwl, Miami Beach Bum and Make & Mary are spreading as brick-and-mortar retail is starting to recover in beauty and otherwise. According to Tatiana Perim, partner in the consumer practice of global strategy and management consulting firm Kearney, foot traffic at a representative sample of 52 malls in March was up 86% versus last year based on mobile-device location data from Placer.ai. Consumers in countries with strong vaccination rollouts are ready to return, albeit with caution, to activities they enjoyed prior to the pandemic, shopping in physical stores chief among them. With health remaining a major concern, smaller stores like The IRL Shop could be particularly appealing to shoppers.
In retail and technology insights firm Coresight Research's weekly survey from April 29, persistent skittishness is evident. Nearly 75% of consumers reported they expect to avoid venues such as shopping centers, stores, entertainment destinations and workplaces after businesses reopen. Drilling down into the data, out of the respondents that plan to avoid those places, 69% plan to avoid shopping centers, and 48% plan to avoid shops in general. Erin Schmidt, beauty industry analyst at Coresight Research, says, "The survey data suggests that the consumer is sidestepping large, crowded places. Therefore, off-mall stores and smaller stores may have an advantage as the consumer appears to be avoiding larger shopping venues in favor of small shops."
Small shops are popping up in not so small cities. Miami Beach Bum founder Ayssa Di Pietro recently opened a branded 400-square-foot store-cum-showroom in Miami Beach. Di Pietro soft launched Miami Beach Bum in June 2019, and the clean beauty brand officially debuted in January 2020 mere weeks before the pandemic disrupted business in the U.S. "When it first happened, we had some purchase orders canceled, and I was really unsure of how it was going to affect the industry or us as a new brand," she says. "Since I have invested a lot into it, I didn't have an option but to keep going forward. I decided to look at COVID as an opportunity. Where is there now opportunity for us to grow or pivot?"
The pivot to a physical manifestation comes as Miami's residential real estate is booming. Di Pietro says the city has "never been so hot." Manola Soler, director at global consultancy Alvarez & Marsal's consumer and retail group, expounds, "Florida, especially Miami, became a hotbed of activity as both people and corporations relocated in droves due to tax advantages, warmer weather and an abundance of talent." 
When coronavirus took hold, DiPietro was fulfilling Miami Beach Bum's products out of its offices. The brand grew rapidly, experiencing 8X sales increases, and she opted to outsource fulfillment to handle the volume. The outsourcing freed up square footage, and Di Pietro, who had already poured about $400,000 in the company to get it off the ground, invested Miami Beach Bum's profits into a storefront with offices behind it. She estimates she spent $50,000 to $60,000 on the retail area, which is designed to embody the art deco DNA of the Miami Beach Bum brand.
"I say a showroom because, from an internal marketing perspective, we host buyers, we host editors, we can show our partners how we merchandise our products," says Di Pietro, adding, "We went above and beyond to make it beautiful. We were not just going to put the product on the shelf. If this was my dream house, how would I design it? We took the time to make it look not only very comfortable, but also have all those Instagrammable moments throughout the store."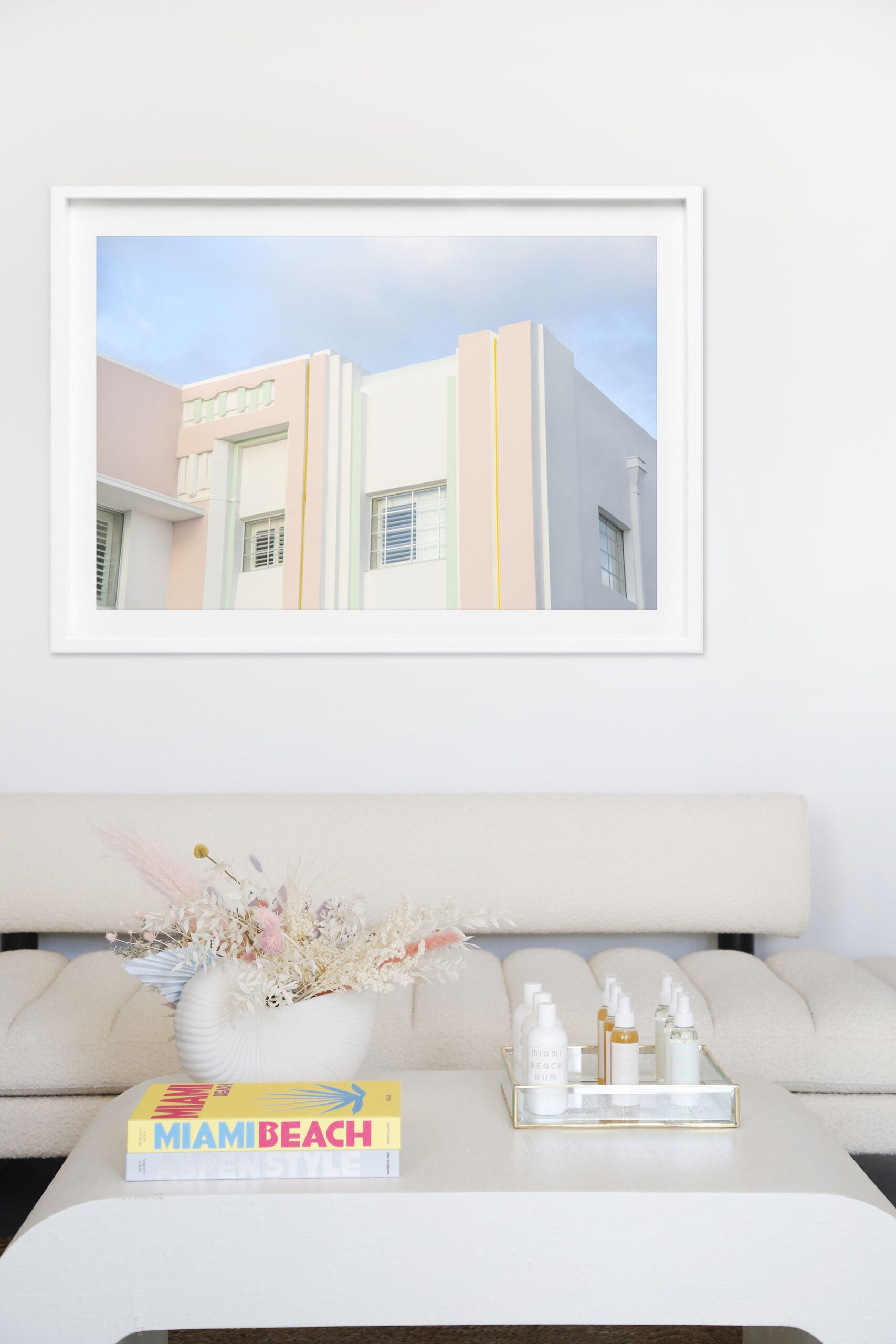 In addition to Miami Beach Bum's eight face and body care products displayed in the space, there's a small curation of lifestyle items such as casual clothing. "The idea and the concept behind the space was for it to be our home and a place where people come and really experience our brand," says Jaclyn Aguilera, marketing manager for Miami Beach Bum. "We're definitely in a place where it's digital first, however, people are coming back to stores, and I think, especially now in the post-COVID environment, there's going to be a desire to come back into retail, but what is that experience going to give them?" 
Fostering community and approachability are critical reasons why Miami Beach Bum extended into a physical space. In the consumer goods segment on the whole, brands' abuse of the word "community" has become so egregious, it's rendered the term essentially meaningless.
But the founders opening branded brick-and-mortar stores are putting money where their mouths are, creating vehicles to engage customers, aka community, with their stories and perspectives conveyed physically rather than in the noisy online landscape. 
Since opening last August in Portland, Ore., Make & Mary's store has become a hub for spiritual locals, thanks to regular events held at it like sound baths, tea ceremonies and equinox workshops. Founder Yvonne Perez Emerson has her office, shipping room and lab on the premises, where she produces Make & Mary's CBD-infused skincare, wellness items, candles and more.
The soaring ceilings make the store seem larger than its 800 square feet, and Perez Emerson, who's a designer as well as a beauty brand founder, has filled the space with ornate flourishes like a hand-painted floral mural wall and vintage letterpress machine. She spent slightly under $10,000 to get the space retail ready. A woman of color founder, Perez Emerson looked into assistance in securing the space from economic and urban development agency Prosper Portland, but chose to bootstrap the project instead.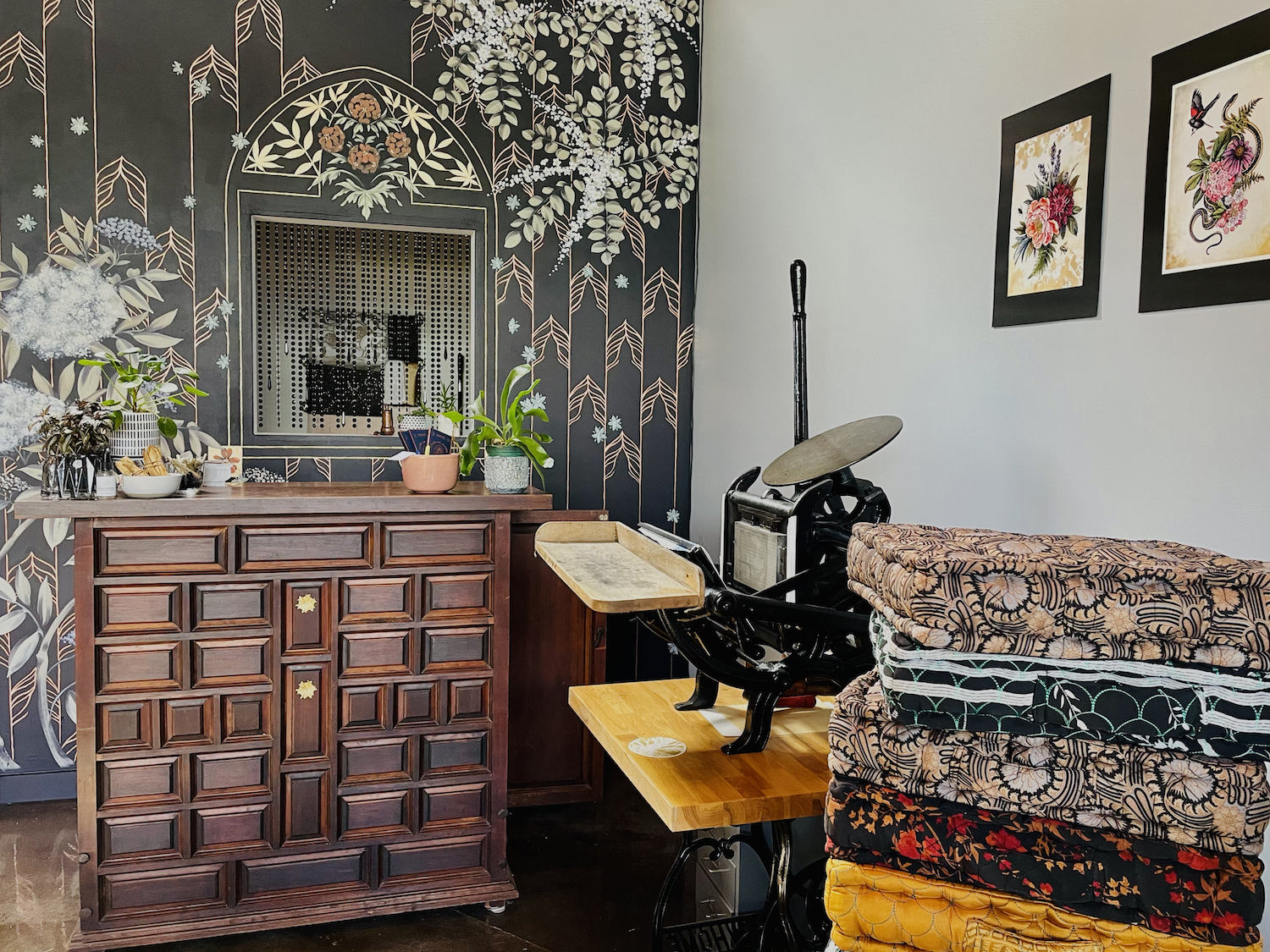 The entire Make & Mary collection is available for sale in the store along with beauty and wellness products from other brands like Glissant's lube, and plants and high-end pottery hand-picked by Perez Emerson. The entrepreneur describes her foray into physical retail as a success. She says, "I did more in store from August through December then I did from all my other channels—online and wholesale—combined." She discloses the average in-store sale is around $175. Though Make & Mary offers free shipping on online orders over $50, the option of buying online and picking up at the store is popular with customers. 
Retail wonks have been pondering whether rent represents optimal customer acquisition costs (CAC), positing that, in the face of climbing digital CAC, branded retail spaces are a better bet than endless Instagram advertisements. While social media ad prices are lofty today compared to years ago, digital DTC strategies became popular in part because retail overhead isn't cheap and easy to retreat from once leases are signed. That's true now, but costs have cratered as retail rents have decreased amid the pandemic, and shopping center landlords' negotiating advantage has eroded as they struggle with vacancies. 
The foot traffic problems that plagued pre-pandemic physical retailers haven't disappeared and could be perennial as e-commerce occupies a greater share of wallet. Entrepreneurs like White, Di Pietro and Perez Emerson who have taken the brick-and-mortar plunge are figuring out how to ensure their communities know their brands' stores are open to pull in a stream of customers and, therefore, sales in order to cover rent. This month, Perez Emerson is sending out a direct-marketing mailer offering 15% off purchases in Make & Mary's store to 5,000 people in her store's zip code. She says, "It just tells them, 'Hey, we're in town, you're a neighbor, come in for self-care.'" 
Even in New York City, where the commercial real estate market has historically been untouchable for independent beauty brands, founders of emerging brands are leveraging the financial shifts the pandemic has engendered to experiment with stores. "In general, commercial real estate in big cities has suffered the most as urban areas, including New York and San Francisco, experienced a mass exodus during lockdowns," says Perim. According to the Real Estate Board of New York, New York City retail rents have dropped as much as 25% from 2019 levels. Even with price cuts, retail rent per square foot ranges from a few hundred to a few thousand dollars across Manhattan.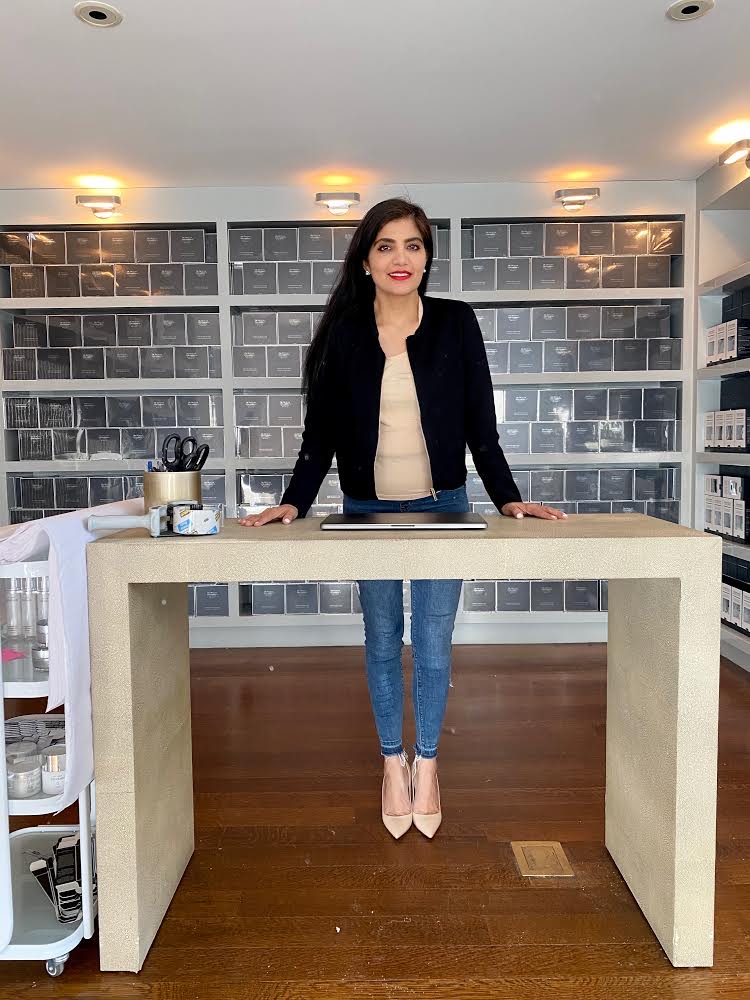 Against the backdrop of falling rents, Manhattan plastic surgeon Lara Devgan is next month opening a 8,000-square-foot addition to her Park Avenue offices with a 1,500-square-foot retail component showcasing her brand Dr. Lara Devgan Scientific Beauty. The brand started in 2017 as targeted solutions for Devgan's patients and quickly expanded to become a sought-after collection of luxury beauty and wellness items priced from $50 to $300, and sold at Sephora and Net-a-Porter. As previously reported in Beauty Independent, from January to May 2020, the brand's sales rose 500%. Currently, direct-to-consumer sales account for 80% of the brand's revenues. Together with the relatively favorable rent dynamics, the enthusiastic consumer response to the products and the long-term impacts of COVID-19 have solidified in Devgan's mind that an amplified physical presence is a relevant action.  
"The decision is definitely a risk, but, to me, I feel like it's one worth taking, especially after this long year in quarantine and with shelter-in-place orders and all of the changes in our life that COVID brought," says Devgan. "I think people have been feeling more isolated and, despite technology, real life happens face to face, not on a website or cell phone. After a year in a quarantine, we're all ready for a more IRL experience. A retail storefront represents an opportunity for people to interact with the brand. It's immersive."
Devgan's storefront will serve as a literal gateway to her medical and surgical practice. Patients will walk through the retail space to enter the medical offices. The storefront will be visible from the street, and Devgan is confident it will attract curious consumers passing by on the busy city street. "It's a very unique space that [will be] inviting, not just for our medical patients, but also for anybody who's interested in learning more," she says. "The design of the space itself is going to be clean and minimalistic, consistent with the brand. We have a lot of white Carrera marble with some elevated details. We really want the products to take center stage." 
Complementing Dr. Lara Devgan Scientific Beauty, the retail section will feature a rotating selection of external brands in what Devgan calls edits. She explains, "I want to stay true to the ethos of the brand and my own philosophy, which is that I really built the skincare line to be for people who are like me, who want effective luxurious products that are simple and easy to use."
Indie brands are moving into malls, too. In Las Vegas, a city that's been devastated by the effects of the pandemic, intimacy brand Pepper's first retail location will occupy 6,000 square feet in the $4.3 billion Resorts World project slated to open in June. The project encompasses a 70,000-square-foot mall, 3,500 rooms across three Hilton properties, 40 eating and drinking choices, a 117,000-square-foot casino and an over 5-acre pool complex. For Pepper's married co-founders Lincoln and Sarah Spoor, COVID-19 was an impediment rather than an inspiration to open. The original plans had Pepper's store opening in March last year. "No one wanted to put money in anything for a year," says Lincoln. "We kept pushing and kept developing and designing the store."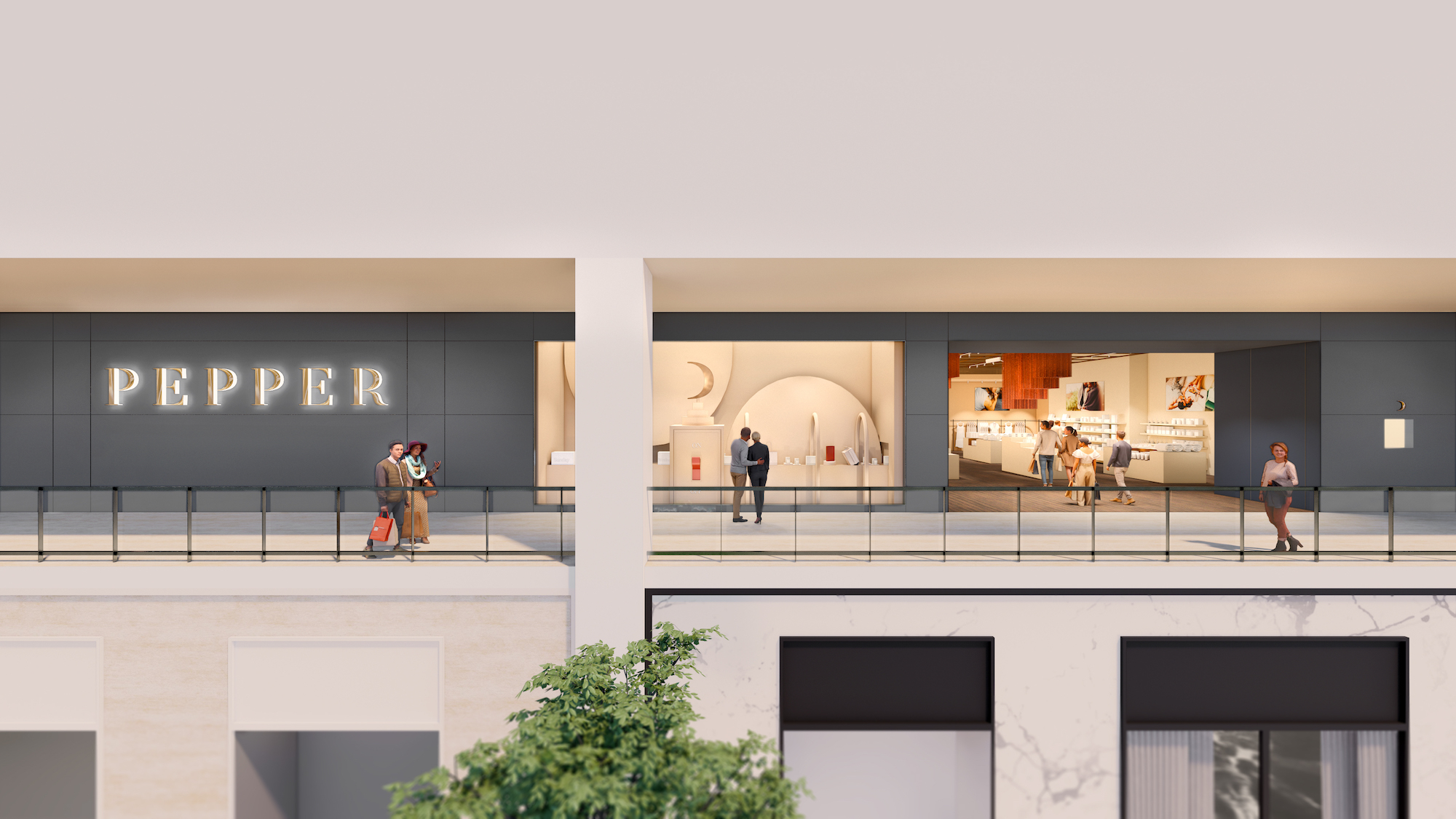 The design contains two main shopping areas broken down into a "PG" lifestyle section at the store's entrance and a pleasure product second section reserved for shoppers 18 years and older. The pleasure section is where shoppers can meet Pepper's Connection Concierge, a trained employee that can guide shoppers through products and help identify the items best suited for their interests. On the back wall of the pleasure section is a secret door that leads to the "foreplay hallway," which itself leads to a private party space that can be rented out. The centerpiece of the private space's decor is a wall mural made out of 1,600 vibrators.
The Spoors launched self-funded Pepper online in 2019, selling a selection of sexual wellness, personal care and lifestyle items from brands like Coconu, Dame, Fur and Bijoux Indiscrets. They recently debuted their first in-house product, a water-based lube. Pepper's physical store will have the same robust assortment, and the brand's inaugural collection of sex toys will debut there this summer. In total, the collection will present about 500 stockkeeping units, including 80 sex toys as well as kits grouping products together for customers who may not know where to start. To facilitate shopping, especially for shy customers, Pepper's physical and online stores will have QR codes connected to editorials, how-tos and other information. "It will be really interactive with online and the retail space, depending on how comfortable you are. So, it's not like somebody has to approach you to close out a transaction or to ask you questions," says Lincoln. "You can do a lot of self discovery."
The foot traffic is primarily anticipated to be fueled by the store's central location in Resort World's shopping center. Pepper, though, will also be exposed to Resort World visitors via Pepper kits in the minibars of the 3,500 hotel rooms in the complex. Because Pepper is Resorts World's largest retail tenant, it will enjoy select weekends starting this summer when Lincoln says the company will "turn its PR machine to Pepper" to promote the store. Other featured retail partners at Resorts World are Judith Leiber, Fred Segal and medispa Dr. Refresh.
"It's faith-based and I don't mean religious faith-based. I mean, we're committed," says Lincoln. "We believe in what we're doing. We keep telling ourselves this every night, and we do our affirmations every day, 'This is going to work.' And all of that because we know no one's ever done this before."
KEY TAKEAWAYS
Across the United States, independent beauty and wellness brands are opening up retail concepts.
The brand founders opening stores believe that, after over a year in pandemic-sparked lockdowns, consumers will be eager to get back into physical stores this summer. They also hope to create community IRL.
Examples of beauty and sexual wellness stores that have recently opened or will open soon include The IRL Shop, SkinOwl, Make & Mary, Pepper and Miami Beach Bum.
Research from the first quarter of this year supports the idea that consumers will return to brick-and-mortar stores, though smaller shops outside of complexes like malls may have an advantage as many shoppers still want to avoid large crowds.
Some retail experts have posited that, due to increases in digital customer acquisition costs, retail rents may have better return on investment when it comes to acquiring new customers.
Newly minted proprietors can't rely solely on foot traffic to get shoppers in their stores. Some are turning to traditional marketing tools like mailers to raise awareness.