The Drug.Store Became London's Leading High-End CBD Retailer. Now, It's Moving Beyond The Buzzy Ingredient.
When college friends Johan Obel and Clemens Boninger launched The Drug.Store in London two years ago, the cannabis beauty and wellness market in the United Kingdom was extremely nascent. The upscale CBD retailer focused on helping brands enter the tricky market and communicating the value of CBD to curious consumers. Thousands of new CBD brands, Brexit, the pandemic and a deep recession later, The Drug.Store is faced with a different reality: the regulatory environment is becoming less ambiguous for CBD brands, and customers are more familiar with cannabinoids, inclined to shop online, and looking to build out their wellness routines with targeted solutions. To adapt, it's pivoting to e-commerce, which is guided at The Drug.Store by CMO and ex-Amazon partner manager Charles Instone, and introducing beauty and wellness brands that don't specialize in CBD such as Form Nutrition, Plenaire, The Beauty Chef, Nuori, Pink Cloud Beauty Co. and Bioeffect. "Our end goal is to be the leading wellness retailer for natural remedies. We want to be the industry's curator," says Obel. Beauty Independent spoke with him about the shifting CBD landscape, possibly shutting down The Drug.Store's physical retail, getting CBD in a half hour with Deliveroo, and why many brands in the CBD segment will disappear.
What led to The Drug.Store?
We started in the European medical cannabis industry. Together with a few others, I entered into a partnership with Canadian cannabis company Canopy Growth. I'm from Denmark, and the Danish government was looking to legalize medical cannabis, and we were part of the process getting distribution and production licenses. During that journey, we saw opportunities rising in the CBD market and the whole wellness side of cannabis. Most of the players in the market were cowboys trying to make a buck. There was low transparency to the customers. This was back in 2017 and 2018. We definitely saw an opportunity to build the industry up and be one of the first players bringing consumer education and transparency to the CBD market.
There were a lot of brands in the European market, but none of them had the great branding like you saw in the U.S. market. We knew a lot of the players in the U.S., and we started to reach out to them and had early discussions about bringing them into Europe and helping them with the compliance side. Together with my co-founder Clemens, we decided we would be the first high-end CBD retailer on the European market. Still, to this day, there is regulation around CBD in Europe that's pretty difficult, and we continue to help a lot of American players that want to access to the market on the regulation and compliance side. At the beginning, all of our brands were from the U.S. Most of the U.S. brands that are available in Europe now, we were the first ones to bring them in.
You have broadened the selection beyond CBD. Tell us about that move.
We always knew we wanted to expand outside of CBD to become a high-end curated retailer within the broader wellness space. Personally, I have never believed in selling CBD as the wonder cure for everything. You can very easily try to convince people that CBD should be in every single product they use from the moment they wake up in the morning until they go to bed at night. While CBD is amazing, you don't need it in all of your products. We wanted to take a more holistic approach.
In the beginning of this year, we started expanding into the broader wellness market with very curated selections of brands that we liked from around the world. We are still maintaining our position as a leader in bringing in the most interesting brands you might not have heard of before. Of course, CBD is still a very important part of what we do, but entering the broader wellness market gives you more freedom than CBD does. You can't run Google AdWords or Facebook ads with CBD. As we take a broader approach, we can run ads.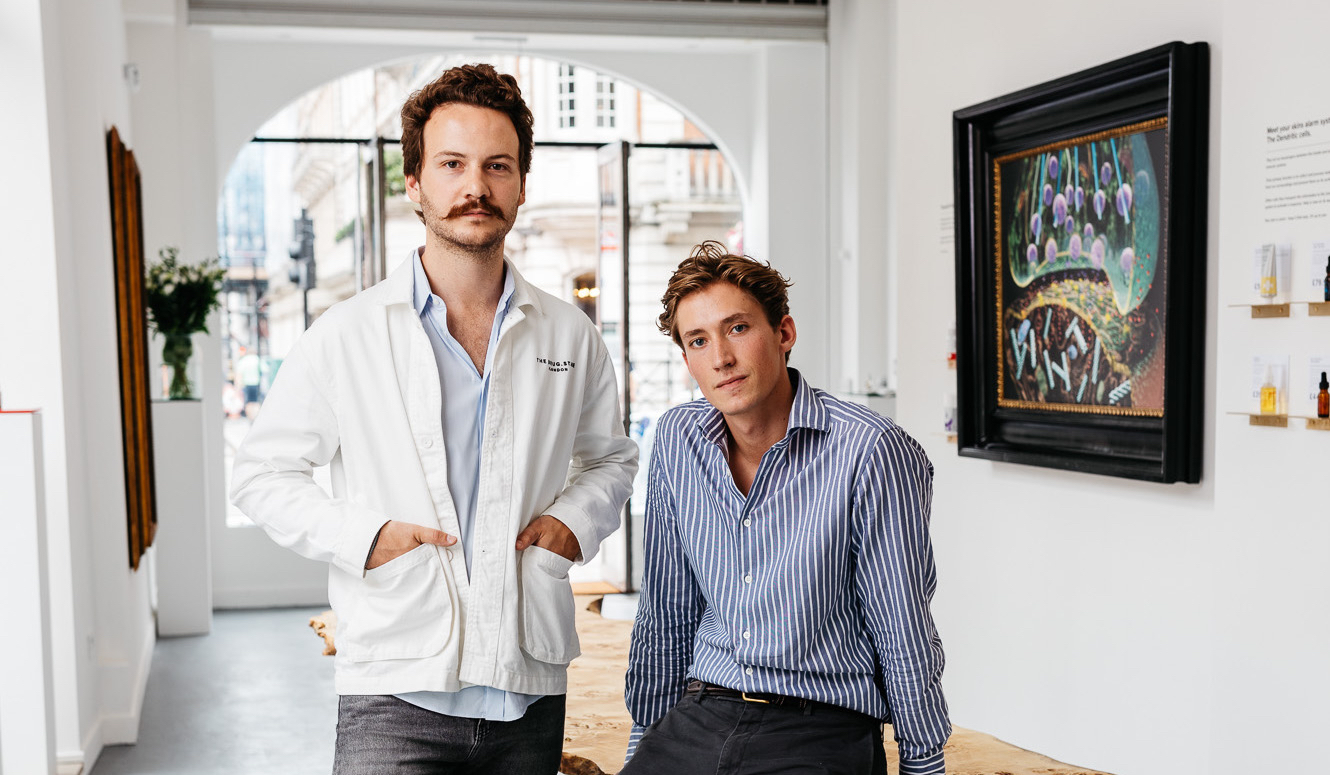 What else makes The Drug.Store unique?
A key word for us has always been authority. We are an authoritative voice in the space. At the time we started, nobody really took responsibility for what they sold. They knew demand was high and, if they lost a customer, they would gain a new one the following day because people were so interested. Nobody was really leading conversations about issues people should be aware of and educating in the space.
Besides that, when you look at the overall market, the big issue for us has been that major retailers entering the wellness market don't bring the level of respect that's needed in terms of the health implications of certain products and the education needed. That's a key element for us. How can we strive to make sure we are always honest and not oversell anything while taking our customers by the hand and supporting them during their journey? That's not something that's possible at more traditional retailers. That's been a cornerstone for us.
The high-end element isn't necessarily what we talk about. What we want to be is trustworthy, and we want to have the highest level of customer service. We have people on the phone every day answering various questions. If customers want to spend on hour on the phone with us, we will dedicate that time. We take people's health very seriously.
How is the staff trained?
We work with a number of experts—nutritionists, doctors and other experts from various fields—to do regular trainings so we are able to answer questions in the best possible way. Of course, the limitation is that a lot of people will ask about their medical conditions, and we are not allowed to give advice on those issues. So, we have to figure out the best way to refer customers to experts to answer their questions or we can answer in a way where we are not giving them advice. Normally, we have three people on customer service.
How did you build the assortment?
When it came to CBD, we were entering the market when CBD was a very new thing, and we didn't want to exclude anyone. We wanted to be a place where everyone could come in, ask questions and afford an entry-level product. We selected a few more basic brands from the U.S. and brought them in. In the beginning with something as new as CBD, people didn't want the most advanced products with multiple ingredients. As people understand CBD more, they might look for specific formulations for specific things—and we wanted more interesting products that targeted specific things and had more premium branding. Even in the U.S., it was a rare thing to find when we started. There wasn't necessarily brands that had a more premium feel and formulations for specific things.
We spent a lot of time in the U.S. in the early days traveling around, and that helped us massively to set us in the right direction. Some of the brands we brought in were Dr. Kerklaan Therapeutics, Plant People and Yuyo Botanics. For a lot of the brands we brought in, even the mainstream ones, we were the only ones selling them in Europe. We were the first to bring in Medterra. It doesn't have that premium feel, but it's a good entry-level price point for most people, and we know the quality is good.
How many brands do you carry? What are bestsellers?
We probably have 50 brands. We are still selling a lot of CBD, and we are relatively new in the broader wellness market. So, CBD standards such as oil tinctures are huge. A lot of people know us for being a leader in that space. We have a private-label CBD brand that we sell a lot of. Medterra has grown massively in Europe. They've invested a lot in marketing and that helps their sales with us. There's a local brand doing well now called Trip. They started making drinks—they have three CBD drinks—and now they're making CBD oils that are flavored, and we are selling a lot of them. Outside of CBD, gut health is something that's really taking off for us now with brands like The Nue Co., The Beauty Chef and Form Nutrition.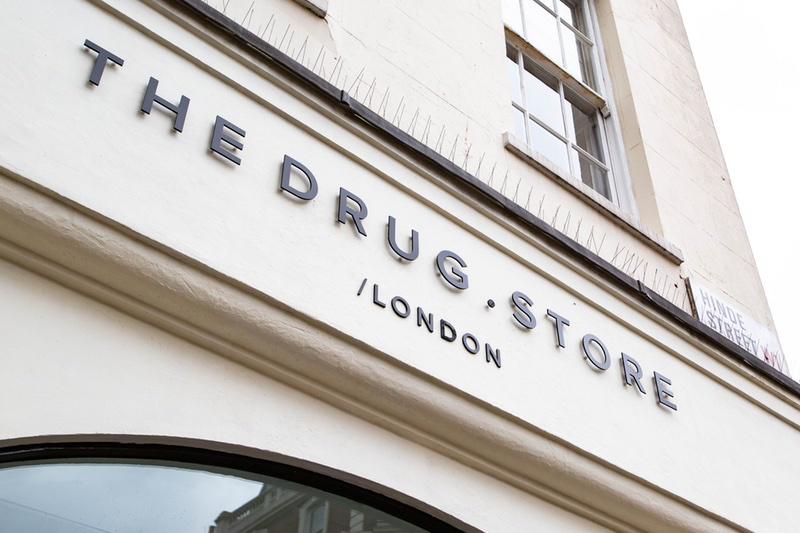 Are you going to be growing the selection?
We don't necessarily want significantly more products. As a retailer, you do need to be able to cater to a certain size of audience. If you are too niche, the metrics don't necessarily add up. At the same time, we are very selective with the products that we take on. Of course, we know that you can sell thousands of generic multivitamin products, but that's not for us. We don't want products that you can buy everywhere. We try to find products that are unique, that have interesting formulations and also, to the extent possible, have proven efficacy. When we take on a new brand, it will always be reviewed by experts that we work with—nutritionists, doctors and others—in different fields.
Who were The.Drug Store customers at the start, and who are they now?
In the beginning, it was an even split between men and women, maybe with slightly more women. The age range was higher. We were talking normally 45-plus. That would not be the group that you would think would be the early adopters, but they had pain points, and they read CBD might help. For example, they had sleep issues, were going through menopause or had back pain. Of course, we wouldn't say it worked on pain, but people did their own research on it. They were trying to treat those issues that are related to age.
The customers are slightly younger now, especially as we move into the broader wellness market. Inner beauty, gut health and products in other categories have brought the age down. CBD is still an interesting ingredient for younger people, but not necessarily to the same extent as alternatives. Let's say you are 25 to 30 years old, and you struggle with your sleep, it's a very small group of them willing to spend $50 to $60 on a product to help with sleep improvement if it's not a super chronic issue. If you are 40-plus, you are willing to spend that money because you've been struggling with it on a more regular basis, and you have more disposable income.
Where are the customers from?
Of course, we do have a lot of London-based customers, but we also have a lot of customers from the other major U.K. cities. In the next year, we will probably be looking to expand quite aggressively into other European countries, France and Germany primarily. We already have a loyal following in those markets. I would say 15% to 20% of our revenue is from outside of the U.K., but there is a huge opportunity for growth. The U.K. is our main market, and the biggest market in Europe when it comes to the products we're selling. The U.K. might be three years behind the U.S., while Germany and France might be five years behind. Education is still needed in those countries.
How has the CBD market changed?
It's definitely changed significantly. There has been a massive adoption of the ingredient. Some of the bigger brand names have started introducing products with CBD as well, which helps educate customers. That slight concern that certain people had in the beginning of, will this make me high? Those questions aren't something we really hear anymore. The majority of people have a basic understanding of what it is, and they know it's not an underground cannabis product. We are a strategic partner for bigger brands when they launch CBD in the U.K. When the cosmetics brand Chantecaille introduced a CBD product, we launched it as well as other SKUs, and we launched This Works' CBD products after they were bought by Canopy Growth.
Also, most of the big retailers have to some extent adopted the product category. Still, I would say most of them are hesitant about taking consumable CBD products because of lack of regulatory clarity. Now, in the U.K., starting next year, it's going to be completely different. At the European level, there is something called novel food regulation. A novel food is any food that wasn't consumed before 1994. A novel food that comes to market needs a safety assessment, and CBD was a novel food ingredient. Chia seeds were a novel food as well. It's up to each European member state whether or not to enforce the regulation, and nobody really did. Nobody was given fines for selling CBD, although it was the official guideline that CBD should be taken off the market if it doesn't have an assessment.
The U.K. has put forward some clear guidelines about applying for novel food approval and, from March next year, everybody on the market will have to apply. If they are not in the first phases of the application process, they will have to be taken off the market. That's something we have been pushing for the past few years. We just wanted regulatory clarity. For us, as a retailer, we have always had our own regulation so to speak in terms of labeling compliance. We were always encouraging the government to set forward clearer guidelines to bring high level professionalism to the industry that was lacking.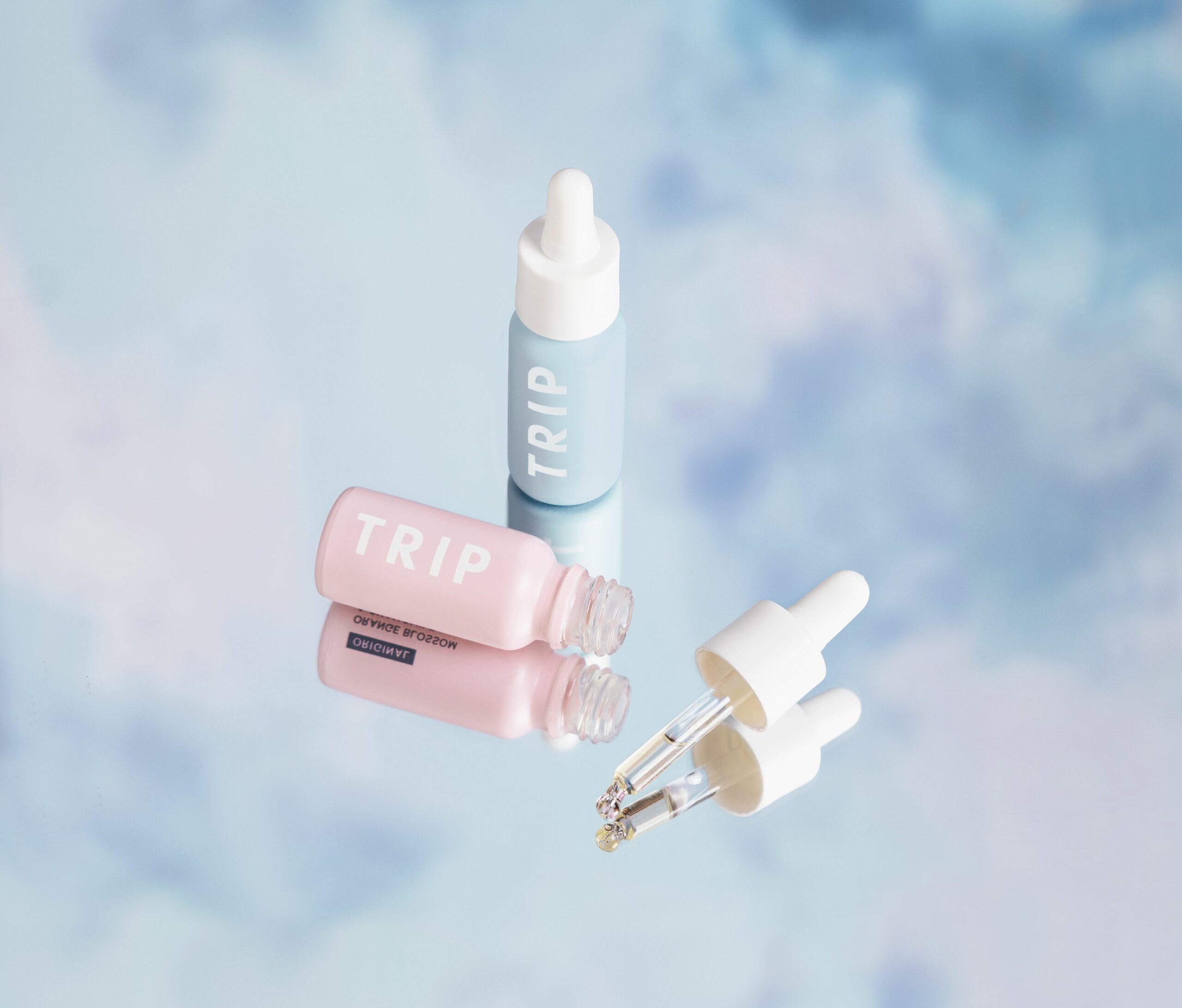 How has the pandemic changed business?
Before the lockdown, it wasn't necessarily that we thought we would have tons of stores, but we definitely thought we would have more. We wanted to have three flagship stores in different locations for the brand-building aspect and to show our face to the public. People could come in and get customer service. During the lockdown, we have had to find different ways of doing that. We are spending more time on webinars and content to interact with people on the educational side. We host almost weekly webinars on different topics. Online really started to take off, and we were lucky we were well-positioned within the wellness industry before the lockdown hit.
We also launched on Deliveroo here in London. We approached them with the opportunity. We wanted to be able to offer on-demand service. If people want to get the product within a half hour, they can get it. It was traditionally a food deliver app, but we thought, "Why don't we offer wellness and supplements on the same platform so people can get the immediately?" It's not necessarily for everyone, but we want to continuously push the boundaries of customer service.
How are sales this year compared to last?
Online, we are probably up 500% this year. Of course, the shops have taken a big hit. We have closed one of our shops and, right now, we are considering whether are not we should close the last shop to be honest. Online is doing really well, and the shops aren't necessarily as important to us. Although they are great and beautifully, stores aren't not necessarily where we see the business going forward, especially in this pandemic market.
What's the pace of new CBD brands like?
We are approached by I would say anywhere between five to 10 CBD brands on a daily basis looking for us to stock them. We turn away 95%. Most of the brands that come to market are pretty similar to all the other brands. We want the best because, if we take on a new CBD brand, we will likely be taking someone else out. I find it slightly strange that CBD is almost the only category where brands think that, because they include CBD, they can have products ranging from cosmetics to sleep tinctures to energy supplements to recreational drinks. If you're in another category like, let's say gut health, you might only be in gut health. It's not like you see La Mer coming out with a drink. I don't think it's a very easy story for a consumer to understand if a brand is coming out with products in every category.
CBD is an interesting ingredient, and it will be a very big and important part of the overall wellness industry, but, as it stands today, it's by itself on the side of the wellness industry and not an integrated part of it. What we will see is big brands having two or three products with CBD, and not necessarily all these CBD brands. Ultimately, it's very hard to market a CBD-only brand. You are not capturing the entirety of the wellness market. A brand like The Nue Co. is much better positioned to market one CBD products than a brand starting with five to 10 CBD products. They have a loyal base already and can market themselves. And, if you start a CBD brand tomorrow, it's hard to run traditional advertising. We already see traditional players like This Works and Perricone MD launching CBD products, and I think you are going to see a lot of CBD brands disappearing over the next few years.
Does The Drug.Store have outside investment?
Up until now, we have been self-funded. We have kept it fairly lean. When you are focused on e-commerce, you don't necessarily need a huge team. We are around 10 people now, and some people work in customer service and not necessarily every single day. We have others on the support side, and we work with agencies. We are realistically going to go raise in Q1 next year. We are very happy we didn't have to raise in this turbulent market. A lot of people have been successful, of course, but we want to try our best to get to the other side of this. That said, we are lucky to be in a position where we are close to breaking even, which, for a very young company, is a major milestone for us.