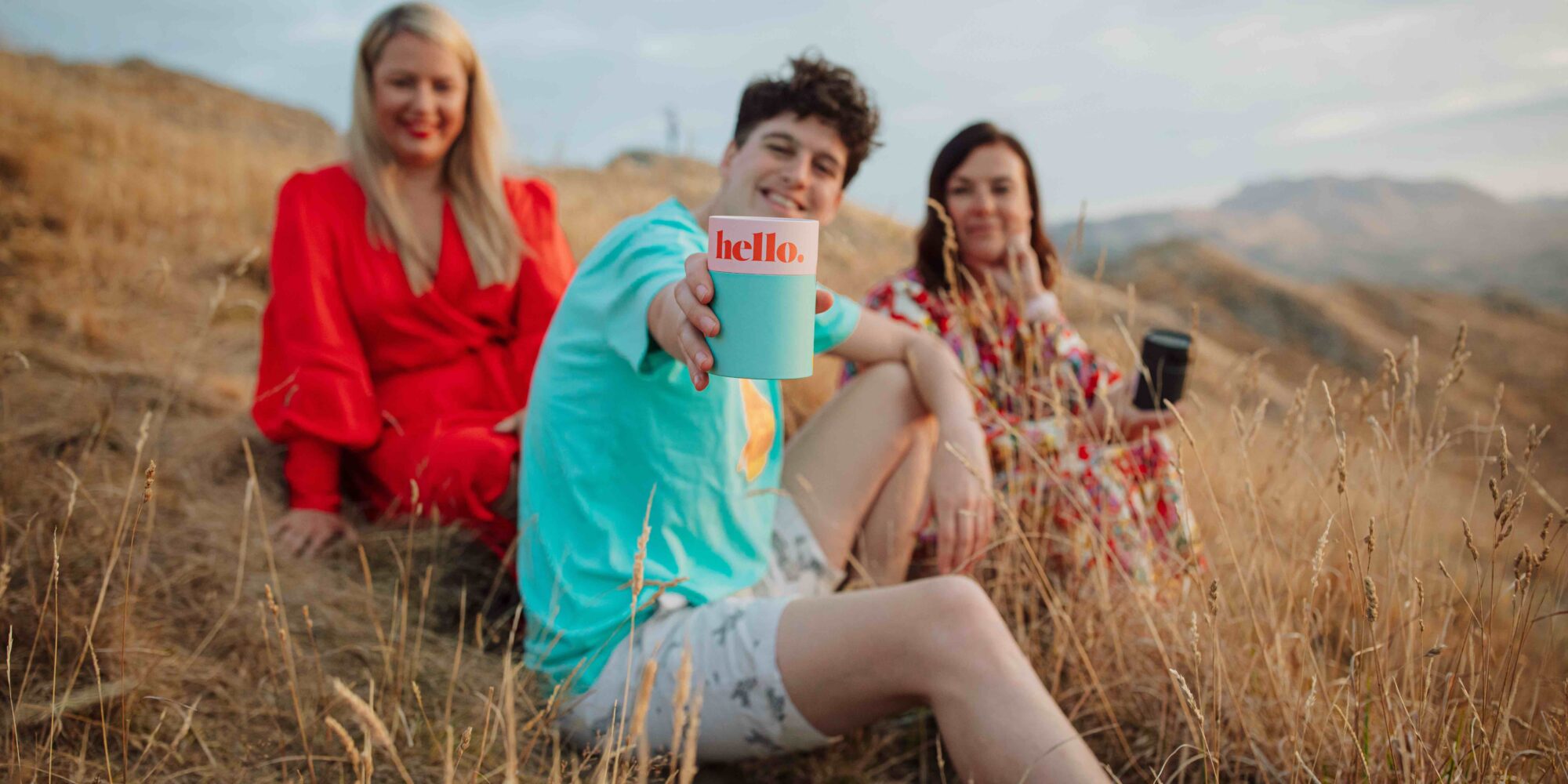 The Hello Cup's #PeopleWithPeriods Campaign Broadens The Period Care Conversation
The Hello Cup 
wants everybody who menstruates, regardless of how they identify, to feel represented in the period care category.
To raise the bar for inclusivity, the brand is showcasing nonbinary activist and model Rain Dove in its #PeopleWithPeriods advertising campaign timed with Pride Month. It's also removed gender-limiting terms from its packaging to open up conversations about periods beyond girls and women. The brand's efforts are advancing an ongoing reimagining of period care that breaks from its traditional feminine hygiene delineation. 
Robyn McLean and Mary Bond, co-founders of Wellington, New Zealand-based The Hello Cup and childhood friends, launched the brand in 2017 with $30,000. Their goal was to bring a menstrual cup to market to offer a sustainable alternative to disposable pads and tampons, and better people's experiences with periods. 
Author J.K. Rowling put the broadening language of menstruation under the microscope in a tweet on June 6 poking fun at an article with the phrase, "people who menstruate," in its headline. The tweet prompted a backlash rebuking Rowling for being anti-transgender. She responded with a lengthy explanation about her worries that girls' and women's rights are eroded by new trans activism. LGBTQ advocates denounced her explanation as doubling down on her anti-trans stance. 
As the controversy over Rowling's social media suppositions was still swirling, The Hello Cup unveiled its #PeopleWithPeriods campaign on June 14 in an Instagram post that commended Dove for saying, "Periods shouldn't be about gender." Since then, McLean and Bond have fielded positive and negative feedback to their brand's campaign. To find out more about the campaign and the response to it, Beauty Independent caught up with them to talk about how it materialized and why they believe it's crucial to do away with the conventional barriers that have bound period care.
What prompted you to do the campaign?
McLean: Not all people who have periods are women, and not all women have periods. The more inclusive we can be in this space, the better. Why would we exclude someone who had a period, but didn't identify as a woman? Chances are they've had to deal with enough judgement in their life.
Bond: Our aim from the very start was to create a product that would make periods easier. We have always wanted to ensure we were inclusive as a brand. It was not only important to us, but actually just a given so I guess in that sense it has always been about "people with periods" for us, but we wanted to encourage others to have a think about changing the way they talked about periods. 
How did the partnership with Rain Dove come to be?
McLean: We actually have never done a campaign with anyone before because we never wanted to just hire a voice. The relationship needed to be real and genuine. Rain has genuine experiences of what it's like to be nonbinary and have a period. Rain's personal period experiences and the judgement they have endured makes you stop and think. At the end of the day, we are all human, let's be kind to each other.
Bond: I had heard about Rain and I contacted them, and we agreed to meet when I was in New York last year. Rain, who was wearing white shorts, got their period while we were at lunch at a fancy restaurant. Of course, I had Hello Cups with me. Things went from there. I flew back to New York a couple of months later to hang out with Rain during Pride, and see their work and spend more time with them.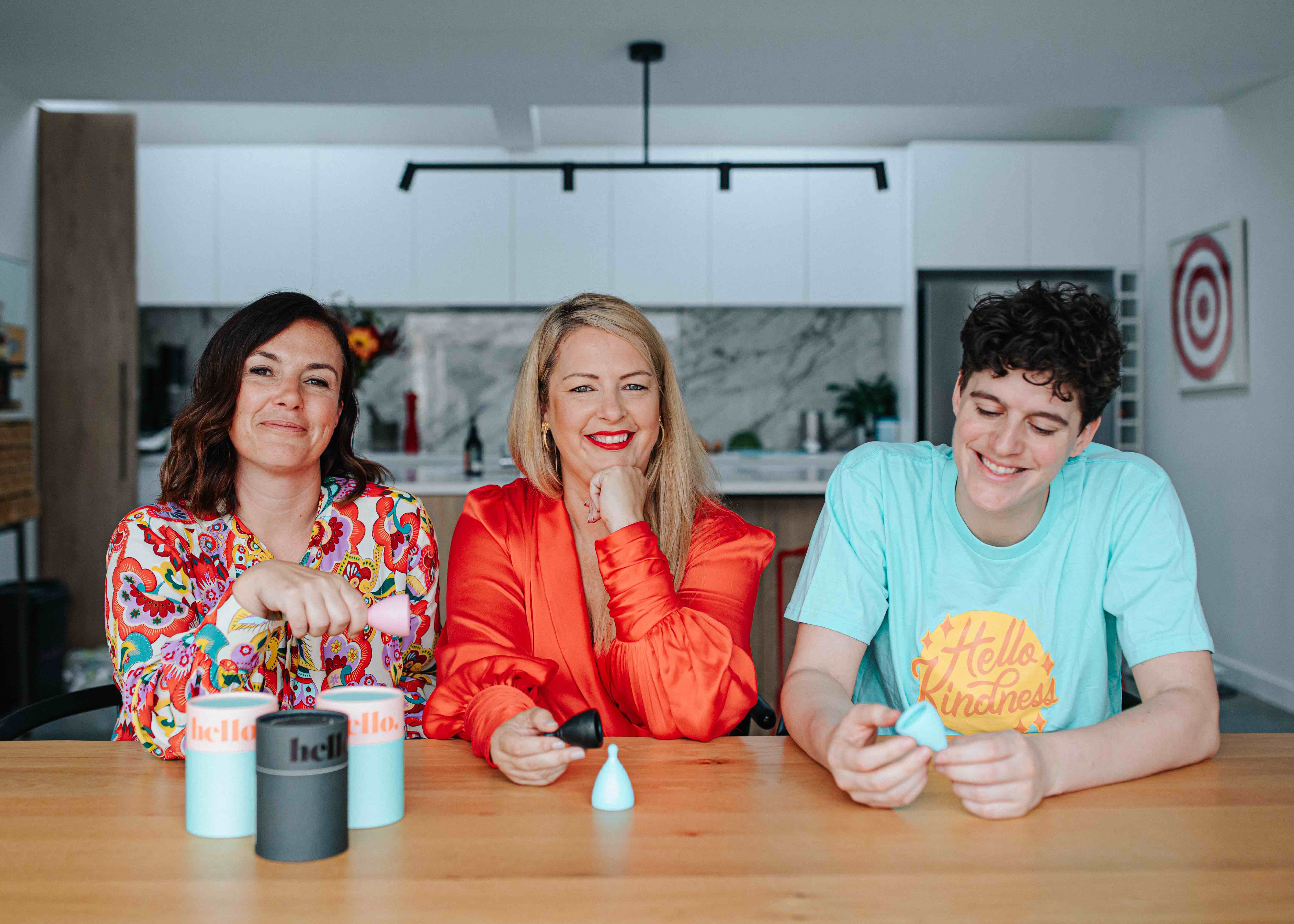 How much did you spend on the campaign?
McLean: Not much. We flew Rain to New Zealand last February to talk about our business and what we stood for. There was no agenda. We wanted Rain to get to know us and see where Hello Cups were made. At the end of two weeks, we filmed the video series. It was an unscripted chat filmed in less than an hour, and that's exactly how we wanted it. No bells or whistles, nothing flashy in terms of setup costs. It was just all very simple and unrehearsed.
Bond: We are still a small business and don't have a massive budget to promote the campaign via paid channels, but it's an important and genuine message, so we hope that it is shared widely and organically and via media like yourself who appreciate that we are trying to do something important and help us tell that story.  
What does the campaign mean for the personal care products segment?
McLean: It's important for the industry as a whole to look at what they do, and who they target and how they target people. Now is time for change. The industry needs to ensure it is as inclusive as possible. Like with periods, not everyone who loves beauty products is female. While some areas of the industry have a much larger proportion of users who identify as female currently, that doesn't mean others should be excluded from campaigns. It only increases their sense of alienation. 
Bond: BLM is teaching us all so much, and we as a company are open to learning more. Our door is always open to advice and guidance from others willing to share what they would like to see us doing. We are the students in the important time of learning. I hope the industry adopts a similar approach. Let's join together to be known as an industry that leads the way in kindness and inclusivity.
What would spell success for you?
Bond: Success would be the discussion moving from "women with periods" to "people with periods." Periods shouldn't be gendered, and Rain's story is one of many where people who don't identify as female have periods and have been judged and treated poorly because they don't conform to a stereotypical profile.
"It's important for the industry as a whole to look at what they do, and who they target and how they target people. Now is time for change."
What has been the reaction to the campaign so far? 
McLean: It's been so amazing, the kind of response that requires Kleenex to be in close proximity. There have been so many messages from people saying, "Thank you for talking about this." I'd be lying if I didn't say we've also received some negative comments via our DMs, but we posted that we'd prefer them not to because we have our own beliefs, and this campaign was born from those beliefs.
How many products does The Hello Cup have, and what are their prices? Do you have plans for new products?
McLean: We launched in 2017 with next to no capital. Mary and I put in about $15,000 each, but it would be fair to say we'd added a bit more to our mortgages since then. We are in the process of signing up an investor, which is exciting.
Currently, we have three products: Our Hello Cup, available in five colors and three sizes, our Hello Reusable Liners, and our Hello Go Sterilizing Spray. We have a couple of new products coming out this year, but it's top secret. The Hello Cup [is] $33 or a double box is available for $47. Hello Reusable Liner Pack [is] $38 for a three-pack. Hello Go Sterilizing Spray [is] $10. Hello Starter Pack [is] $79.95, and includes a double Cup box, three-pack reusable liners and a Hello Go.
Did COVID-19 hurt the brand's sales forecast?
Bond: Yes, absolutely. Sales forecasts were hit hard in terms of projected retail sales because, obviously, many stores shut. Our online sales increased, which was awesome, but, overall, things are down on where we'd like. But we were adamant that we wanted to protect our staff and pay them at full rate. Even though we were struggling financially, we didn't want it to hurt them and their families, too. They are so important to us and, together, we will work extra hard to get back on track. The support we give them, they totally give back to us.