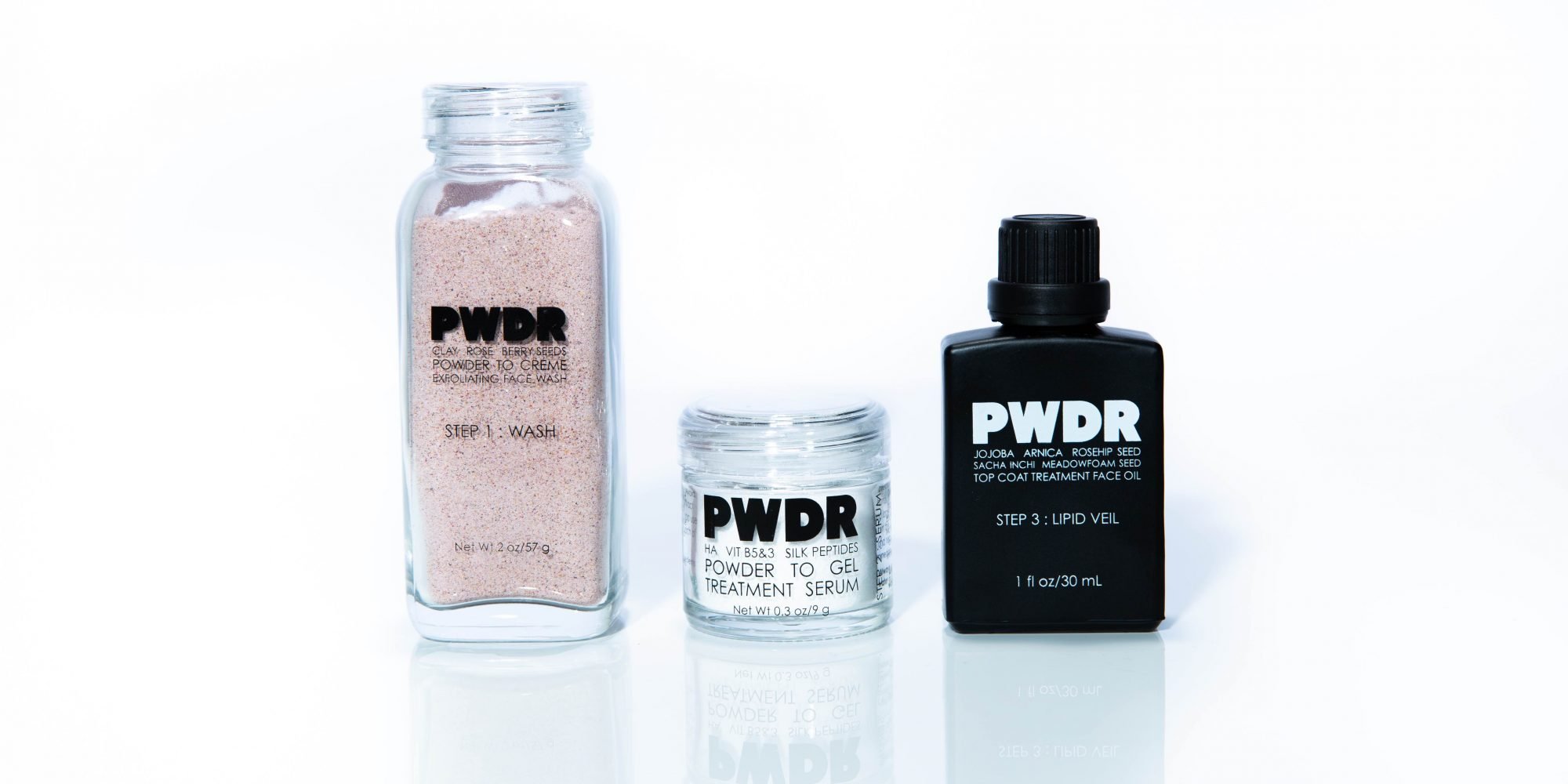 The New Clean Skincare Brand Making Super Luxurious Waterless Beauty Products
PWDR adds moisture to the skin, not its products.
The new clean beauty brand from Carrington (CJ) Snyder, co-founder of upscale body care brand Kayo, skips water to stick to ingredients packing the strongest skincare punch. It's three debut items—Powder To Crème Exfoliating Face Wash, Top Coat Treatment Face Oil and Powder To Gel Treatment Serum, the trailblazer in the trio—illustrate the versatility of H20-free formulas customers can tailor to suit their skincare concerns.
"If you have water in a product, you need a preservative and an emulsifier, and those are ingredients that are generally found on 'no-no' lists," says Snyder. "So, one day I thought, 'Why don't I take the water out?' I started exploring the concept of bring-your-own-water skincare. Not only do you cut out the ingredients people don't like, but you get an ingredient list that's legible and a concentration of impactful ingredients because you don't have all the fillers."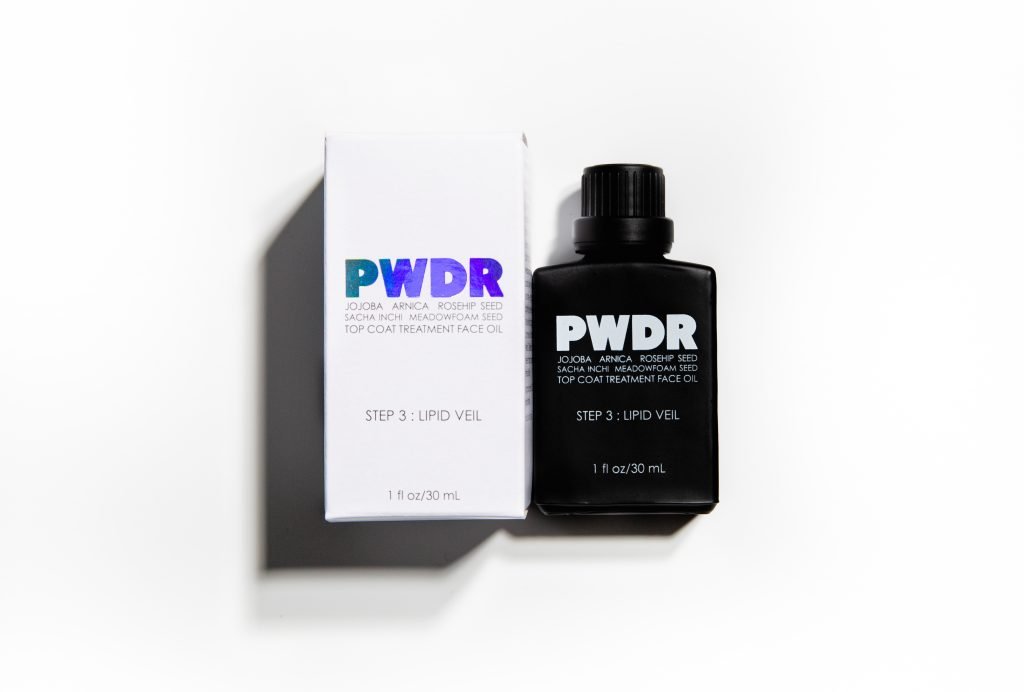 PWDR's products are designed to be used in three steps: Face Wash is the first step, Serum is the second, and Face Oil is the third. The Face Wash contains kaolin and bentonite clays, rose petals and berry seeds. The serum is brimming with vitamins B5 and B3, silk peptides and hyaluronic acid. The Face Oil, the only product in the threesome that's not a powder, features jojoba, sacha inch, meadowfoam seed and arnica oil. The powder products are combined with a bit of water in customers' hands before application.
"The overall philosophy of the products is everything you want, nothing you don't. We try to take out the fluff that's not necessary whether it's an ingredient or packaging component."
Powder serums aren't common because leave-on powder formulas are harder to perfect than rinse-off powder options, according to Snyder. "For a leave-on product, you have to have a great smell and great feel that you would want to leave on," she notes. Elaborating on the serum, Snyder says, "You put a little water in your hand, and it instantly turns into a serum. It expands to 10 times its weight. There's really no luxury missing with our serum."
Powdered personal care isn't novel. Snyder points out early toothpastes were in powder form because manufacturers didn't have access to the array of binder and stabilizer chemicals now available. Recently, products sans water have proliferated to offer travel-ready, green and simple remedies to beauty consumers. The clean beauty movement has pushed products in the no-water direction due to the preservation difficulties of water-based products and environmental awareness.
What's novel about PWDR is the centrality of the waterless skincare idea to the brand and its extension of the powder format to atypical product categories in beauty. Following its initial products, PWDR plans to roll out different treatment serums and washes as well as face masks. Snyder emphasizes the brand's ability to meet contemporary preferences for customization, sustainability and effectiveness with its products. On top of removing water from the production process, she mentions powder formulas can be stuffed into tiny bottles and jars, reducing their shipping and packaging footprints. From .3 ounces, PWDR's serum provides 120 treatments.
"Consumers are becoming very educated, and I think they are becoming very conscious of not only what they are putting on their skin, but also their impact on the environment. It's a huge trend that we are seeing that really can't be ignored."
"The overall philosophy of the products is everything you want, nothing you don't. We try to take out the fluff that's not necessary whether it's an ingredient or packaging component," says Snyder, continuing, "Consumers are becoming very educated, and I think they are becoming very conscious of not only what they are putting on their skin, but also their impact on the environment. It's a huge trend that we are seeing that really can't be ignored."
PWDR plays to another huge trend, customization, because it allows customers to tweak products to fit their surroundings and skincare issues. "If you are living in Hawaii with super humid weather, you can use less water. If you are in Arizona and need more hydration, you can put in more water," says Snyder. "People can really make the products unique to themselves and the climate they're in."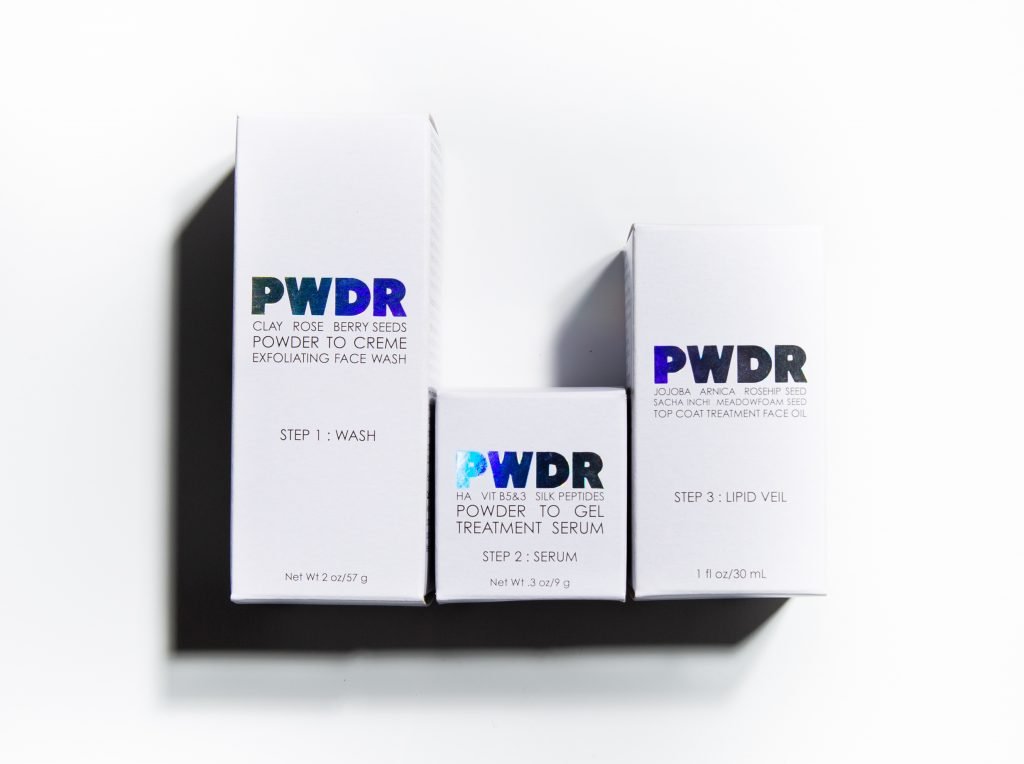 Running from $45 for the Face Wash to $110 for the Serum, Snyder explains the prices of PWDR products reflect their multiple functions and unadulterated high-end ingredients. "When it comes to product manufacturing costs, traditional cosmetics can be up to 70% water, and that's the most inexpensive ingredient to put in a product," she says. "When you take out the water, the actual cost of raw materials going into the product goes up."
Snyders aims to place PWDR in retailers that are appropriate for its premium pricing and focus on customer education. Although its packaging includes instructions, she acknowledges store associates sharing information about its distinct approach could help bring customers on board. Snyder identifies retailers the likes of Credo and The Detox Market as PWDR's distribution targets. She says, "The first year will really be about figuring out if there's a market for it and if people are ready to make a switch. It's definitely an exploratory year."